80 minutes from Tokyo; 20 minutes from the port to the island
Takamatsu City is the capital of Kagawa Prefecture. It has a population of about 420,000 people and an area of about 375 km2. Takamatsu City offers convenient access to places in Shikoku, and can be used as a base for travel nearby.
Takamatsu City has access to the sea, islands, towns and mountains within an area of about 23 km east to west, and about 36 km south to north. It offers many great attractions, and you can enjoy art, shopping or especially anything in the central area despite the compact space.
Near JR Takamatsu Station, a terminal station, is Takamatsu Port, which serves as a gateway to the sea and provides access to the islands of the Seto Inland Sea. Freely travel from the central part of the city to the islands, which is one of its great features.
Takamatsu Airport can be accessed by car in about 30 minutes from the central part of the city. It is linked to Seoul, Shanghai, Taipei, and Hong Kong by direct flight. As a gateway to Shikoku, it attracts many tourists from Japan and overseas.
Climate
Climate of Takamatsu CityThe temperature is stable throughout the year, and Takamatsu City is blessed with a mild climate. It features a high rate of fine weather compared with other parts of Japan that is wonderful for sightseeing.

Although there is not much rain in Takamatsu, it is currently the rainy season throughout Japan. Be sure to carry an umbrella.
The temperature reaches the highest in Japan each year in this season, and the sun is strong. When you go outside, we recommend that you take measures to prevent sunburn, such as wearing a hat with a brim and sunscreen. Many people wear sunglasses while riding a bicycle.
Nature
Nature of Takamatsu City
Takamatsu City is surrounded by abundant nature, facing the Seto Inland Sea, which is characterized by gentle waves, and boasts a picturesque archipelago in the north and the Sanuki Mountains in the south. Yashima is located in the northeastern part of Takamatsu City, designated as the Seto Inland Sea national park. Experience the picturesque archipelago of the Seto Inland Sea, the urban district of Takamatsu City, the Sanuki Mountains and more from the observatory at the top.
Picturesque archipelago of
the Seto Inland Sea
Culture / History
Culture and history of Takamatsu City
Takamatsu was established in the Kamakura period. The name comes from Takamatsu Castle that Chikamasa Ikoma, a vassal of Hideyoshi Toyotomi, built and inhabited in Tamonoura in 1588. It flourished as a castle town for 54 years under four generations of the Ikoma family and for 220 years under 11 generations of the Matsudaira family. Manufacturing developed due to industrial promotional measures, including lacquer art, Botaori fabric, pine bonsai (miniature potted trees) and papier-mâché, which created a cultural boom. Some items became gifts to the shogunate, and these traditions have been passed down from generation to generation.
After the abolition of feudal domains and the establishment of prefectures during the Meiji Restoration, Takamatsu City became the capital of Kagawa Prefecture. While it has been developing as the center of Shikoku, access from the surrounding areas improved with the opening of the Seto Ohashi Bridge and the extension of Shikoku Crossing Expressway. Facing the calm Seto Inland Sea, Takamatsu City has a terminal station, urban district, parks and more in a compact layout. It can be used as a base for a Shokoku tour or island tours, where you can also enjoy strolling around town.
Art
Art of Takamatsu City
Downtown areas in Takamatsu are dotted with attractive artworks. If you stroll around the downtown area, you will see works by master artists such as Kenzo Tange and Isamu Noguchi. Artworks are displayed from the contemporary art festival, the Setouchi Triennale. Drop by for a photo shoot. Takamatsu is enlivened with artworks by master artists and contemporary art. It is a remarkable city visited by tourists from around the world.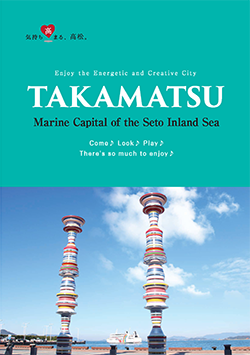 Pamphlet
Sightseeing in major areas of Takamatsu City
Adobe Acrobat Reader is required to view a PDF file. If it is not installed on your PC, download it to view the file.