Today, you can easily take beautiful photos with a smartphone or a digital camera. Many of you may travel for the purpose of taking photos.
Photographers say a slightly cloudy sky is better than a clear sky for taking photos.
Hard light throws strong shadows that show up strikingly in photos.
Learn tips and recommended times for photography, and visit the places you want to photograph.
Dress cutely in kimono and walk in a Japanese garden.
---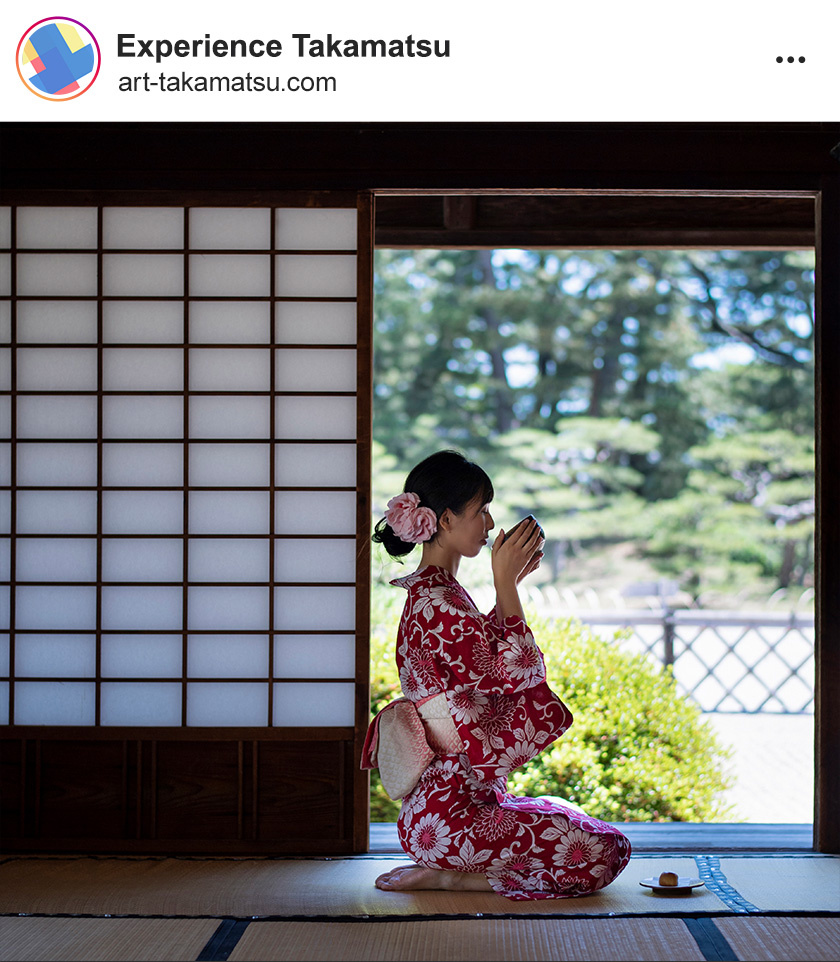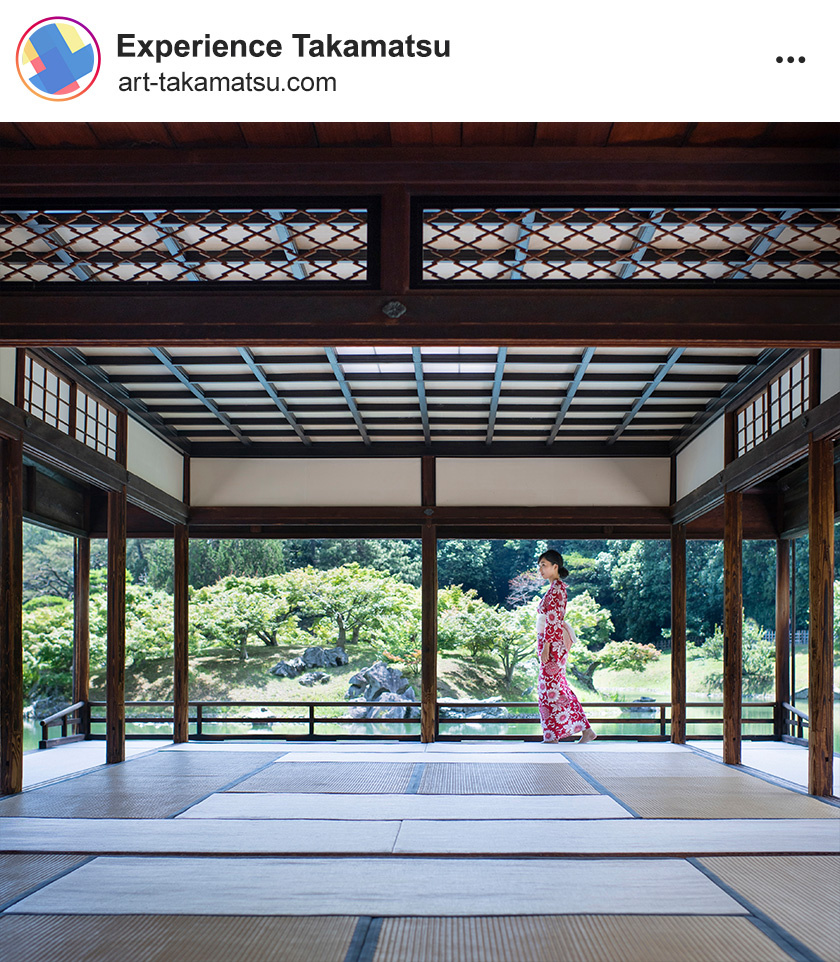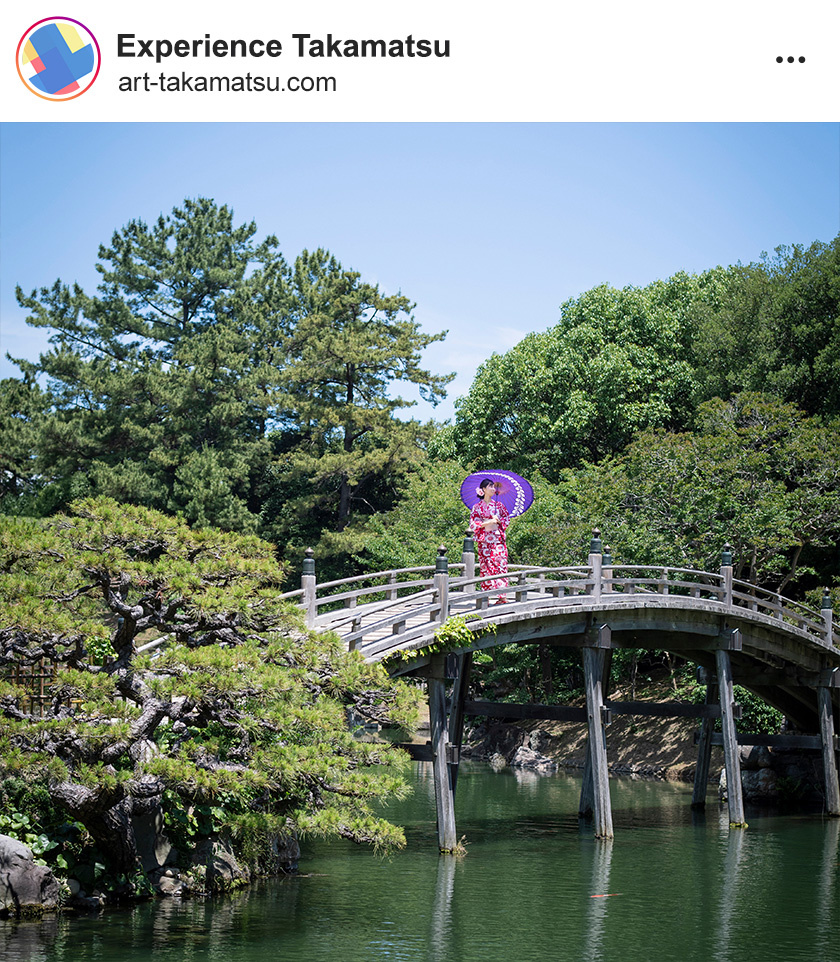 ---
Shooting location
---
Ritsurin Garden, an established sightseeing spot, is a circuit-style daimyo garden (Japanese garden). You will capture nice images whenever you press the shutter button in this landscape that includes about 1000 pine trees and seasonal flowers.
In the garden, kimono and yukata are available for rent. Put on the outfit of your choice and enjoy taking photos in a traditional Japanese atmosphere.
Tips for shooting
Red or purple kimono looks good in seasons with more greenery. Choose the color of your kimono by the color of trees in the garden, such as cherry blossoms and autumn leaves.
Specular reflection may be better utilized by choosing a water surface with fewer floating objects.
Recommended hours for shooting
From early morning to noon. The mountain to the west of the gardens is a great backdrop, so we recommend that you go in the morning hours when sunshine comes from the east.
In a single glance, you will be fascinated by the Western architecture that looks just like the blue summer sky.
---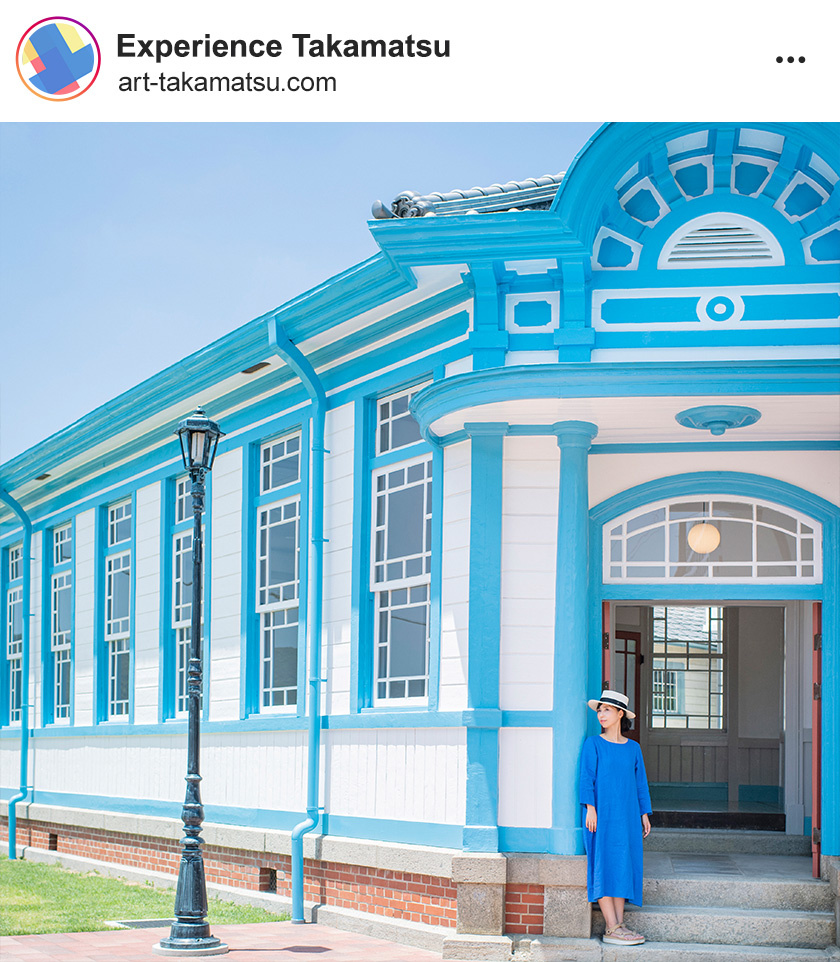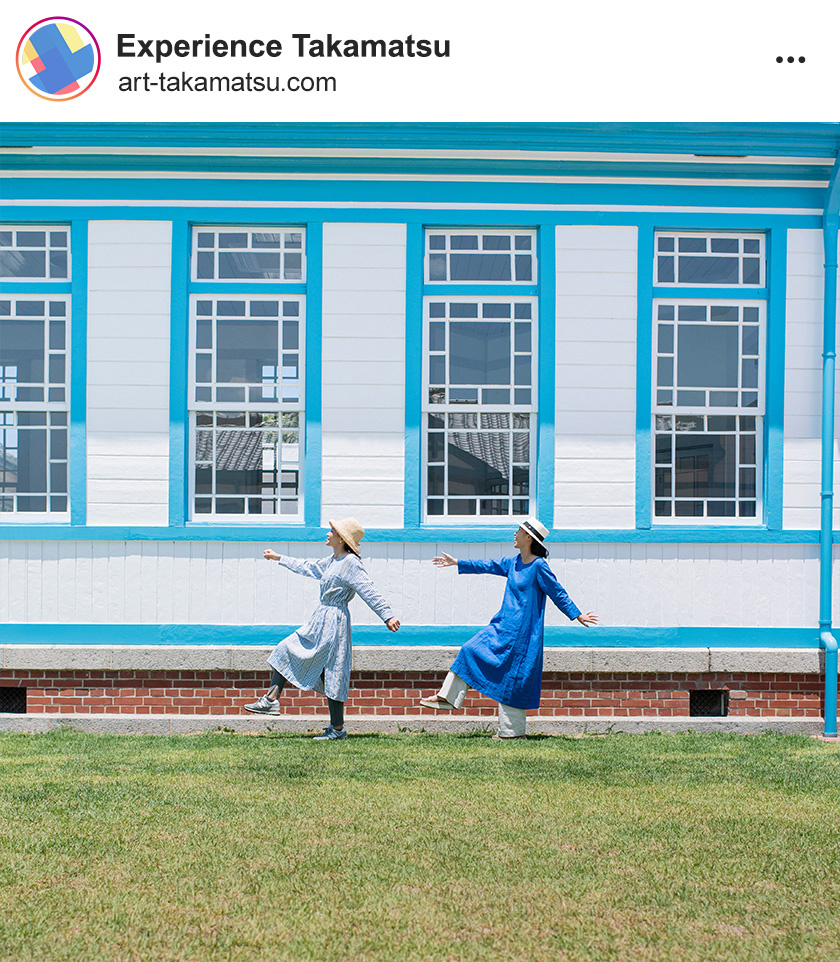 ---
Shooting location
---
---
The building with western architecture and eye-catching, vivid colors is the former Goten Suigenchi (Takamatsu Municipal Water Museum).
This was a water purification plant built in the Taisho period for the purpose of constructing a modern waterworks in Takamatsu-shi. Today, it has been renovated into a museum.
---
With a brick masonry foundation, arched gable, transoms and a tiled roof, the architecture fuses Japanese and Western styles. We recommend taking a long and careful look at it.
Tips for shooting
You might make the light blue color of the building a key feature that adds to your photograph.
Bringing the lens closer to the brick wall adds foreground bokeh, adding depth to the image.
Recommended hours for shooting
Photographing people is easier after 2 p.m. when sunlight pours in obliquely.
While glare can be difficult to handle when taking photos, it can also be good to use backlighting. This will give a soft feel to the photos.
Travel the world like an old tale
---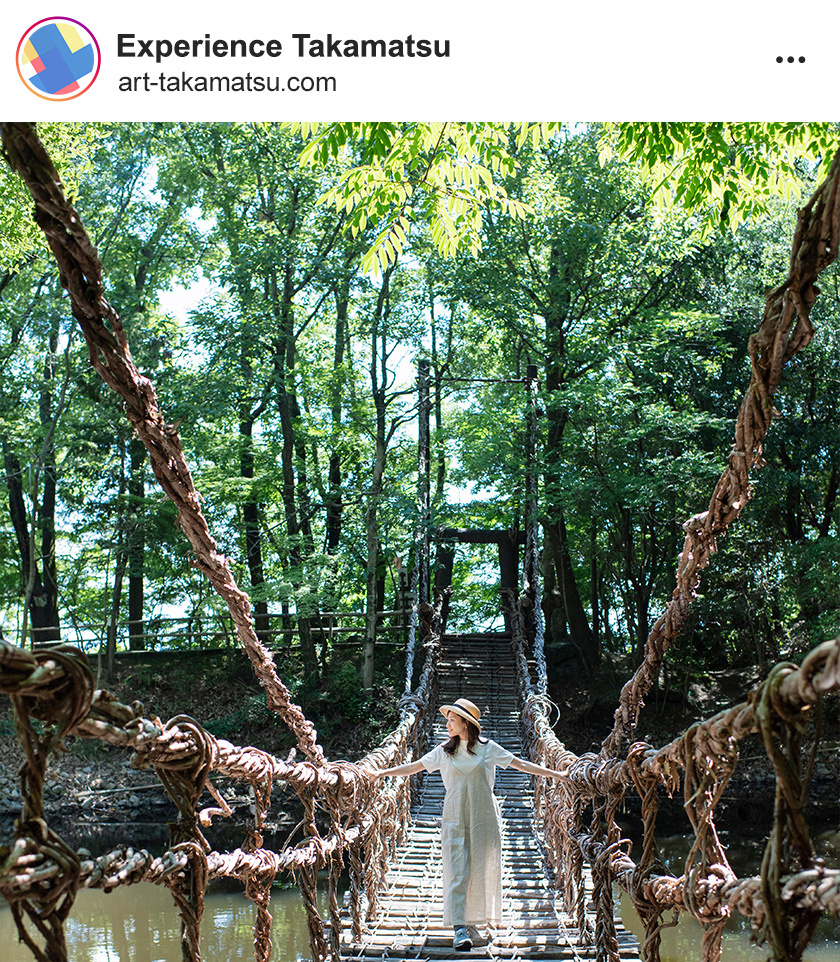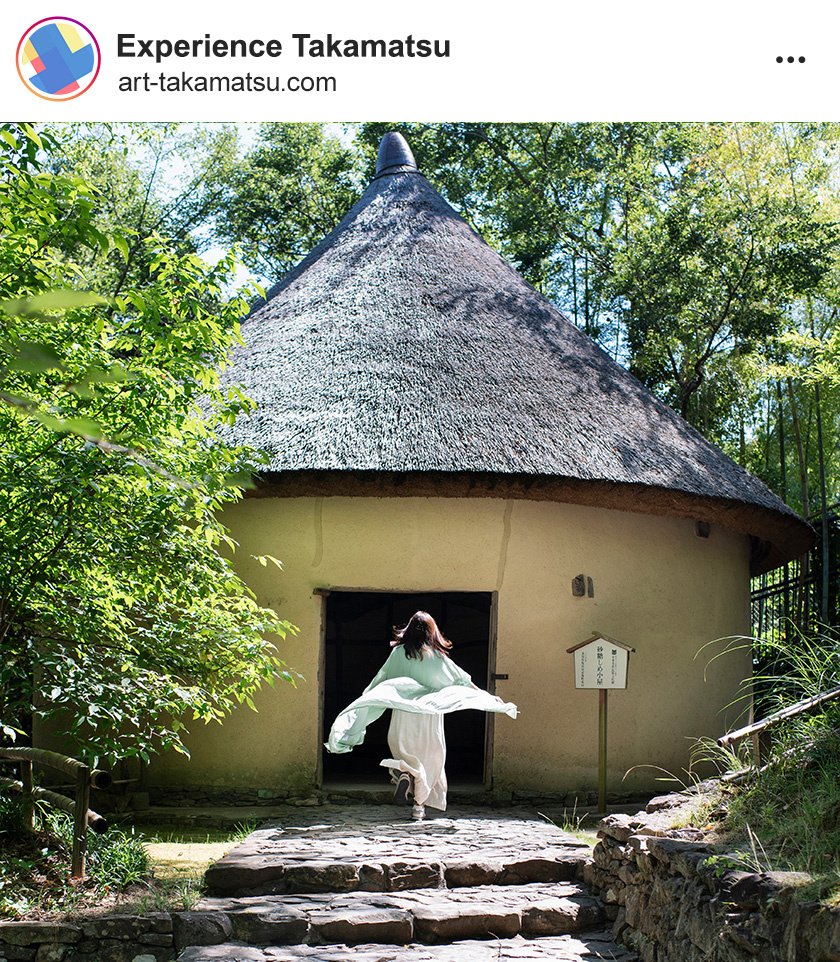 Shooting location
---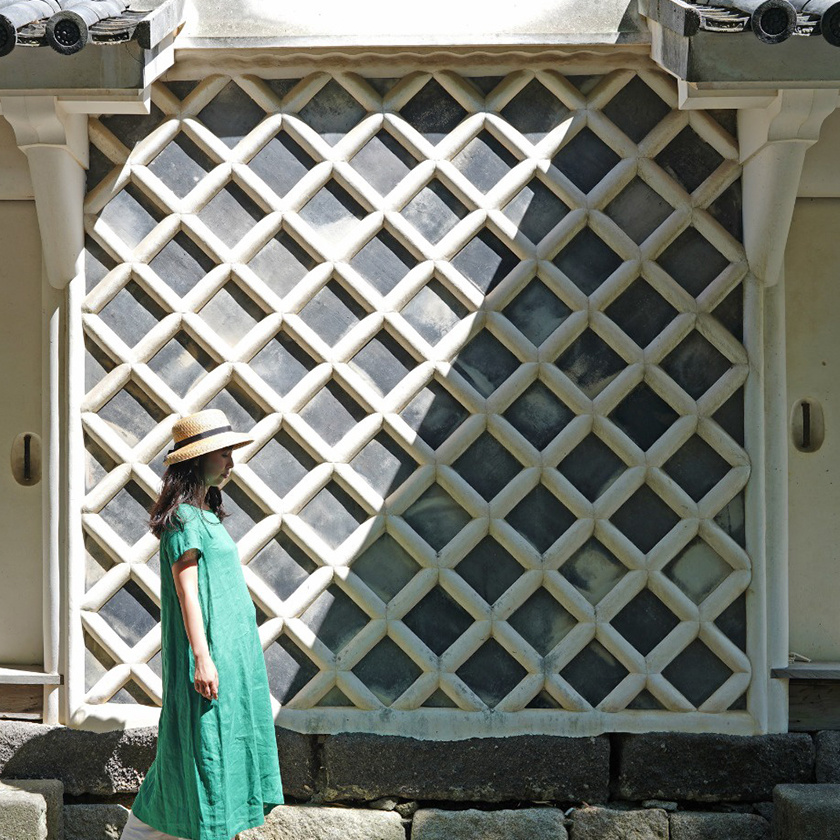 ---
Old houses and architecture from all around Shikoku were moved to and reproduced in Shikokumura Museum, exposing visitors to nature, art and history.
---
A typical sight in an old tale, Kazura Bridge was constructed with vines.
This conical-roofed hut surrounded by greenery was used to make sugar.
Old houses, a lighthouse, and other structures were moved to this vast site at the foot of the mountain. It will transport you back in time with your camera.
Tips for shooting
Stay aware of light and shadow.
If your subject wears loose clothing, shooting while he/she is moving can effectively depict the movement of wind.
Try to use the topographical differences in height.
Recommended hours for shooting
Because of the abundance of tall trees and bamboo, photos may be beautifully taken at dusk when sunlight streams laterally.
The swing set, commanding a sea view, is a sacred place for loving couples.
---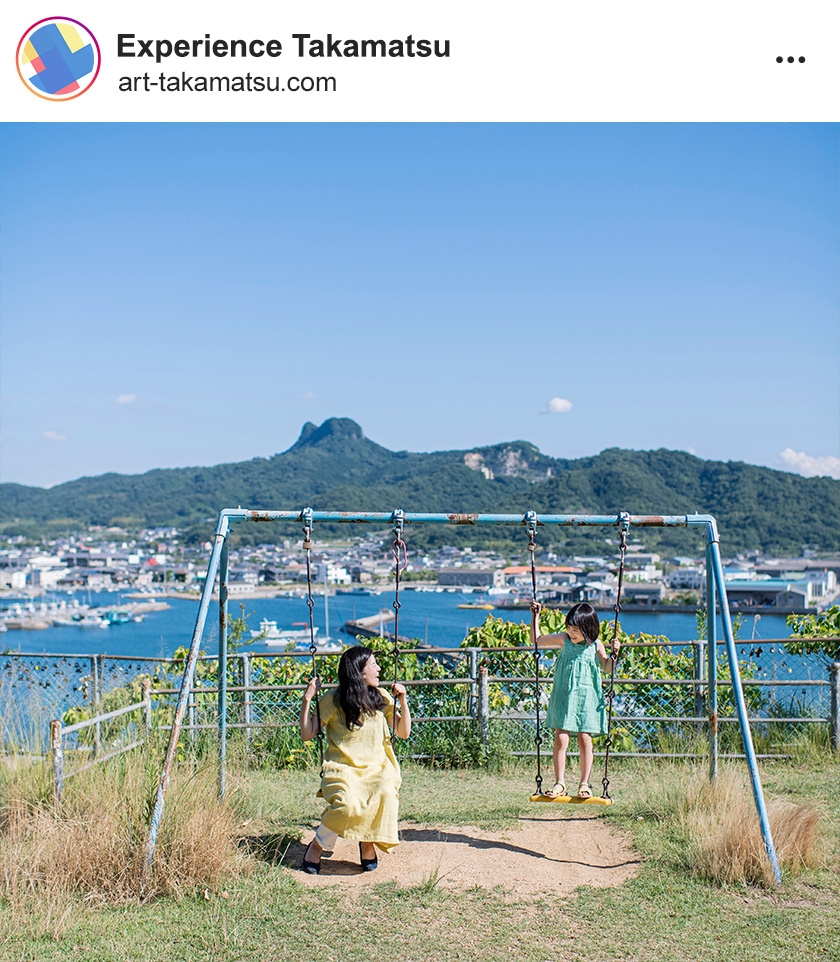 ---
Shooting location
---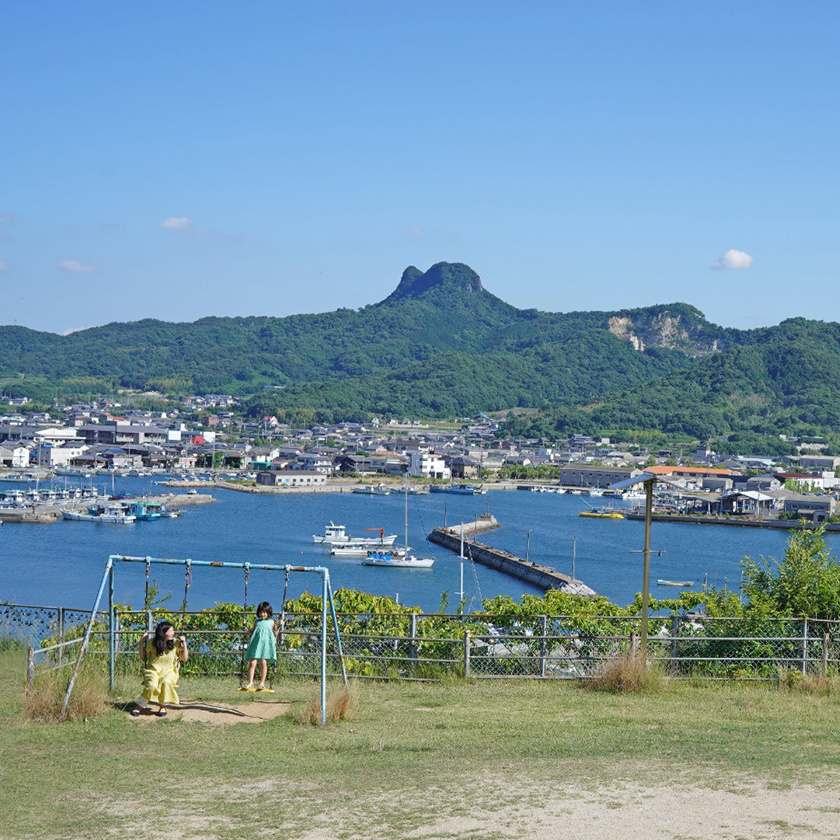 ---
Oji Shrine is located near Aji Port, where fishing boats are moored. A set of small swings is located within the precincts of the shrine, on a hill.
Because the swing set appears in the famous romantic movie, Sekai-no Chushin-de Ai-wo Sakebu (Shouting Love at the Heart of the World), it attracts many sightseers.
From there, you can also see the embankment below that was used in the film.
---
Tips for shooting
Position yourself a bit higher up to capture the sea, the swings and Mt. Goken on the opposite shore in one image.
Also consider the positions of the moving boats.
Recommended hours for shooting
Good hours for shooting are from early morning to noon and from late afternoon on a sunny day. Come when the sunlight is subdued.
With a combination of pastel colors and a modern brown, the nostalgic atmosphere is fresh today.
---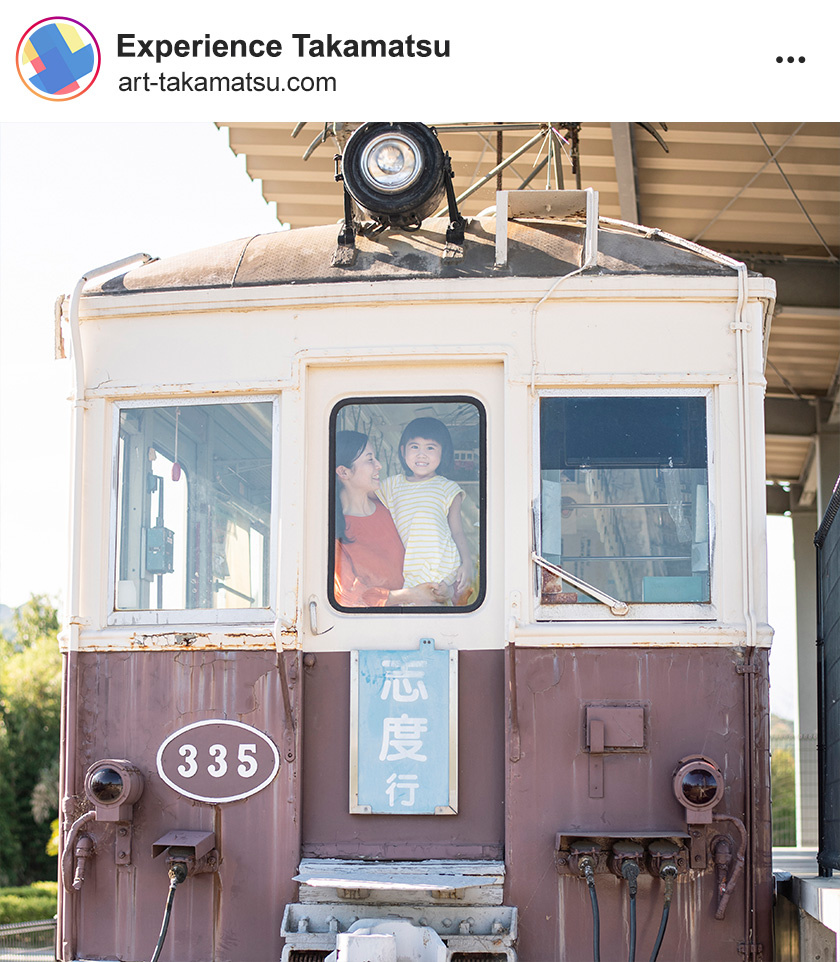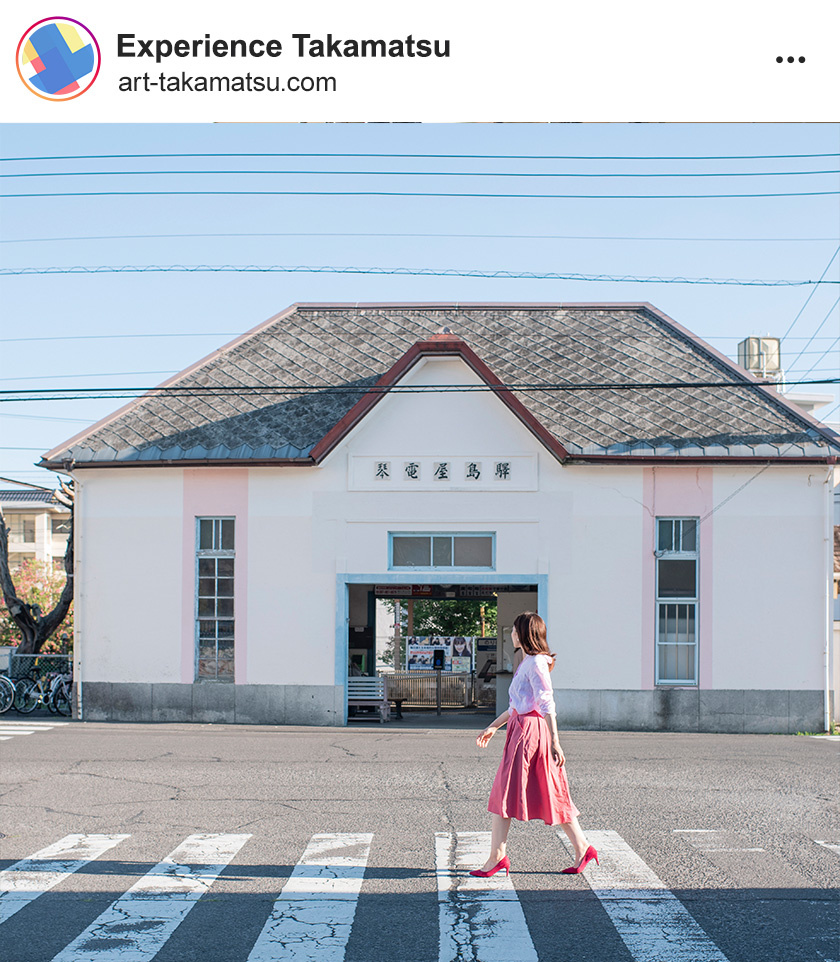 ---
Shooting location
---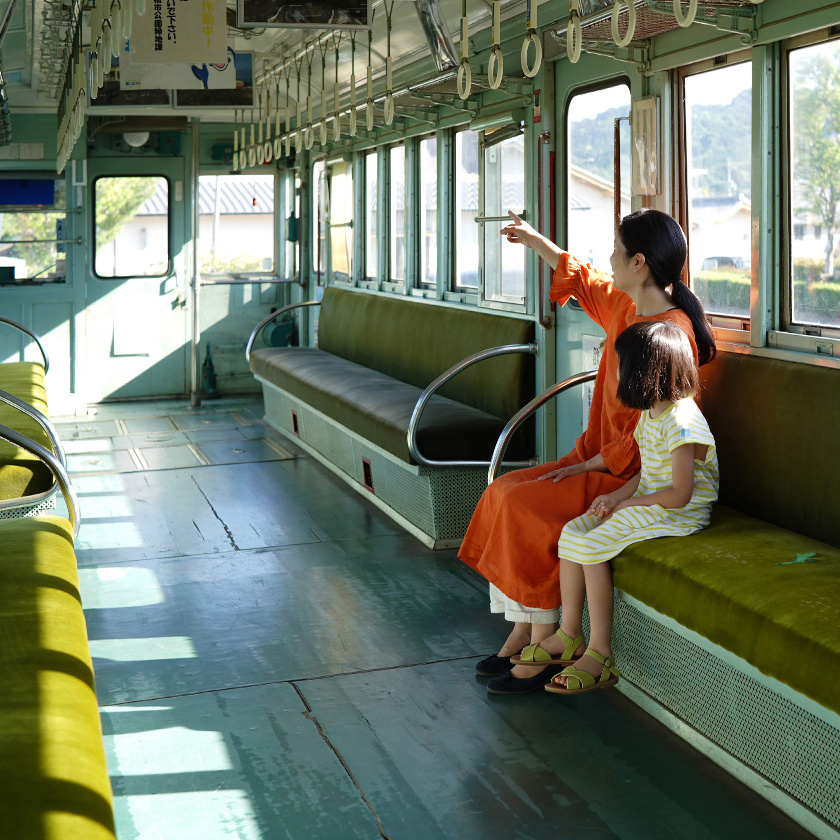 ---
A historic train car used for 80 years by a local railroad company is kept in Fusazaki Park, adjacent to Michi-no-eki Genpei no Sato Mure.
Visitors can sit in the driver's seat. This is a compelling place for train enthusiasts.
---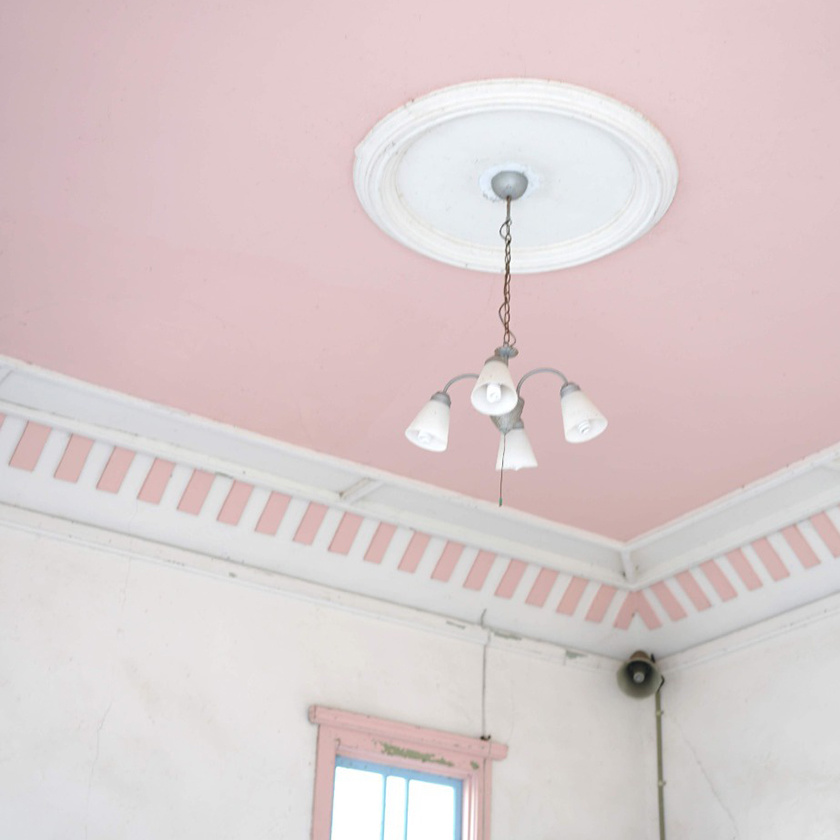 ---
The pastel-colored, modern building is Kotoden-Yashima Station. Dating back more than 100 years, this is also designated as a Heritage Site of Industrial Modernization.
Besides the picturesque appearance of the exterior, the interior, decorated in pink and white, is also worth seeing.
---
Tips for shooting
Old-fashioned train
Position yourself right in front of it as much as possible. Try to capture the train car horizontally and vertically.
When shooting through the glass, your subject should be close to the glass.
Station building
The area is surrounded by electric wires and power poles. Look for a good angle that minimizes these wires and poles.
It is recommended to match the color of your subject's clothes with the pink of the outer wall.
Recommended hours for shooting
Go there from early to late afternoon when sunlight is not too strong.
In addition, Kagawa has many photogenic spots such as natural areas that change with the seasons, the Setouchi islands, and works of art exhibited on the streets.
Use your smartphone or carefully-selected camera to capture the memories of your travels.
---

SpecialPlace of Scenic Beauty Ritsurin Garden
Address

1-20-16 Ritsurin-cho, Takamatsu City, Kagawa

TEL

087-833-7411

URL

Supported languages

日本語、English、中文、한국어、Français、Deutsch、Español
Takamatsu Municipal Water Museum
Address

1360 Tsuruichi-cho, Takamatsu-shi, Kagawa

URL
Shikokumura Museum
Address

91 Yashima Nakamachi, Takamatsu City, Kagawa

TEL

087-843-3111

URL

Supported languages

日本語
Oji Shrine
Address

Onoshita, Aji-cho, Takamatsu-shi, Kagawa
Fuzen Park
Address

632 Murecho Hara, Takamatsu, Kagawa

URL
Kotoden Yashima Station
Address

270-1 Yashima-nakamachi, Takamatsu-shi, Kagawa
Gathering date:2019.10.28 / SpecialPlace of Scenic Beauty Ritsurin Garden
KEYWORDS