Our travel starts from Kobe, one of Japan's greatest port towns, which was opened in 1868.
First, explore the old foreign settlement district (Kyu-kyoryuchi) and Chinatown, which exudes an exotic atmosphere. Then enjoy shopping in arcades where you can catch a glimpse of local life and department stores and buy local gourmet products, and then get on the ferry!
Jumbo Ferry, connecting Kobe with Takamatsu, is a gateway to Shikoku that remains very popular as an enjoyable means of transportation for traveling by ship in Setouchi.
Takamatsu, a city which was a thriving castle town, features shopping streets which are alive with local customers and tourists, and local gourmet products which make you want to savor them again and again, just like Kobe.
We will introduce ambitious plans for fully enjoying these two cities and traveling by ship.
Tourist spots in Kobe
---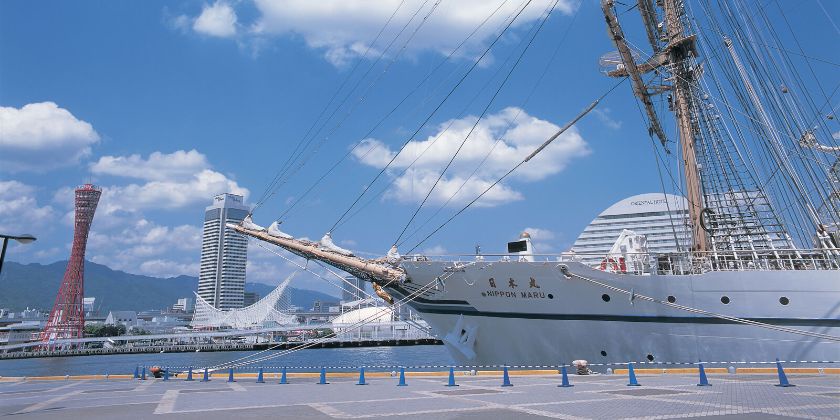 Symbolic buildings such as red Kobe Port Tower and the giant Ferris wheel are lined up in Meriken Park .
Fully enjoy the exotic atmosphere and the waterfront area.
---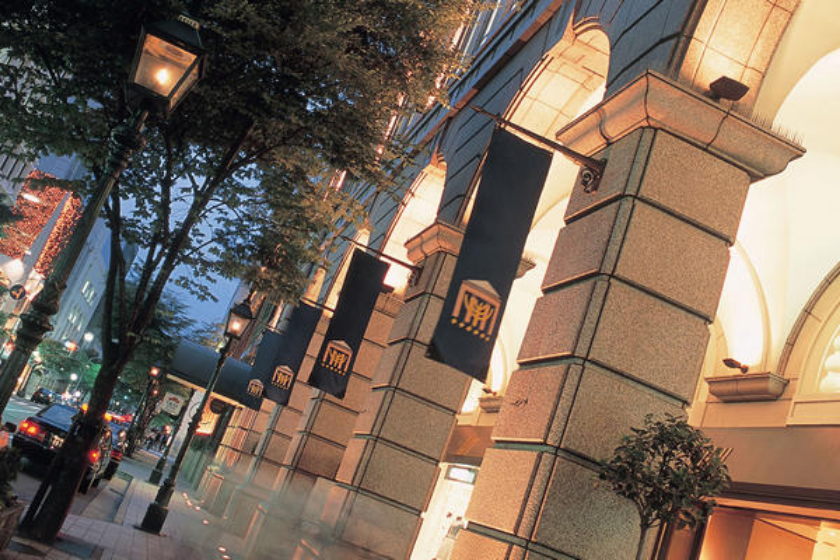 The area around Sannomiya Station is great for shopping. The arcade continues up to the area around the old foreign settlement district (Kyu-kyoryuchi), and it is comfortable even on rainy days.
---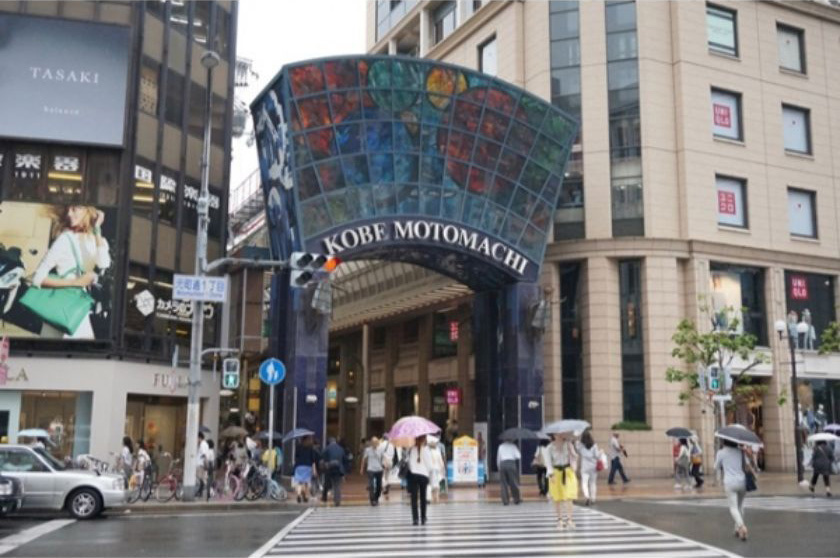 Kobe Motomachi Shopping Street is packed with about 300 stores, from long-standing stores to new ones.
You will enjoy the uniquely Kobe atmosphere just by strolling along it.
Several spots where you will experience the exotic atmosphere.
---
There are a variety of stores in Nankinmachi, which is one of Japan's three greatest China Town.
---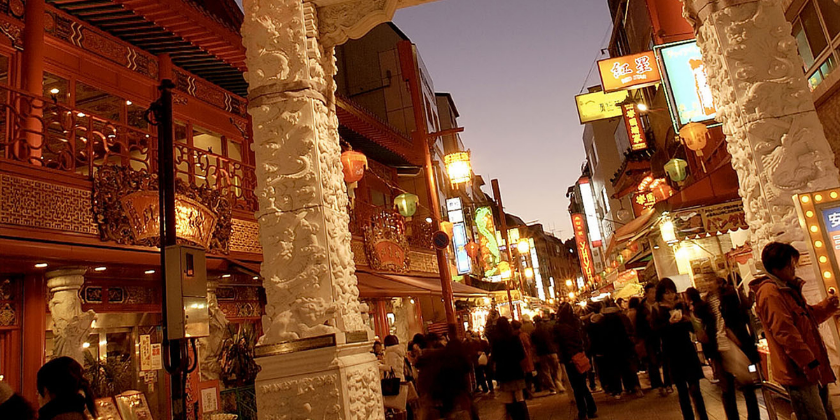 Stroll around the area, enjoying stylish Kobe shopping!
---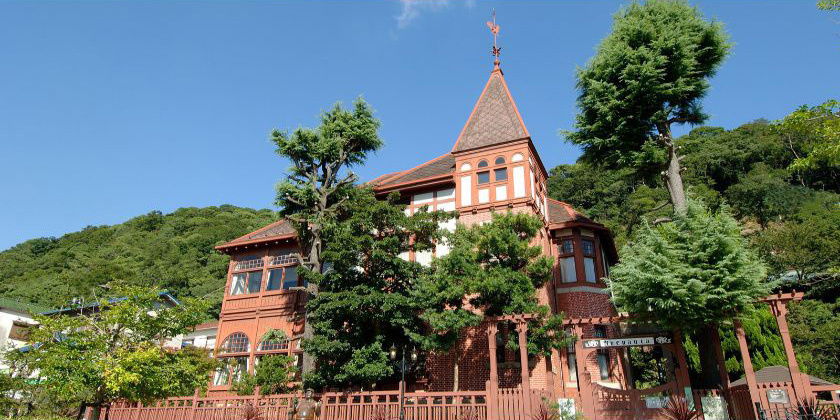 Kobe Kitano Ijinkan-gai, the area where foreigners lived at times when the Port of Kobe was first opened,
is dotted with the old foreign houses, or Ijinkan, museums, and general stores, and you will experience foreign culture and history.
If you go further from the central area, you will enjoy Arima Onsen, one of Japan's oldest hot springs, and Mount Rokko, which is full of leisure spots.
---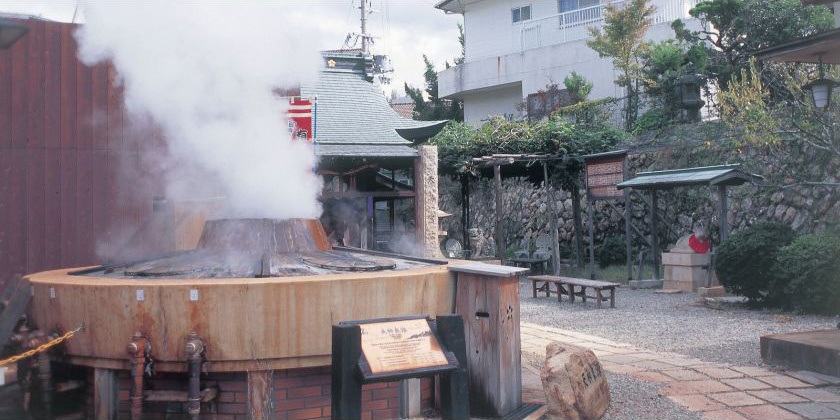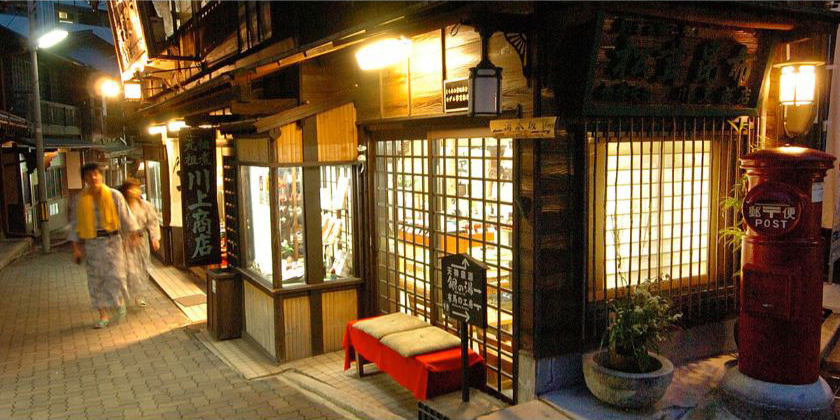 A route for enjoying a stroll around town in Arima Onsen!

---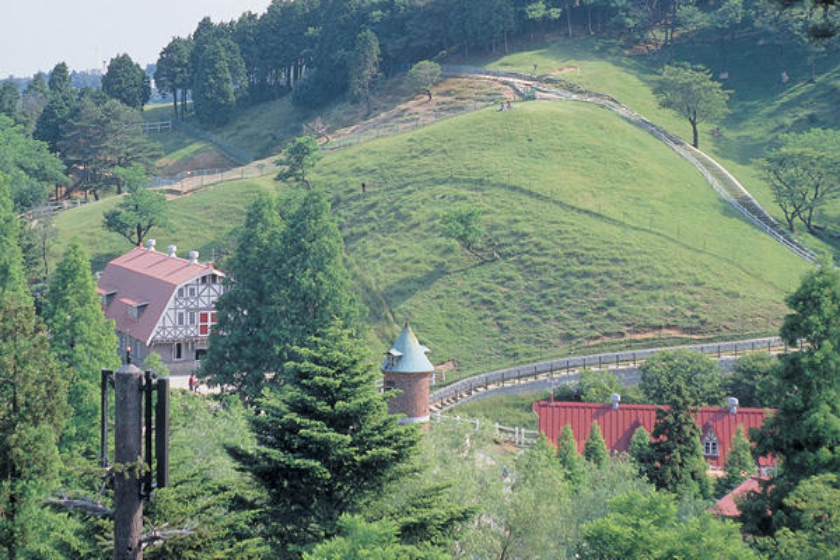 Go to Takamatsu City, Kagawa by Jumbo Ferry
Travel by ship from Kobe to Takamatsu. It takes about 4 hours and 15 minutes by Jumbo Ferry.
---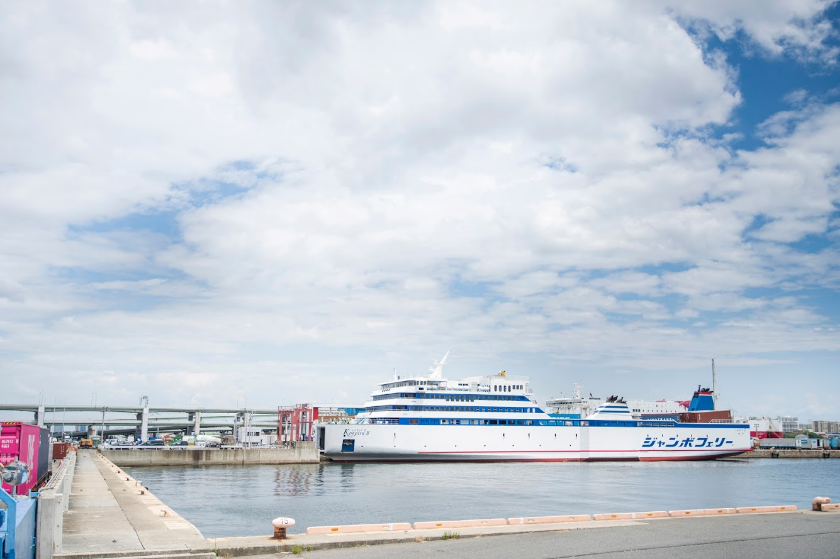 It runs four times a day from early in the morning to late night. Use it according to your travel plans.
---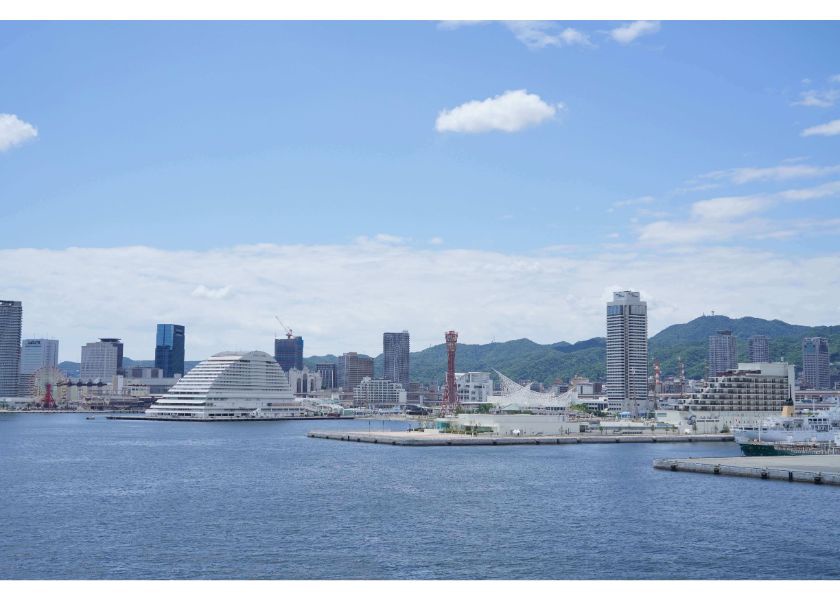 After leaving the Port of Kobe, you will see the photogenic bay area.
---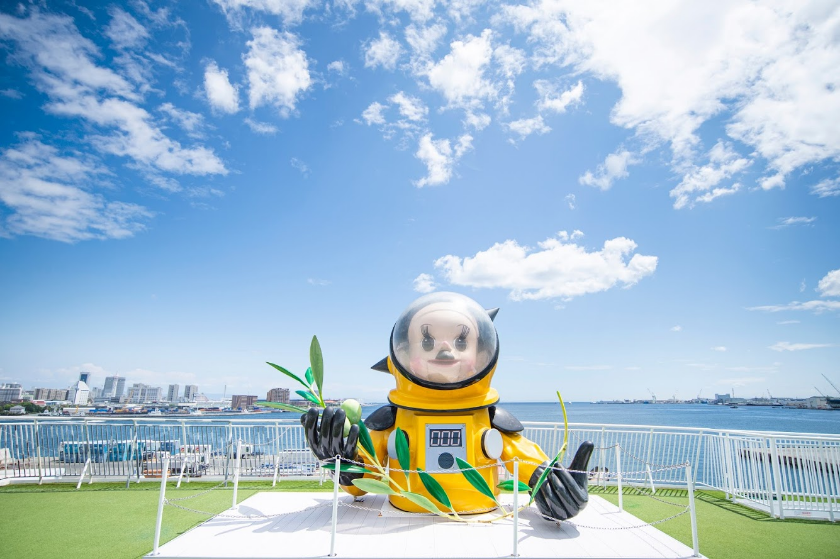 In beautiful weather, go to the observation deck and feel the sea breeze.
---
It is recommended to take some Kobe gourmet items with you before getting on board.
Because many foreign residents have lived here for a long time, Kobe is a highly competitive district for breads and sweets. It is packed with many stores including long-standing shops, popular shops, and up-and-coming ones.
---
---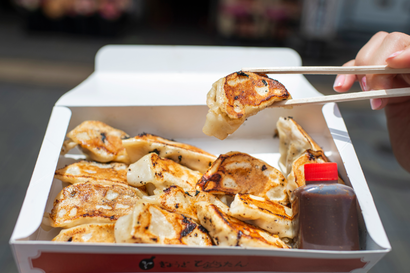 Buy a steamed bun with minced pork filling, takeaway gourmet staples, or pan-fried dumplings with miso paste, secret cheap delicious foods, and find your favorite seat.
---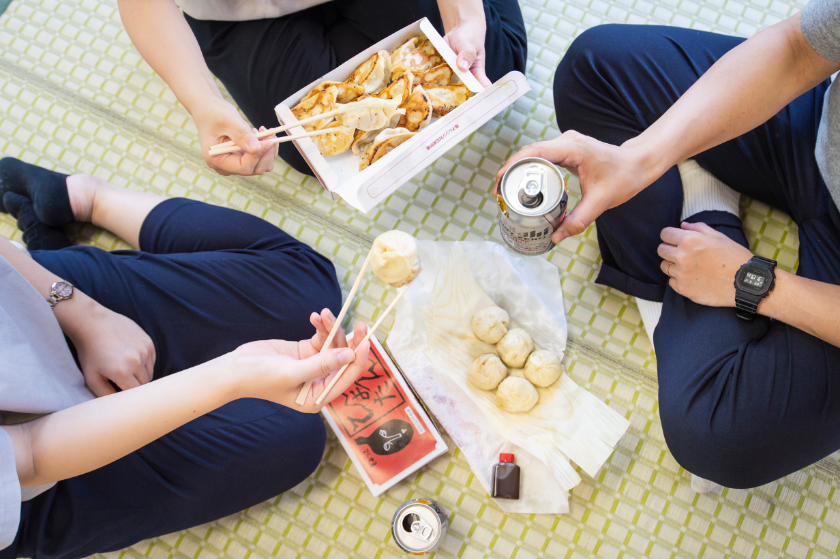 While enjoying the ocean view outside the window, savor gourmet Kobe food on the ship.
---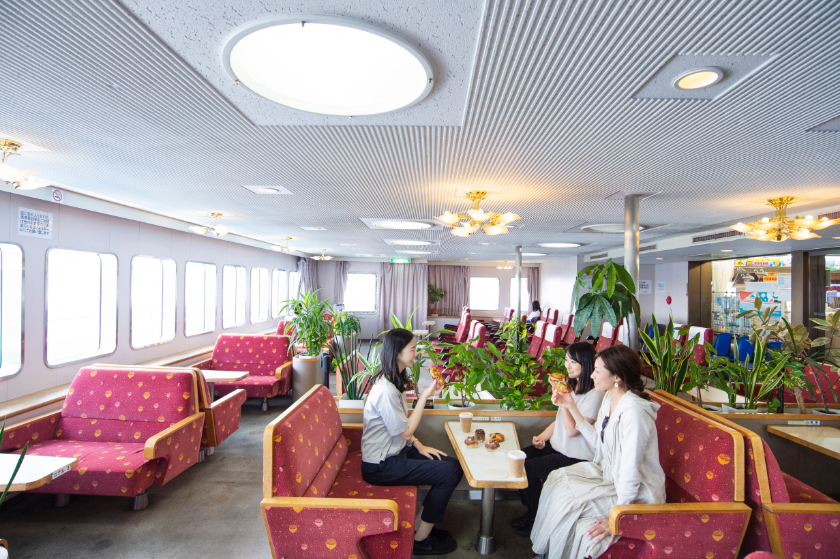 There are a variety of seats, such as chairs, booths, and sitting rooms with carpets. You can use any of them depending on the situation and time.
---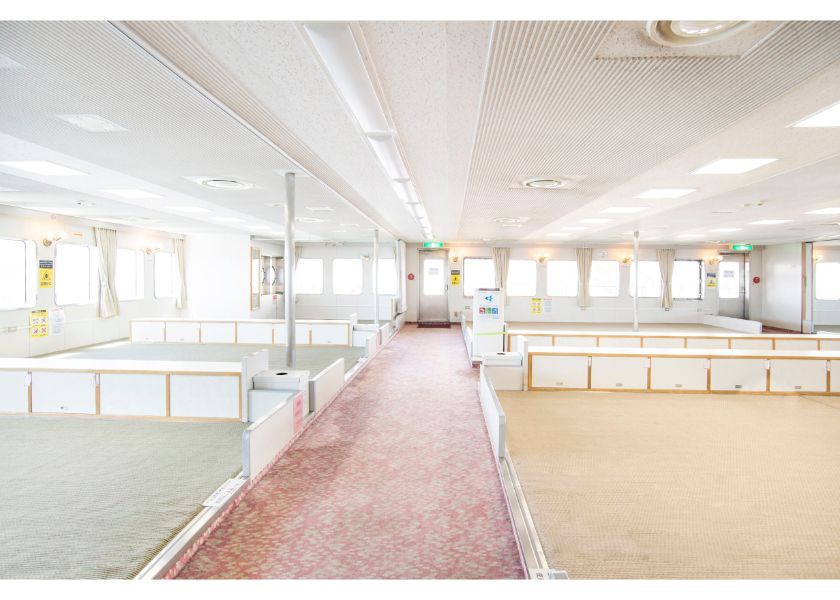 ---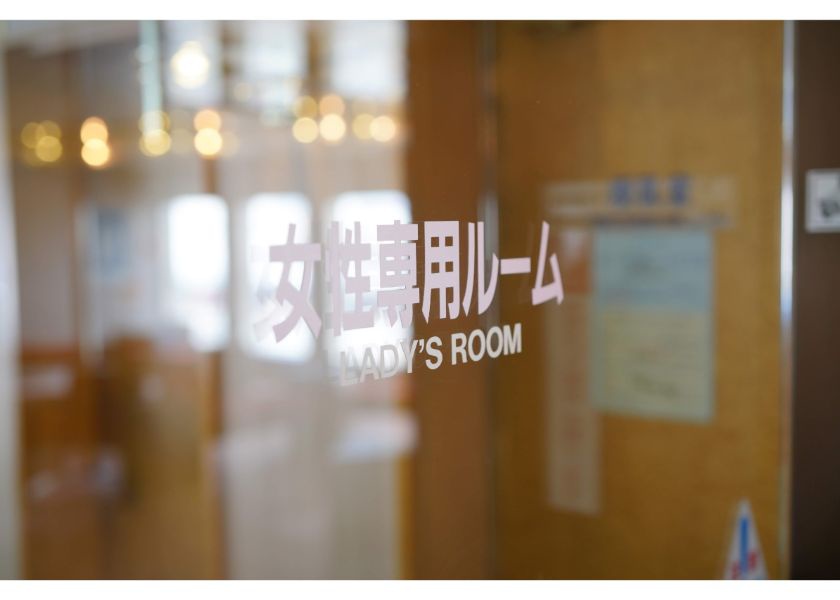 After enjoying a meal in a booth, you can relax in a sitting room, stretch your feet, or play a card game.
Chairs and Japanese-style carpet seats are available in the room for women only.
---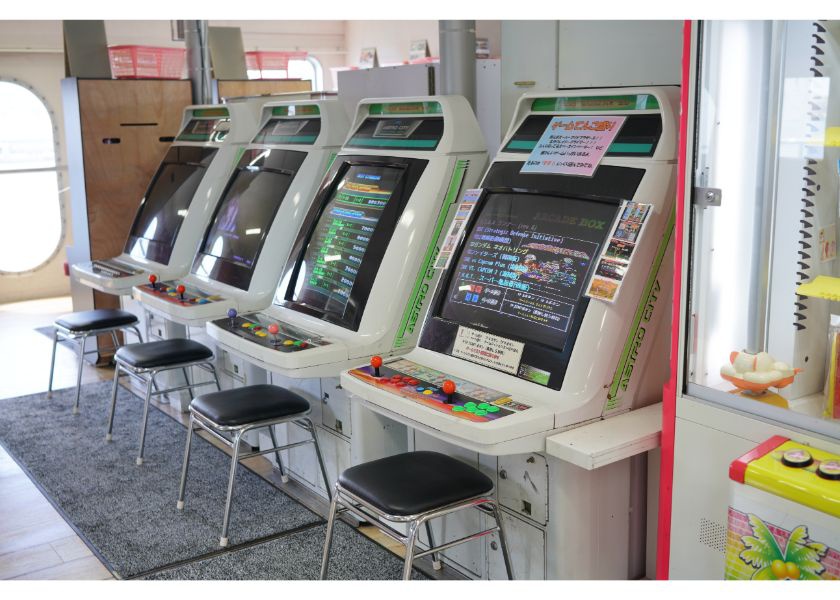 Child rooms and game corners are also available. Ingenious ideas are applied to help passengers of various ages pass the time comfortably.
---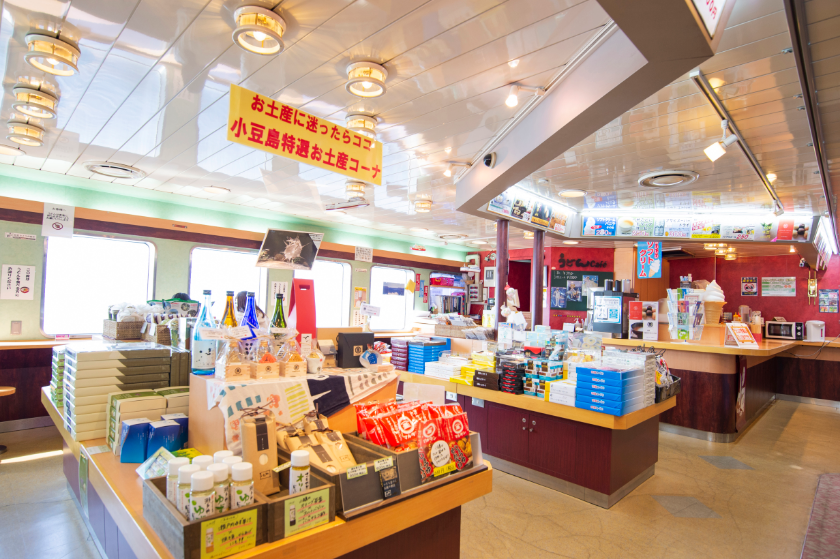 ---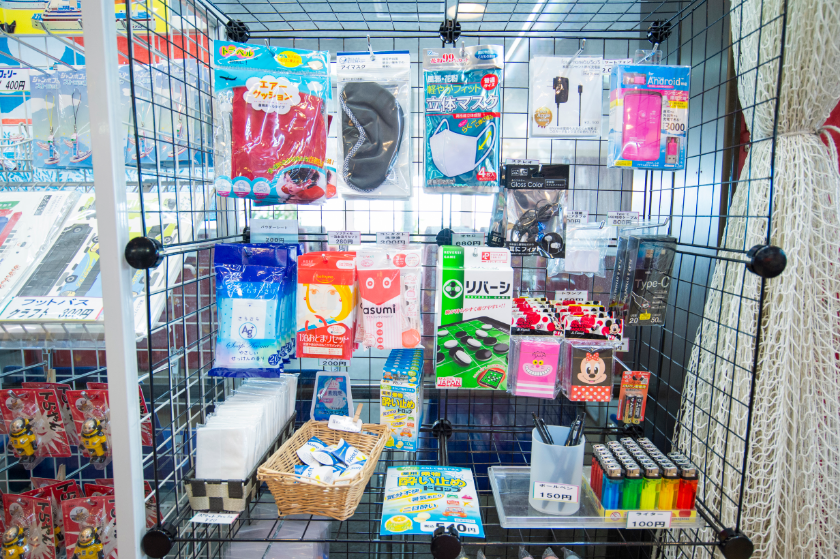 A kiosk offers souvenirs from Kobe and Takamatsu, and snacks and amenities to spend time comfortably on the ship.
---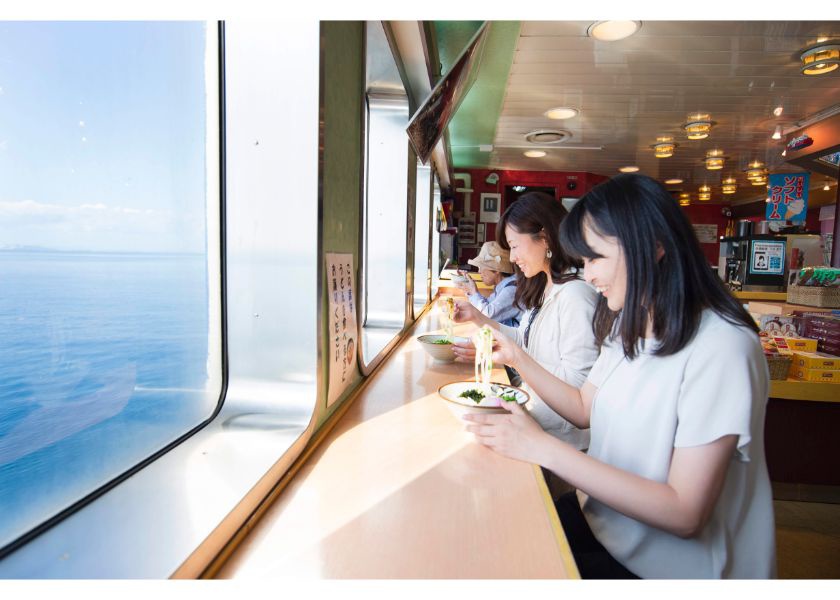 ---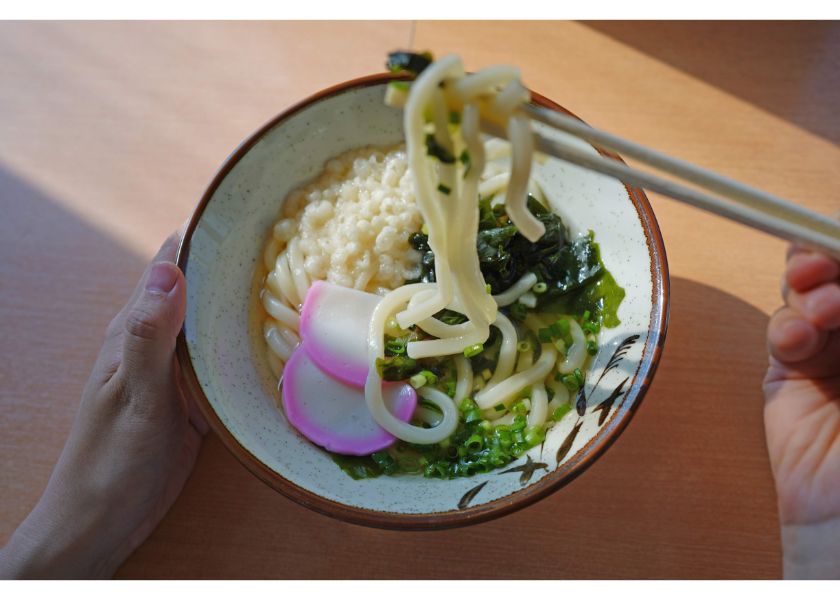 Ferry Udon, a local specialty you can savor at the counter with windows facing the ocean, is a gourmet food which shouldn't be missed.
---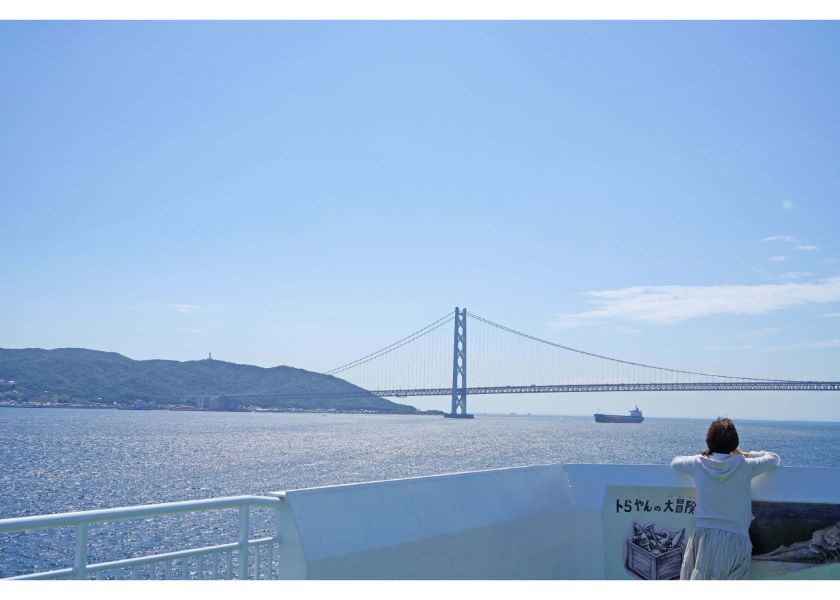 Akashi-Kaikyo Bridge is a must-see spot from the ferry. At a total length of 3911m, it is the world's longest suspension bridge, connecting Kobe and Awaji Island.
---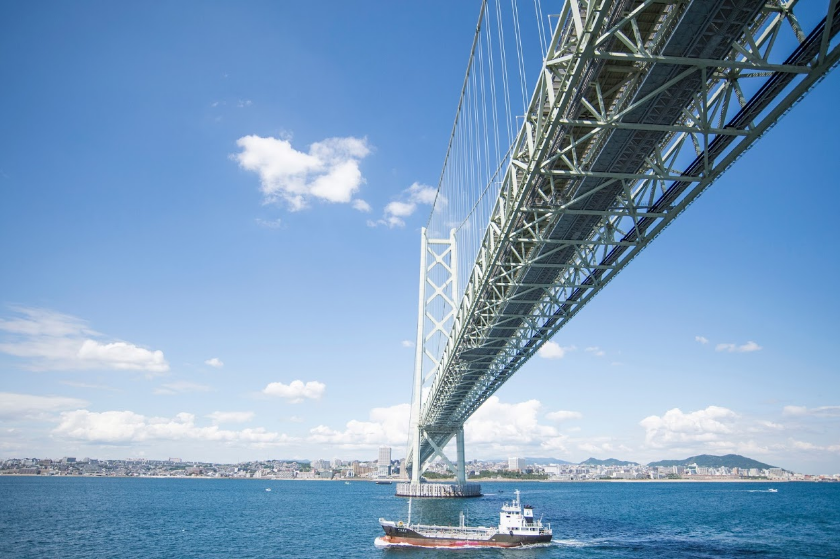 You will enjoy the dynamic view from under the bridge.
---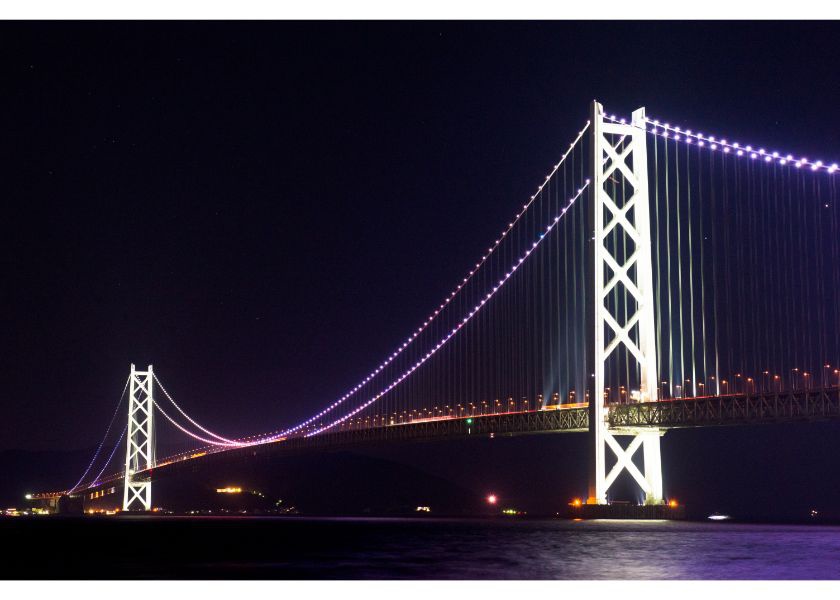 It is illuminated at night, and exudes a fantastic atmosphere.
---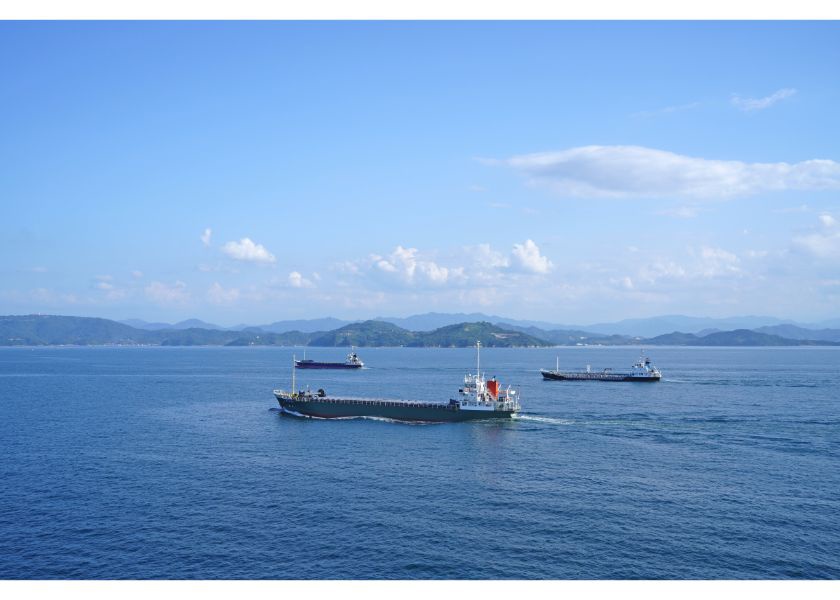 Various ships, large and small, come and go along the same routes.
You are likely to take many pictures unique to traveling by ship.
---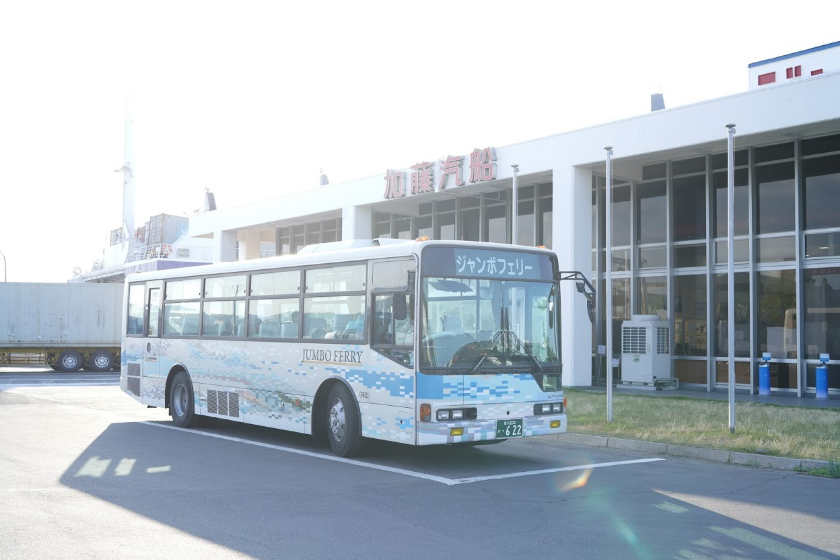 When you arrive in Takamatsu Higashi Port, take a free shuttle bus to Takamatsu Station, a transportation hub.
Takamatsu tourist spots
---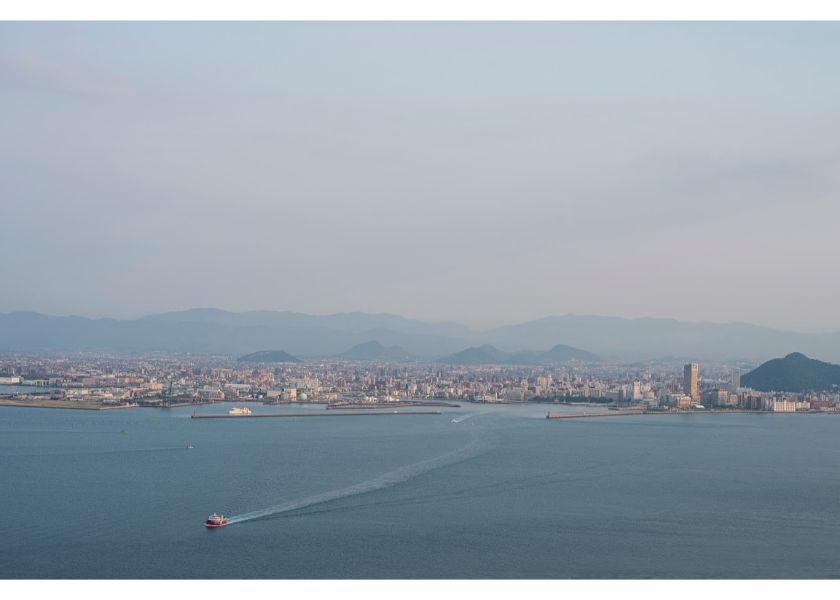 The Takamatsu Port is a cornerstone of marine transportation, having long connected Shikoku with Honshu or isolated islands. It is still a base for people and logistics.
---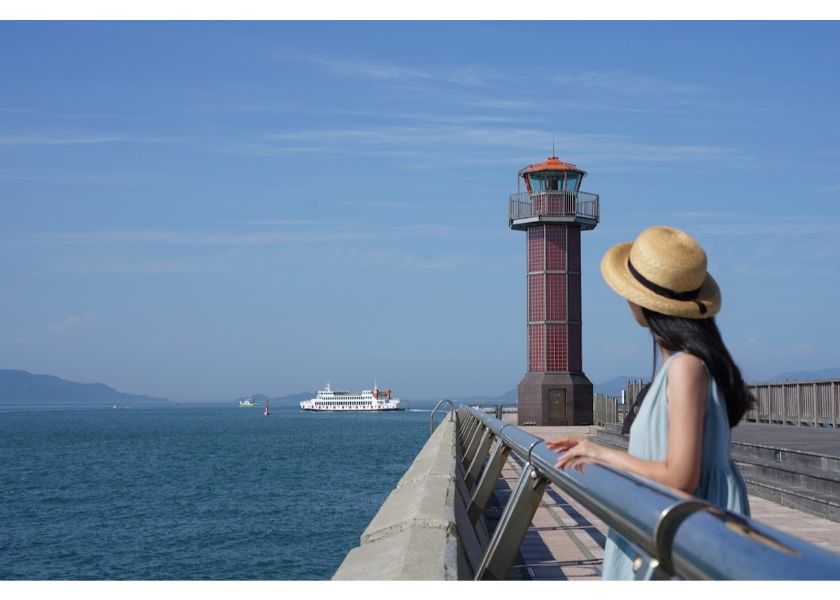 Seto shirube, the world's first glass lighthouse, is a symbol of the port area.
Many people visit the Setouchi Triennale which is held every three years on the stage of the islands of the Seto Inland Sea.
---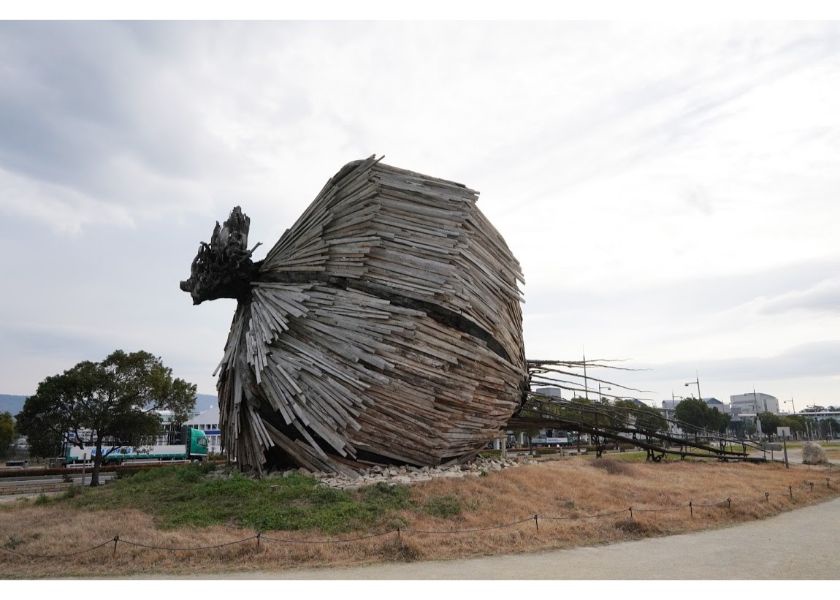 ---
---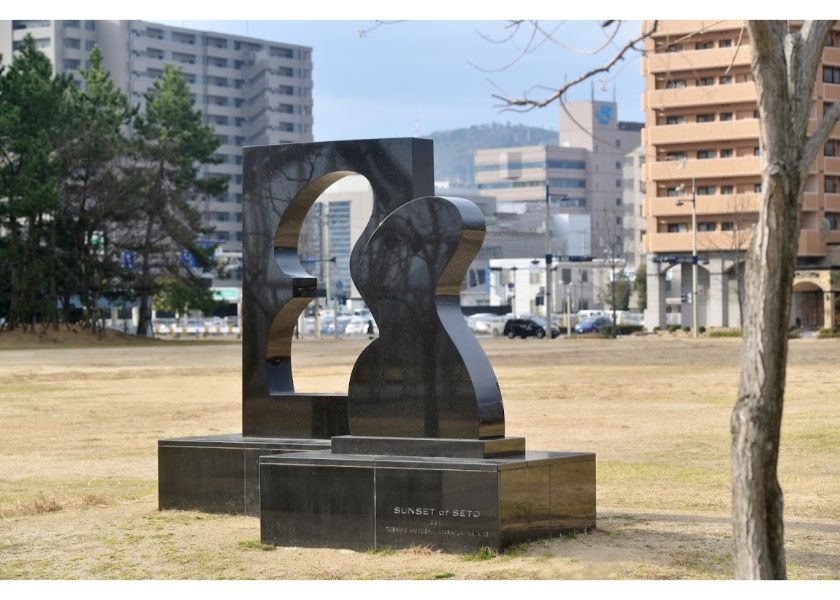 ---
The areas around Takamatsu Port and Takamatsu Station are dotted with public art visitors can enjoy seeing even after the event ends. Feel free to enjoy art while on the move.
---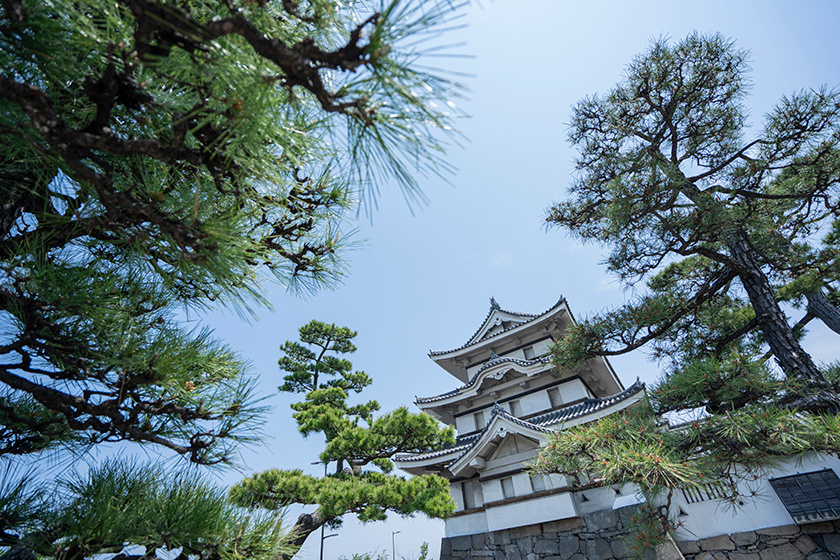 The ruins of Takamatsu Castle, one of Japan's three greatest castles on the water, which is full of sightseeing spots, are located next to the Port.
---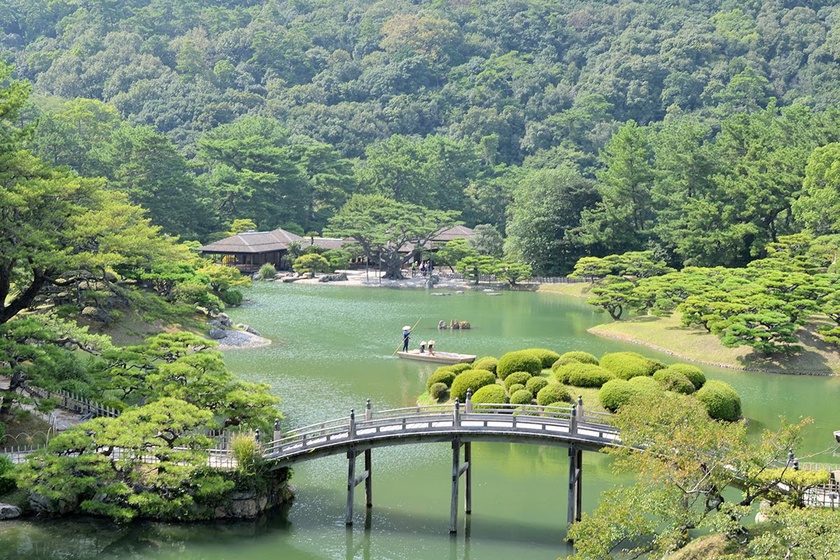 Ritsurin Garden was built by successive feudal lords of Takamatsu Castle over the course of more than 100 years. It is a place where you can experience the beauty of a Japanese garden.
---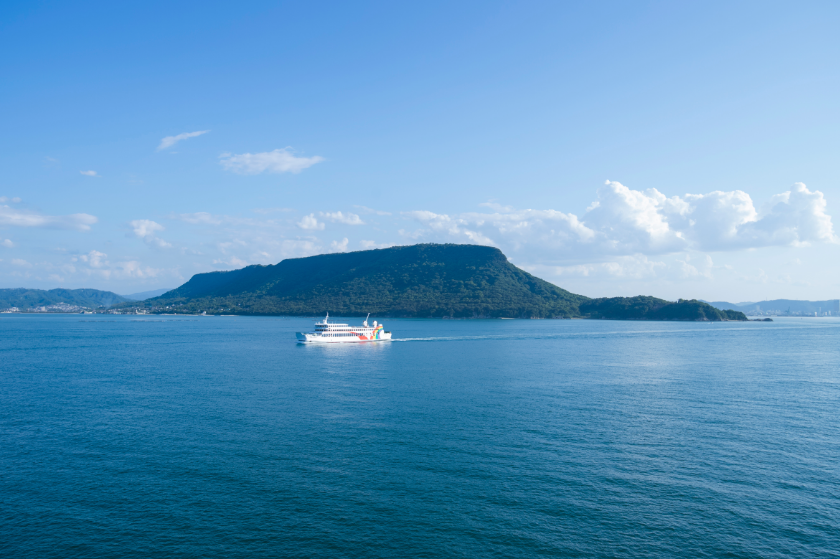 When you feel like experiencing nature, go to Yashima, which can be also seen from the ferry.
The pilgrimage path to the temple on the top of the mountain is a trekking route with abundant nature.
In Shikokumura Museum, where historical private houses were collected from the entire Shikoku region, you can spend a peaceful time among chirping birds and the sound of falling water.
---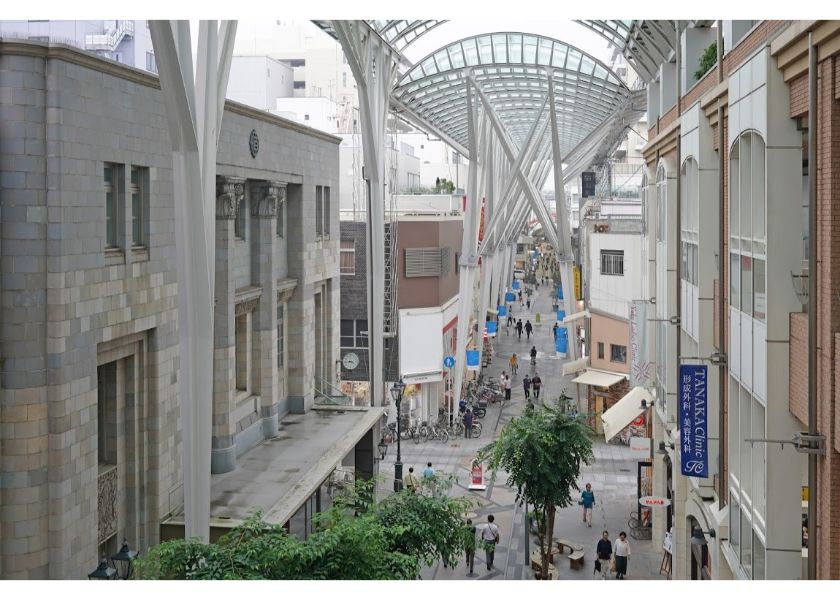 If you feel like shopping, go to Takamatsu Central Shopping Street, where the arcade stretches for about 2.7km.
About 1000 fashion, general goods, and gourmet shops line the street, and they come alive with local people and tourists every day.
---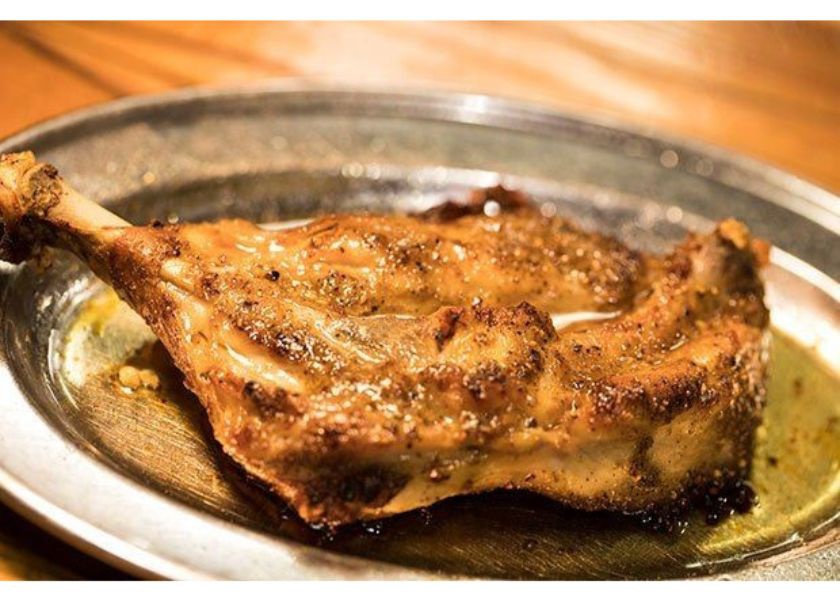 Don't miss local gourmet specialties.
In Kagawa which is called the Prefecture of Udon, there are more udon shops than convenience stores.
They offer a variety of styles, such as kake udon (basic udon noodles in the soup broth), bukkake udon (udon noodles served with a thicker, smaller amount of broth soup), and kamatama udon (udon with raw egg), plus each shop's unique features. Many tourists visit more than one udon shop a day.
Many stores are opened during the daytime only, so please check business hours and regular holidays in advance.
The recommended gourmet food at night is juicy chicken-on-the-bone.
The mainstream stores offer two types of chicken, young chicken which is tender and easy to eat, and grown chicken which is plump and filling. The spicy flavor is delicious.
Fully enjoy traveling by ship, especially when events are held in both cities in 2019!
Tourist information
Event information
Kobe
Takamatsu
---
Gathering date:2019.8.30
KEYWORDS