Universal Tourism is travel designed for everyone to be able to enjoy it,
with the goal of enabling everyone to participate without hesitation, even people of advanced age or people with disabilities.
TAKAMATSU UNIVERSAL DESIGN MAP
Designing products and environments to ensure that many people are able to enjoy them from the beginning, regardless of age, gender, disability, nationality or personal characteristic or condition.
To ensure that everybody is able to travel safely, the Takamatsu universal design map shares universal design information on the facilities in the Seto and Takamatsu area.
Key point of TAKAMATSU UNIVERSAL DESIGN MAP
Handling and contents are intuitive and easy-to-understand
Provides universal design information for acting compassionately
Provides wide-area universal design information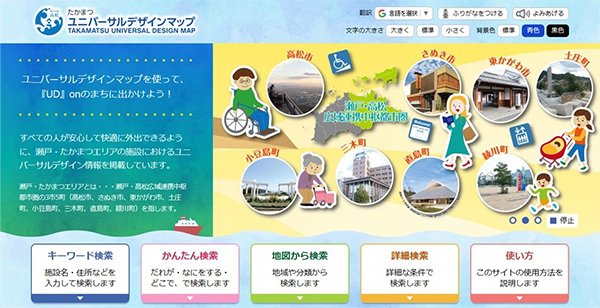 MAP OF ACCESSIBLE FACILITIES IN TAKAMATSU CITY
Provides information on four locations: Sunport and its surroundings, the Takamatsu Castle Ruins Historic Site, the Special Place of Scenic Beauty Ritsurin Garden, and Yashima Sanjo
Provides information on places that are difficult for people using wheelchairs to access
Also provides information about the restrooms of facilities
Written in three languages: Japanese, English and Traditional Chinese