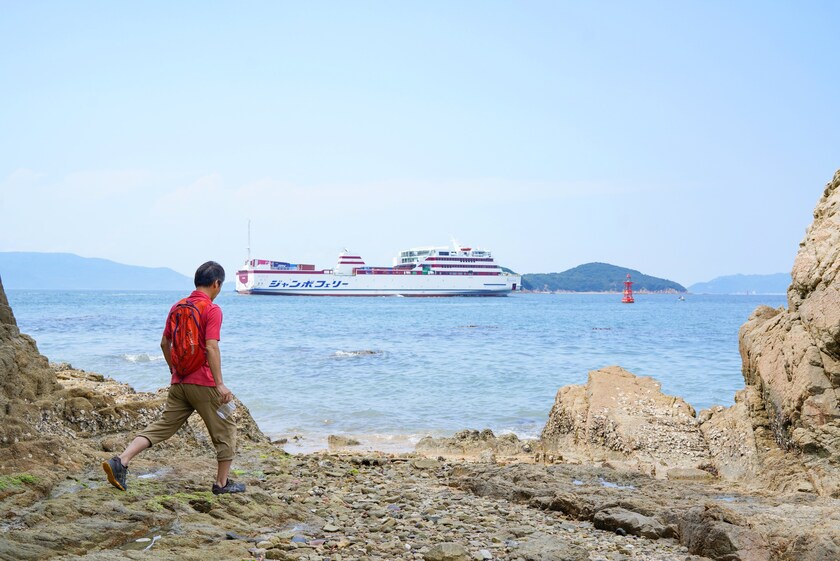 The Seto Inland Sea surrounded with Honshu, Shikoku and Kyushu is the largest inland sea in Japan. Secluded from the open seas such as the Pacific Ocean and the Sea of Japan, it is known for its calm waters dotted with islands and its characteristic rugged coastlines.
Combined with other elements, such as the great difference between high tide and low tide, the area is ideal for nuturing diverse ecosystems.
Goten-no-hama, cultivating a keen eye and imagination
---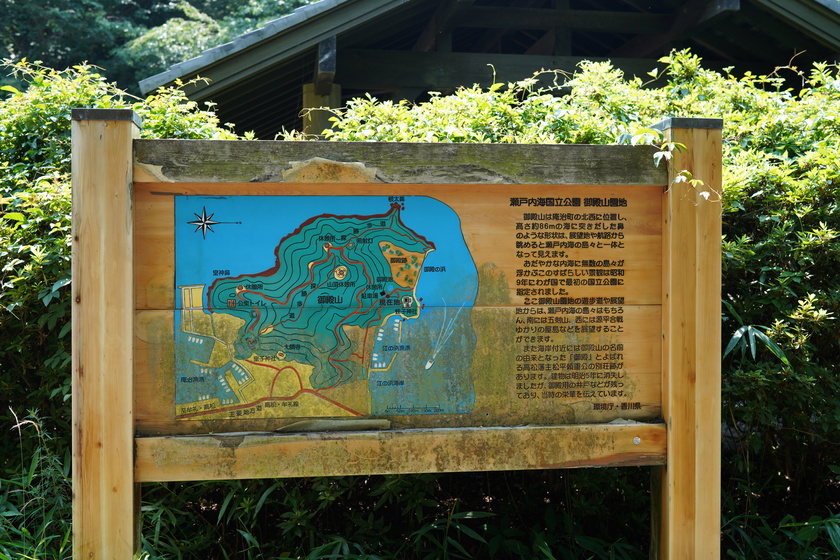 Goten-no-hama is a beach located in front of Mt. Gotenyama in Aji Peninsula, Takamatsu.
It is called "Goten" because in the Edo period, there was a vacation home of a feudal lord of Takamatsu.
---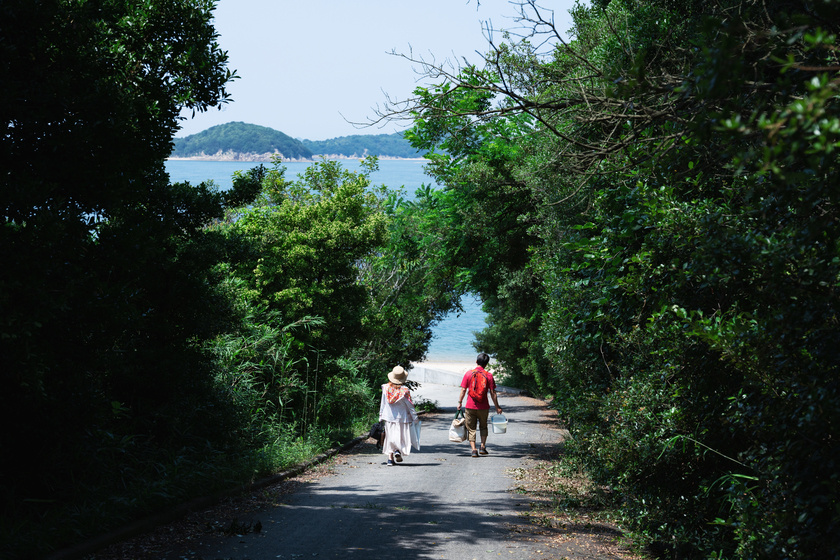 After parking our car in the parking lot near the sea, we descended the gentle hill. Goten-no-hama appeared between the trees.
---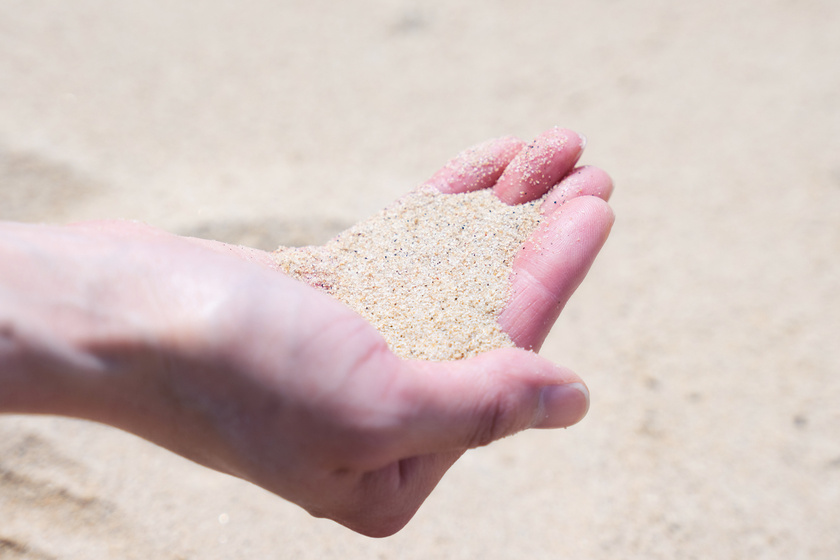 The beach was about 200 meters long and curved. Grains of sand were fine and felt smooth to the touch.
---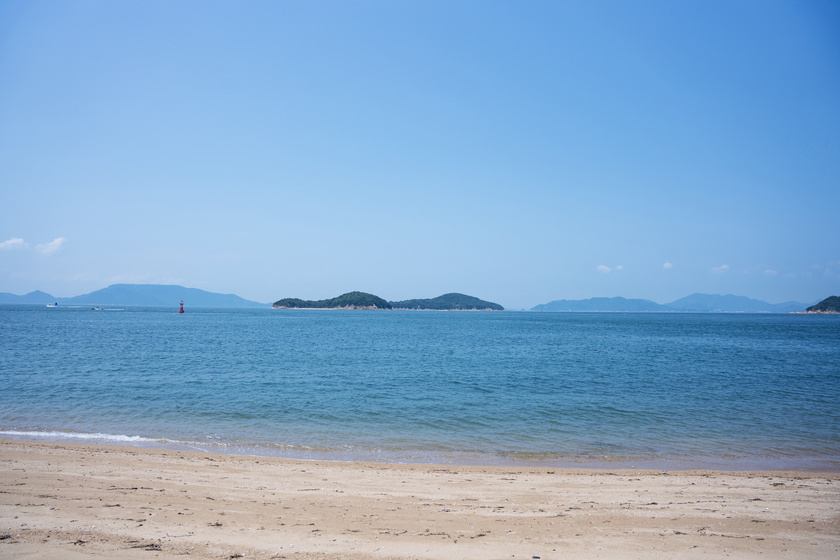 Sitting on the beach and watching the gentle waves was a truly relaxing experience.
---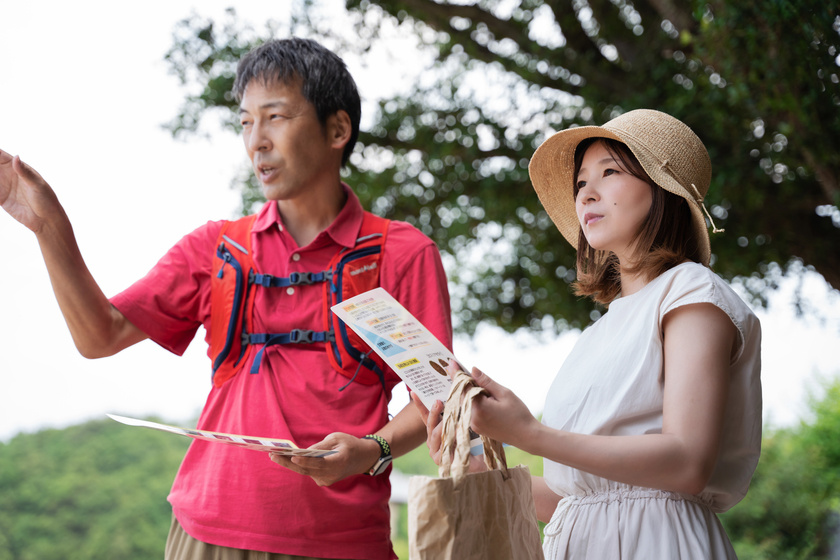 Then we were joined by Mr. Keiji Morita, of the Kagawa Guide Association. He shared his knowledge on beachcombing (an activity in which you hunt for articles that have washed ashore, which can be enjoyed all year around), and the observation of marine creatures on the seashore.

The first activity was beachcombing.
We were off to hunt for articles washed ashore, including seashells, driftwood, sea glass and objects from overseas.
---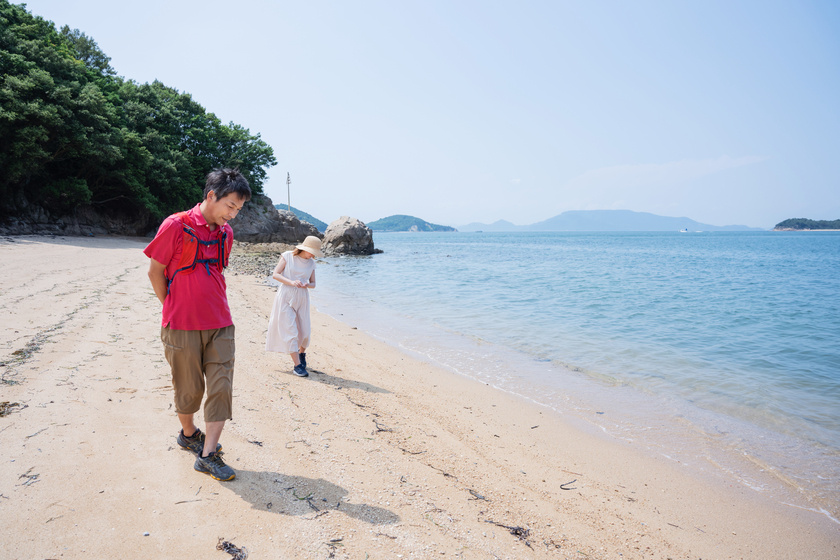 We walked along the beach while feeling the sea breeze. Mr. Morita said: "By changing your perspective, you can find different aspects about the sea."
---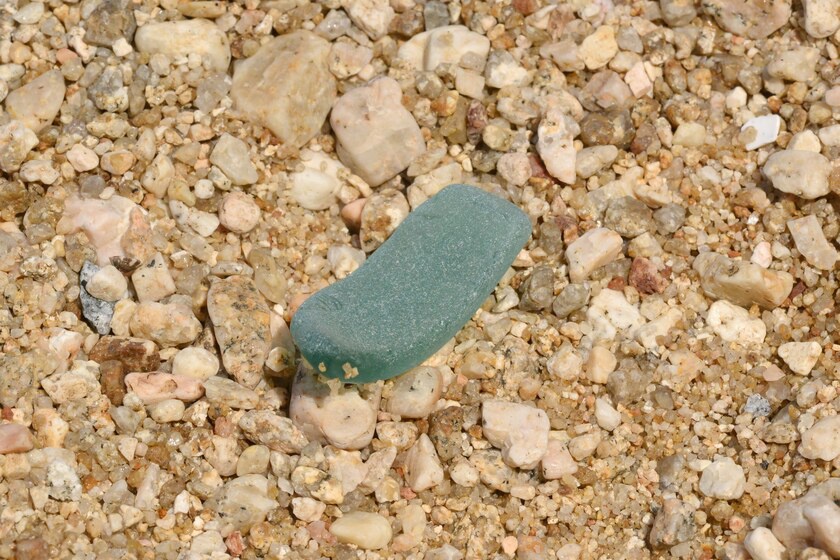 We soon found sea glass, one of the most treasured discoveries, close to where we stood.
Sea glass is weathered glass that has smooth edges and a characteristic frosted appearance.
---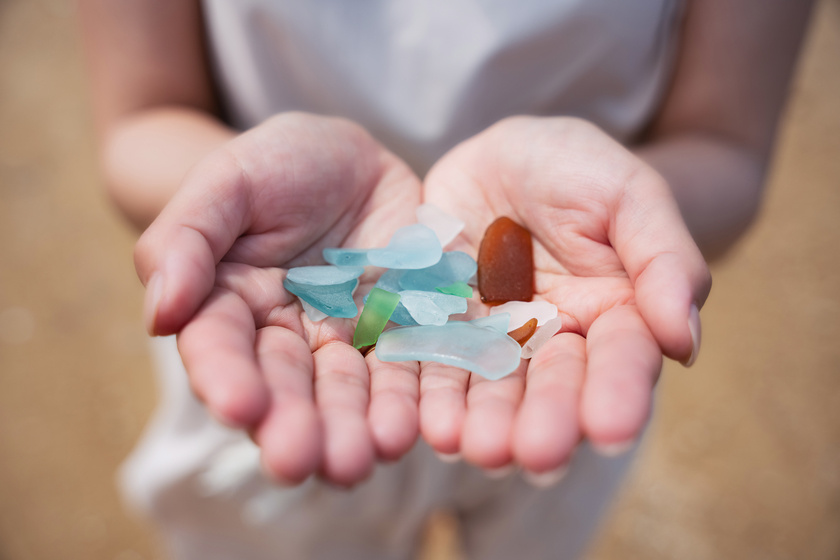 The colors are usually light blue or brown, but it is possible to come across rarer colors such as yellow and soft pink.
Sea glass looks pretty when stored in a jar. Alternatively, it can be made into an accessory.
---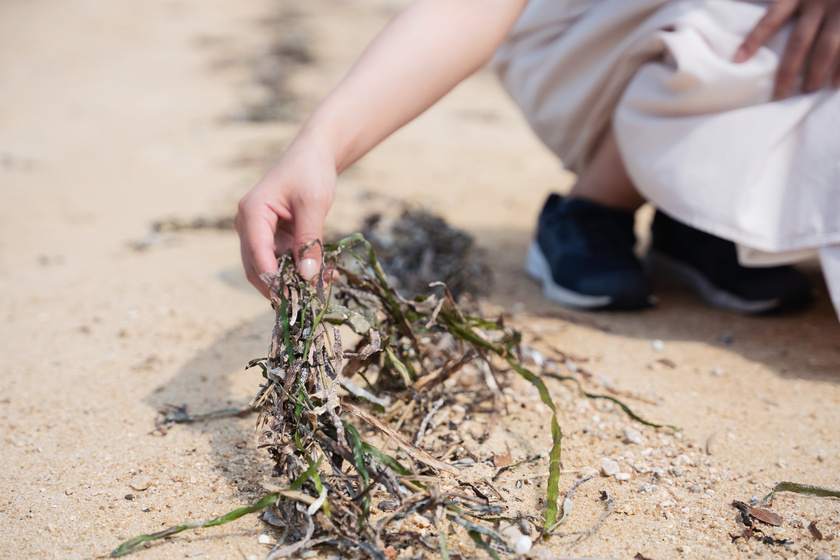 Sea glass can be found not only on the beach but also under seaweed that has washed ashore. So be sure to look underneath.
---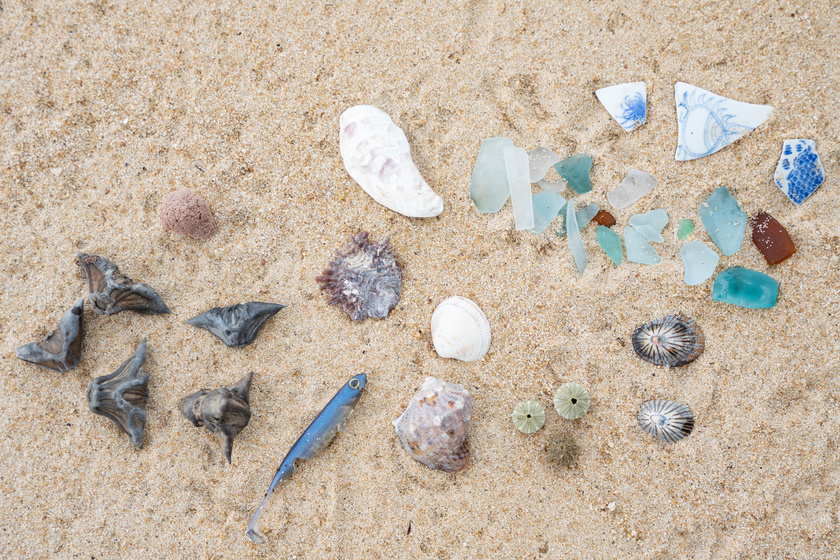 Items that originally came from mountains and towns are often washed ashore, too. Black water chestnuts with rough surfaces, which grow under the water such as a pond, and pieces of porcelain are some examples.
---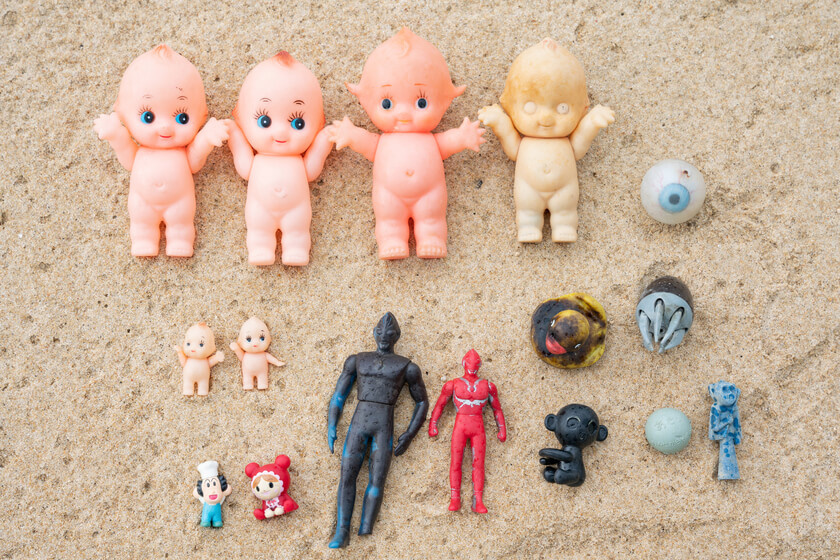 If you are lucky, you might be able to find a nostalgic toy that is no longer in production.
Articles washed ashore are gifts delivered by the waves. Hunt for your favorite items or something that fills your heart with joy.
---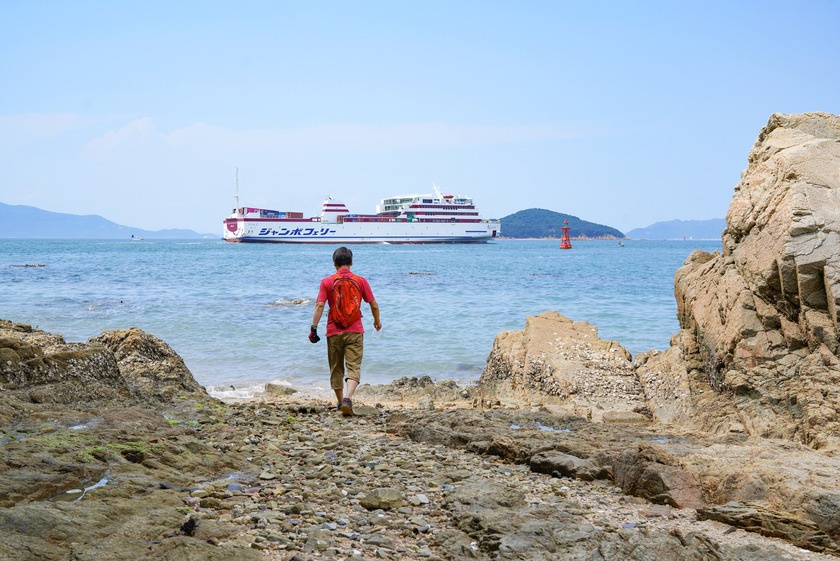 Next, we observed marine creatures on the seashore.
The shore around this area is rocky, and its rugged surfaces provide creatures with perfect habitats.
---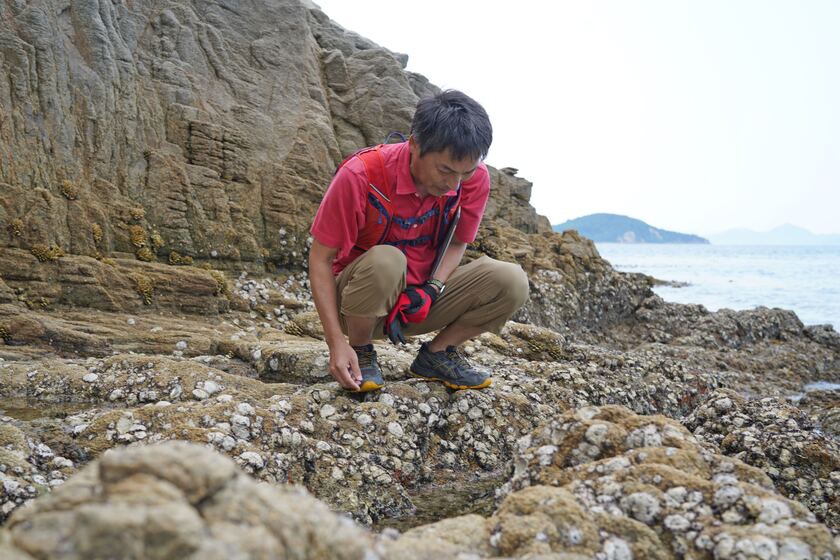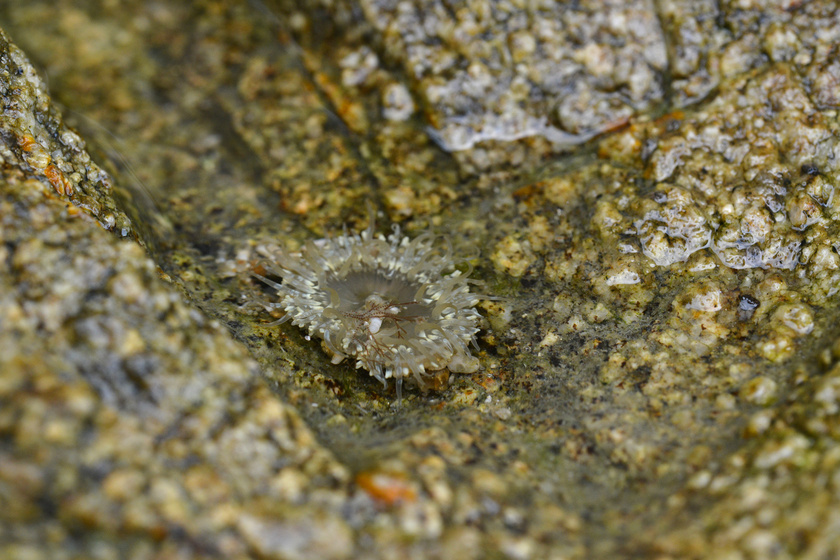 Tide pools in particular, which are formed as a result of the rise and fall of the tides, are the home of many different marine creatures. The period from two hours before to two hours after low tide are the most suitable time to look for creatures.
---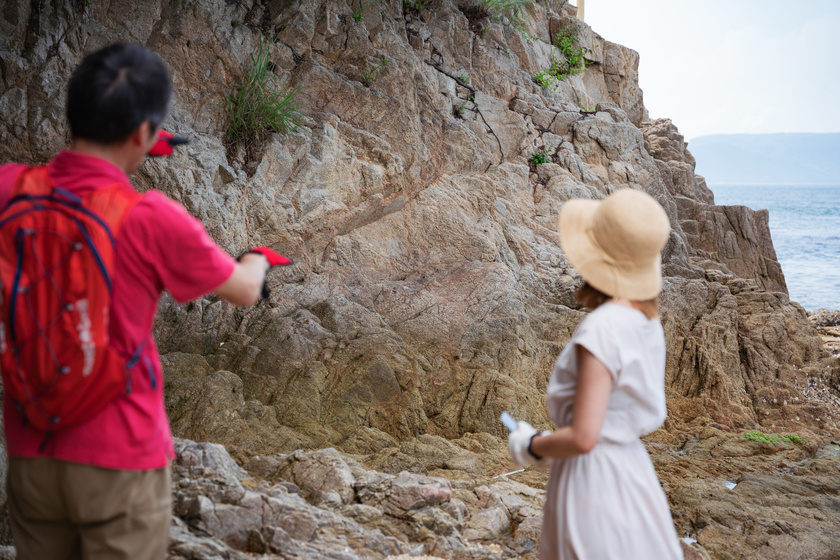 As we hunted for creatures, Mr. Morita gave us advice: "The types of creatures you can find differ depending on how high the tide pool is positioned above sea level."
---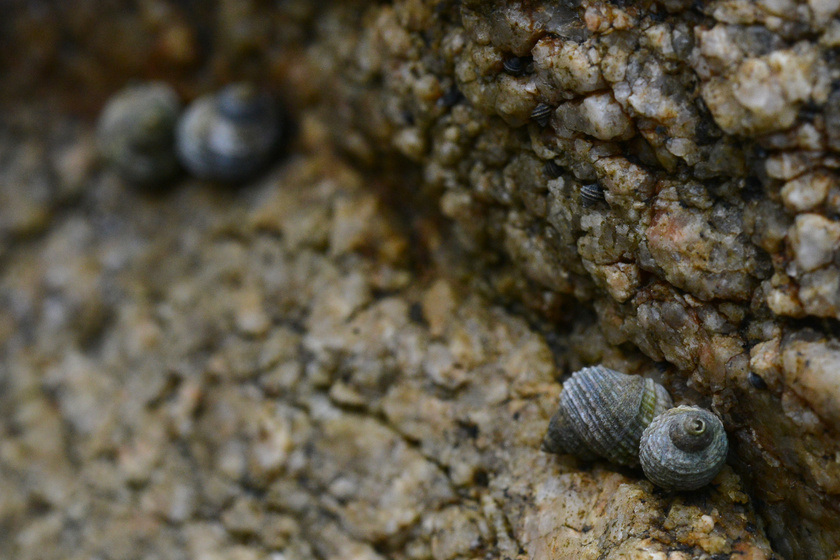 We came across a periwinkle first. While periwinkles actually dislike water, they choose tide pools in order to take in oxygen from sea water. However, they remain in tide pools that are positioned high enough to benefit only from the spray of water.
---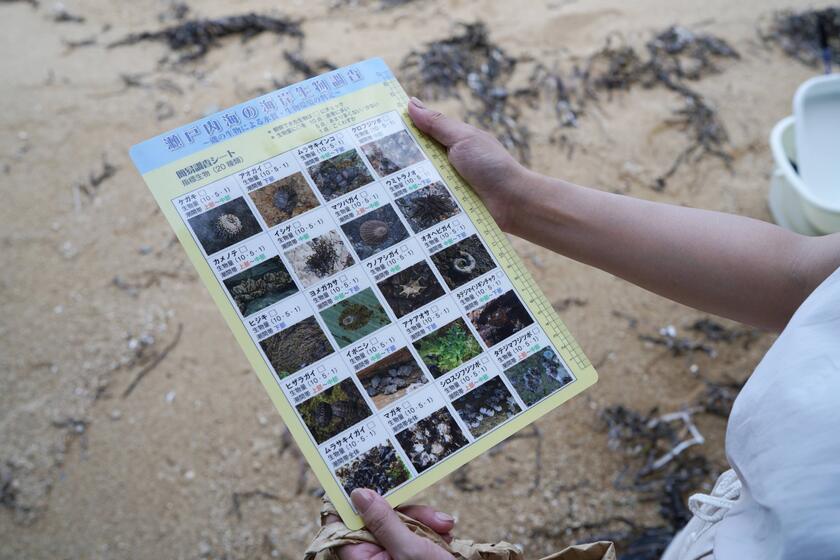 The types of creatures found also indicate the quality of water environments.
---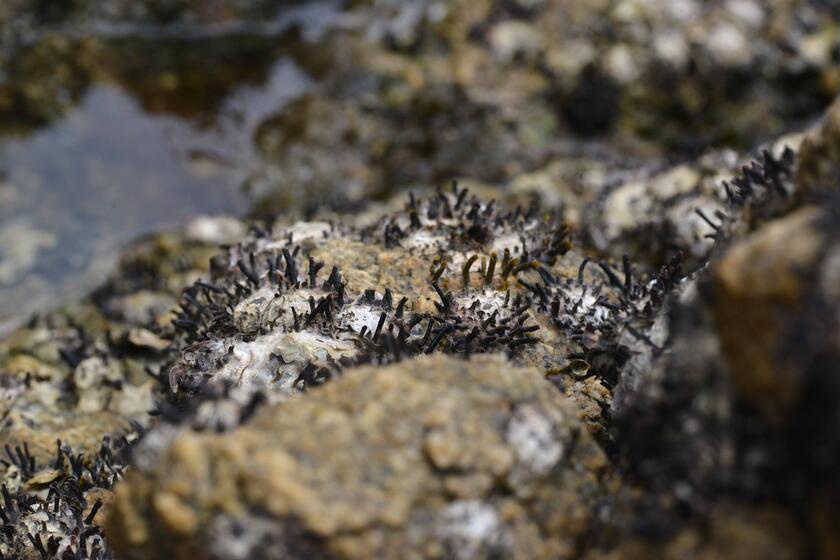 For example, Pacific oysters that are often farmed prefer dirty sea water, unlike spiny oysters, which like clean sea water.
It is interesting that they like the exact opposite things, although they are both oysters.
---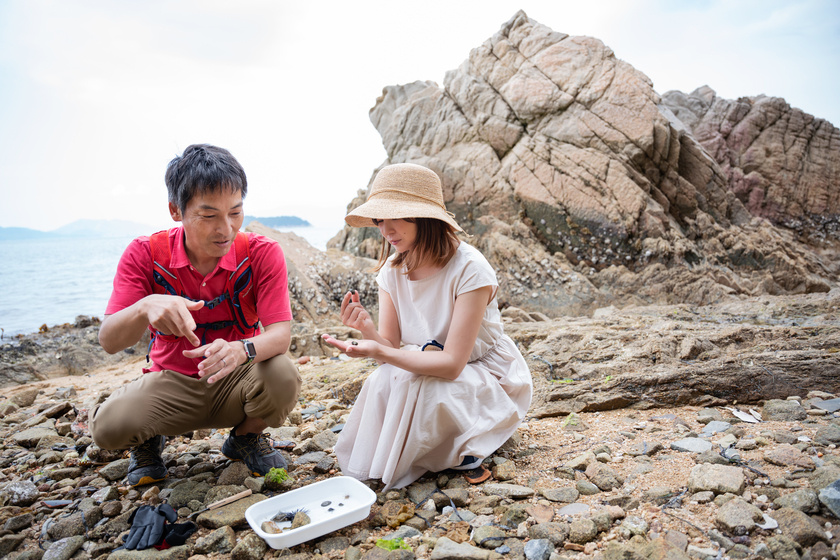 The time spent interacting with creatures in nature was very soothing.
---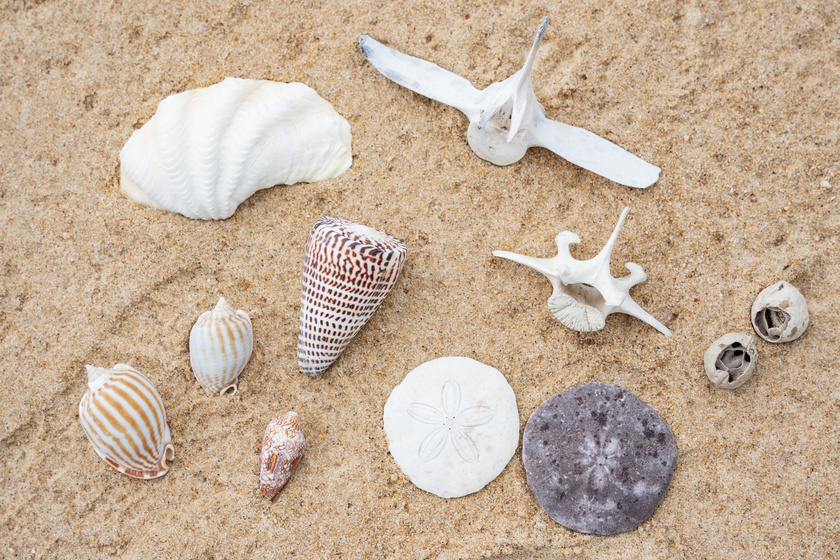 Even at the beach, where you usually walk along aimlessly, you may make a discovery if you change your perspective.
We encourage you to explore beaches whenever you have a moment. On a beach holiday, while waiting for a boat, or simply to pass the time while waiting for transport.
Tips for a safe day at the beach
Be aware of heat exhaustion. Make sure you hydrate as necessary.
Avoid touching hazardous marine debris such as injection needles.
Spatulas, cotton work gloves and trays come in handy.
Wear sneakers to avoid slipping.
There is no toilet facility in Goten-no-hama. Be sure to visit one before arriving at the beach.
The clean ocean starts from the Seto Inland Sea, Kagawa
While beaches are attractive, a great amount of marine debris is also washed ashore. Marine debris originating in the Seto Inland Sea occasionally reaches islands further afield in the Pacific Ocean.
---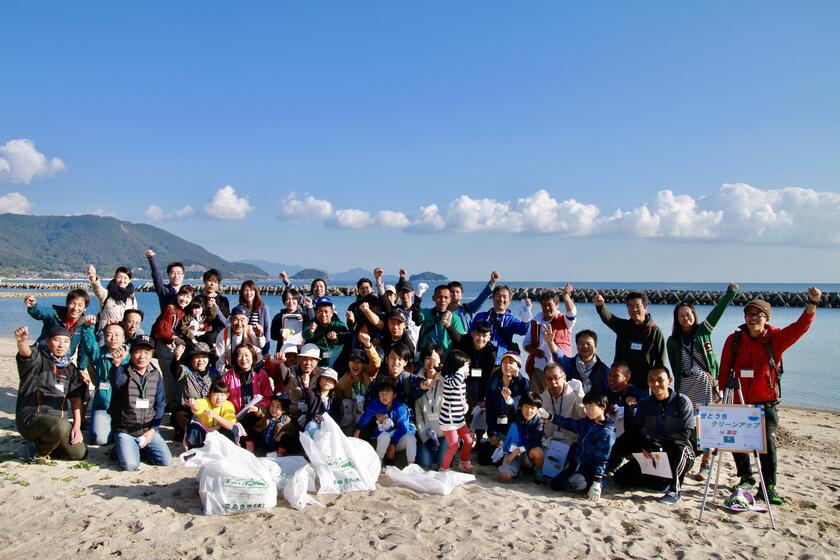 NPO Archipelago in Takamatsu, Kagawa organizes cleanup events. They hold various creative events such as analyzing marine debris by applying international standards, or showing the attractiveness of articles washed ashore.
---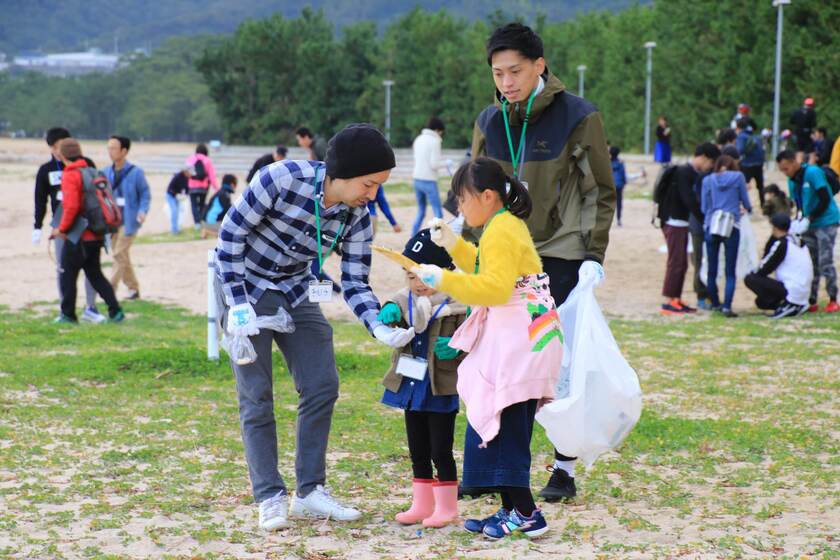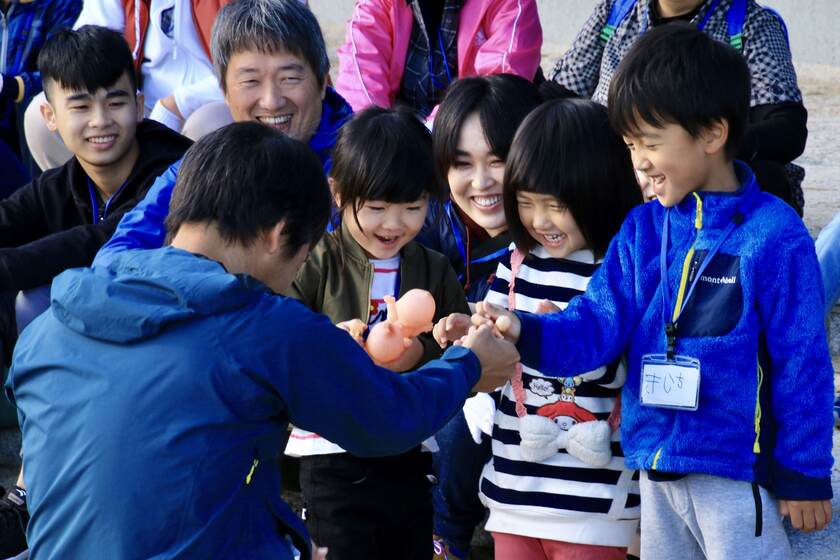 Let's explore the Seto Inland Sea by sea kayak
Those who wish to venture out into the sea of Kagawa should try sea kayaking at Tsuda-no-matsubara Beach Resort.
Sea kayaking, which requires you to push the pedals yourself, is sure to make your trip more adventurous. Sea kayaking at sunset is popular among couples because they can relax while watching the sunset which colors the sea and sky.
---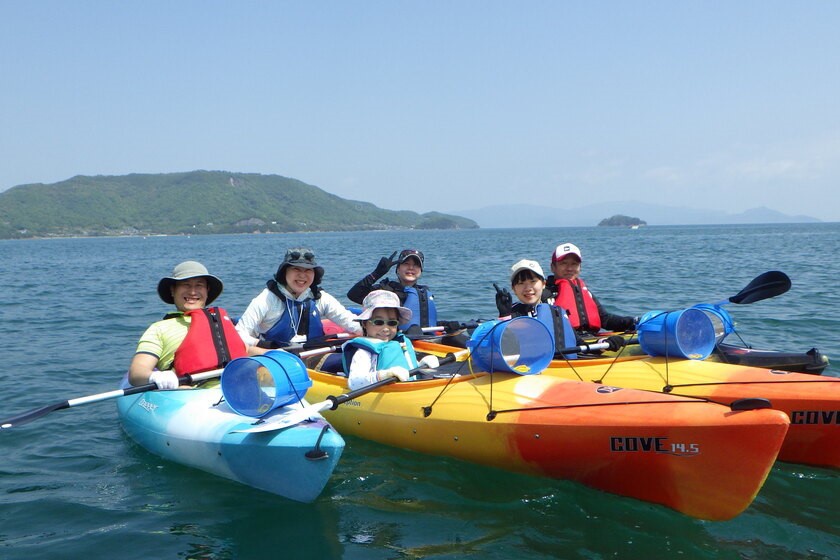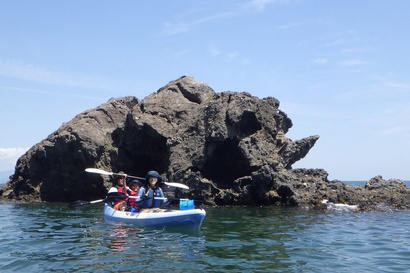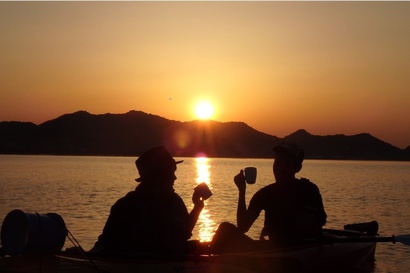 ---

Goten-no-hama
Address

Aji-cho, Takamatsu, Kagawa
Access:It is about 40 minutes on the Kotoden Bus (the Aji line) from Takamatsu Station to the Aji Onsen bus stop. Goten-no-hama is a 15-minute walk from the bus stop.
Parking:There is a parking lot, about 130 meters before reaching the beach. (There is parking for 15 cars.) 
Quataraso Sanuki Tsuda, Tsuda-no-matsubara Beach Resort
Address

24-2 Tsudamachitsuruwa, Sanuki, Kagawa

TEL

0879-42-5888

URL
Recommended for children aged 5 and older
Sanuki City Tourist Guide, Sanuki City Tourism Association
https://sanuki-kanko.jp/
Gathering date:2021.8.30 / Goten-no-hama
KEYWORDS