Takamatsu, Kagawa boasts a large number of workation sites.
"Workation" is a portmanteau of "working" and "vacation." A workation is a vacation that allows you to work remotely from a holiday destination or tourist resort.
The chance to interact with local people and the unique experiences that ensue make workations so appealing. You may be able to come up with new ideas or improve your productivity simply by being in a different environment.
Excellent location! Workation on Megijima in the Seto Inland Sea
It takes 20 minutes to reach Megijima by ferry from the Takamatsu Port. The short travel time means it is even possible to enjoy a one-day workation.
You can admire cherry blossoms in spring, enjoy a dip in the sea in summer, and explore Onigashima Cave, where the demons appeared in Momotaro, part of Japanese folklore, are said to have lived.
---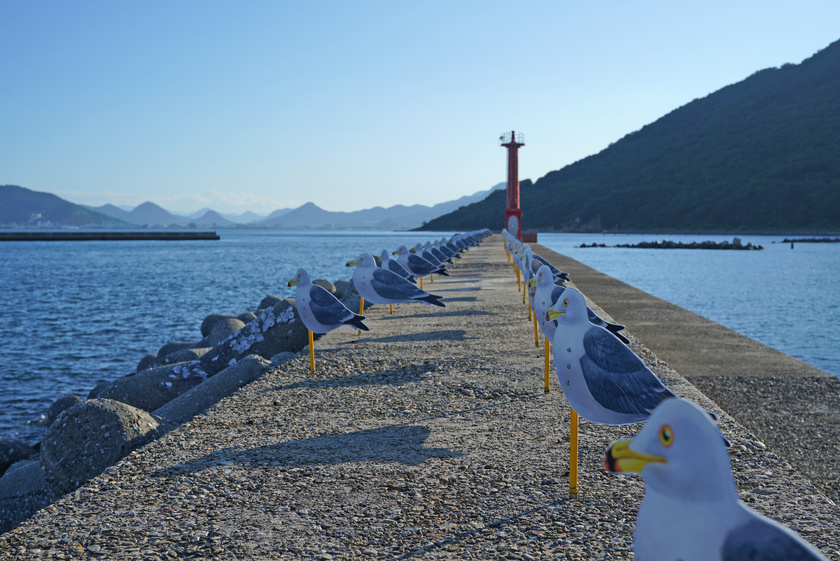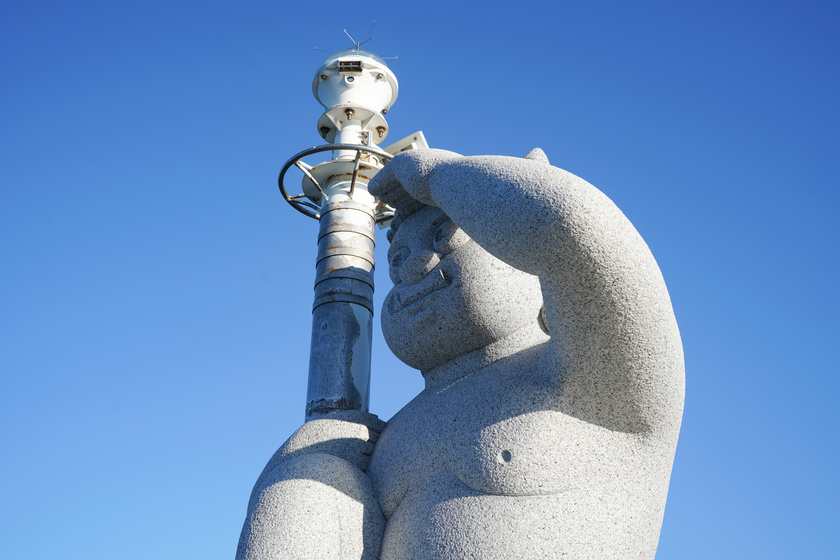 Beach Office Megijima 
---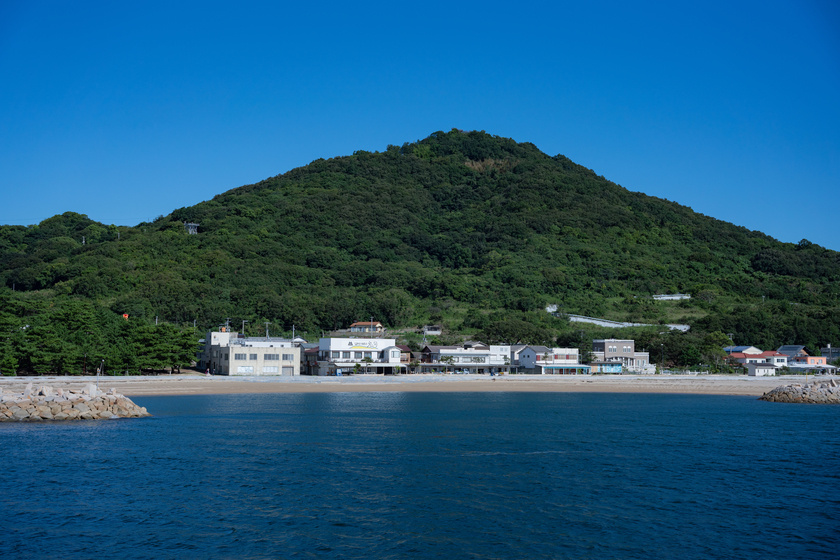 Beach Office Megijima consists of several workation spots scattered along the 300-meter long public beach.
Several business owners such as those operating beachfront guesthouses and others who manage cafés came together to launch a Beach Office Megijima project.
---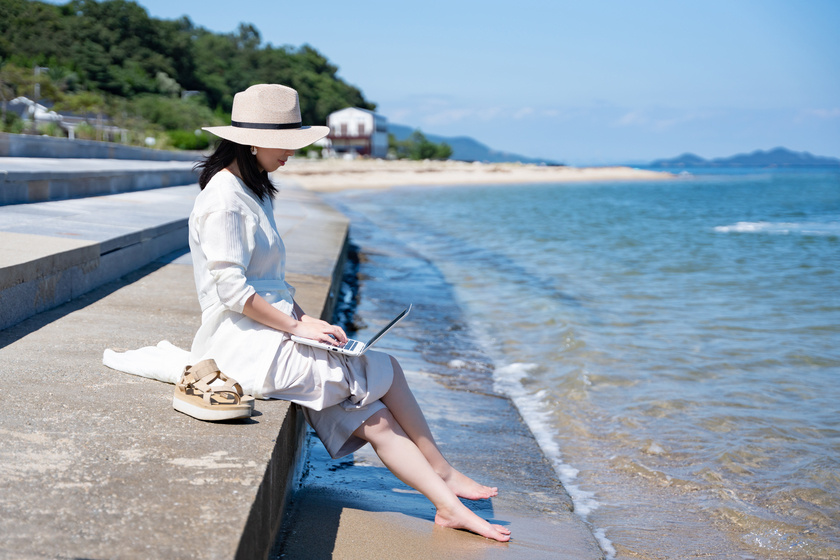 Seeing a regular customer, who always stayed in the area for extended visits, working while sitting on the steps on the beach gave them the idea to set up office space on the beach.
---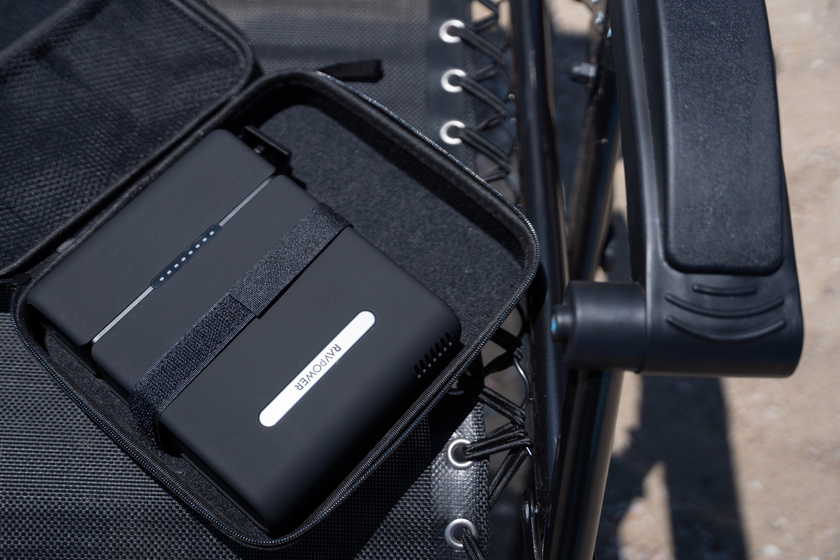 You can connect to a Wi-Fi network on the beach. It is free for up to two hours.
You can borrow chairs and portable power supply devices from any of the Beach Office Megijima project partners.
We recommend that you make a reservation in advance by telephone, although you can borrow equipment from a partner on the spot if it's not too crowded.
---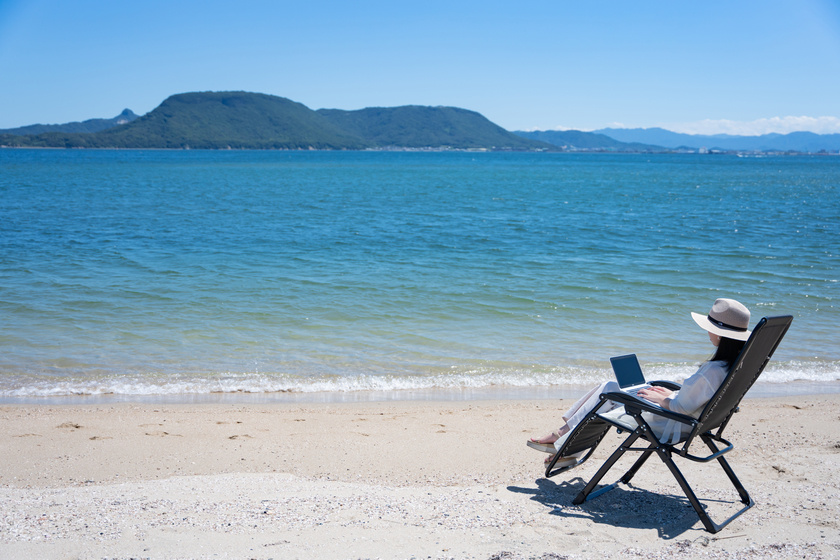 Simply place a chair on your favorite spot and admire the majestic view across white sandy beach and blue sea. The sound of waves is sure to inspire you and help improve your productivity.
Alternatively, you can attend online meetings, very common these days, in front of the calm Seto Inland Sea, giving you the chance to make a dramatic appearance.
Beach Office Megijima partners and accommodations
【Restaurant】 Wakami
---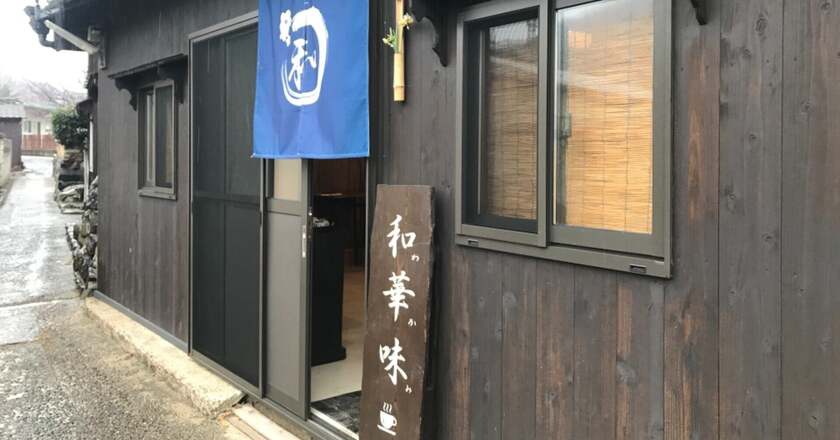 A restaurant managed by a husband who has worked as a Kyoryori (local cuisine of Kyoto) chef, and a wife whose specialty is Chinese cooking. Enjoy the harmony between Japanese and Chinese food. They converted their old Japanese-style house into a restaurant. The interior with original fittings has its own distinctive character.
---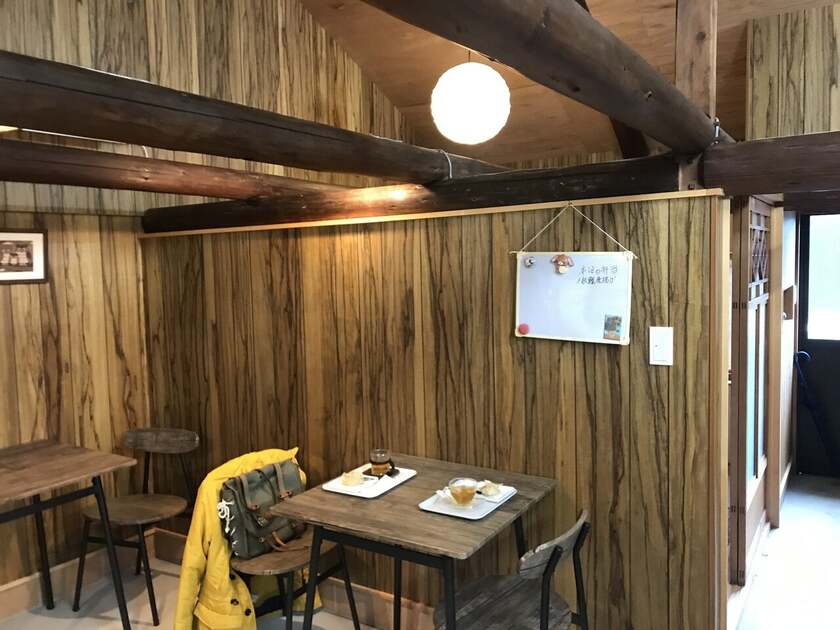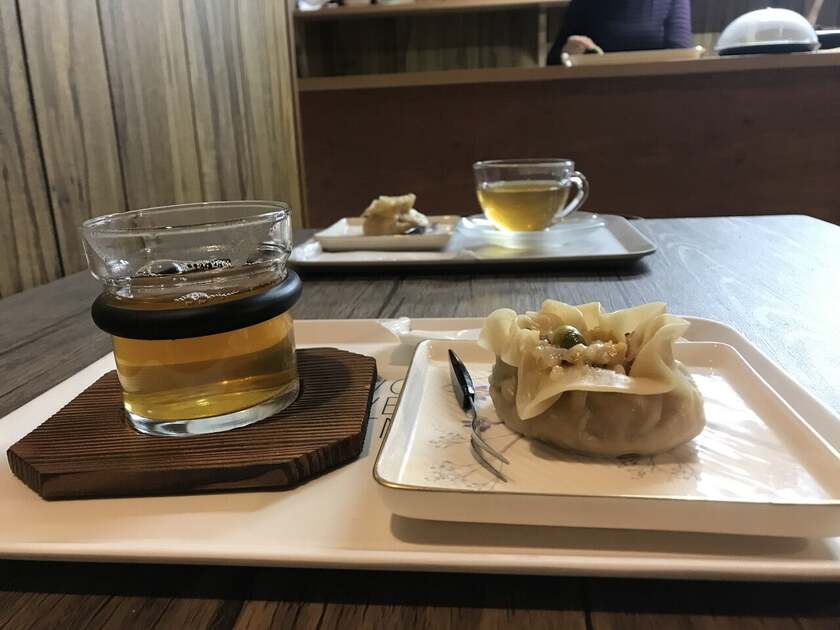 *Currently serves take out packed lunches only on Saturdays, between 11:00 a.m. and 3:00 p.m. Advance reservation necessary.
【Guesthouse】 Megijima Beach Apartment
---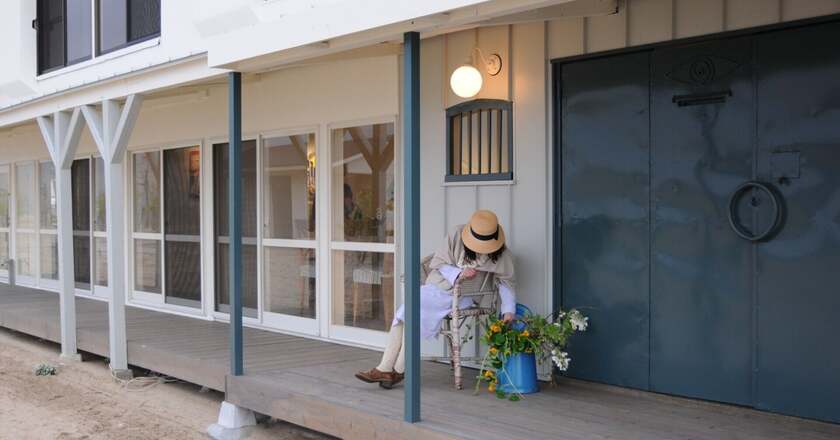 This is a place where you can fully unwind while listening to the sound of the waves. The stylish interior décor featuring works of art is very attractive.
To organize a party, you can bring your own ingredients to prepare meals in the kitchen. Alternatively, enjoy making pizzas or having a barbecue on the lawn.
Rooms with calm, informal atmosphere are perfect for female or mature travelers who wish to relax.

---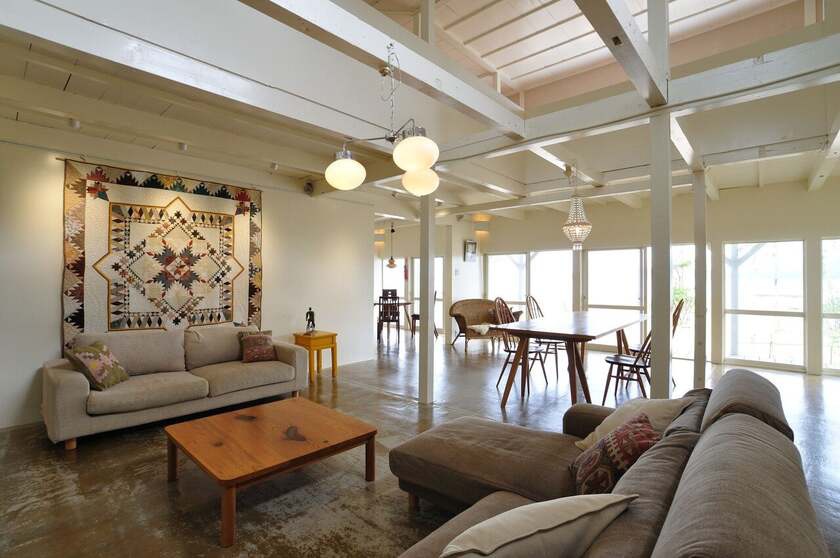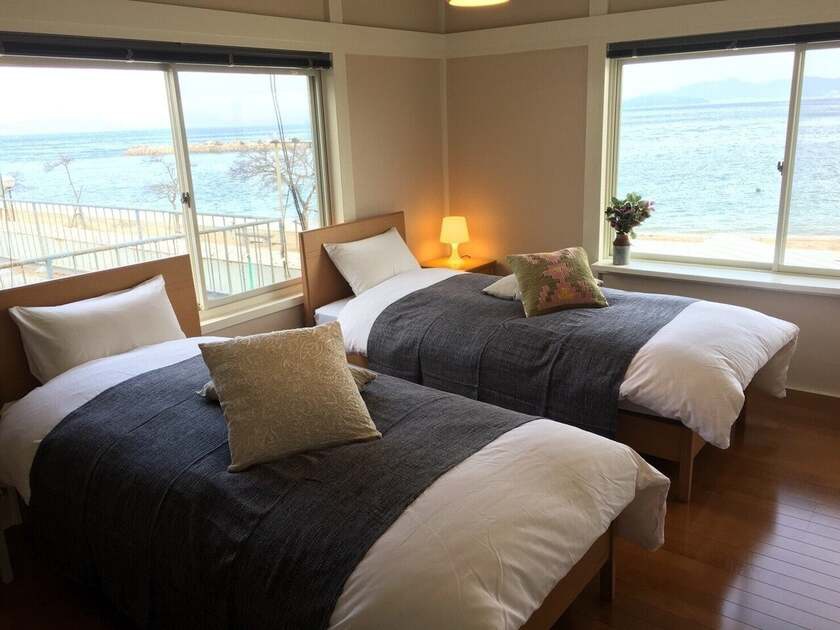 【Rental space and restaurant】 Setouchi Shimagurashi Ryusenso
---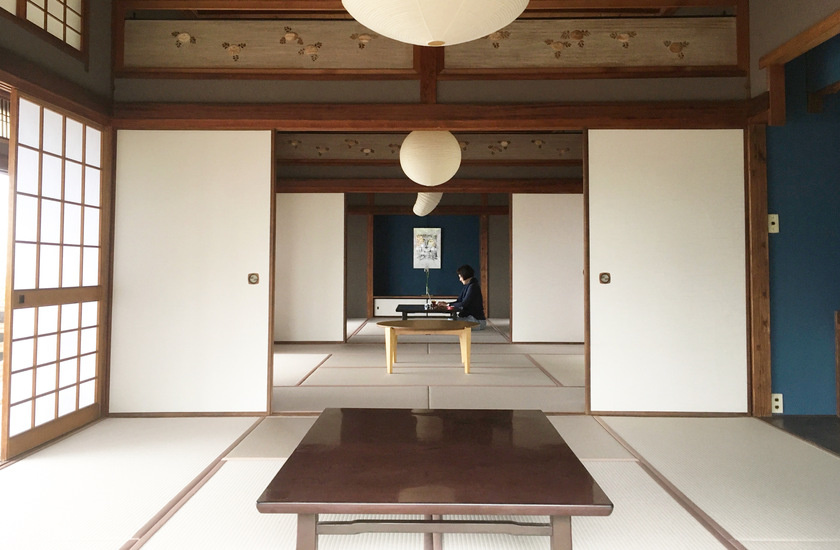 One section of the vacation house built in 1936 was converted into an annex named Kinpa, which is now available for rent.
The annex consists of three Japanese rooms and a wide veranda. You can work in a room while admiring the sea, or share it with others to work and socialize. Why not visit a different place to organize your thoughts while observing the changing colors of the sky?
Between April and early October, they serve somen, fine noodles that are a local specialty of Kagawa, at lunch time in the courtyard where wisterias grow on their pergolas. Somen tastes really delicious when you eat it while admiring the sea.
---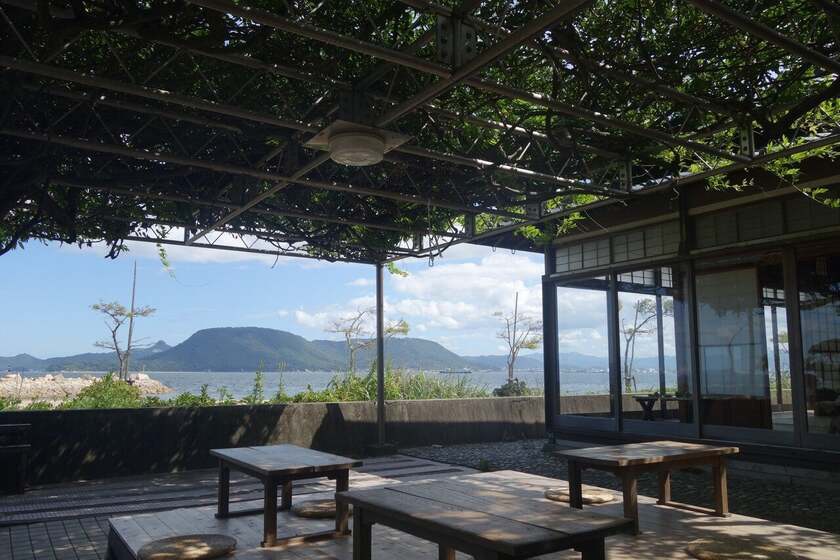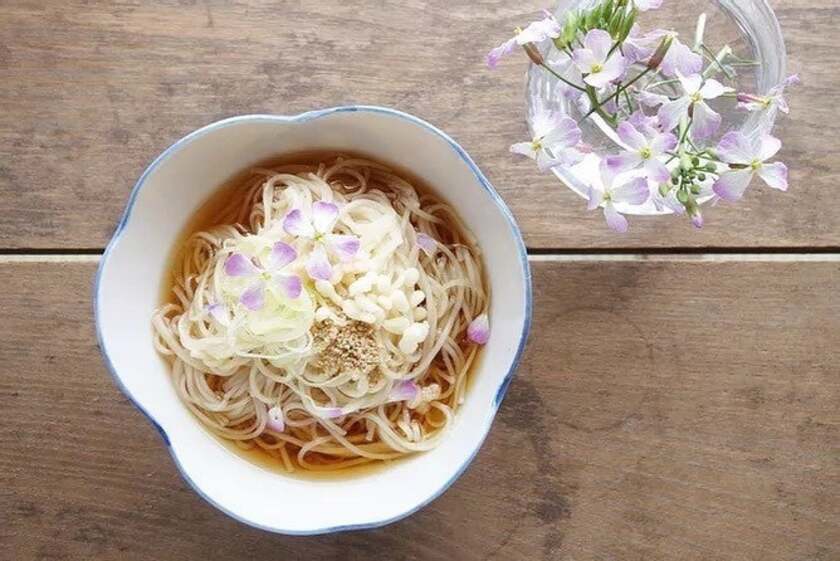 【Café】Onigashima Club
---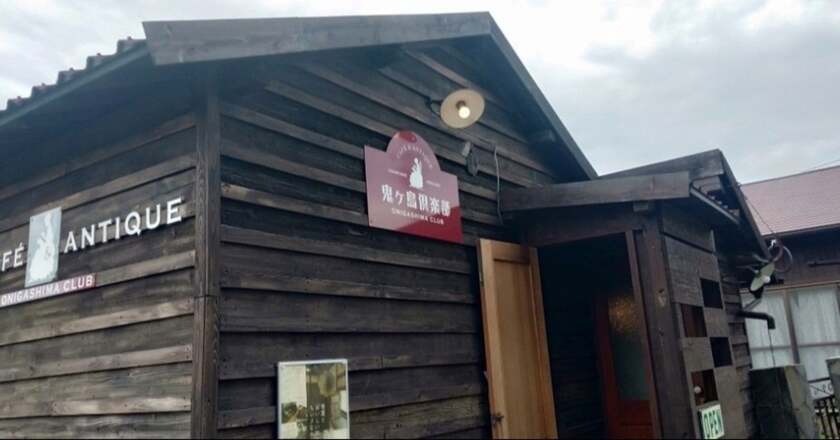 This café is run by a couple who love antiques.
It is a place decorated with antiques and tableware collected by the couple.
The French roast organic coffee they serve is popular even among those who normally dislike coffee. Take your time to enjoy a cup of coffee served in a carefully selected cup.
---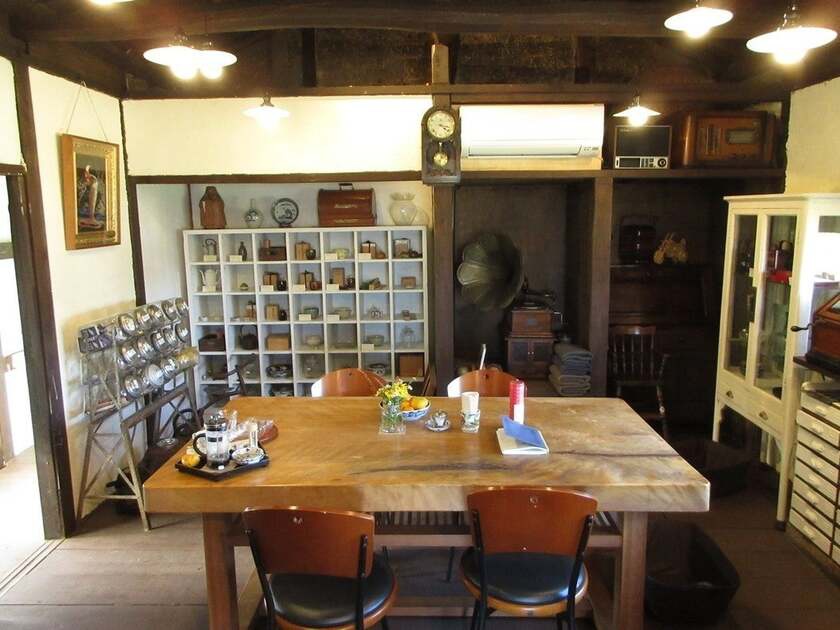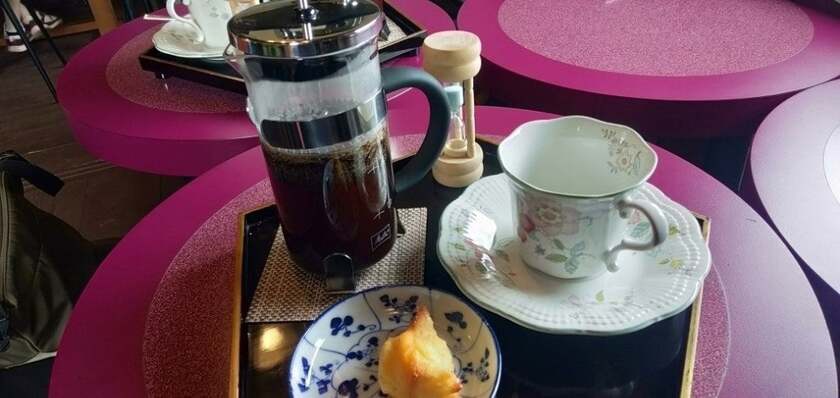 *Please be advised that the premises may be closed as a measure to control infectious diseases. Please see the Beach Office Megijima official website for the latest information.
【Inn】Inn Ryugu
---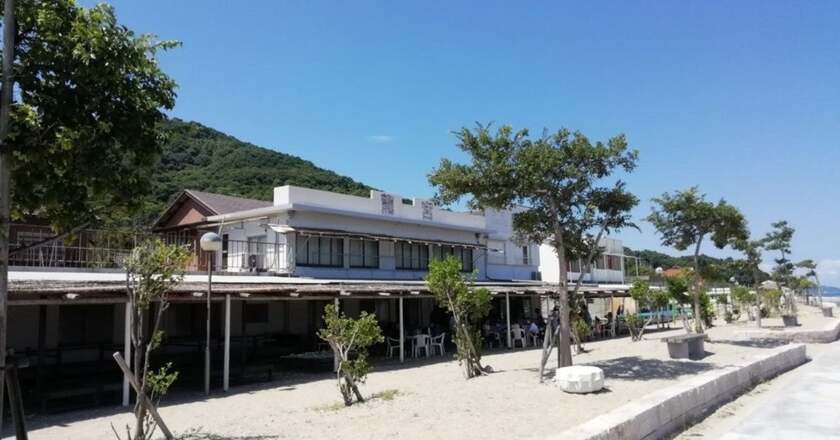 This inn has a homely atmosphere and is run by a grandmother and her family.
You will have opportunities to savor seasonal local delicacies prepared with homegrown vegetables and fresh fish caught that day.
In summer, the place operates as a beach house and welcomes a large number of sea bathers. Ryugu oden accompanied by beer, served in the breezy shade provided by bamboo screens, is a Japanese summer tradition.
---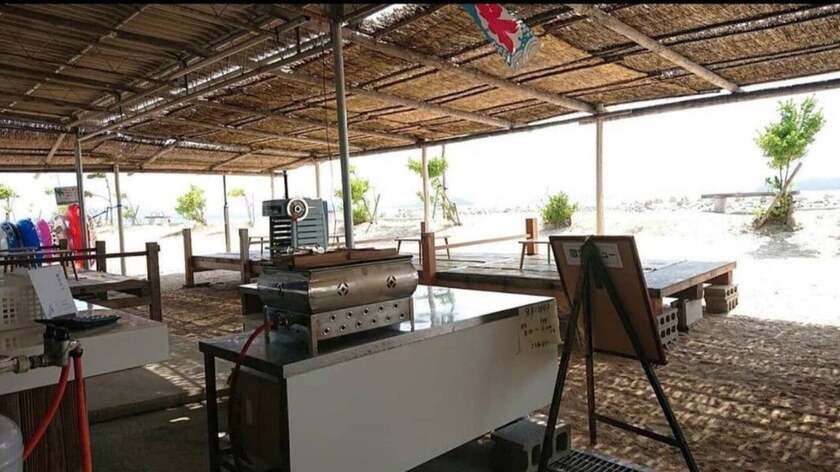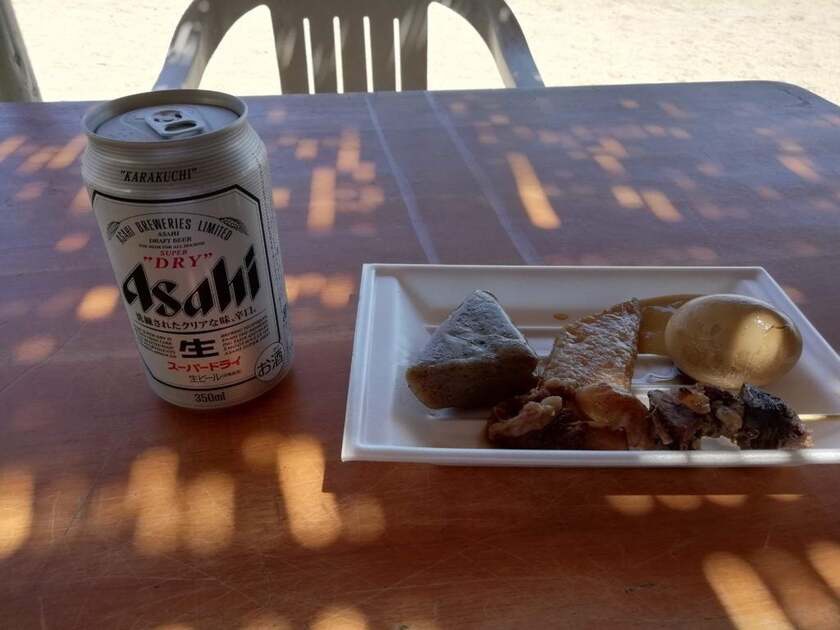 *Please be advised that the premises may be closed as a measure to control infectious diseases. Please see the Beach Office Megijima official website for the latest information.
【Guesthouse・Café】Megijima Guesthouse & Café Megino
---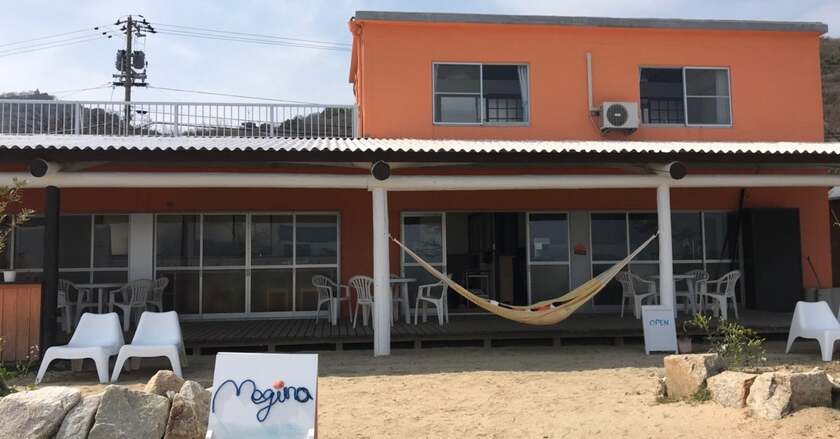 This guesthouse and café are run by a wife originally from Tochigi Prefecture and her German husband who had worked as a chef.
They highly recommend the pizza which they prepare from scratch, including the dough. A wide variety of pizzas are available, including one with tomato sauce topped with freshly picked herbs and vegetables, and a dessert pizza topped with lemon slices and cream cheese.
Savor slices while sitting on the terrace to appreciate the feeling of being at a resort. Stay in a room that allows you to see the sunrise over the ocean.
---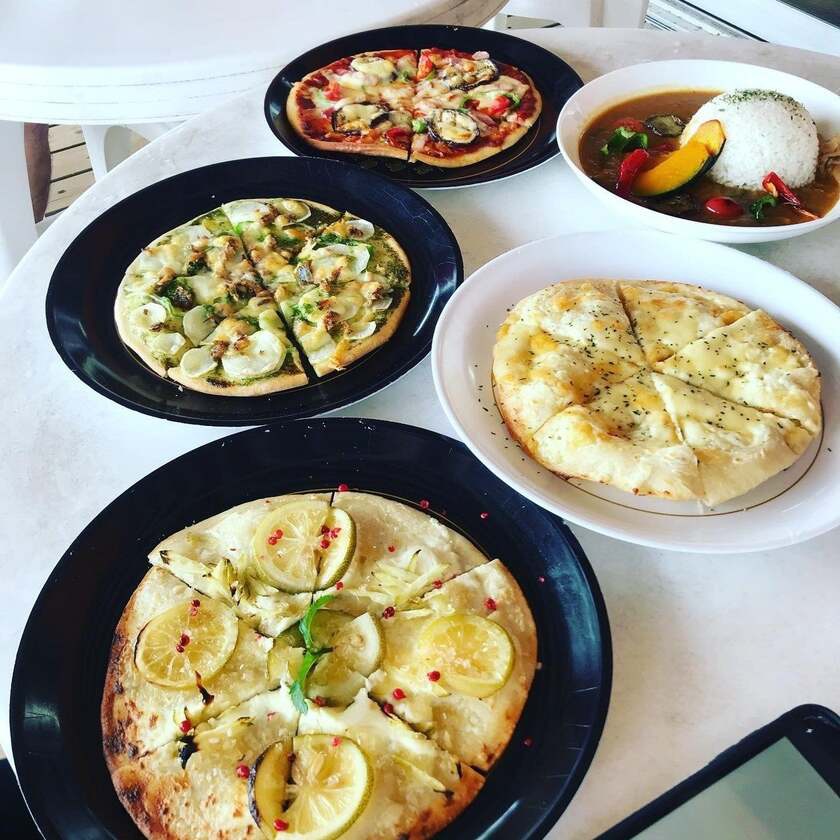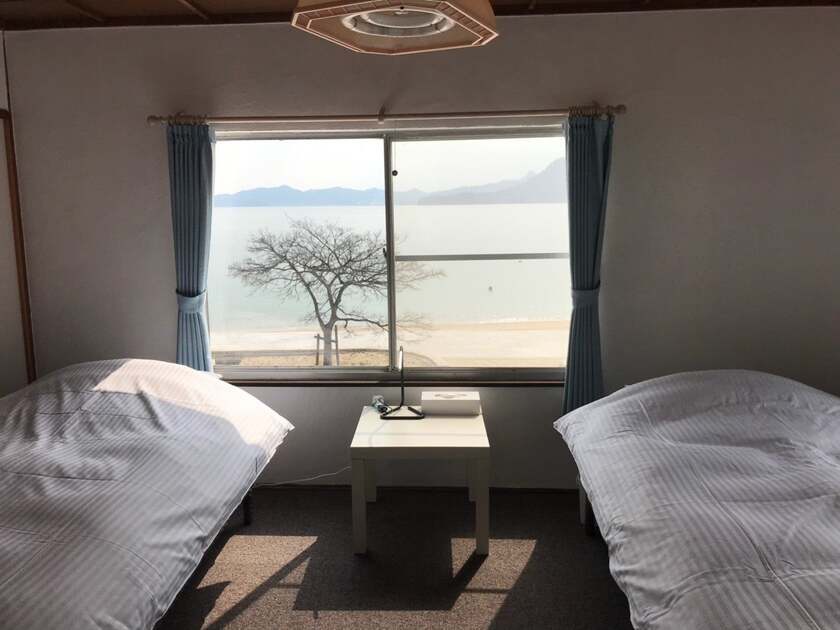 【Inn・Restaurant】umiyado Kishun
---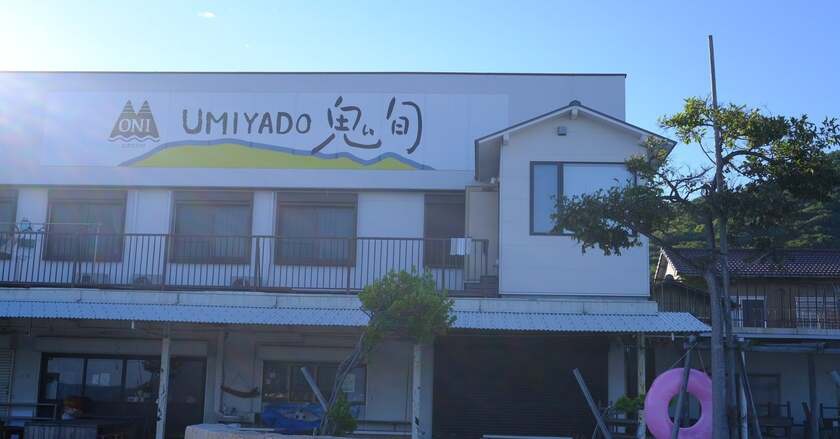 This restaurant/inn is managed by an owner who has worked as a chef specializing in Japanese cuisine in Osaka.
Dishes prepared with seafood bought directly from local fishermen are available. In summer, the place operates as a beach house and serves a broad array of dishes typically served in beach houses, such as oden, fried noodles and shaved ice.
While you will be able to admire the view of oceans from all rooms, the most popular room is the bathroom, which offers a clear view across Seto Inland Sea.
---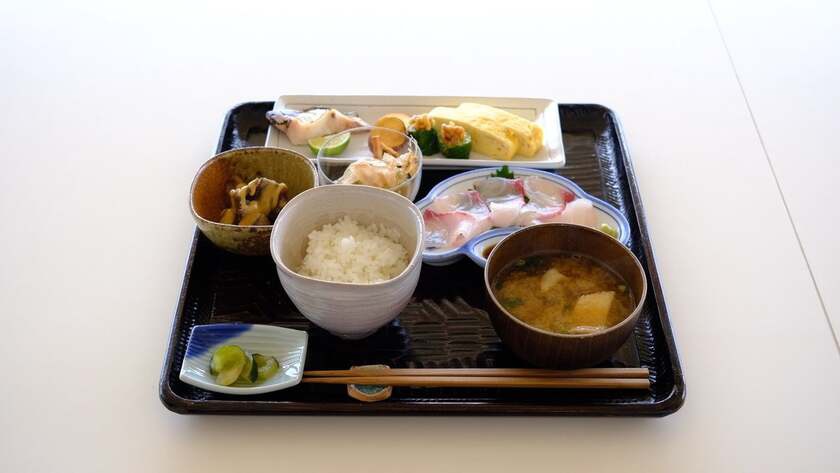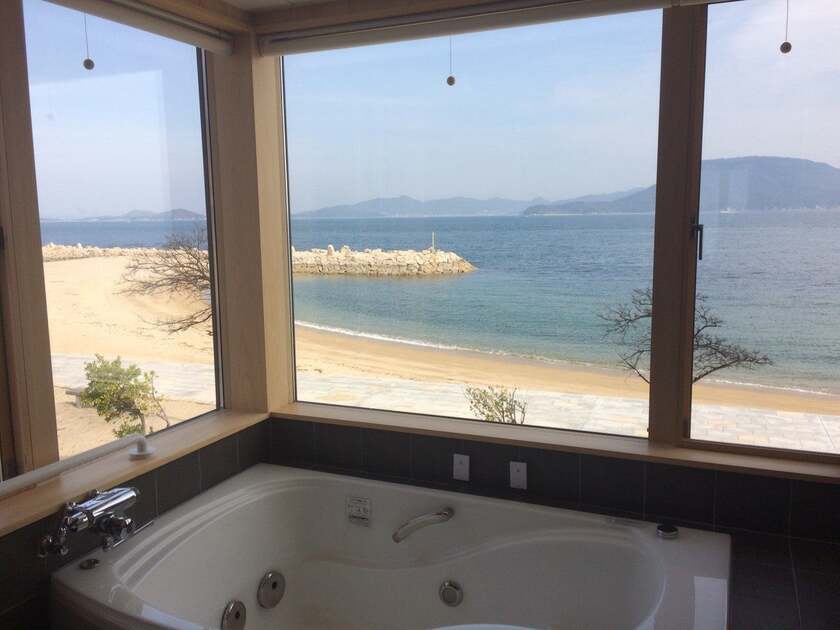 Work while traveling by ferry
---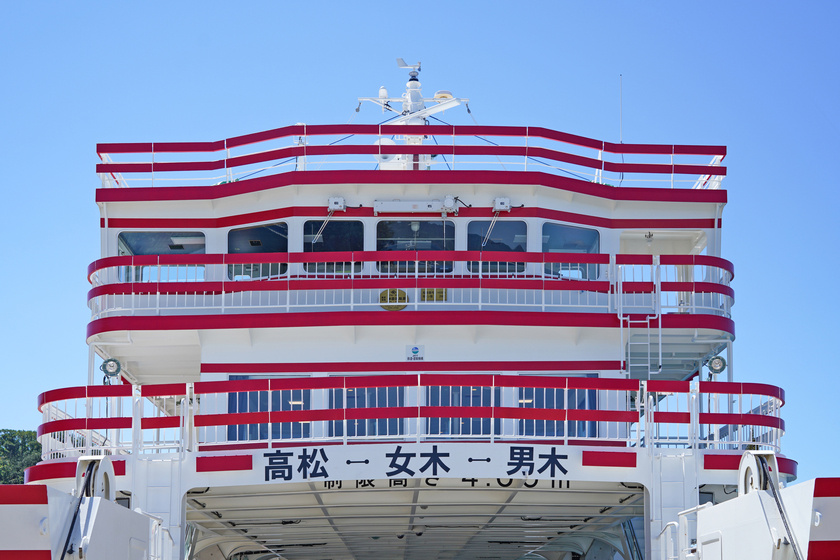 Meon is the name of the ferry connecting the Takamatsu Port with Megijima and Ogijima. It is easily recognizable thanks to its characteristic stripes on the body.
---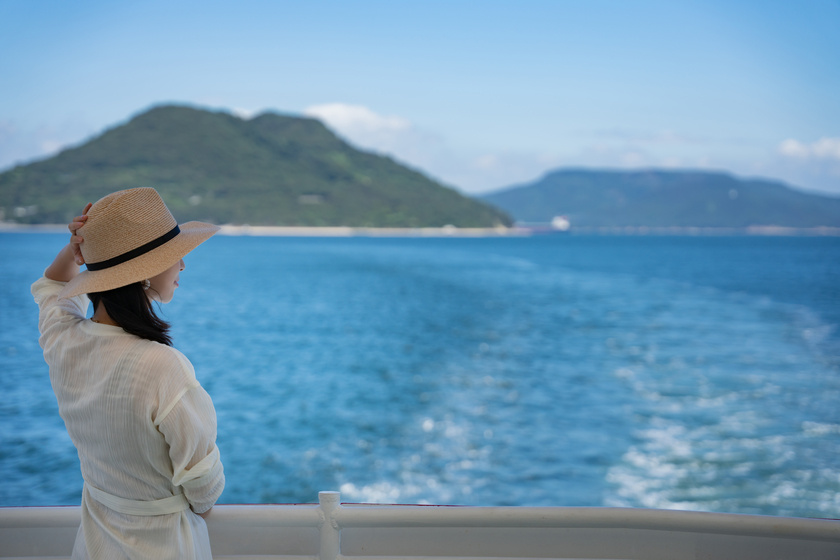 Enjoy the views of Seto Inland Sea and islands on the way to your destination.
---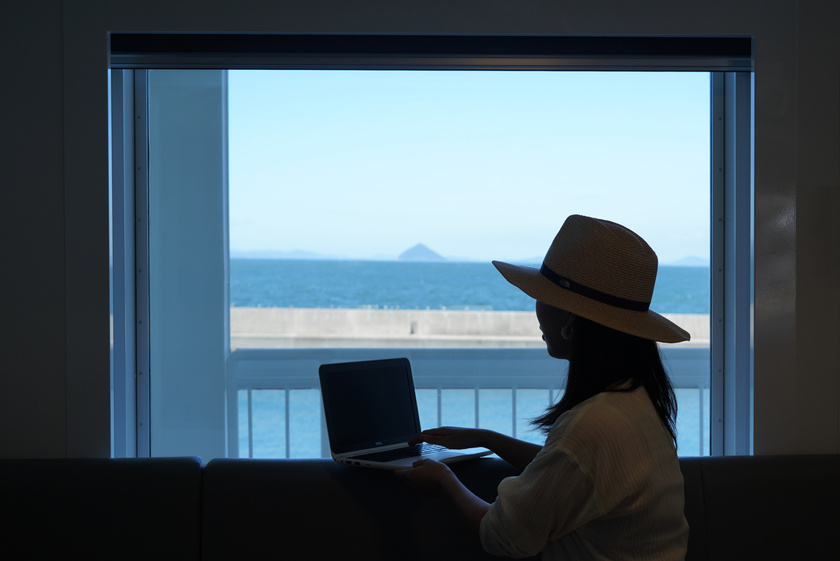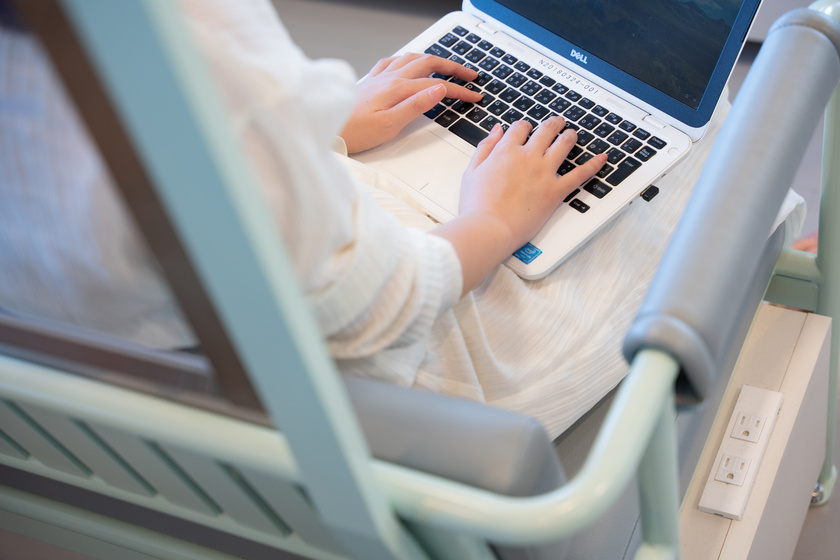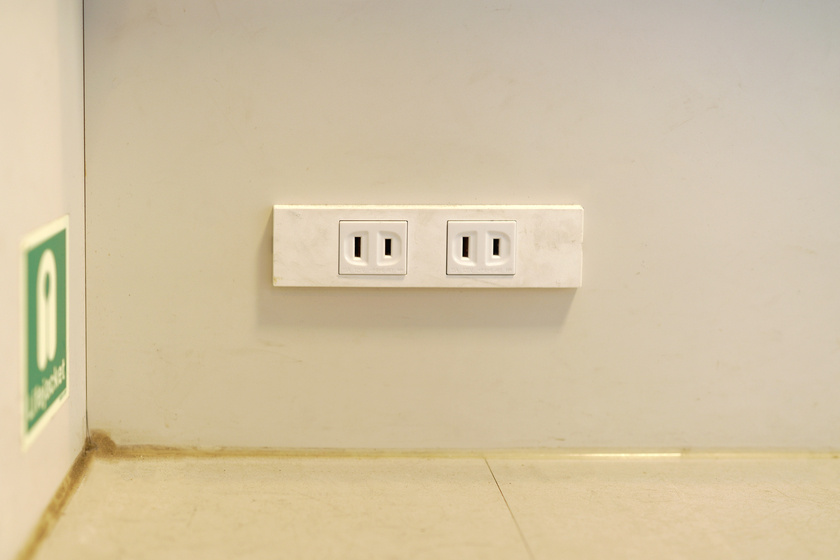 Plug sockets are provided in each cabin, which makes it a perfect environment for work.
Megijima is an ideal place to enjoy a one-day workation because it is only 20 minutes by ferry from the Takamatsu Port.
Why not try a workation in Kagawa?
*Please be advised that some places are not offering regular services, as a measure against COVID-19. Please see their website for the latest information.
---

【Restaurant】Wakami
Business hours

Saturday11:00~15:00Take out packed lunches only. Advance reservation necessary.

Supported languages

日本語
【Guesthouse】Megijima Beach Apartment
Address

453-1 Megijimacho, Takamatsu, Kagawa

TEL

087-821-1810(10:00~19:00Unable to take calls on Sundays)

URL

Supported languages

日本語
【Rental space and restaurant】Setouchi Shimagurashi Ryusenso
Address

496-2 Megijimacho, Takamatsu, Kagawa

Regular holidays

Weekdays(Open only on Saturday, Sunday and national holidays)

MAIL

URL

Supported languages

日本語、英語
Instagram:https://www.instagram.com/ryusensomen/
【Café】Onigashima Club
Address

424 Megijimacho, Takamatsu, Kagawa

Business hours

Saturday11:00~15:00 Sundays and Public Holidays9:00~16:30

Regular holidays

Weekdays

TEL

090-5279-7960(三島)

Supported languages

日本語
【Inn】Inn Ryugu
Address

453 Megijimacho, Takamatsu, Kagawa

Regular holidays

Days off are not fixed

TEL

087-873-0205(松内)

Supported languages

日本語
【Guesthouse・Café】Megijima Guesthouse & Café Megino
Address

4531-2 Megijimacho, Takamatsu, Kagawa

Business hours

Café 11:00 a.m. to 3:00 p.m.

Regular holidays

Café Thursday,Additional days off are not fixed(Closed on Thursdays and Fridays in winter)

MAIL

URL

Supported languages

日本語、英語
Instagram: https://www.instagram.com/megijima.guesthouse/
【Inn・Restaurant】umiyado Kishun
Address

453 Megijimacho, Takamatsu, Kagawa

Business hours

changes according to the season

Regular holidays

Wednesday

TEL

087-873-0880 または 090-9860-5828 (松内)

Supported languages

日本語
Gathering date:2022.3.14 / 【Restaurant】Wakami
KEYWORDS