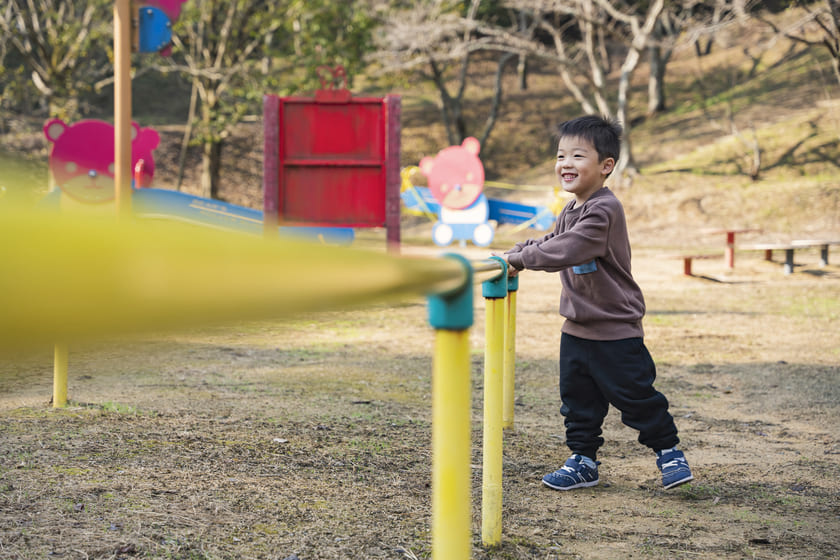 ---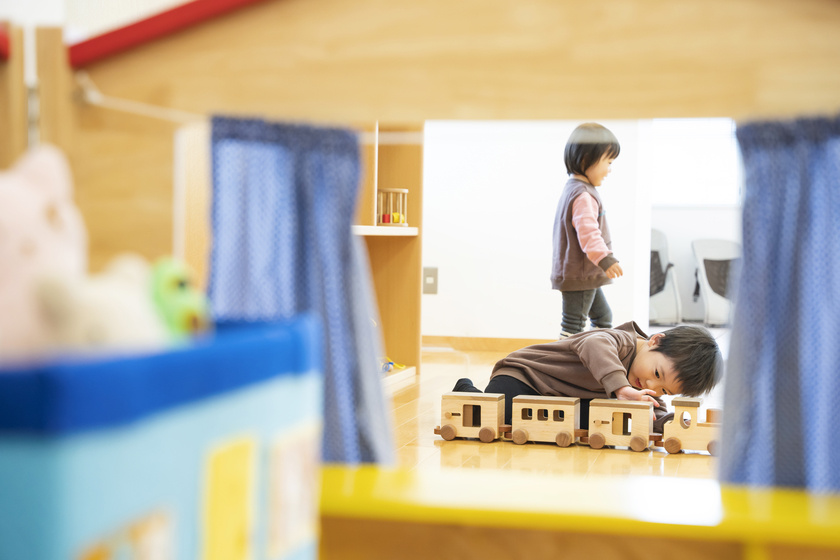 ---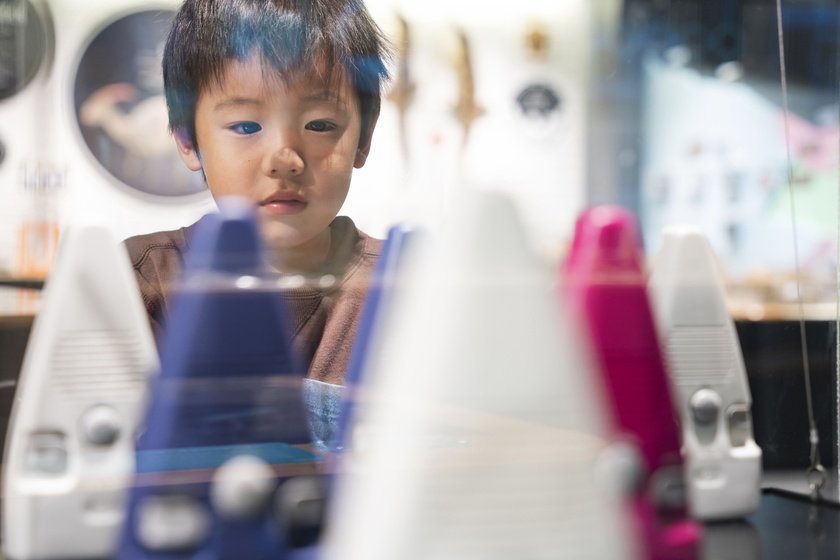 ---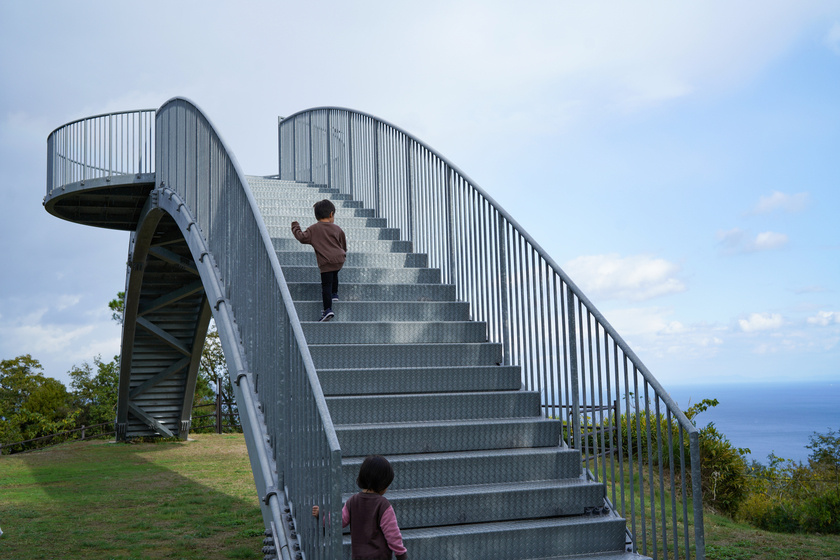 ---
Takamatsu City boasts many indoor and outdoor play areas for families with children
---
In Kagawa Prefecture, the urban park area is 19.2 m2 per capita, the 7th highest in Japan (as of March 2020). There are plenty of play areas for families with children to enjoy, ranging from spacious, verdant playgrounds to cultural facilities where children can play even on rainy days. Here we introduce five family-friendly parks/facilities.
Recommended for tourists, too! Five children's playparks/ play areas in Takamatsu City, Kawawa Prefecture
Kinbuchi Forest Park
---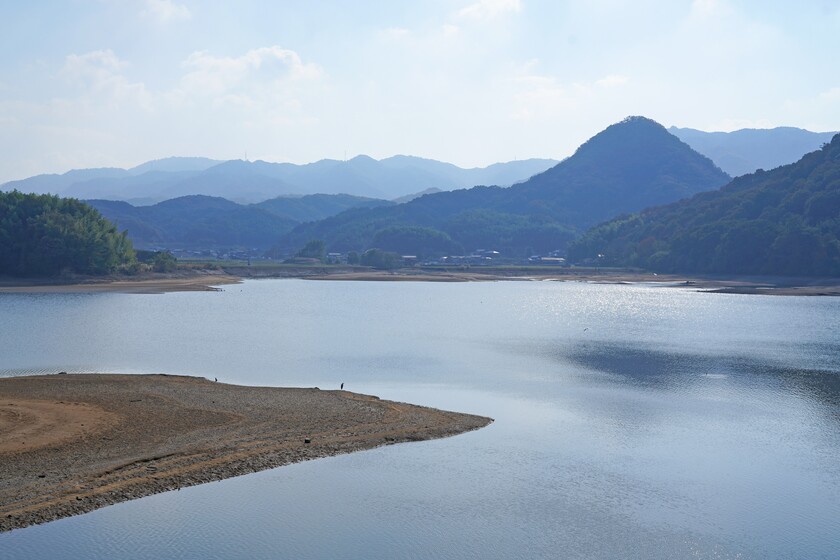 Kinbuchi Forest Park is characterized by idyllic mountain scenery including Kinbuchi pond, and Castle pond, and Mt. Futago.
---
The scenery of the park is beautiful in every season. There are cherry blossom in spring, hydrangeas and tree peonies in early summer and the colors of the changing leaves in autumn.
---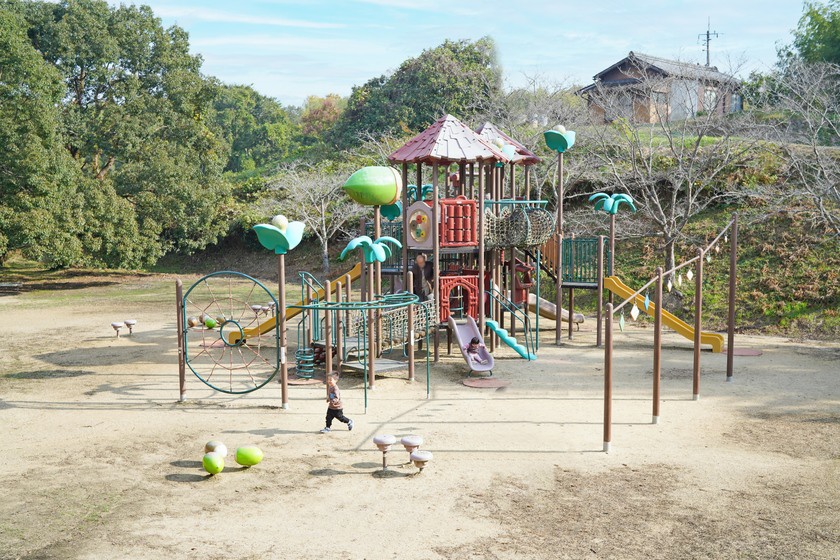 There is a playground for small children south of Kinbuchi Pond.
---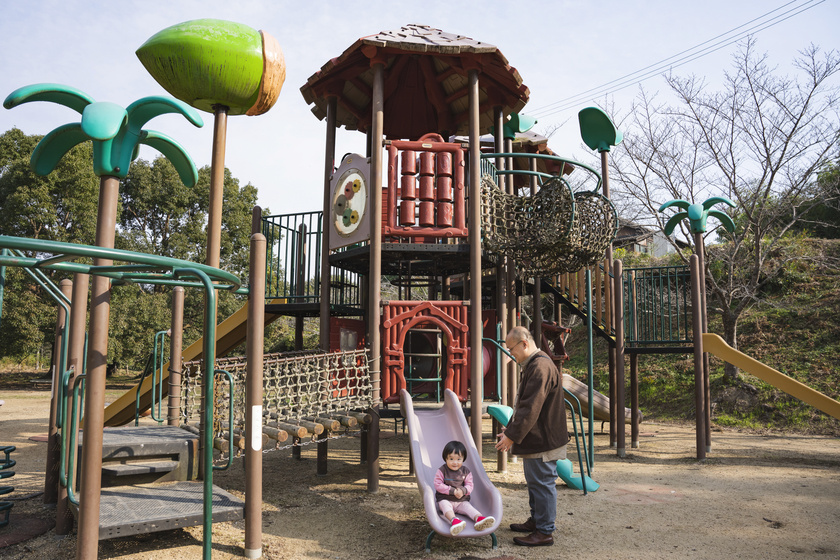 The playground equipment is designed after acorns which are plentiful within the park in autumn.
Children will be excited to play on the complex equipment that includes slides, a rope tunnel and monkey bars.
---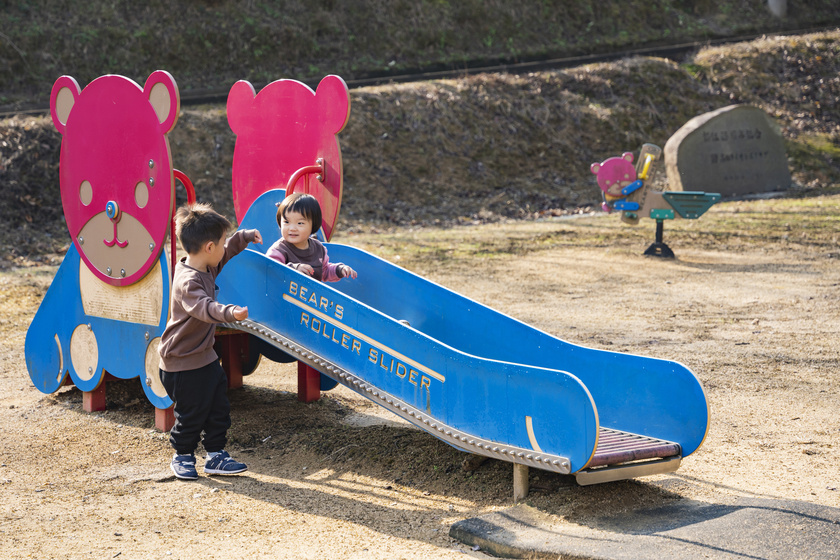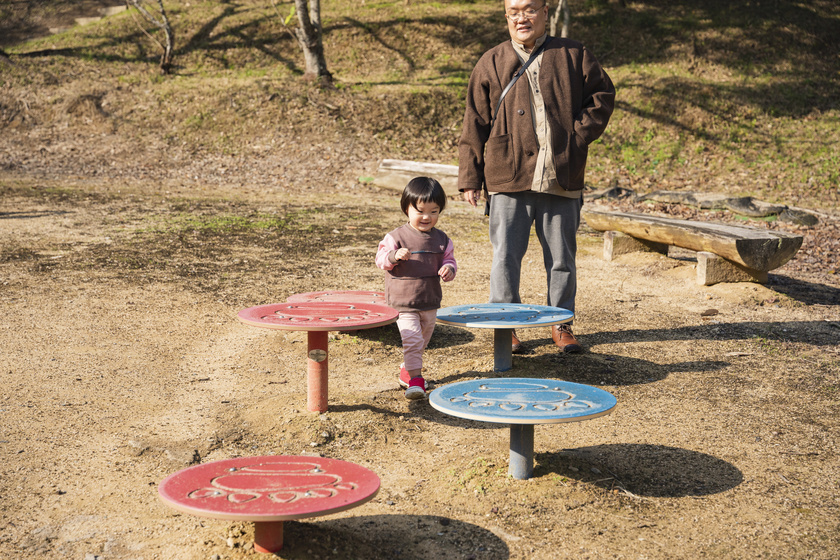 There is equipment with a bear design for infants, too.
---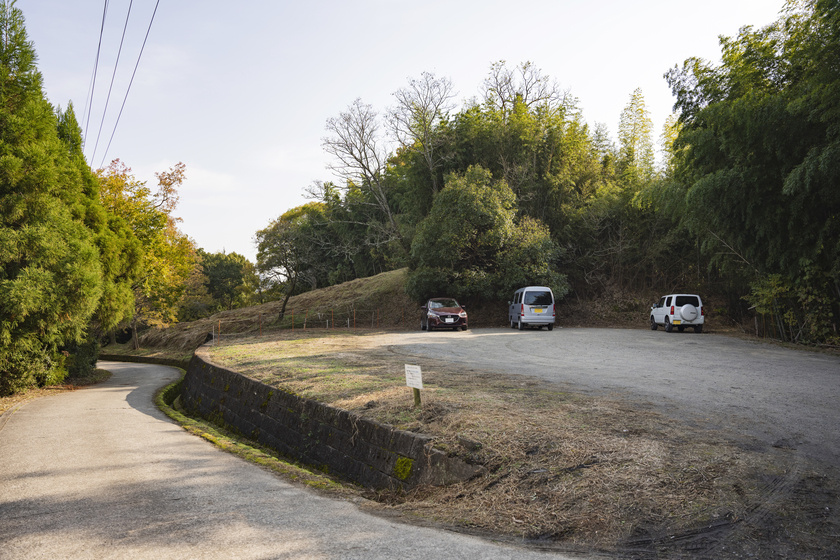 There is a ten-car parking lot a 2- or 3-minute walk from the playground for small children. It is handy for families with small children that usually have a lot of baggage.
※The parking lot is provided through the kindness of the owner.
---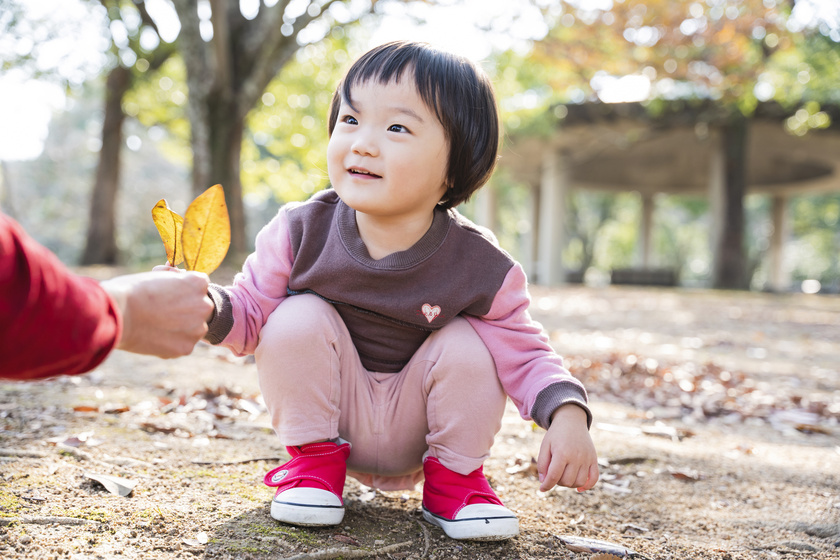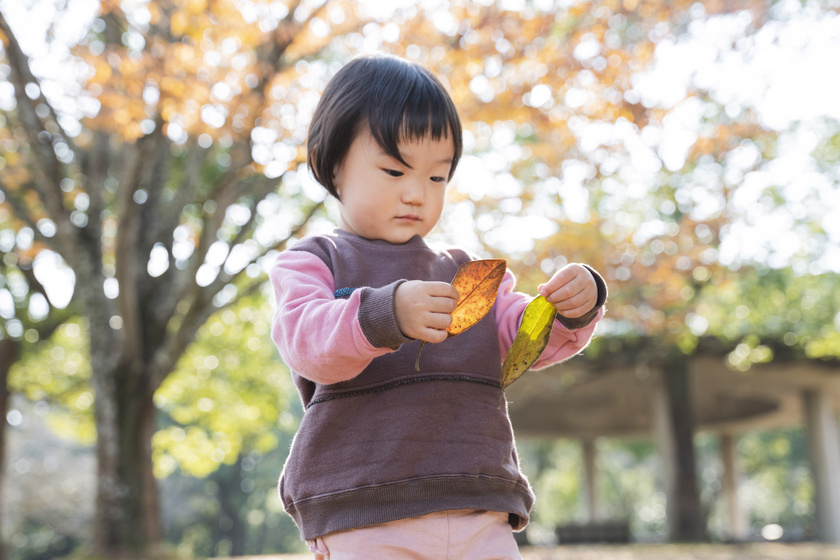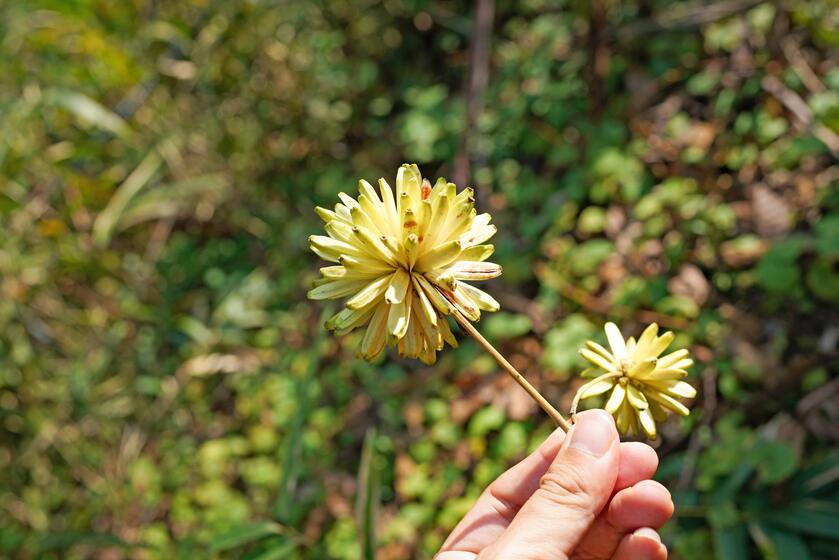 Experience nature, and pick up fallen leaves and nuts. This is another attraction of Kinbuchi Forest Park.
---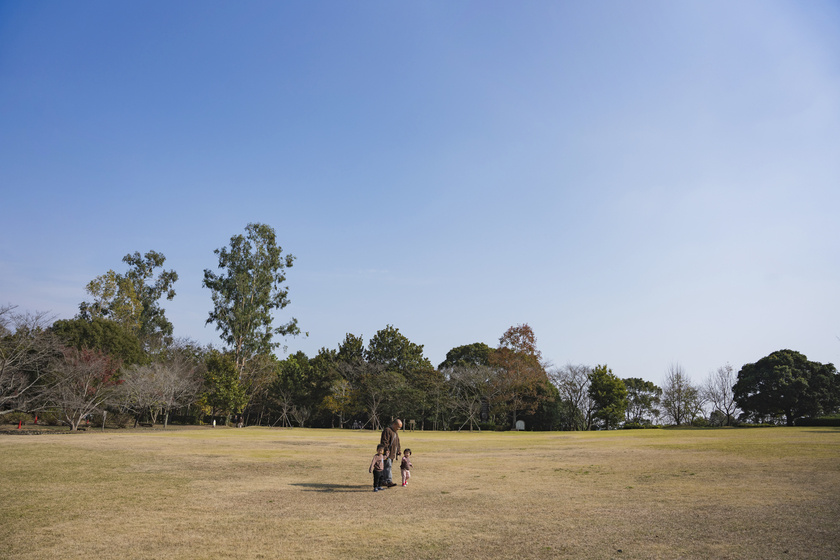 The spacious lawn park is perfect for playing badminton and jogging.
---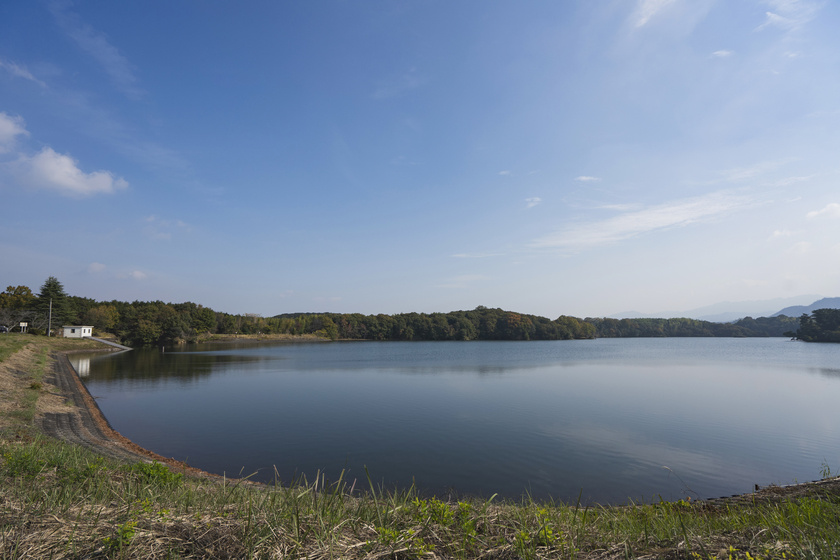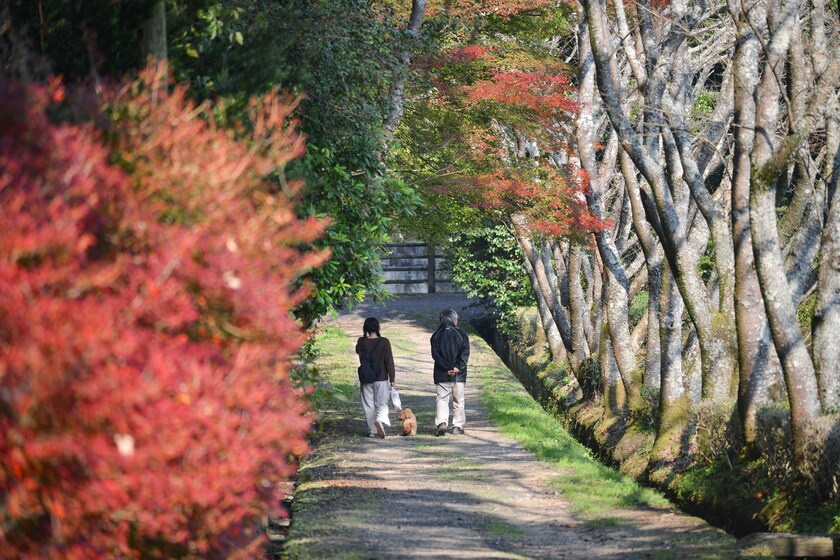 You can enjoy the walking paths while contemplating the mountain scenery.
---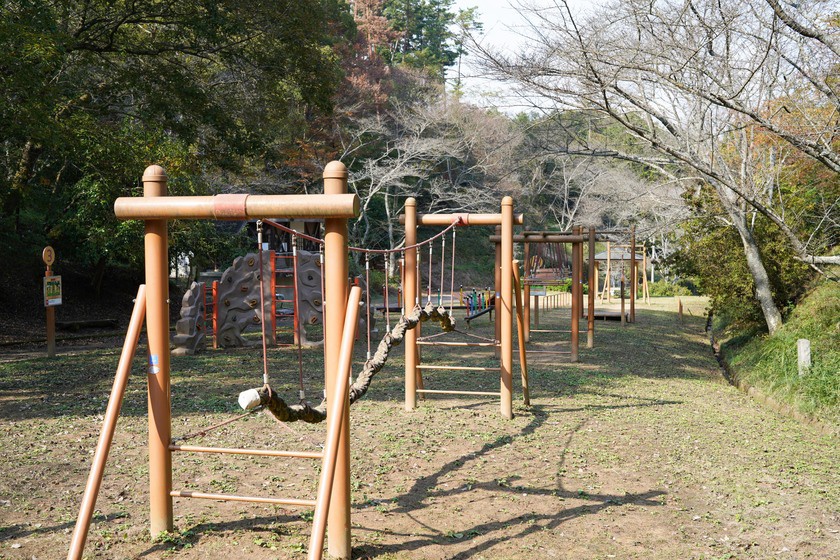 Elementary school children should try playing in the adventure playground in the Mt. Futago area
Sanuki Kodomo-no-Kuni Children's Park
---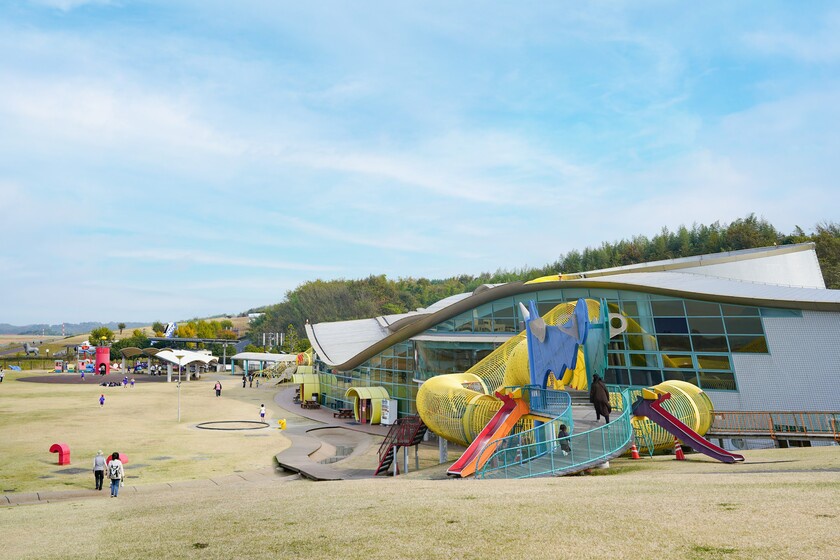 Sanuki Kodomono Kuni is a large children's center located next to Takamatsu Airport.
If you like aircraft and trains, you can see the exhibited those.
---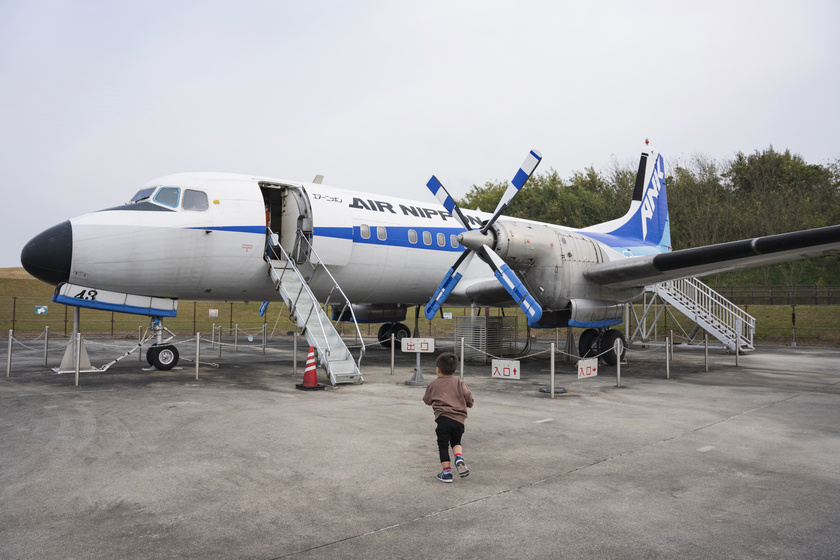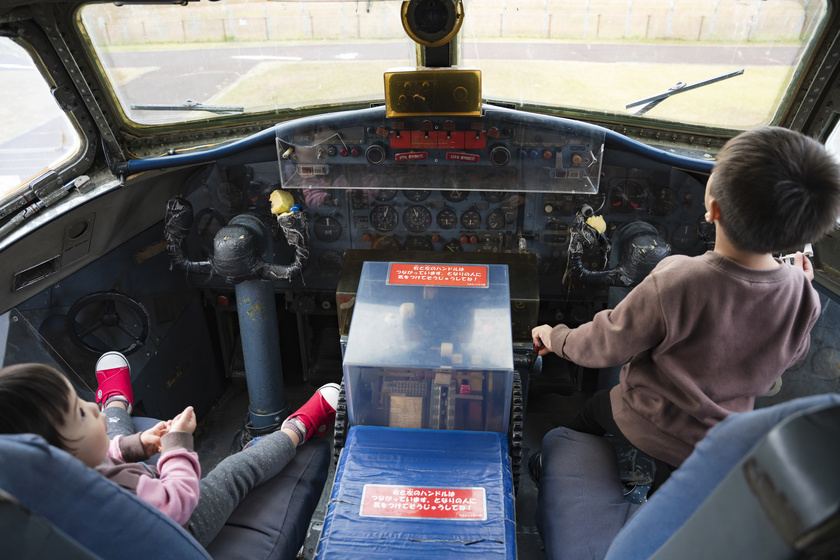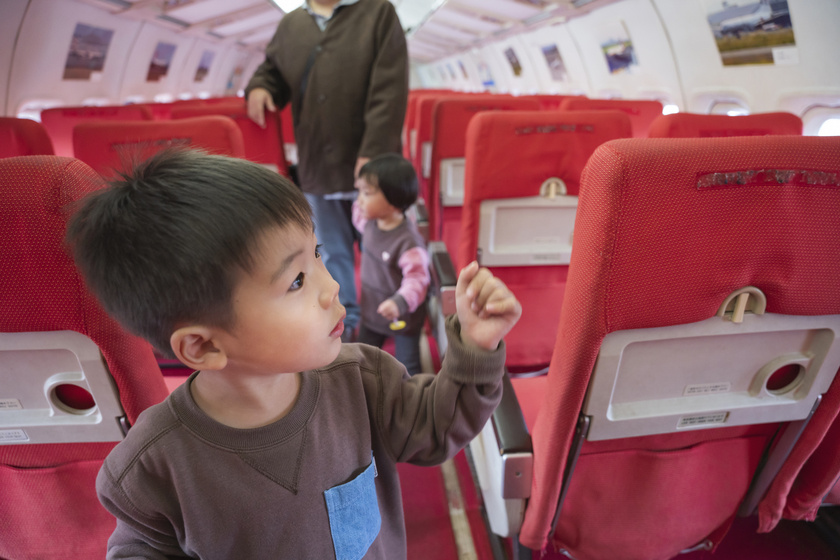 Feel like a pilot sitting in the cockpit of the only Japanese-made commercial aircraft, the YS-11.
*Days the aircraft is open: Saturdays, Sundays and public holidays, spring and summer holidays only However, it is open for group visits on days other than the above days. It is closed for visits in rainy wheatear.
---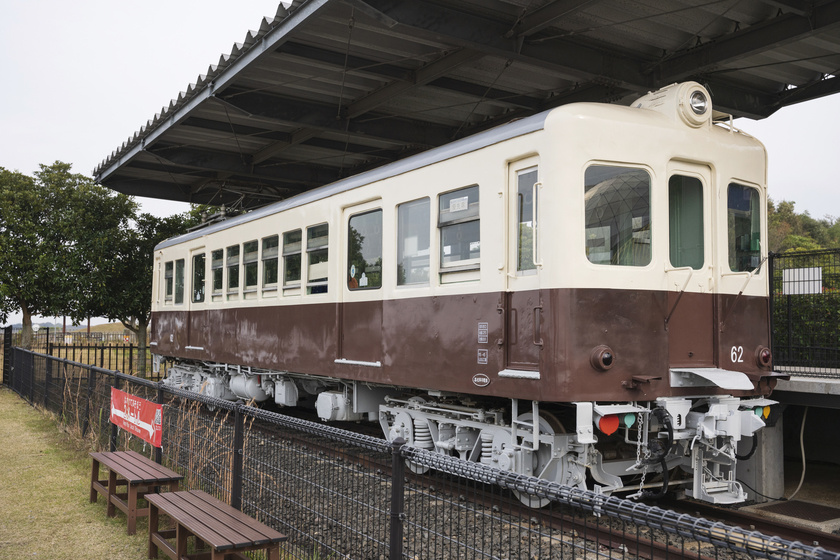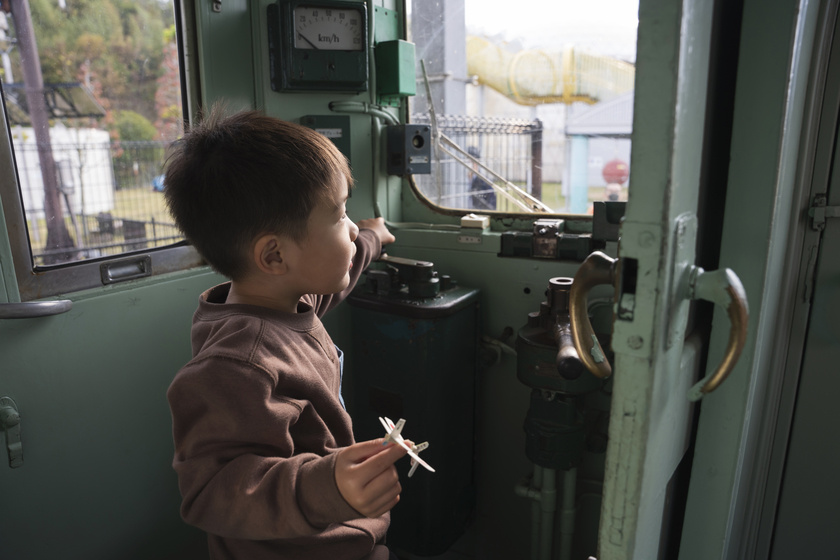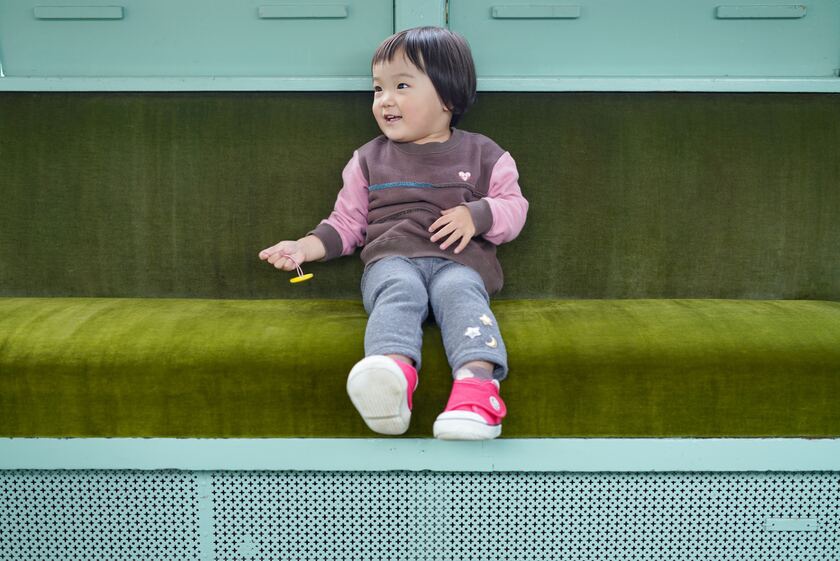 After providing service in Tokyo for 35 years, this train made in 1913 operated in Kagawa Prefecture since 1948. It operated for a total of 89 years before its retirement in 2002.
---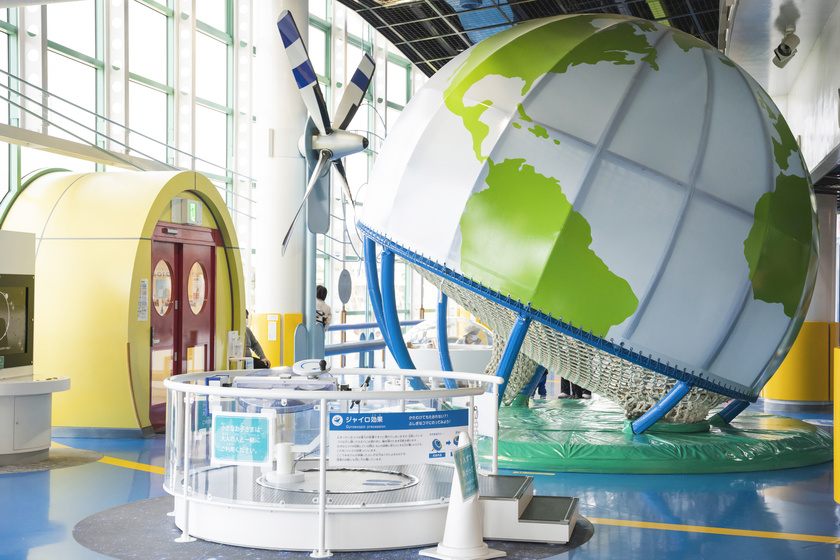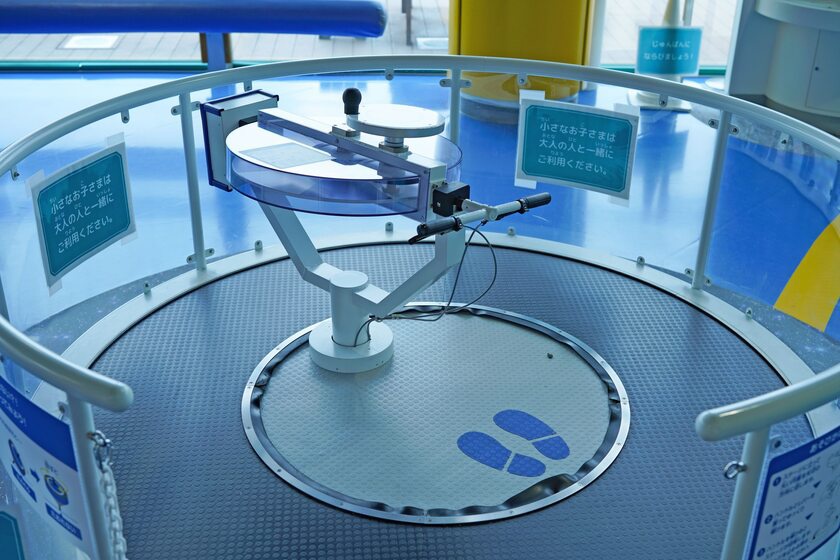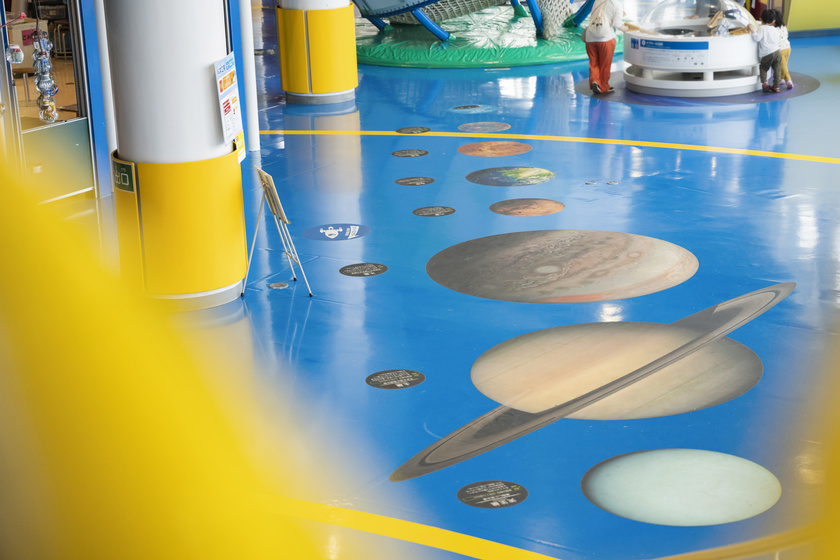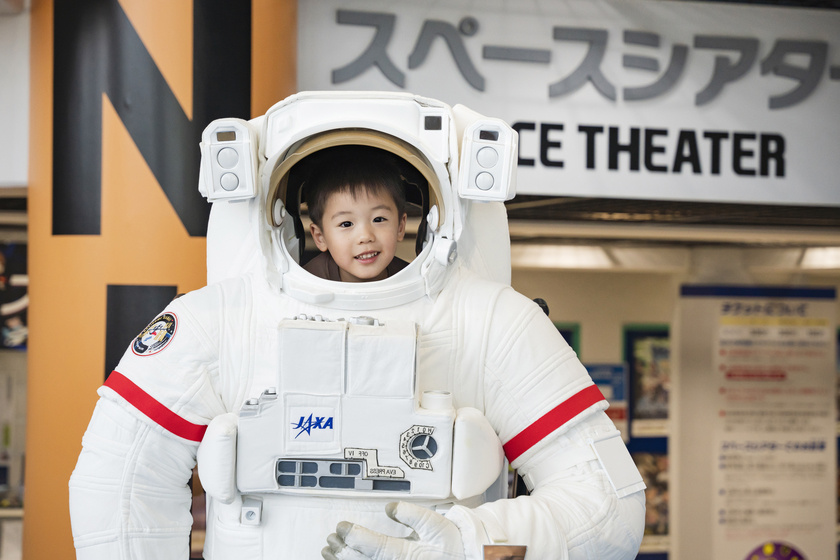 The play zone includes an outer space exhibit that stimulates children's curiosity. There may be a future astronaut among you.
---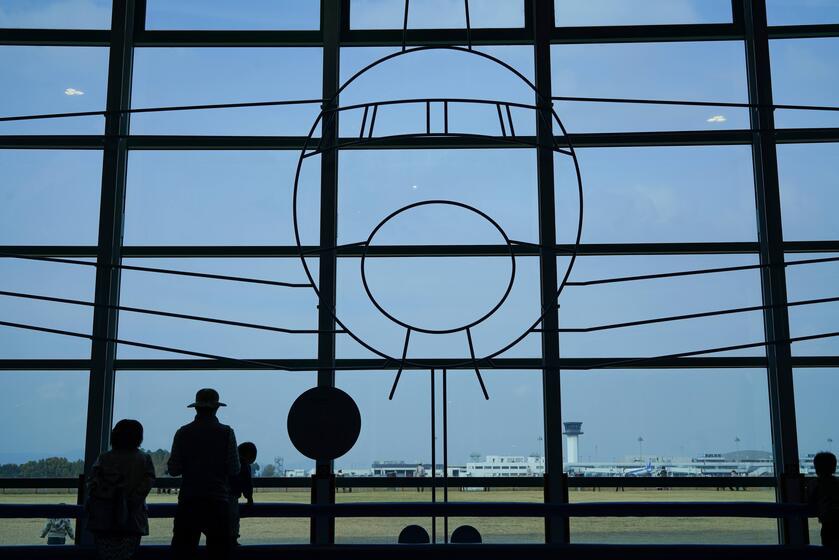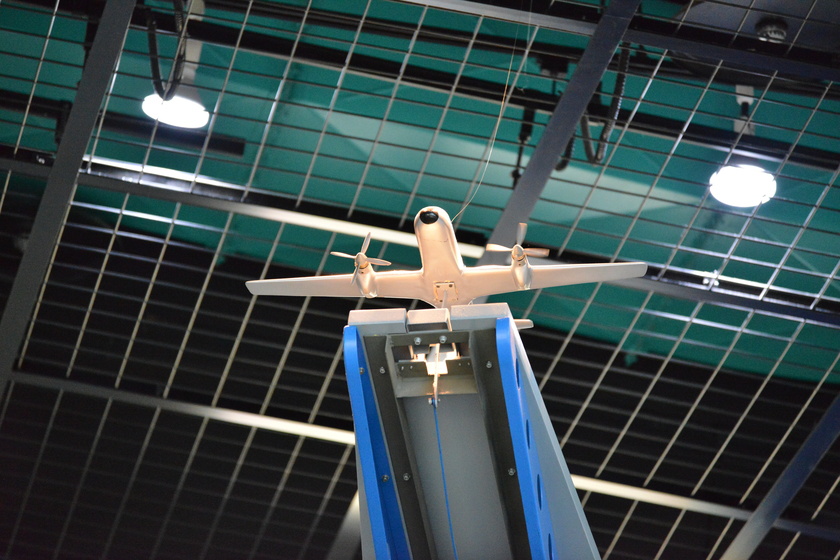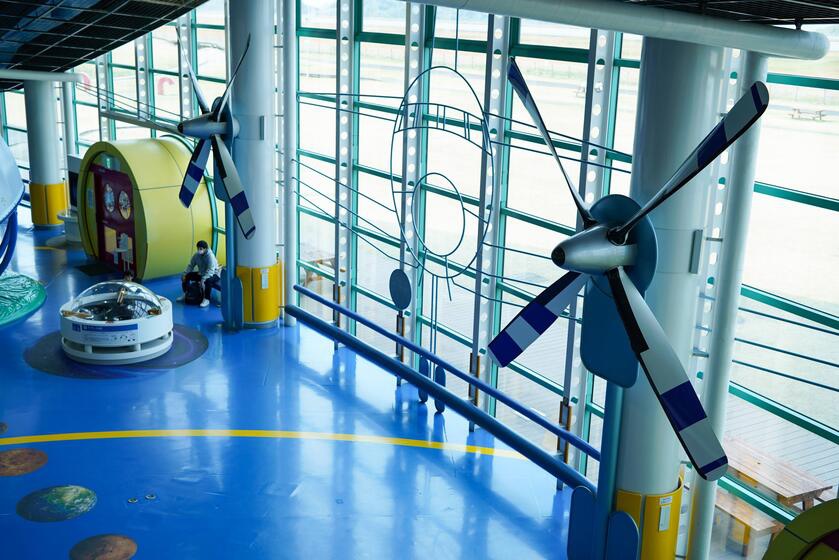 One fun activity is to find the aircraft designs scattered around the building.
---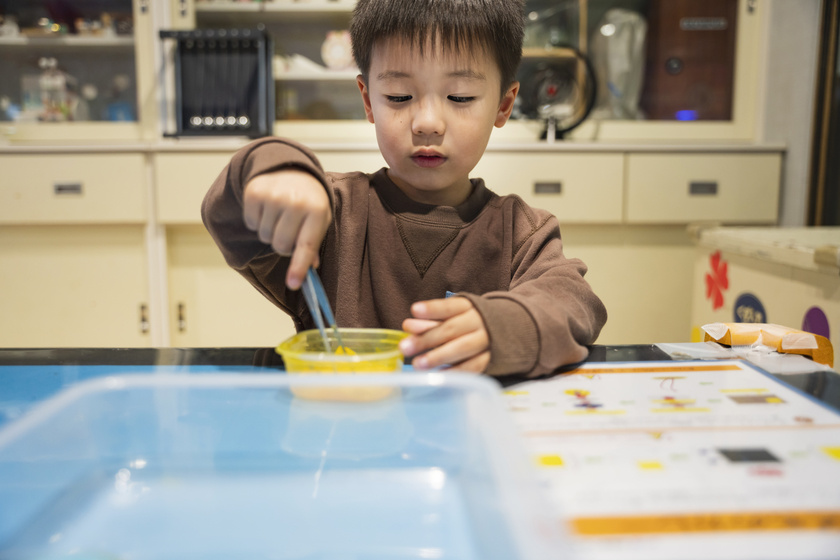 Science workshop offers new elaborate experiences every month.
Participants on this day were dyeing fabric using turmeric under the theme, "Learn about food pigments."
---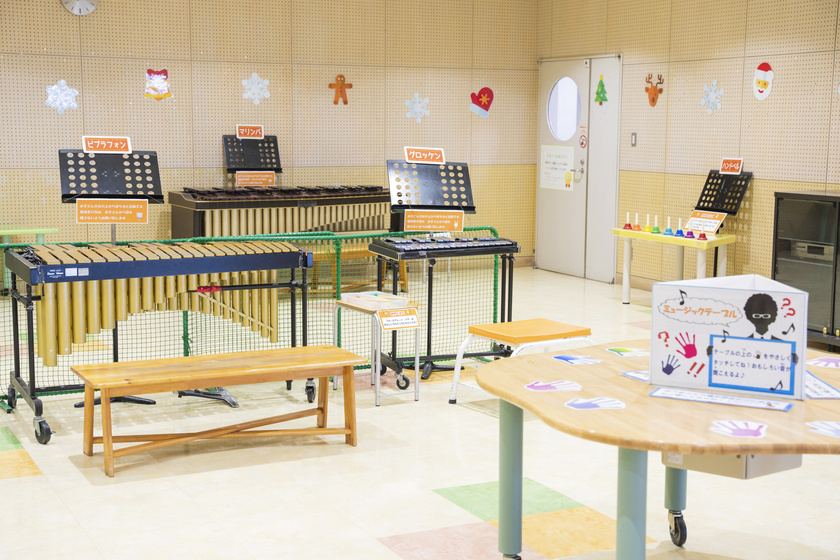 The music studio is a valuable space where children can enjoy playing real percussion instruments, such as pianos and vibraphones There are fun instruments such as a music table that makes animal sounds.
---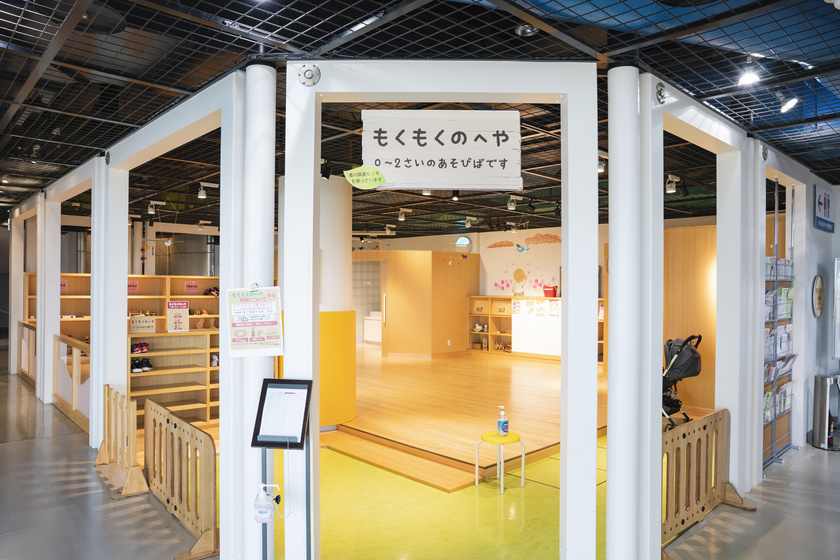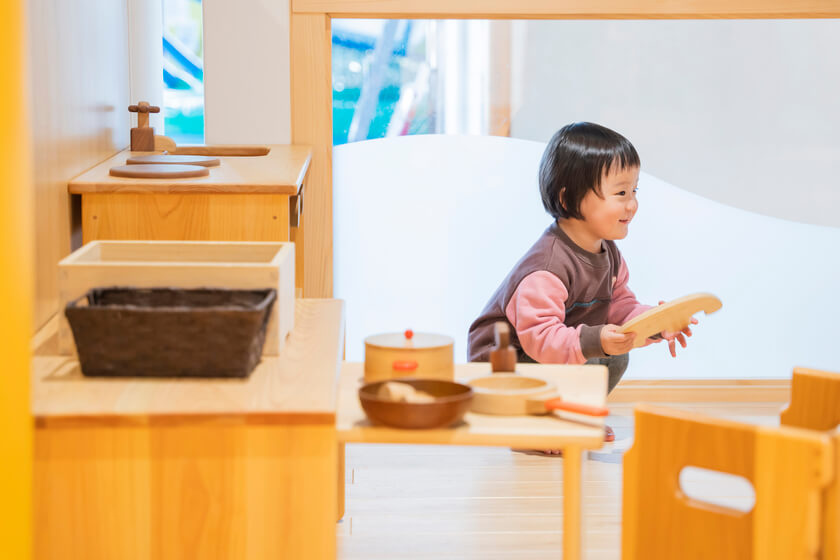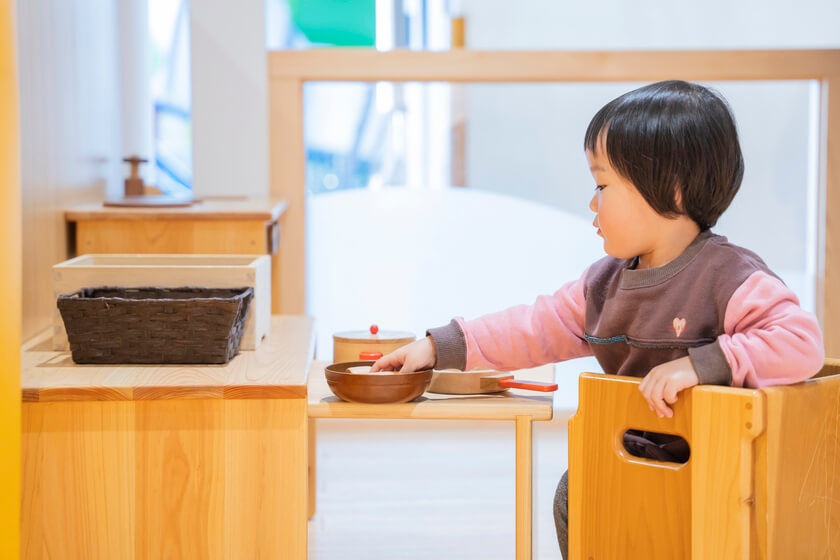 Mokumoku no Heya is a play area for infants between 0 and 2 years old. The space was built using Japanese cypress which is abundantly cultivated in Kagawa Prefecture. Children can feel the warmth of the wooden toys on their hands.
---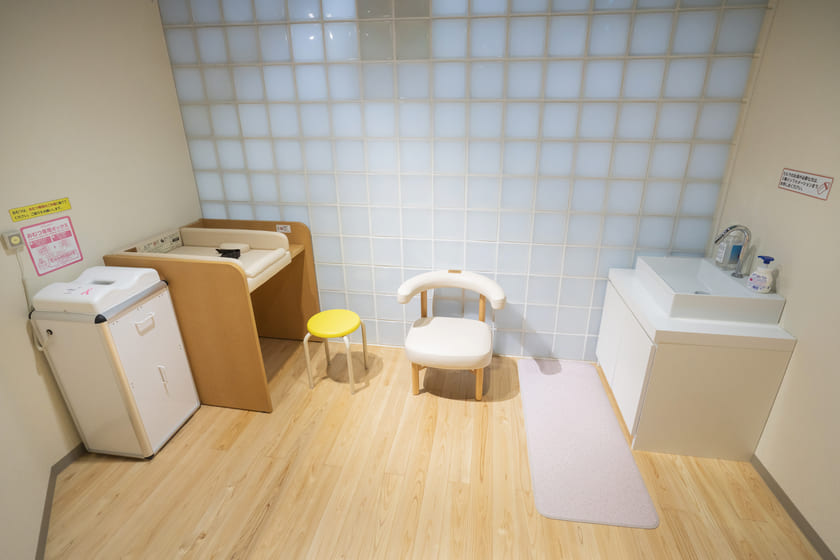 The spacious nursing rooms are located right next to Mokumoku no Heya.
---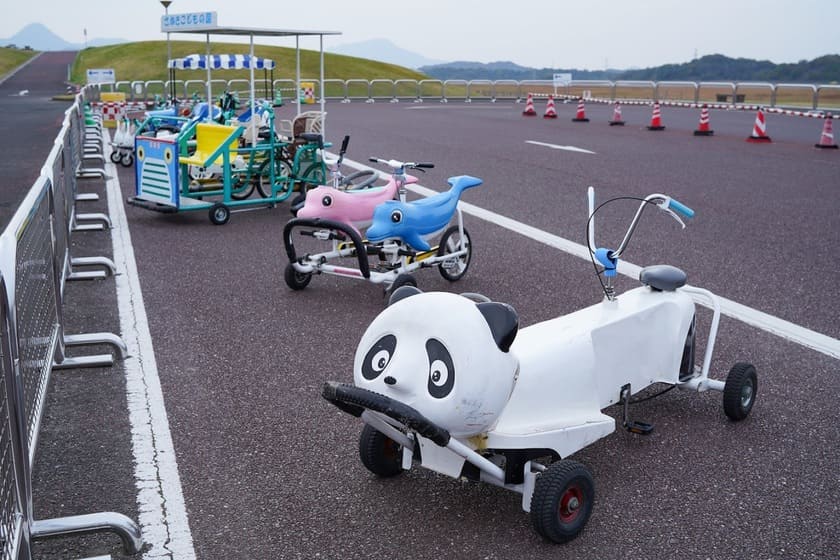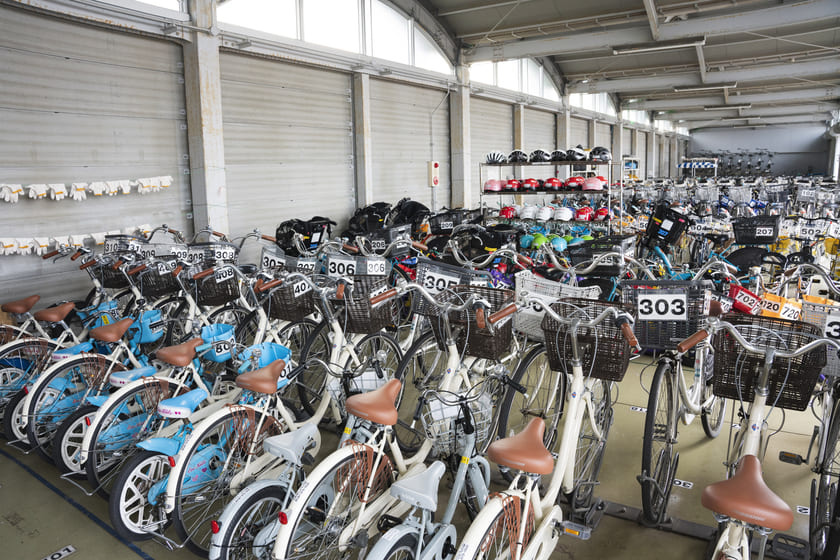 In sunny days, you can rent one of the strange bicycles or a mountain bike to cycle inside the park.
You can enjoy safe cycling because there are no cars.
---
Do not miss the aircraft taking off and landing at Takamatsu Airport just in front of your eyes.
Takamatsu City Kodomo Miraikan Children's Center
---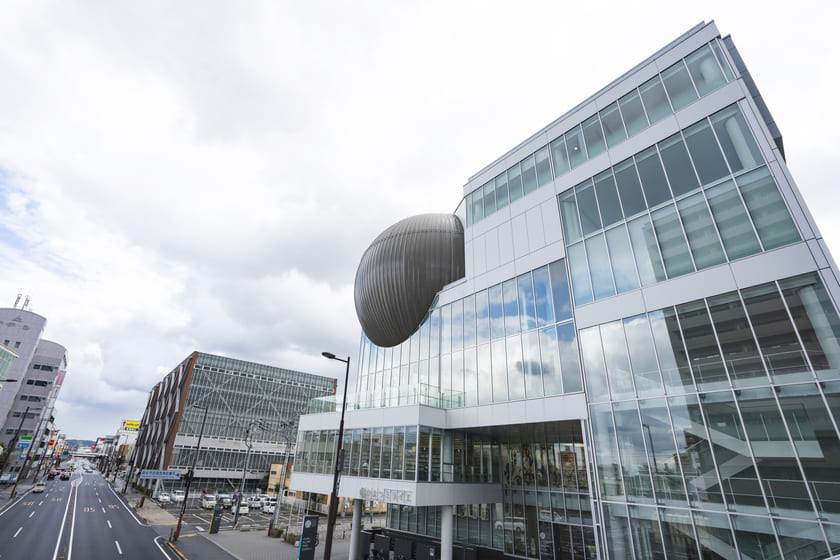 Takamatsu Kodomo Miraikan is a facility that provides learning experiences and supports parenting. It is close to the Takamatsu city center and easy to reach by public transportation. A place where families with small children can visit and play even when it rains.
---

The art work of Takeshi Kawashima, an native Takamatsu City artist, welcomes you at the entrance.
---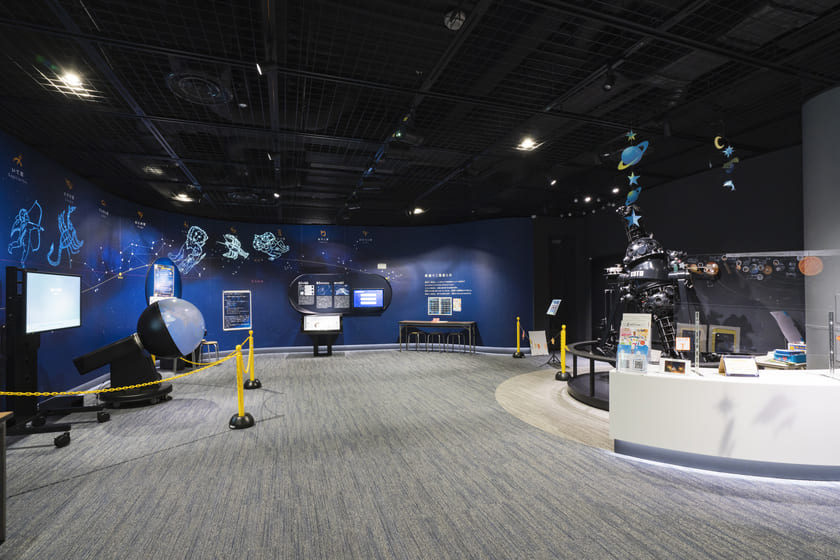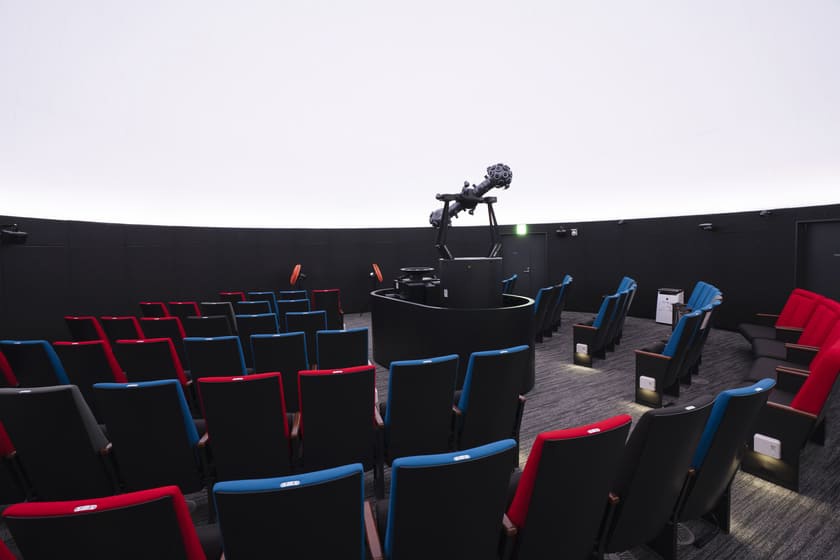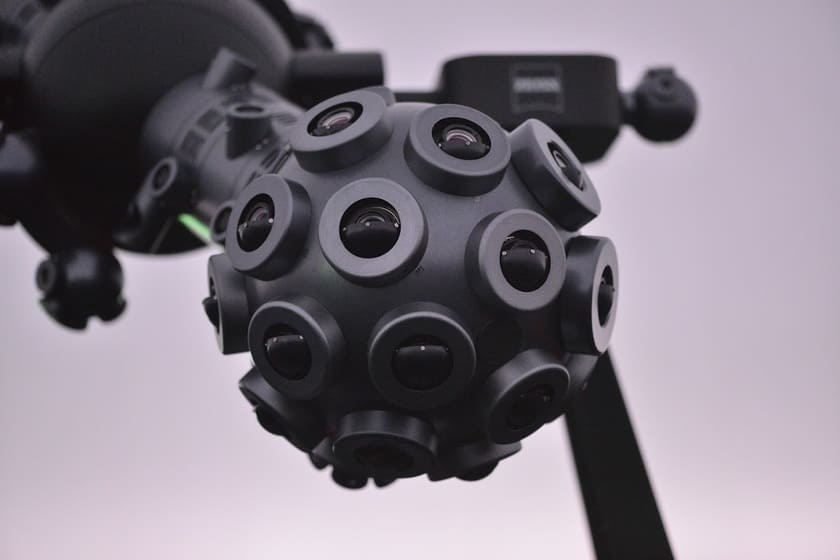 The top recommendation is the planetarium that was built jointly by Japan and Germany. It projects an almost real-life starry sky.
The live presentation that communicates with children is very popular for its lively atmosphere.
---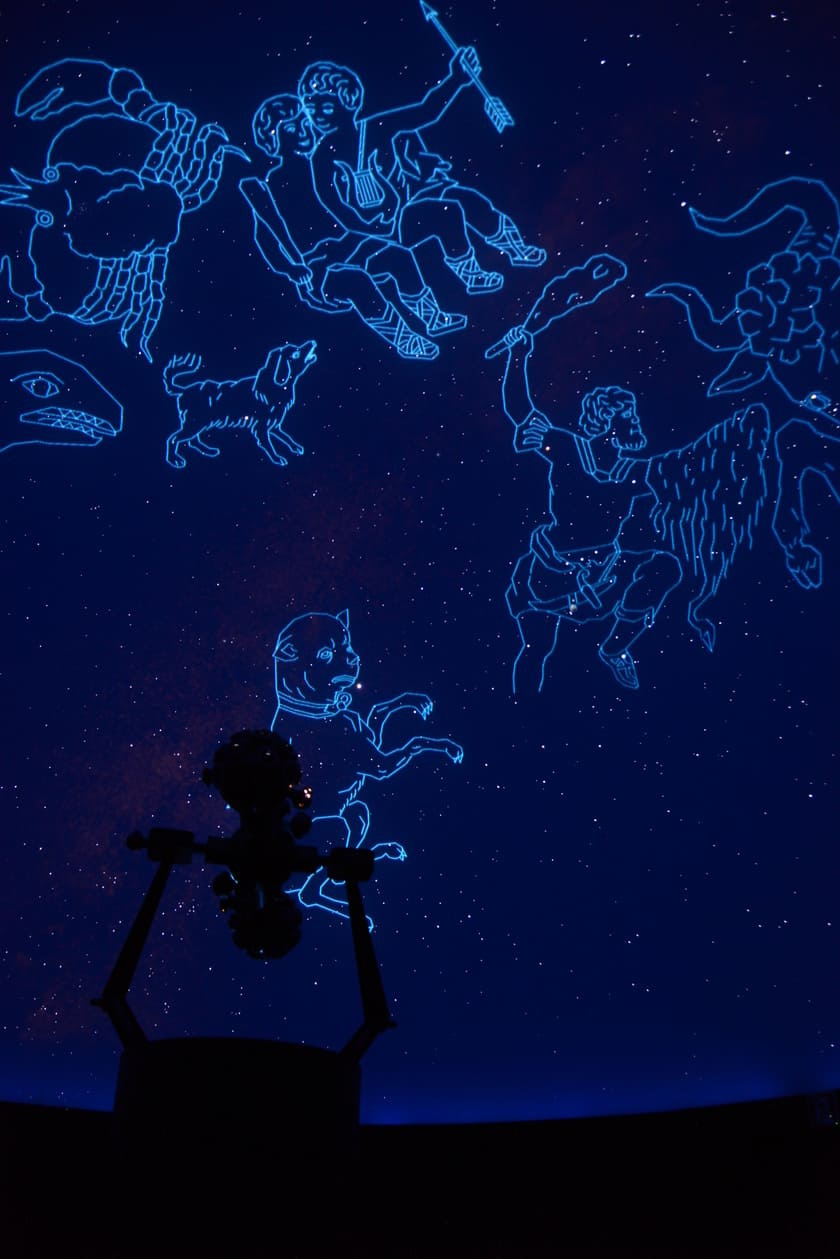 Three of five shows every day are Otagaisama Planetarium (baby and child-friendly sessions)" where the spectators can chat or cry.
As families with small children can enjoy the show without worrying about the others, it is perfect for making a planetarium debut! There are benches that enable parents and children to sit together.
※There are planetarium shows on Saturdays, Sundays, public holidays and school holidays (spring, summer and winter holidays) only.
---
The sun shines through the windows in the Minna no Hiroba and the Playroom, where babies and infants can also play.
---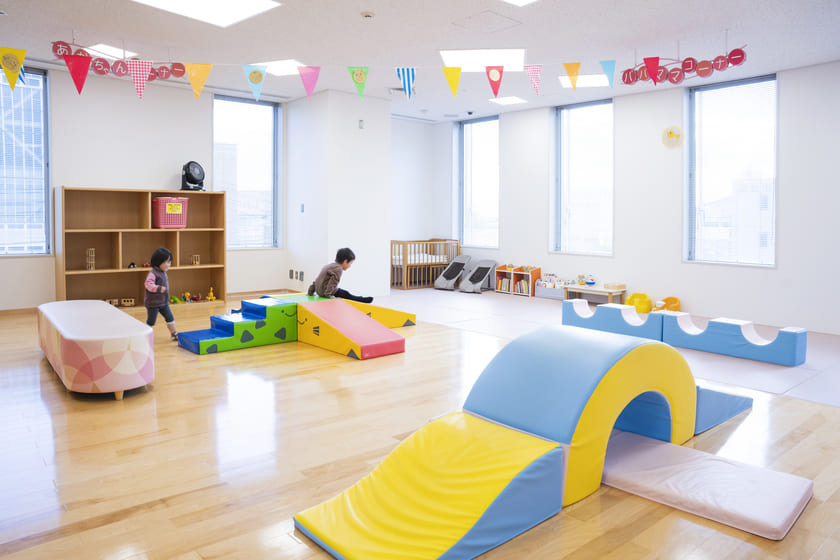 The soft toys are suitable for crawling babies, too.
---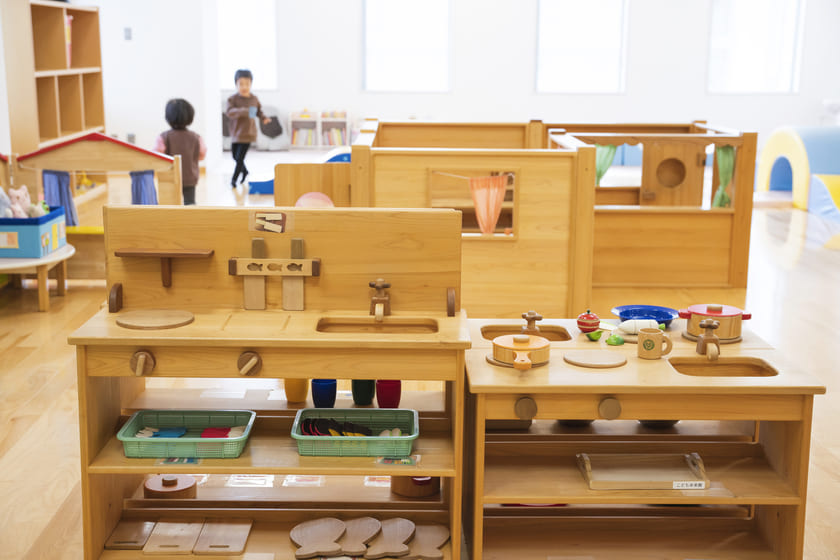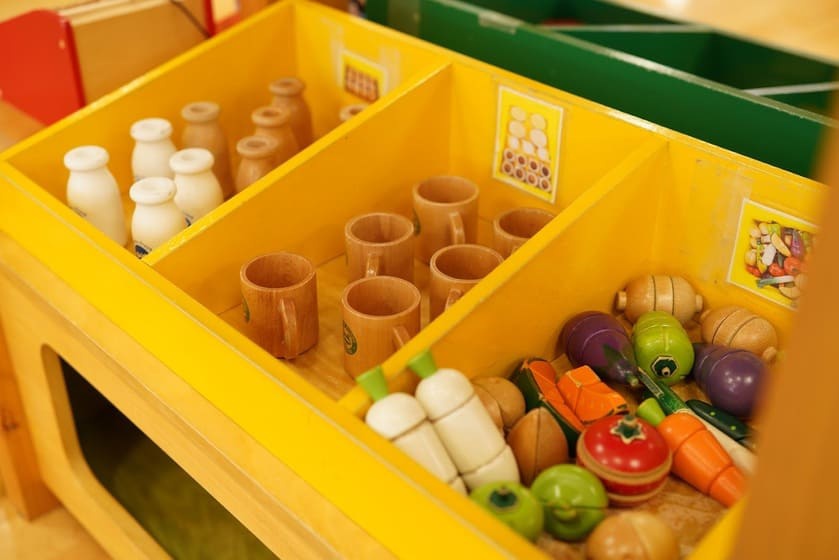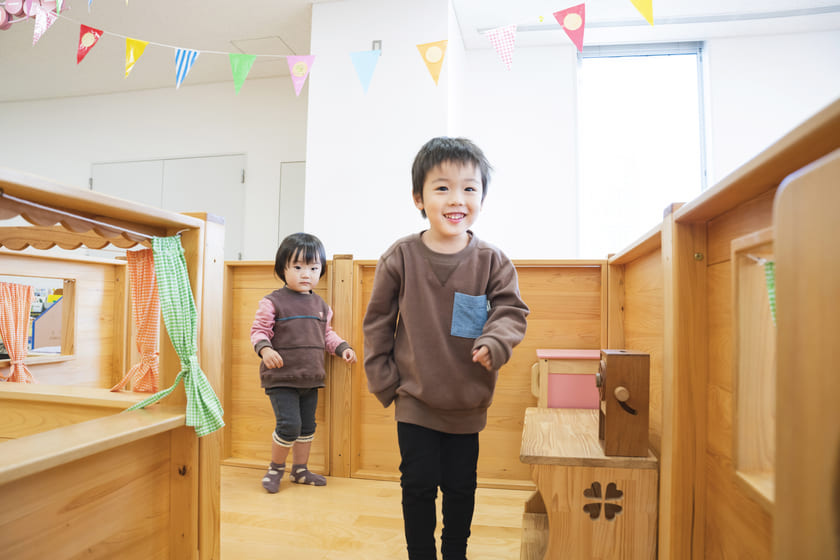 A child-sized kitchen play set made of wood can help children's imaginations develop.
---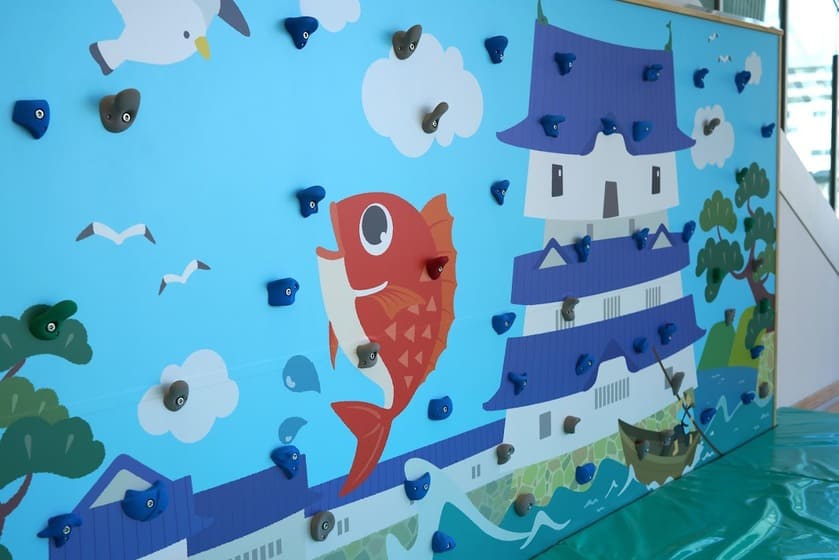 The children's bouldering wall includes an illustration inspired by Takamatsu Castle.
---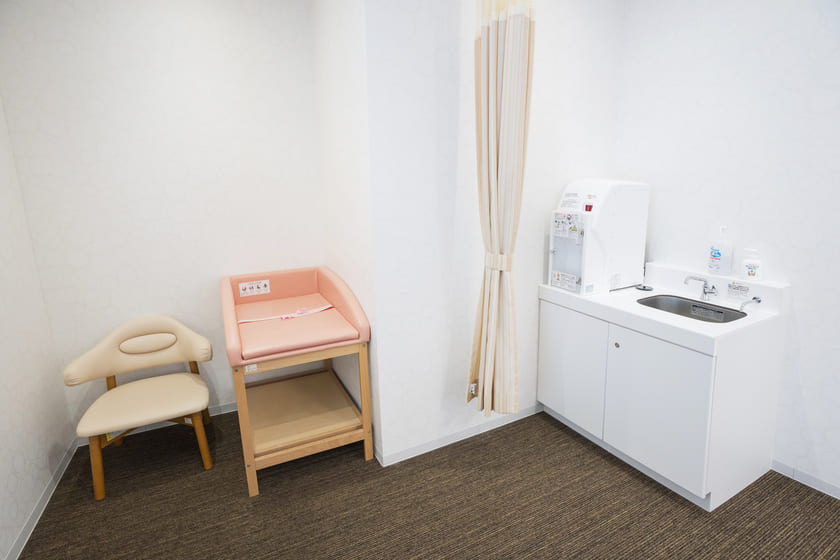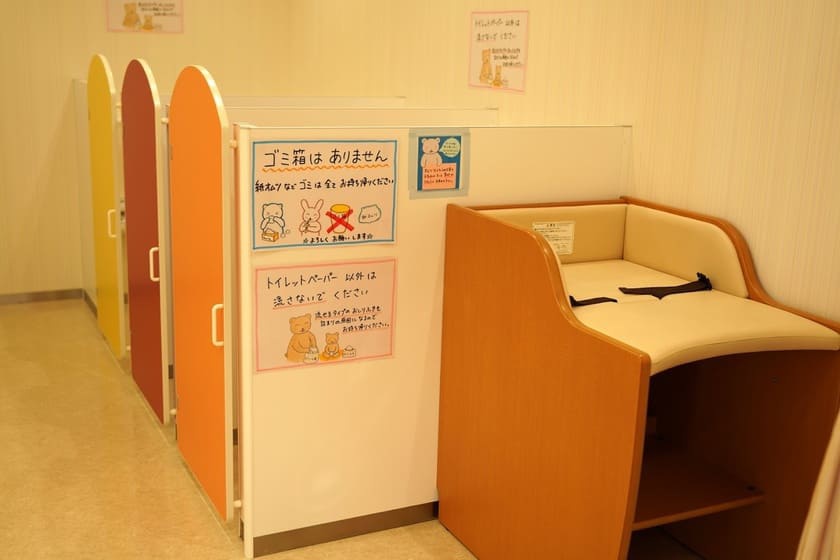 The facility is equipped with children's toilets and a nursing room with a water heater for preparing baby formula. You can use the facility for potty-training.
---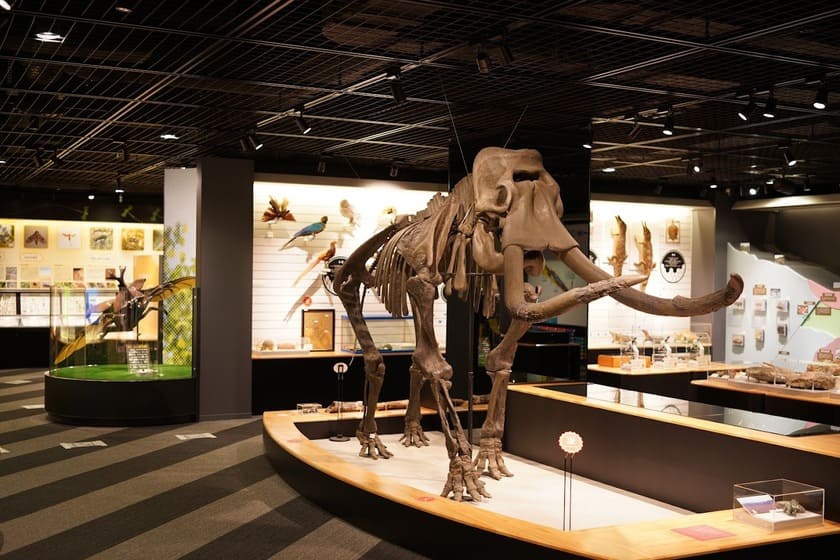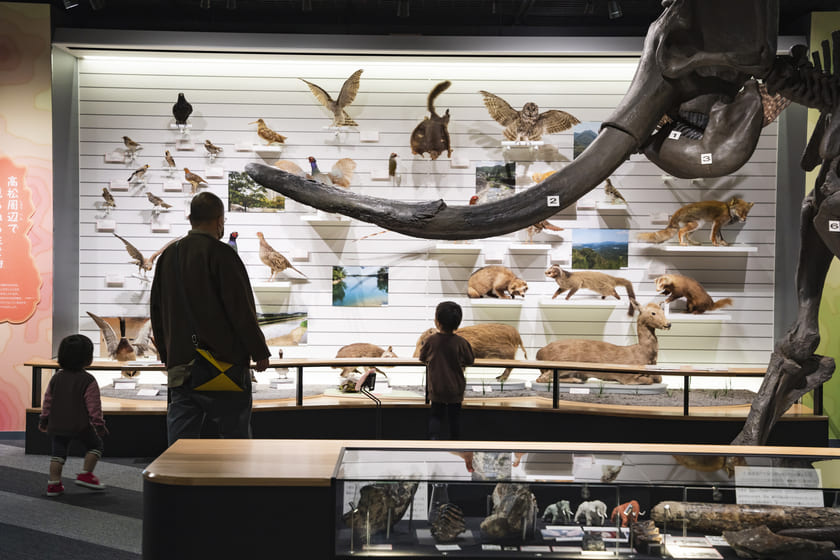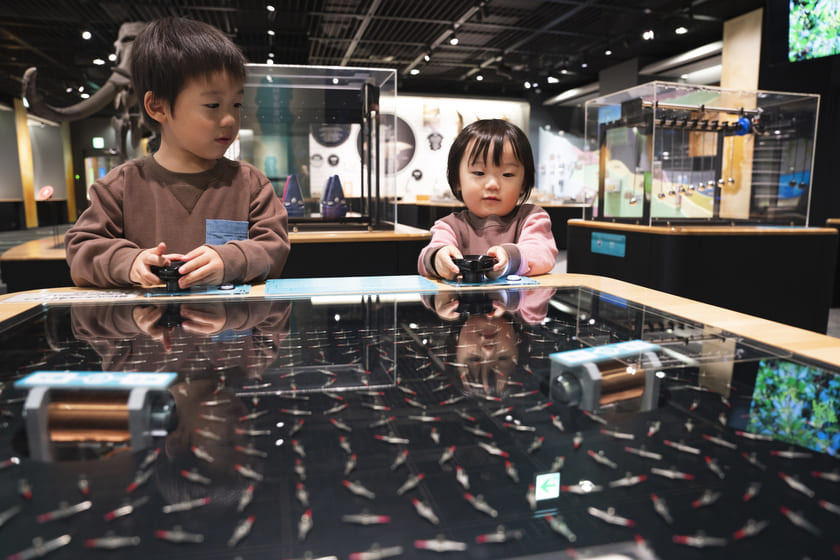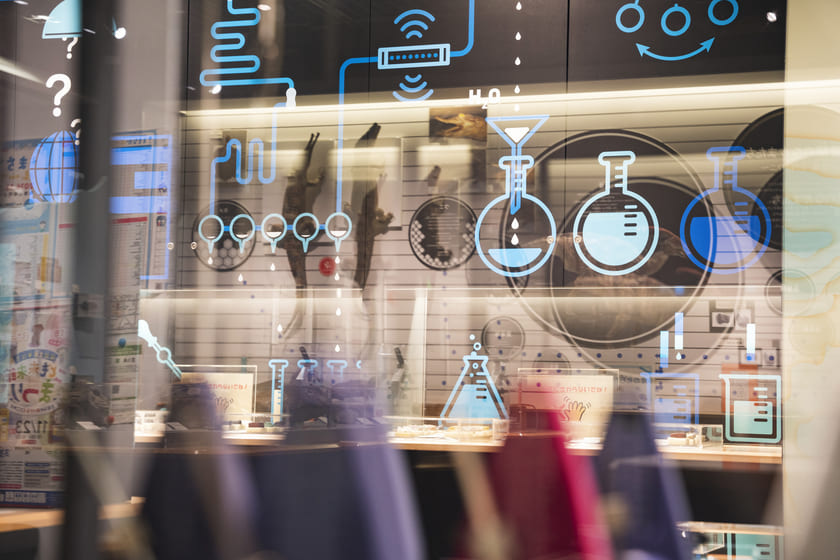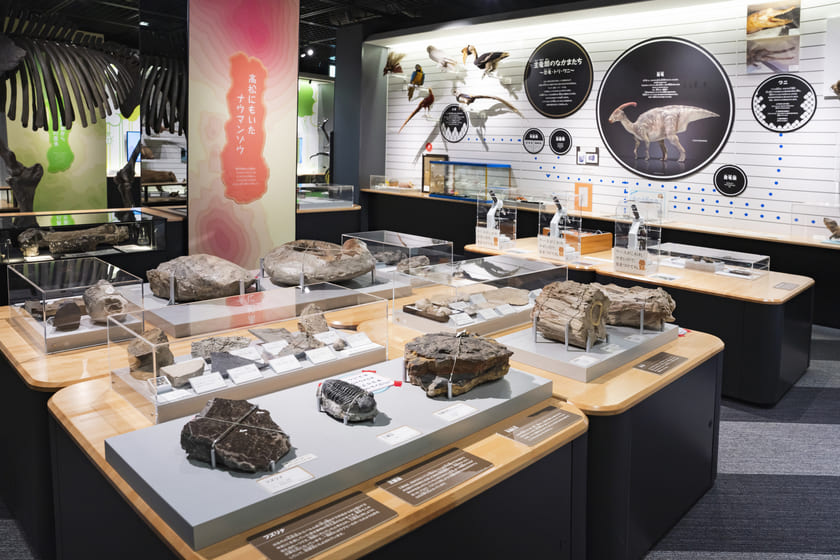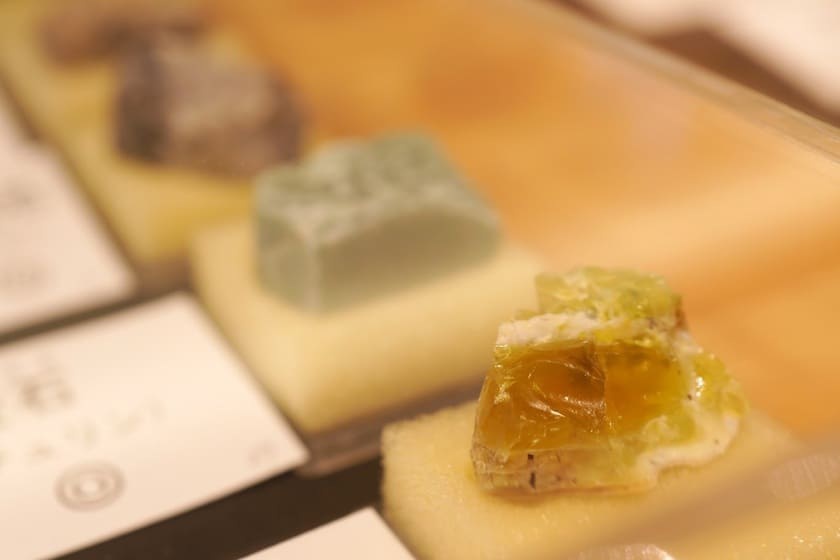 The exhibits in the science exhibition room/insectarium include animals, insects and fossils and offers experiences to learn about natural phenomenon.
---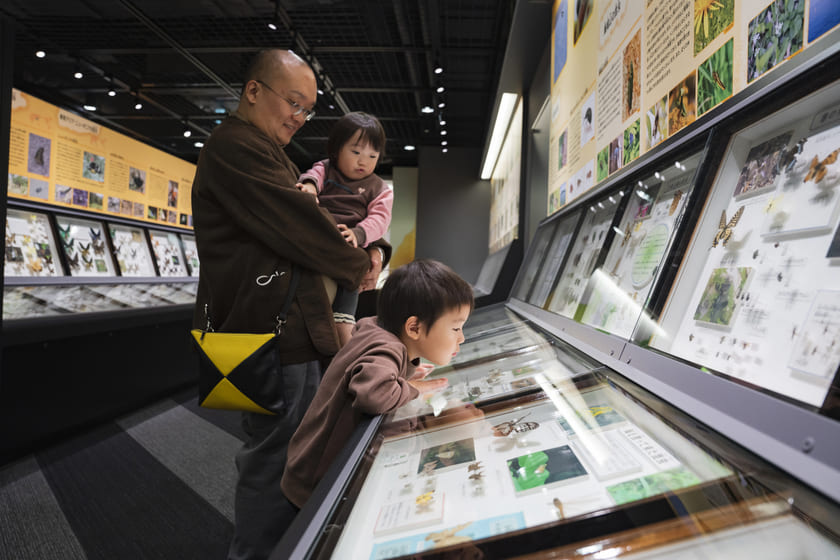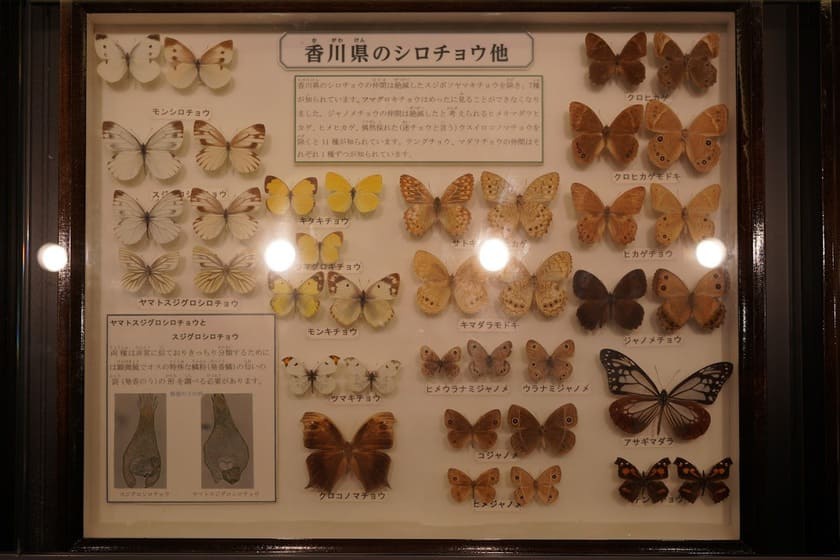 Items that can be seen or tried in Kagawa Prefecture are carefully selected to give visitors a more familiar science experience.
---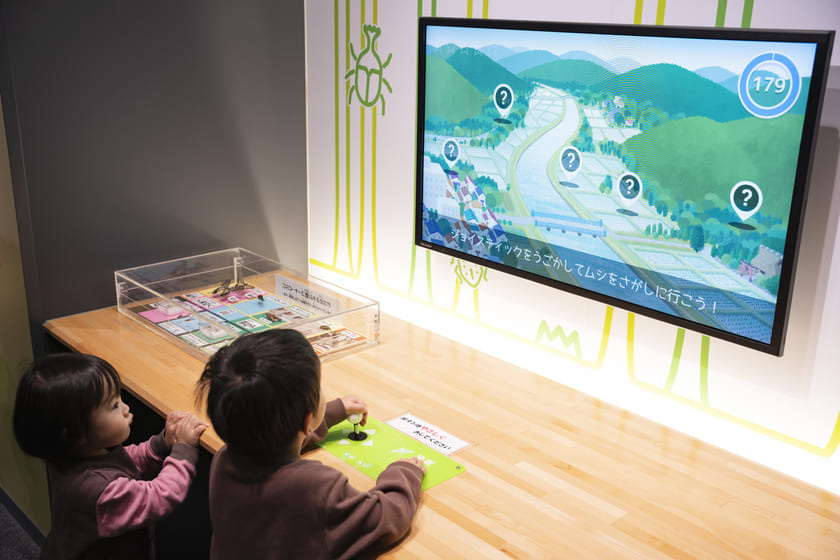 The Mushi-Mushi Quiz is a popular activity to learn how insects live while they are playing games.
---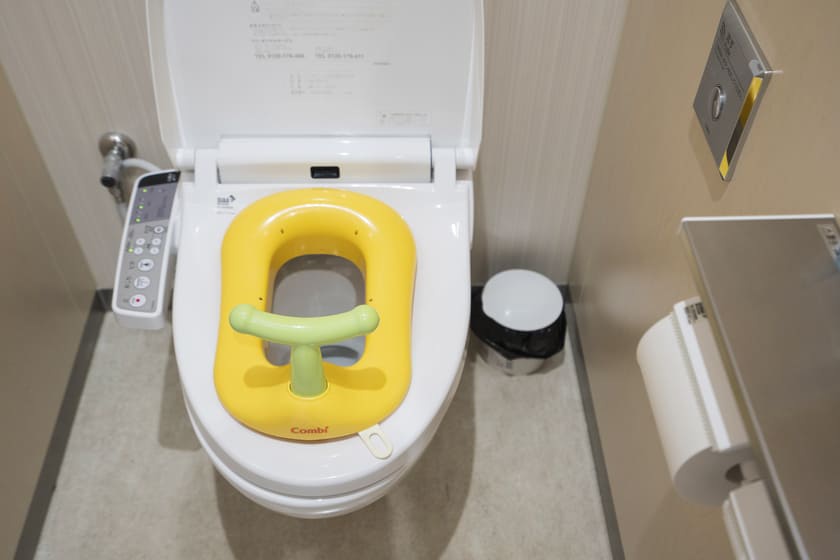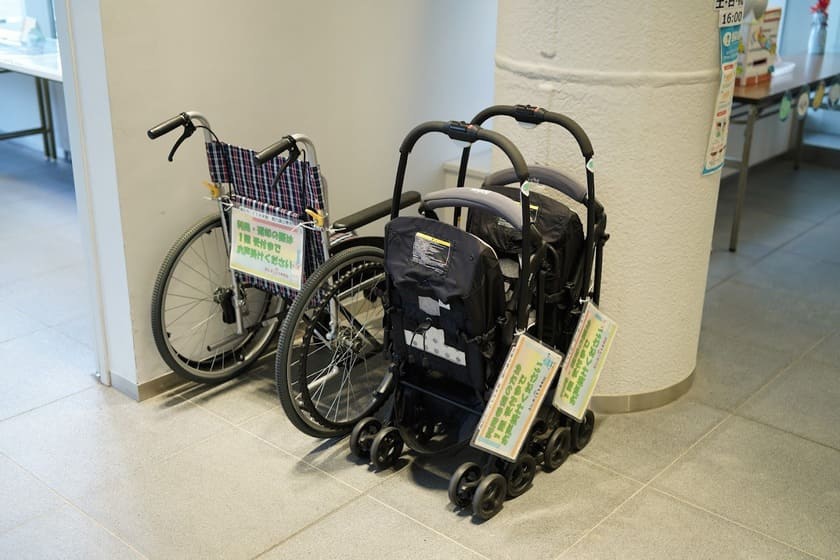 The toilets in the building are equipped with toilet bowls for children and diaper changing stations. There are plenty of family-friendly services available, for example, visitors can borrow strollers at reception.
Aji Ryuozan Park
---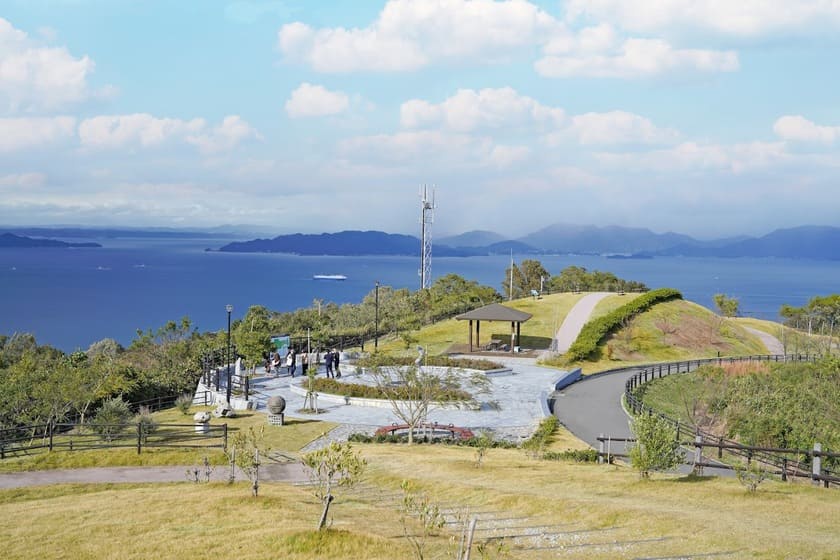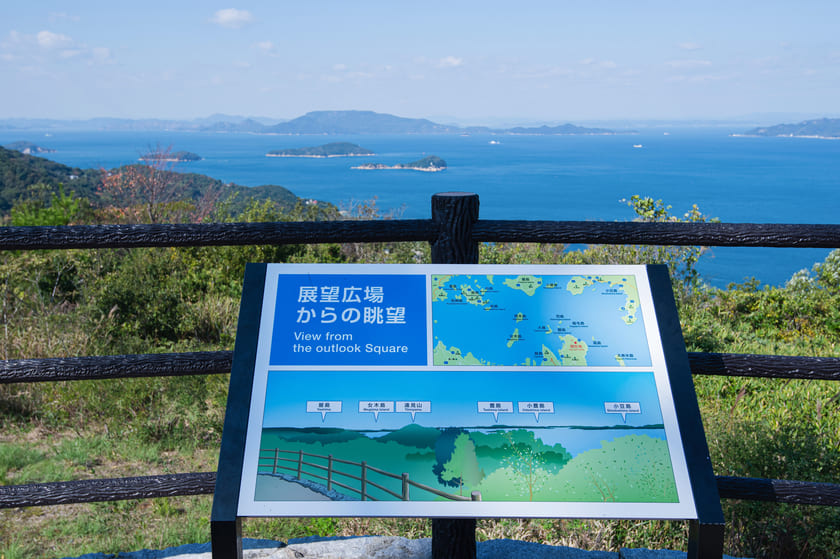 Aji Ryuozan Park is a park on the top of Mt. Ryuo in the Aji peninsula. In the park, visitors can experience the landscape of the Seto Inland Sea.
---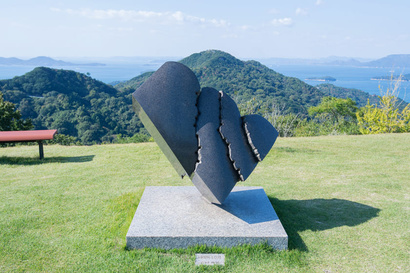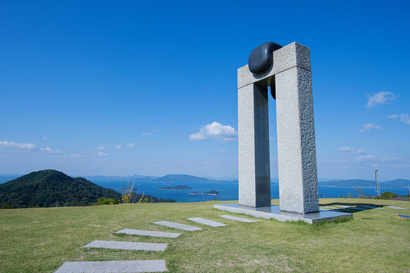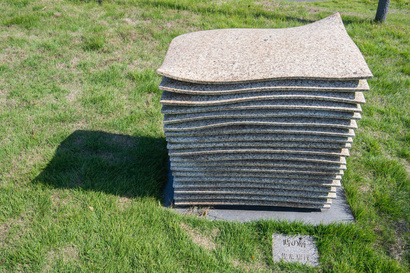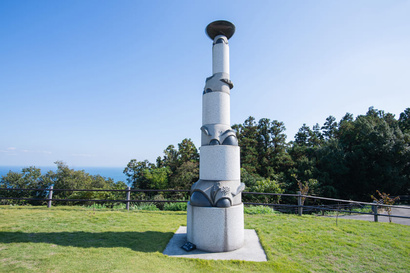 As indicated by the park's concept, "The park for playing with art," the park includes stone sculptures that are in harmony with the natural background.
---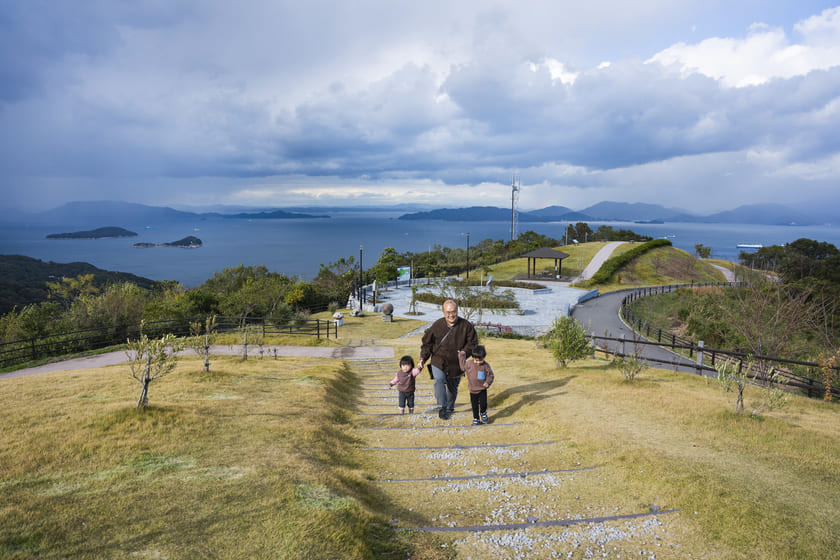 Walking five minutes from the parking lot, you will see a wristwatch-shaped observation deck.
---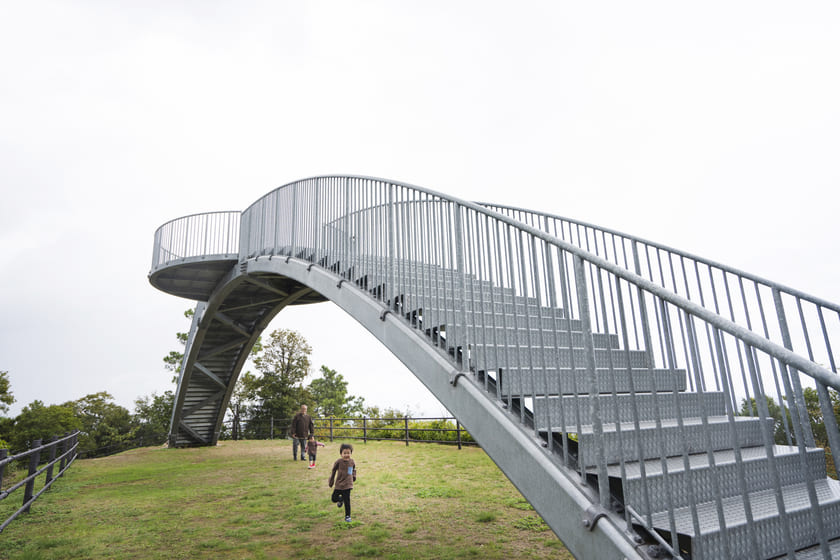 This is a work of art made for the Setouchi Triennale and also a sun clock. The shadow of a bird perching on the handrail is cast onto the sundial.
---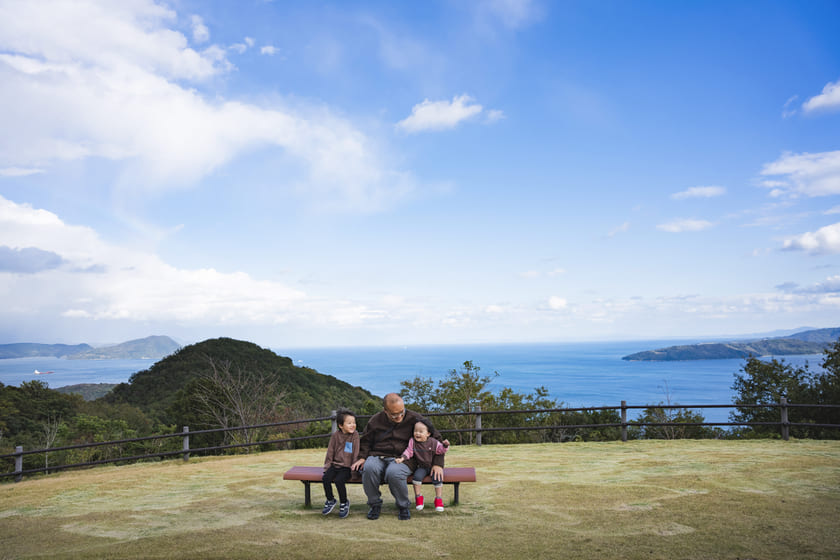 It is a perfect place to have a picnic while enjoying the view.
※If you bring food, be careful of black kites.
Ishitakuminosato, Takamatsu City
---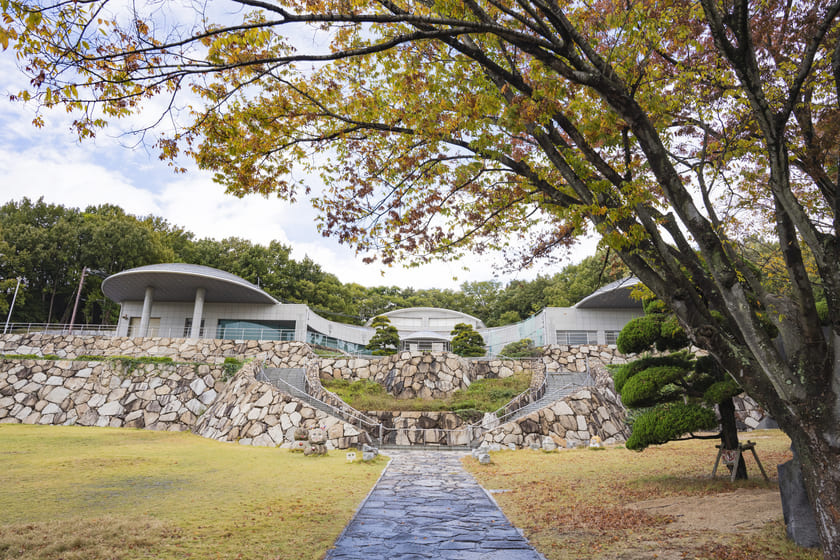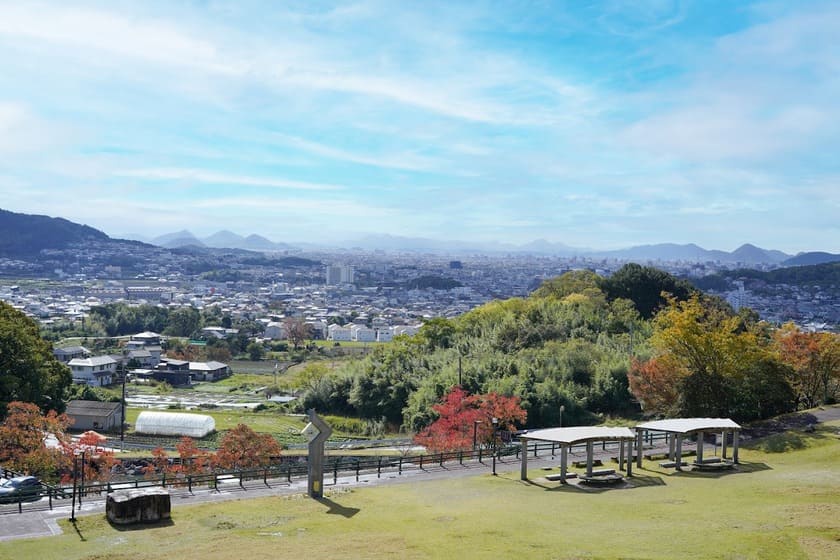 High-quality granite called Aji-stone has been extracted in Murecho and Ajicho in Takamatsu City since olden times. The grassy park in front of the Takamatsu City Geology Museum, which shares the history of the Aji-stone, is the Ishitakuminosato Park.
---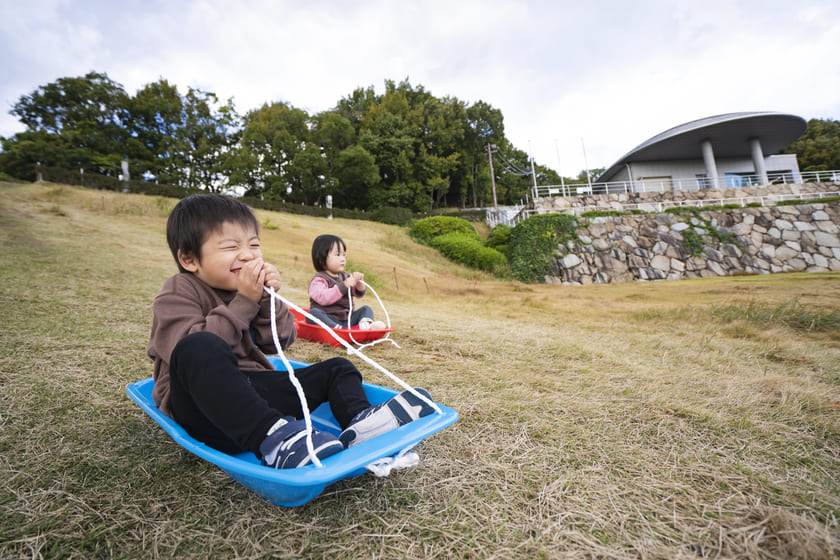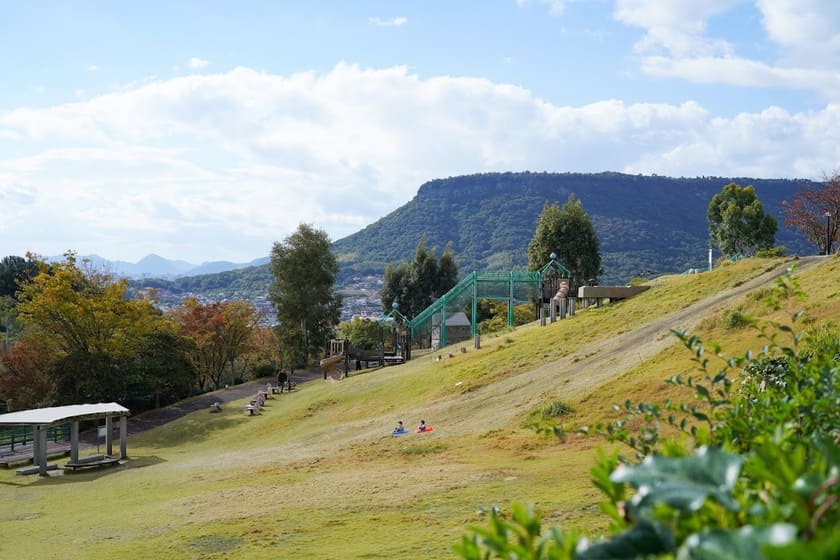 Sledding on the slope is a popular activity for children. You can borrow sleds for free from the Geology Museum.
As the slope is about 10 meters long from the top to the bottom, you go much faster than you would imagine.
---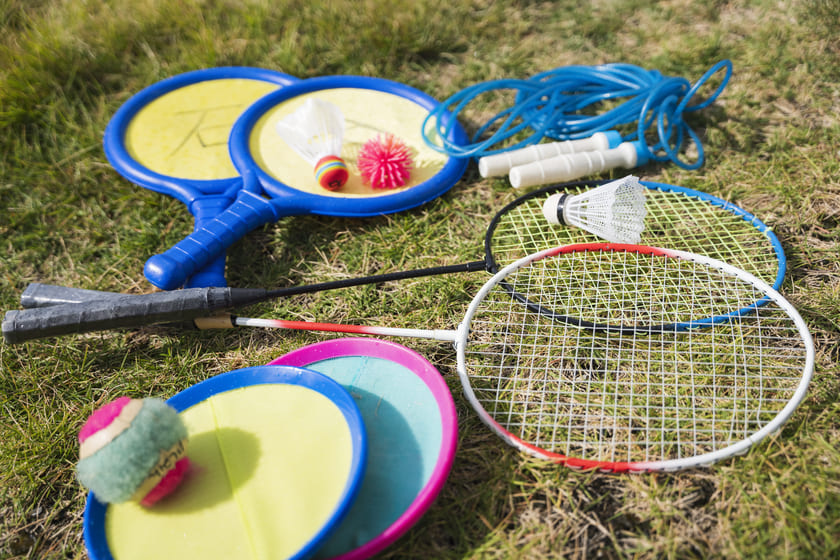 You can also borrow toys to play with in the lawn park.
The museum provides experiences that both parents and children can enjoy.
---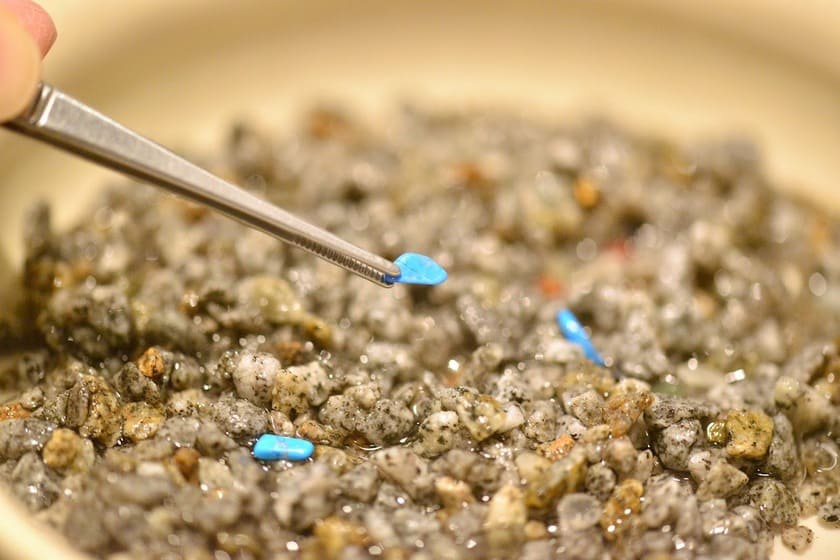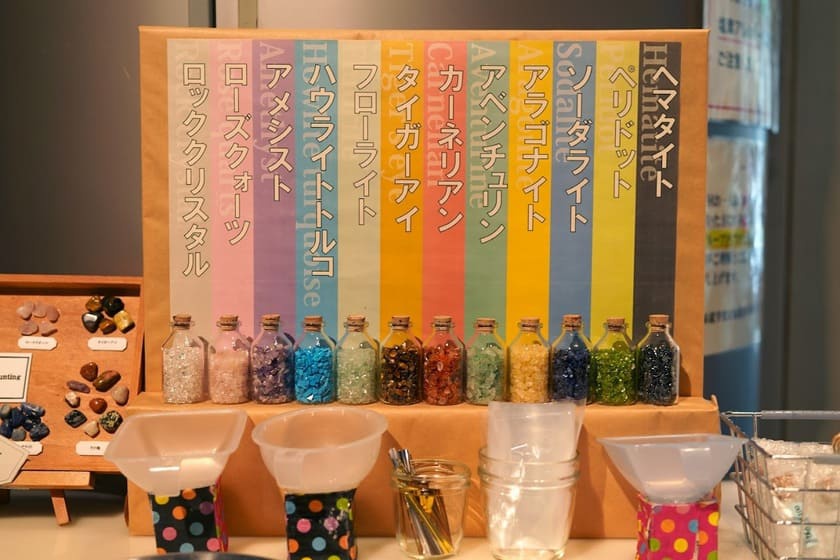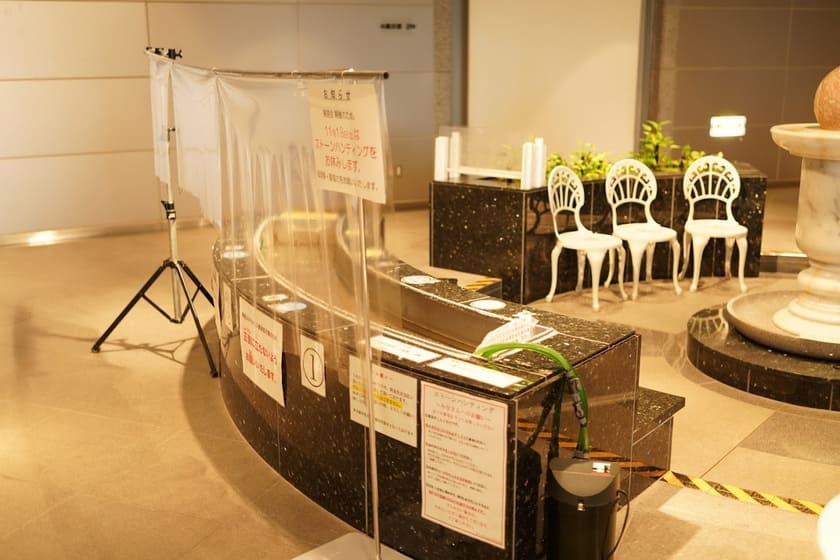 A lot of adults get hooked on Stone Hunting, a game where people find genuine Aji-stone among other gravel.
---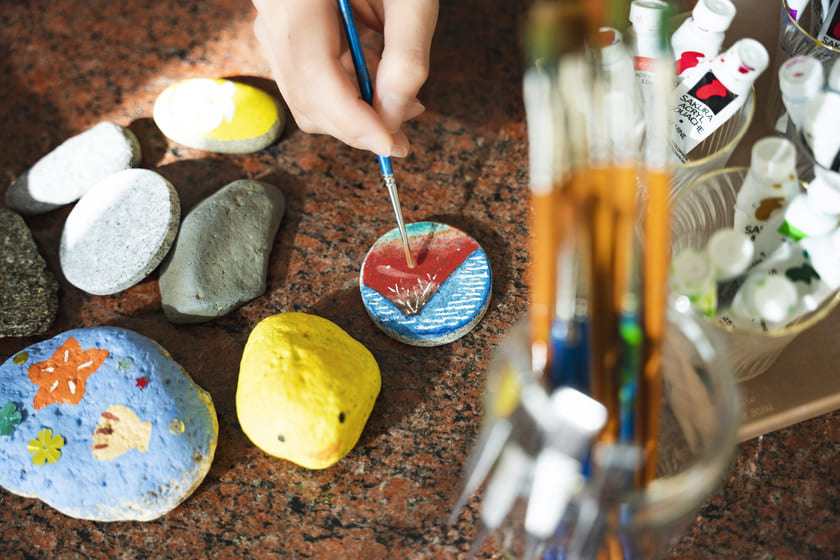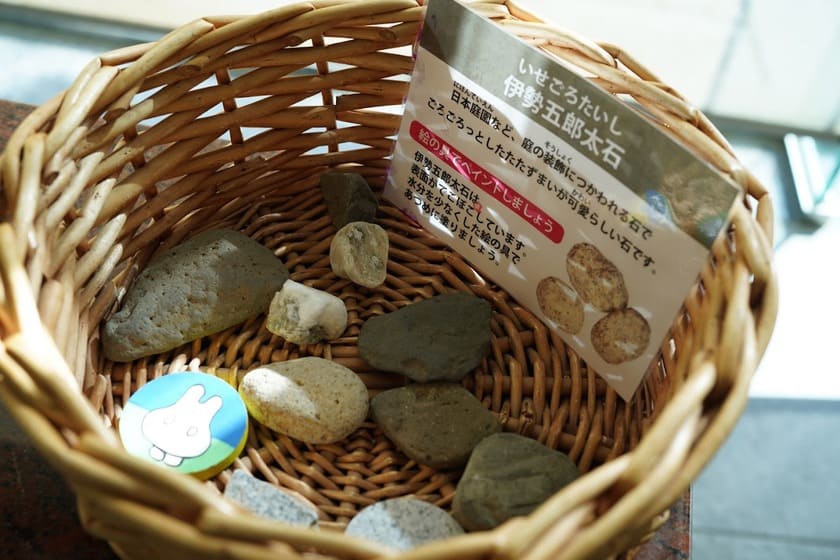 In Ishi de Paint, you can draw whatever you want on your favorite stone. Be inspired by the shape of your stone.
A parenting support group in Kagawa Prefecture
NPO Archipelago
NPO Archipelago works on art projects and programs connecting the resources of the Seto Inland Sea and the people living there.
---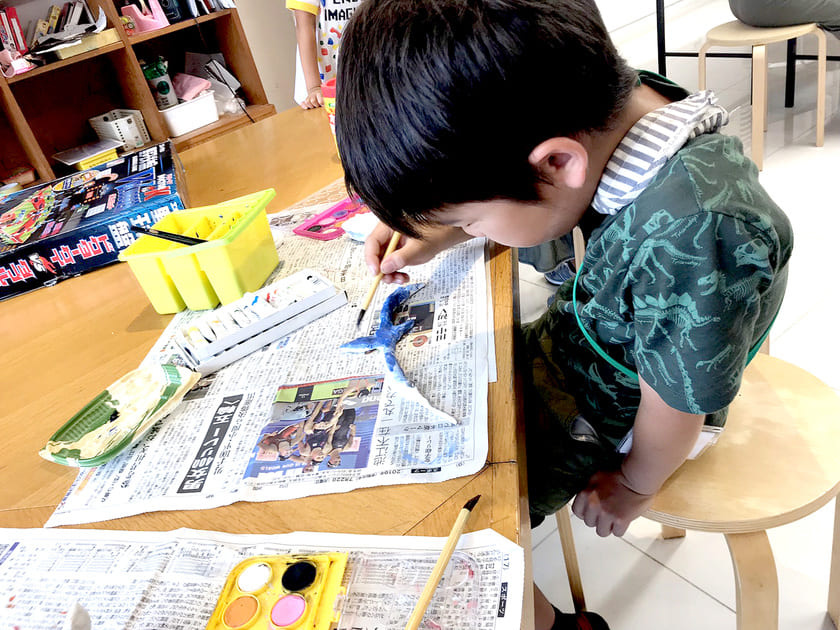 The NPO organizes the After School Club for Kids where elementary school children can drop by on their way home from school and enjoy creative activities such as drawing and handcrafts. The Club supports learning and experiences through a variety of activities, including travelling to islands on a yacht on school holidays like the summer holiday, cooking curry and baking bread.
---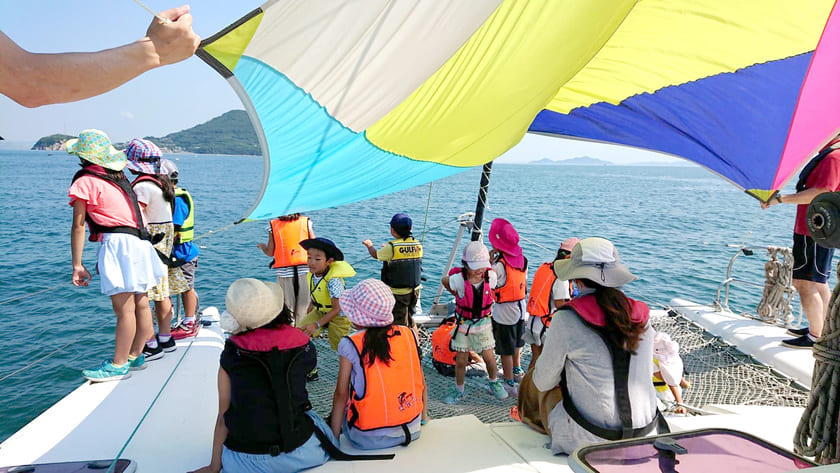 NPO Wahaha Net
The NPO provides support for parents with small children and works to create a better child-rearing environment in Kagawa Prefecture.
---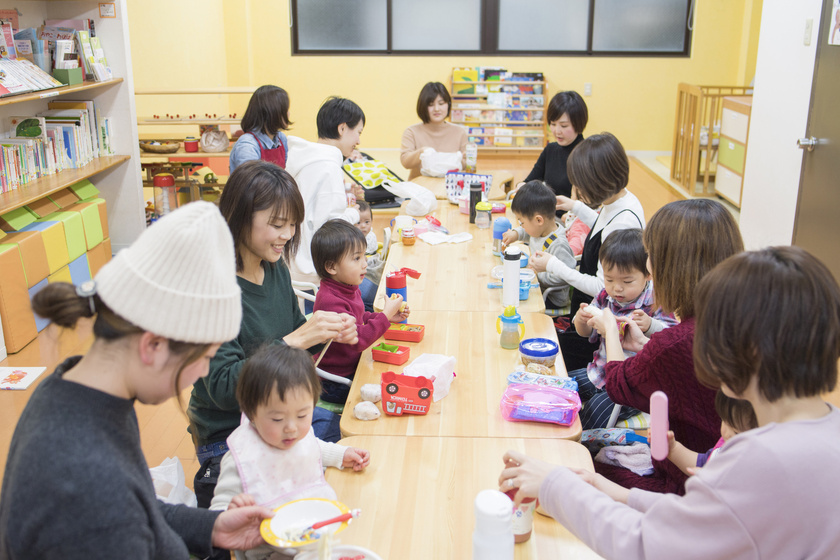 It operates Wahaha Hiroba Takamatsu, a place where parents can spend time freely with their infants and children up to 3 years old or so and exchange parenting information with other parents. Also, it publishes Oyako DE Wahaha, a magazine filled with parenting information, and conducts surveys and research about raising children.
---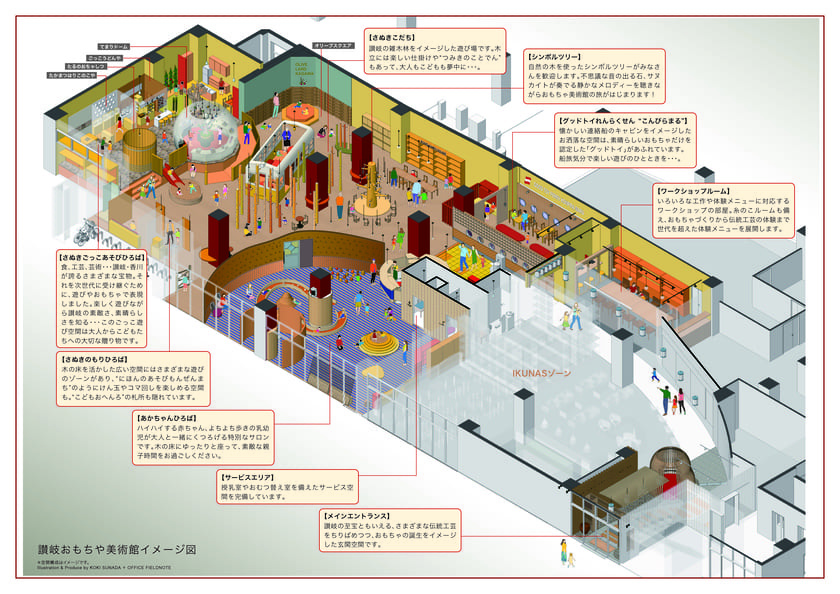 In April 2022, it will open the Sanuki Toy Museum, an experience museum where children can develop communication skills while playing with toys in play areas. Local traditional craftsmen and wood workers are collaborating in its construction, aiming to create a space that is distinctly Kagawa.
There are more! Parks close to you in Takamatsu City
---

Kinbuchi Forest Park
Address

1210-3 Aza Teramine, Higashiueta-cho, Takamatsu, Kagawa

Regular holidays

The park is open throughout the year.

TEL

087-849-0402

URL

Supported languages

日本語
Access:Approximately a 40-minute drive from the Takamatsu city center.、approx. a 20-minute drive from Takamatsu Chuo IC
Admission fee:free
Use of stroller:Allowed
Nursing room:Not available
Diaper changing station:Available
Sanuki Kodomo-no-Kuni Children's Park
Address

3209 Konancho Yusa, Takamatsu, Kagawa

Regular holidays

Monday (the following weekday if Monday is a national holiday), December 30 to January 1, the first Monday to the first Thursday of September

TEL

087-879-0500

URL

Supported languages

日本語
Access:Approximately a 40-minute drive from the Takamatsu city center.、Approximately a 5-min drive from Takamatsu Airport
Admission fee:free
Parking:Free parking
Use of stroller:Allowed
Nursing room:Available
Diaper changing station:Available
Takamatsu City Kodomo Miraikan Children's Center
Address

1-15-1 Matsushimacho, Takamatsu, Kagawa

Regular holidays

Tuesday (the following weekday if Tuesday is a national holiday), and from December 29 to January 3

TEL

087-839-2571

URL

Supported languages

日本語
Access:approx. a 5-minute walk from Imabashi Station, Kotoden Shido Line
a short walk from Matsushimacho Bus Stop
Admission fee:free
Parking:Takamatsu Miraie visitors can use the parking lot for free up to one hour.
Use of stroller:Allowed(Some sections are closed.)
Nursing room:Available
Diaper changing station:Available
Aji Ryuozan Park
Address

4389-1 Ajicho, Takamatsu, Kagawa

Regular holidays

Tuesday (the following weekday if Tuesday is a national holiday), and from December 29 to January 3

TEL

087-845-5585

Supported languages

常駐職員がいないため対応無し
Access:Approximately a 35-minute drive from the Takamatsu city center.
Parking:Free parking
Use of stroller:Partially allowed
Nursing room:Not available
Diaper changing station:Not available
Supported language:Not available because there is no on-site staff
Ishitakuminosato, Takamatsu City
Address

1810 Murecho Mure, Takamatsu, Kagawa

Regular holidays

Monday (the following weekday if Monday is a national holiday), and from December 29 to January 3

TEL

087-845-8484

URL

Supported languages

日本語
Access:Approximately a 25-minute drive from the Takamatsu city center.
Parking:Free parking
Use of stroller:Allowed
Nursing room:Available
Diaper changing station:Available(Interior of the nursing room)
NPO Archipelago
Address

1-2-7 Shiokagamicho, Takamatsu, Kagawa

TEL

087-087-813-1001

URL
After School Club for Kids 
Target age:Children in the first to sixth grades
Price:Monthly usage fee: 20,000 yen (After-school hours until 18:00 from Monday to Friday) or basic usage fee: 1,000 yen (Up to 3 hours))※There are other plans available for Saturdays, school holidays and extended time.
URL https://archipelago01.wixsite.com/website
About Wahaha Hiroba Takamatsu
Address

1-4, Daikumachi, Takamatsu, Kagawa

Business hours

Operating hours:From 10:00 to 15:00 Monday to Friday and once a month on Saturday (irregular) Lunchtime: 12:00 to 13:00

Regular holidays

Saturdays, Sundays, public holidays, during the year-end and new year vacation

TEL

087-822-5589

URL
Gathering date:2022.2.25 / Kinbuchi Forest Park
KEYWORDS