---
Shionoe Onsen Resort is a Japanese hot spring resort just a 15-minute taxi ride from Takamatsu Airport. Nature-filled Shionoe is also accessible via bus from central Takamatsu in Kagawa Prefecture. Learn about the things you can do in this charming area.
Shionoe Onsen: A Favorite Hot Spring of the Buddhist Monk Kukai
---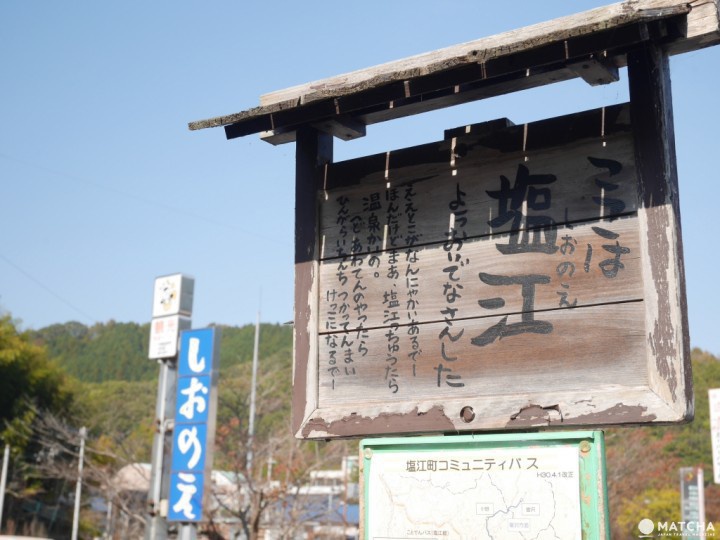 ---
Takamatsu City in Kagawa Prefecture, located in the Shikoku Region, is famous for its stunning view of the Seto Inland Sea. Shionoe Onsen is a historical hot spring resort on the southern end of Takamatsu, and is known as an okuzashiki (*1) of the city.
*1 Okuzashiki: An inner room of a Japanese house, also a synonym for a quiet retreat located near an urban area.
---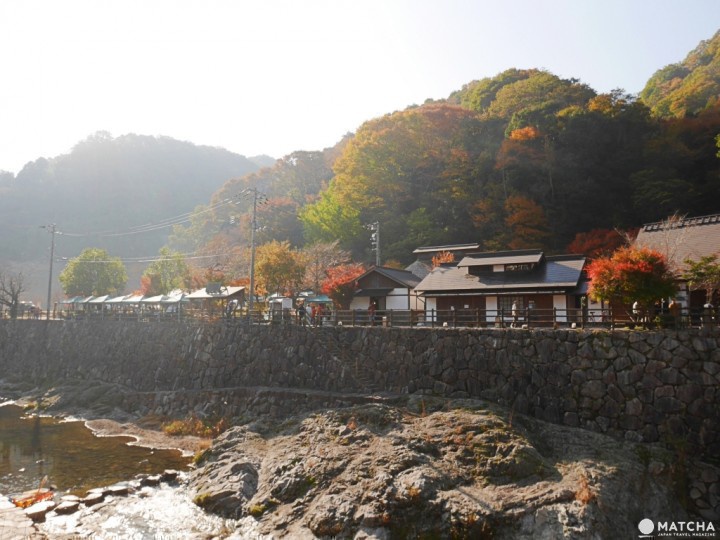 ---
Shionoe Onsen Resort is surrounded by the great outdoors and its scenery changes with the seasons.

The famous Buddhist monk Gyoki discovered by the hot spring approximately 1,300 years ago. With the help of another monk, Kukai (also known as Kobo Daishi), the area developed into a place of training and balneotherapy (a type of health treatment involving bathing in hot springs and mineral-rich water).
---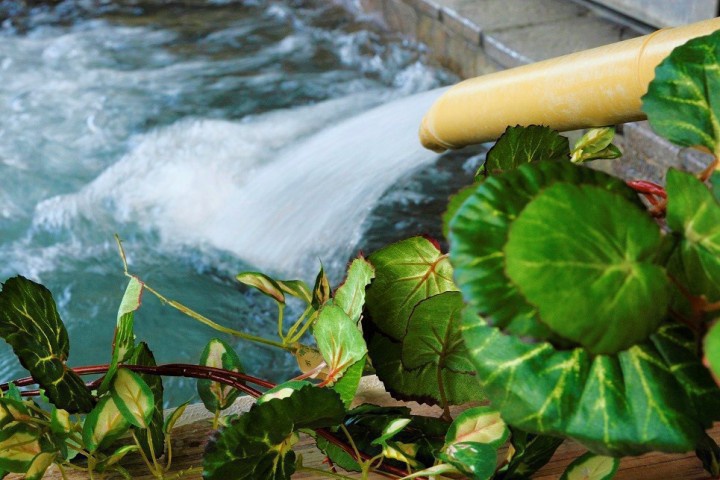 ---
Due to its relaxing environment, Shionoe is designated as a national health spa. This is a title awarded to hot springs fit for balneotherapy. Shionoe is one of only two national health spas in the Shikoku Region.
Getting Around the Area in an Electric Bicycle
---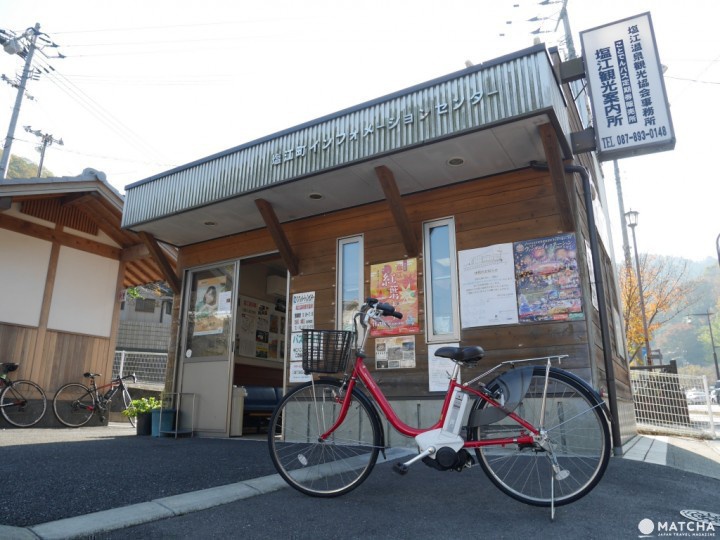 ---
You can rent an electric bicycle at Shionoe-cho Information Center to visit the sightseeing spots.

It costs 500 yen for three hours, and 100 yen per hour for an extension. You will have to pay an initial 3,000 yen deposit, which will be returned after the ride.

So get on a bicycle, and start the sightseeing. There are many slopes in the area, so be careful about speeding.
Fudo no Taki Falls
---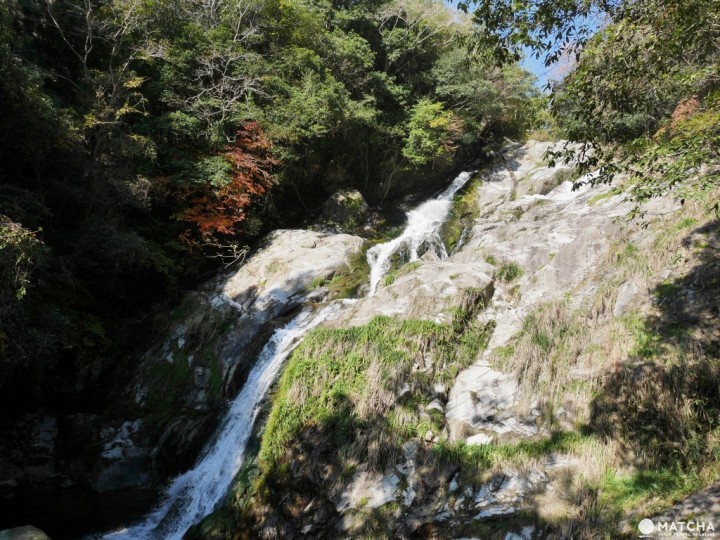 ---
Fudo no Taki is a waterfall that is believed to be the place where Kukai trained. According to legend, Fudo Myo-o (a deity representing the wisdom of Buddha) appeared at this spot. The water falls from the height of forty meters. The waterfall is divided into five areas by large rocks, so it is also called Godan (five stages) no Taki.
---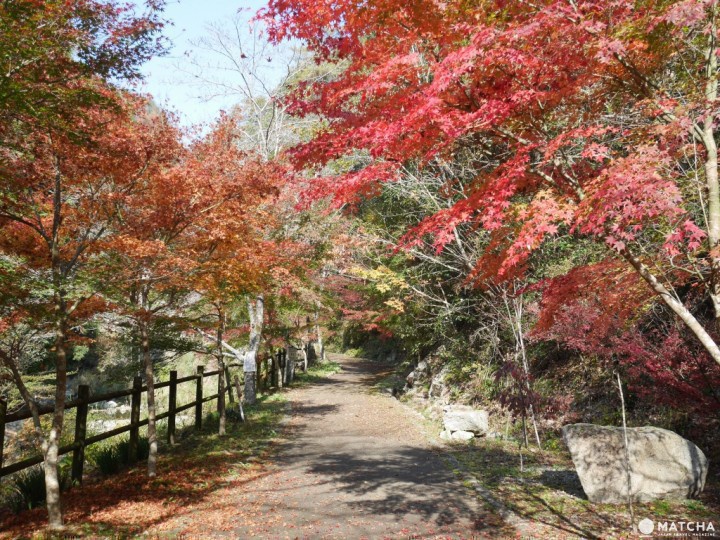 ---
Visitors can enjoy the fall leaves on the path leading to Fudo no Taki. During autumn, the shining leaves and the view of the waterfall make the atmosphere seem unworldly.
Iwabu Hachiman Jinja and the Ginkgo Trees
---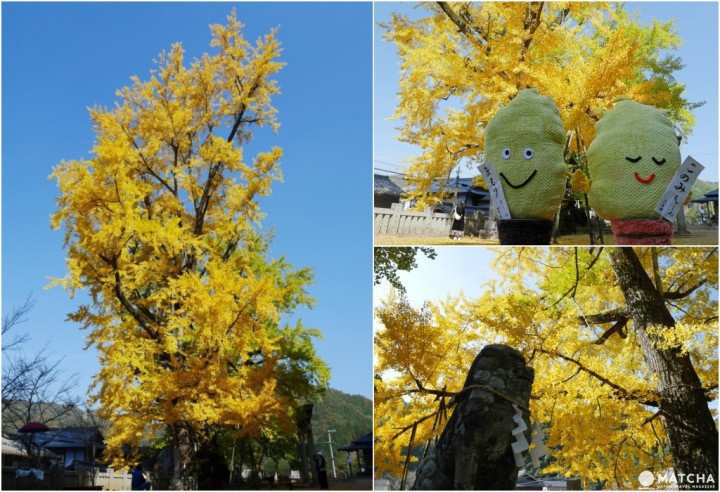 ---
Iwabu Hachiman Jinja is a shrine famous for two tall ginkgo trees, which are designated as a natural monument of Kagawa Prefecture. The trees are named Konomi and Mamori, and have been standing on this ground for 600 and 400 years, respectively. Every autumn, the leaves turn yellow, fall, and cover the ground, drawing many visitors.
---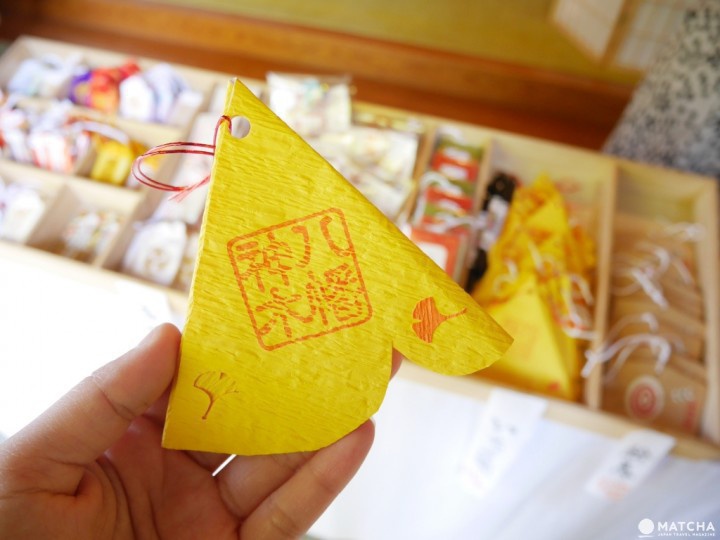 ---
This shrine has a ginkgo-leaf shaped ema (votive tablet), on which the visitors write their wishes. Hang them up by the ginkgo trees for Konomi and Mamori to look over them.
Momiji Festival
---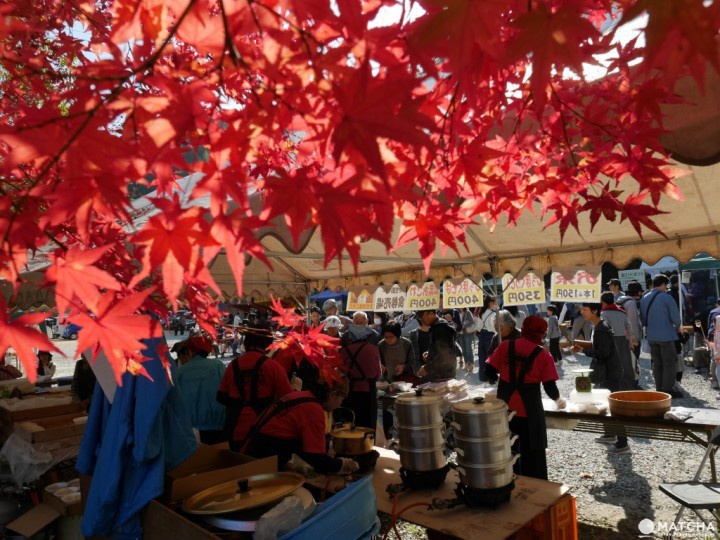 ---
The Momiji (autumn leaves) Festival was being held during our visit. Stalls were set up, transforming the grounds into a lively area filled with energy. At this festival you can enjoy freshly-cooked local food, view the autumn leaves, and bathe in the hot springs.
---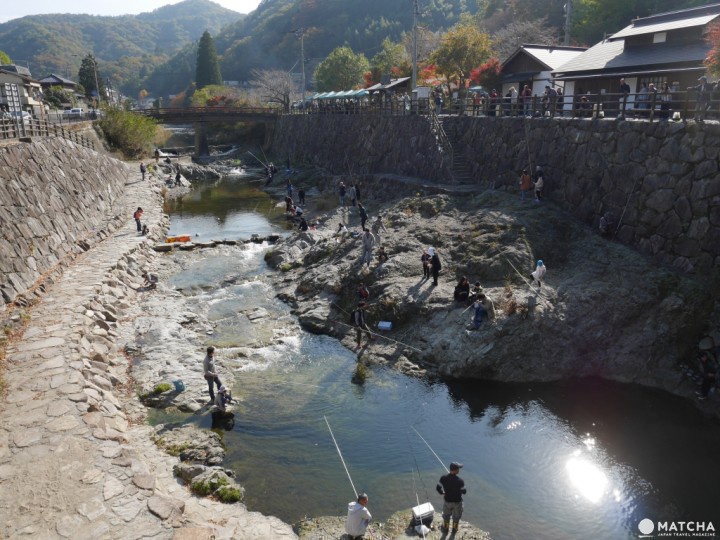 ---
You can also fish in the mountain stream during the festival period. The stream is full of large, mature fish, and anglers can take back the catch to their homes.

Shionoe also hosts festivals related to sakura (cherry blossoms), fireflies and hot springs. We suggest visiting during these festival periods, too.
Local Cuisine
After the sightseeing, let's have something to eat.
Soft-serve Ice Cream
---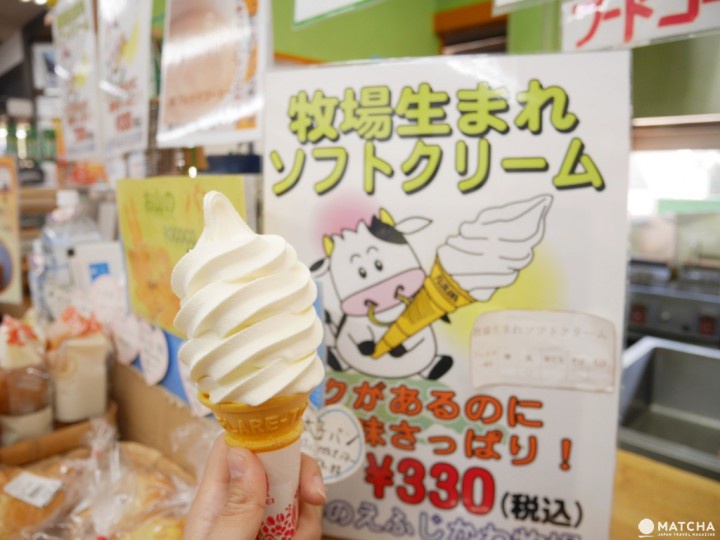 ---
Michinoeki (rest stop) Shionoe sells a wide variety of local products and souvenirs. One of the most popular items is the bokujo umare soft cream. It is made fresh daily, from milk produced by the local Shionoe Fujikawa Farm. Customers can always enjoy delicious soft-serve ice cream.
Hanare
---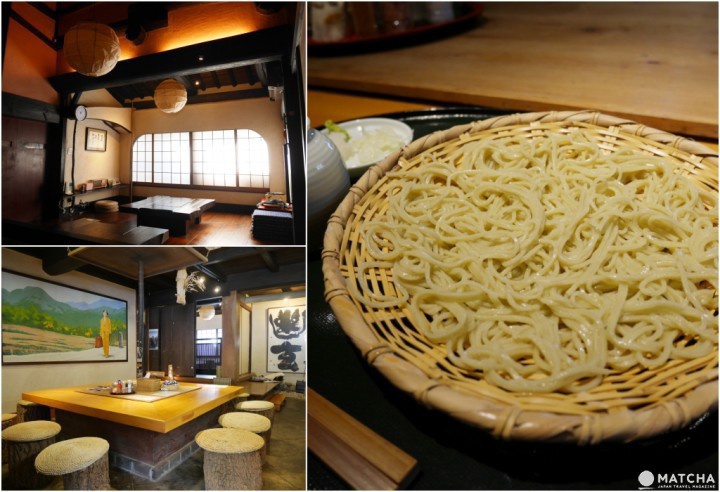 ---
Hanare is a soba restaurant with a warm, nostalgic atmosphere. It is located inside a renovated old house. There is also a retro irori (fireplace) in the restaurant. The soba noodles are made by the owne. We recommend the simple and classic zaru soba. This fragrant meal is sure to satisfy your hunger.
Bistro To-y-Toco
---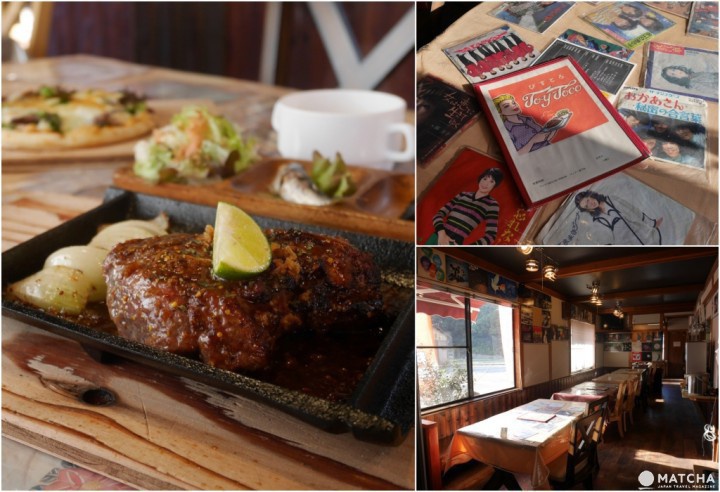 ---
The interior of this restaurant, which serves game meat cuisine, is designed in a 1980s American style. It takes about twenty minutes on a bicycle to this restaurant from the central Shinoe area.

Most of the animals, such as wild boar and deer, are caught in the area. The owner strives to create exquisite and substantial dishes that contain just the right amount of fat.
Ikoi Shokudo: Chinese Noodles
---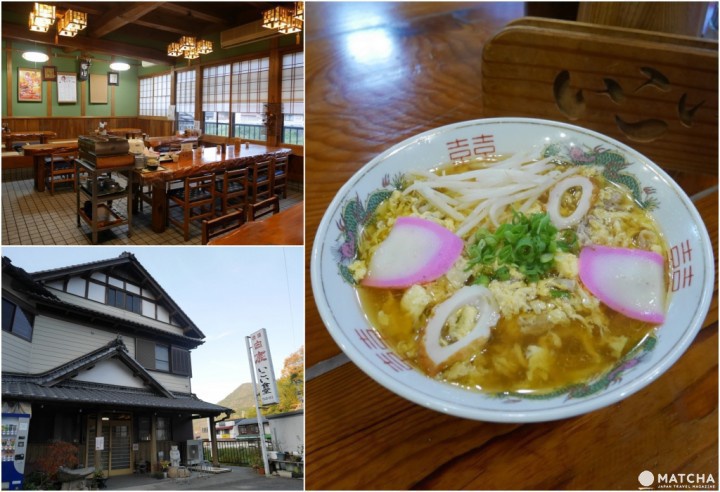 ---
This is a restaurant popular with local residents. Oyako chuka soba, which uses a recipe that has been passed down for three generation of owners, is a ramen containing chicken and eggs in a soy sauce-based soup.

This ramen has a nostalgic taste that will bring you back to your childhood. According to the owner, many customers have made the same comment about this dish.
A Hot Spring with a History of 1,300 Years
There are various hot spring facilities in Shionoe that both travelers on day trips and visitors spending the night can enjoy.
Gyoki no Yu
---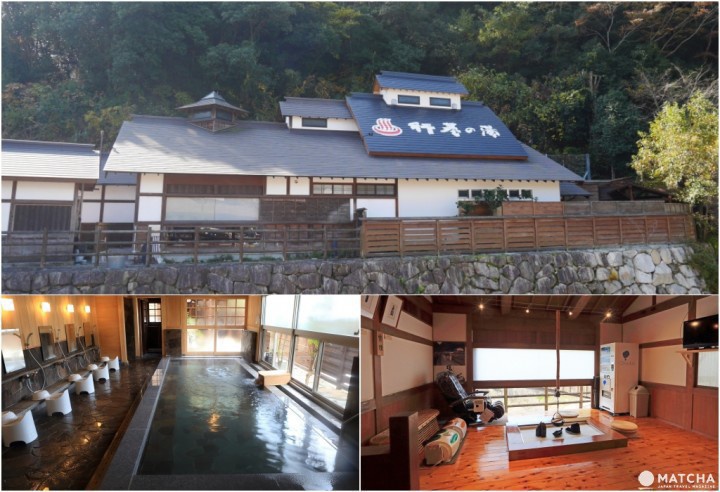 ---
Gyoki no Yu, located next to Michinoeki Shionoe, is the only hot spring facility in Shionoe where you can use without staying overnight. It reopened in November 2018 and was named after the Buddhist monk who discovered the hot springs in Shionoe.

Admission is priced reasonably, and after bathing, visitors can relax in a spacious lounge.
---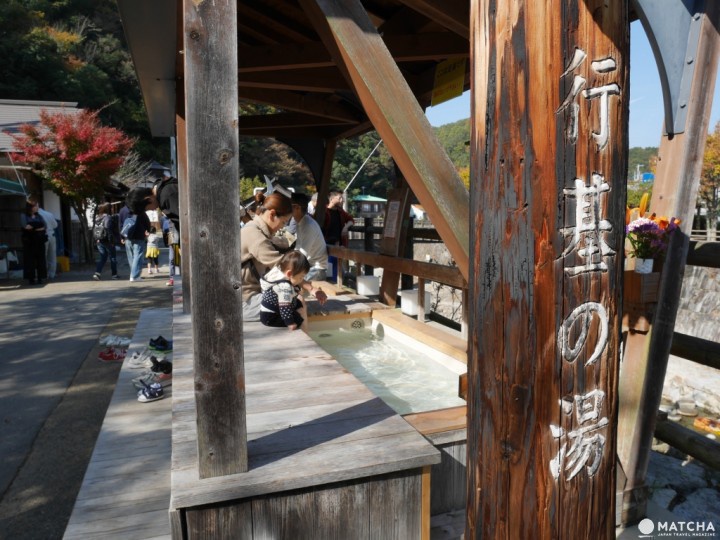 ---
There is also a free ashiyu (foot bath) by the riverside. This is the perfect spot to take a break between the sightseeing.

The following is a list of various types of lodgings for those who wish to spend the night at Shionoe.
Shin Kabakawa Kanko Hotel
---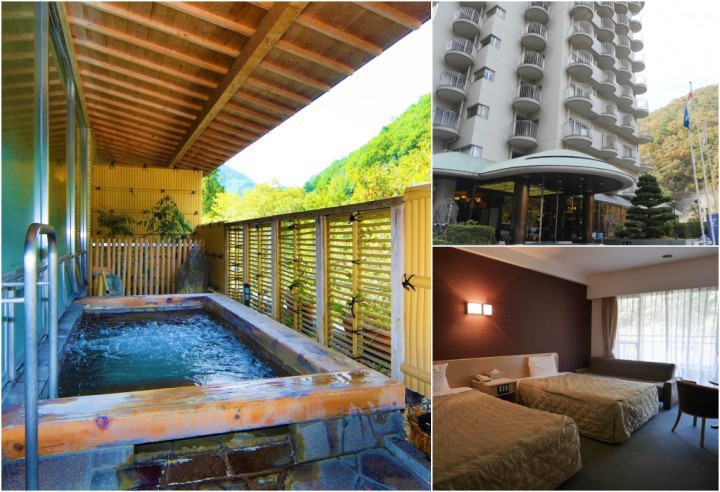 ---
Shin Kabakawa Kanko Hotel is framed by beautiful nature, and the guests can enjoy the natural surroundings in the open-air bath. There are two types of guestrooms (Japanese and Western), all furnished with private hot springs. Guests who prefer to bathe in their own room can also have the same experience.
---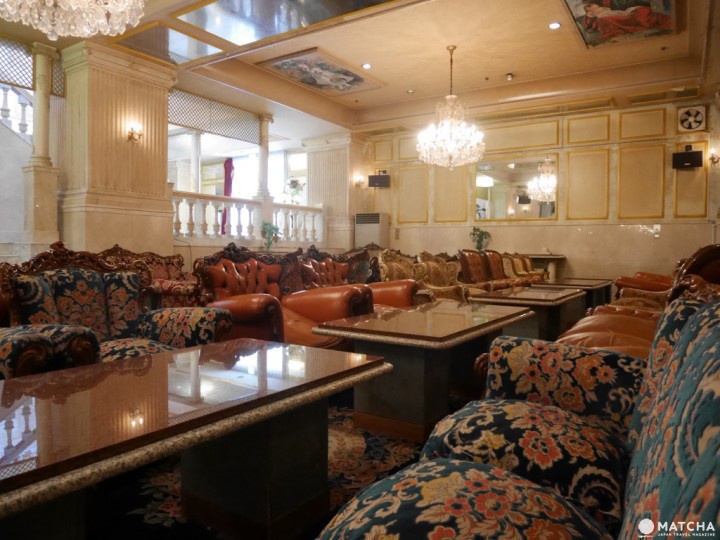 ---
The interior decorations of the club on the basement floor is inspired by French style, with marble stairways and European sofas. It has an elegant atmosphere and visitors can enjoy a refreshing drink after soaking in the hot springs.
Uotora Ryokan
---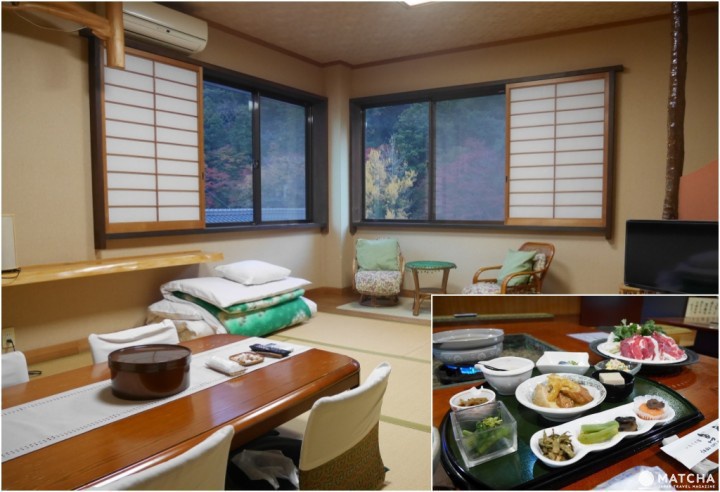 ---
Uotora Ryokan is a Japanese-style inn run by the family who owns Hanare. There is a traditional irori in the dining area where visitors can enjoy different dishes like broiled fish and botan nabe (wild boar hotpot).
---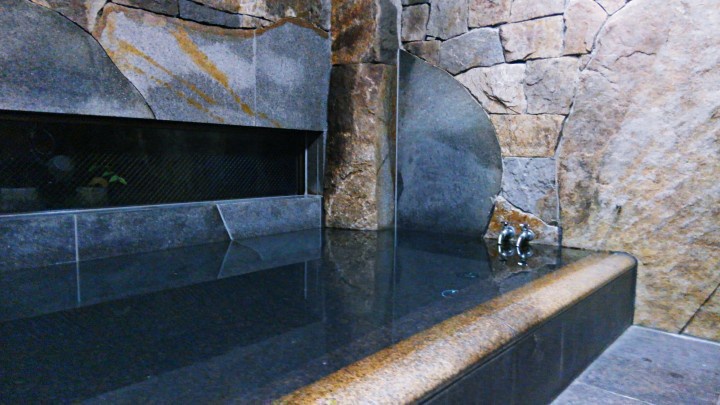 ---
Guests can reserve the hot spring bath even if they are traveling alone. The bathtub, made from Aji stone, a high-end stone produced in Kagawa Prefecture, is spacious and relaxing. Kukai was a strong advocate of balneotherapy, so give it a try.
Access
---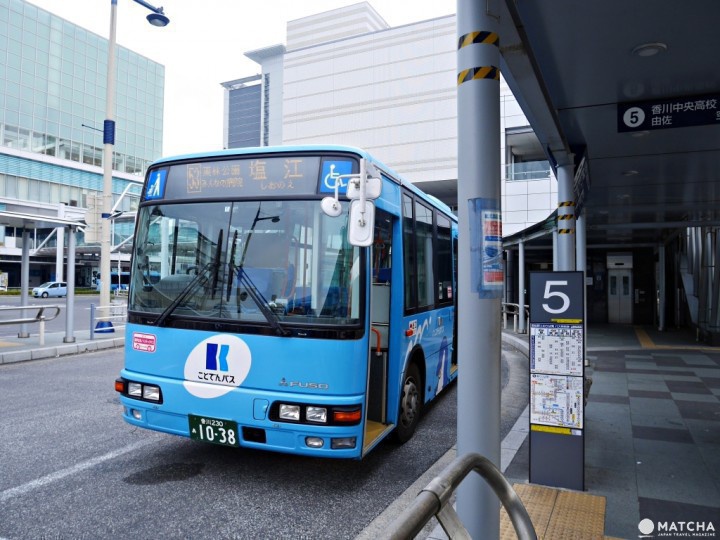 ---
Shionoe is located in the mountains, but it can be accessed easily. It takes just fifteen minutes by taxi from Takamatsu Airport and 75 minutes by bus from the central Takamatsu area. Shionoe is recommended for those who have just arrived at the airport and plan to head to Takamatsu on the next day, or for those who want to relax before heading back home.
Shionoe: A Paradise in Takamatsu
Shionoe is set in the middle of the outdoors and boasts a serene atmosphere. When you visit Takamatsu, make sure to look up Shionoe, a hot spring resort is like a small paradise.
---
Gathering date:2019.1.18
KEYWORDS