The temperature drops sharply in mid-November, and the season for the winter food that the people of Kagawa have waited for is here.
Kagawa Prefecture is the leading area in Japan for oyster cultivation.
Cultivation began around 1950 in Kagawa. You can see rafts for oyster cultivation in ports across the prefecture.
We recommend kakiyaki (oysters grilled in their shell) if you want to taste the oysters the way they are eaten here in this area where they are cultivated.
---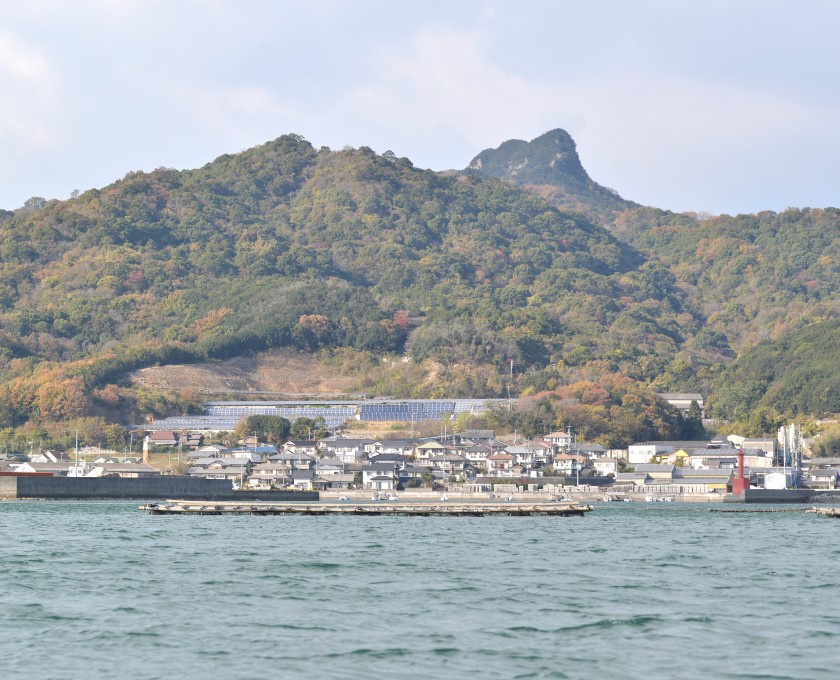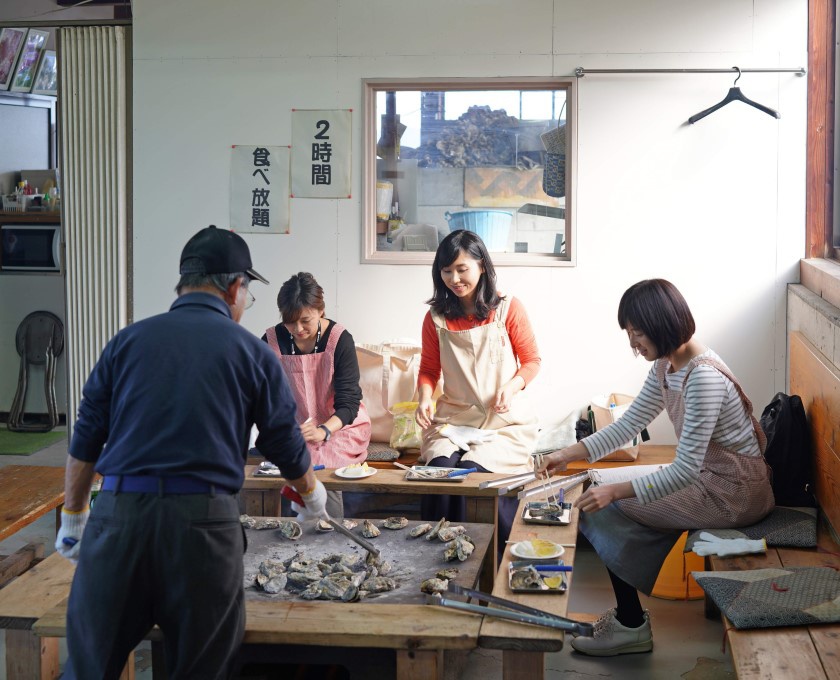 Grilled Oysters, the Winter Soul Food of Kagawa Prefecture
Take a journey by rail for about 40 minutes, riding to Kawaramachi Station from Takamatsu-Chikko Station on the Takamatsu-Kotohira Electric Railroad (Kotoden), changing to the Shido Line. Known as kaki goya ("oyster huts"), grilled oyster specialty restaurants line the streets facing the ocean near Kotoden Fusazaki Station. Expectations grow for this area with direct access to freshly-cultivated oysters.
---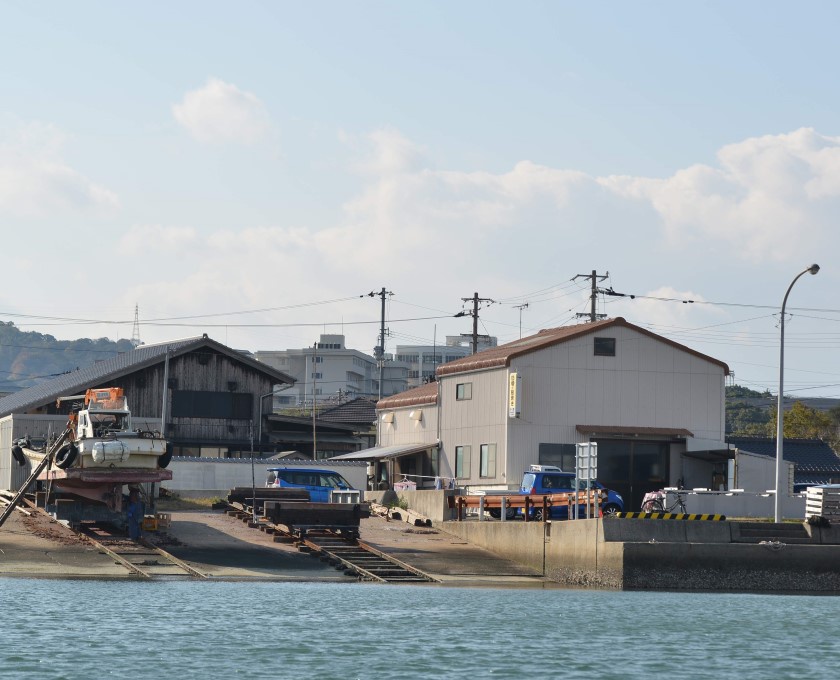 How to Enjoy Grilled Oysters
・Grilled oysters are usually offered in an all-you-can-eat style with a time limit. Be sure to be very hungry before eating.
・Restaurant staff will explain the way to tell if the oyster is fully grilled. Eating the undercooked oysters is taboo! Carefully wait before eating.
・There are some restaurants that don't offer any drinks or other food besides oysters, so you can bring your own. Be sure to check when making reservations if you want to enjoy various seasonings and alcohol.
・Some restaurants lend out aprons, but ashes and oyster juices can fly out from the grill, and smells stick to clothes easily, so wear clothes that you don't mind getting dirty. Also, pick clothes that can be taken off easily as it gets hot by the grill.
・We recommend that you bring cash with you because some shops, bars, and restaurants in Takamatsu only accept cash, even though credit cards and smartphone payment apps are increasingly accepted in the city.
Each restaurant has its own rules for grilled oysters. Be sure to check when making a reservation as details vary by restaurant.

We visited Nakanishi Kakiyaki, drawn in by the smell of the sea. They began cultivating oysters around 1960, and opened the restaurant in 1989.
---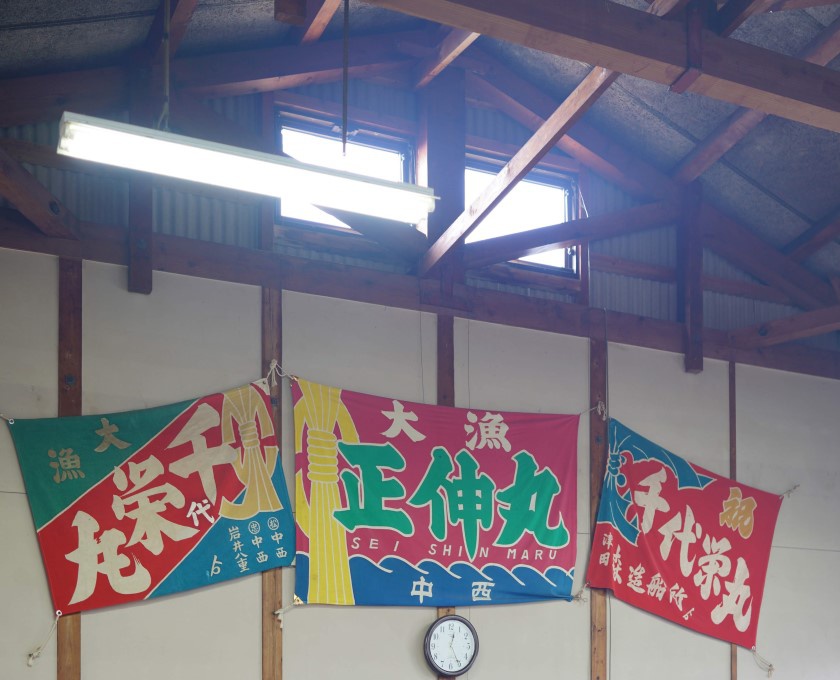 Upon entering, one is greeted by the brightly colored fisherman's banner. Apparently, it is a gift sent to the third-generation NAKANISHI Nobukazu and his father when they built a new ship.
---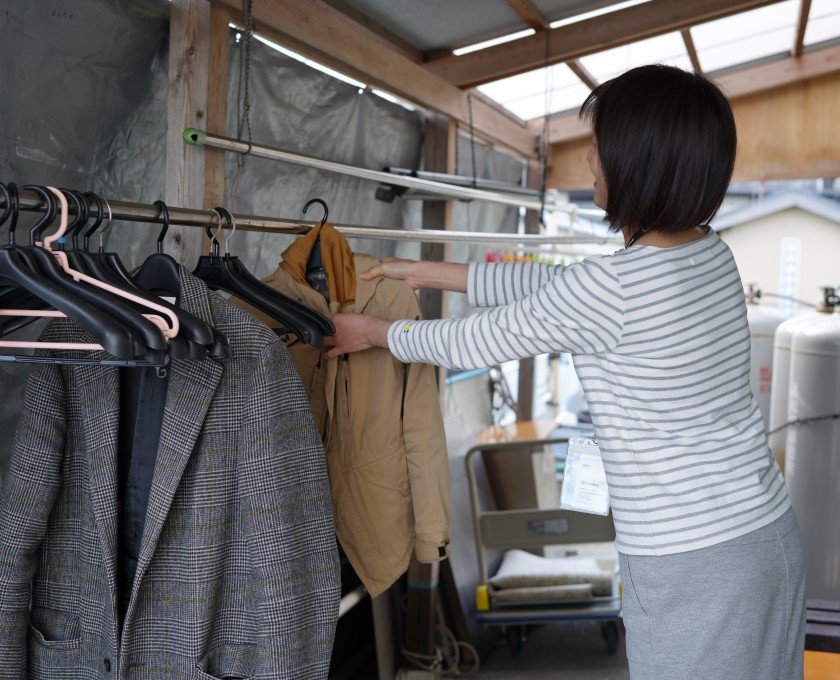 You can put on outerwear outside the restaurant, so even people particular about smells can feel at ease. They also lend out aprons.
---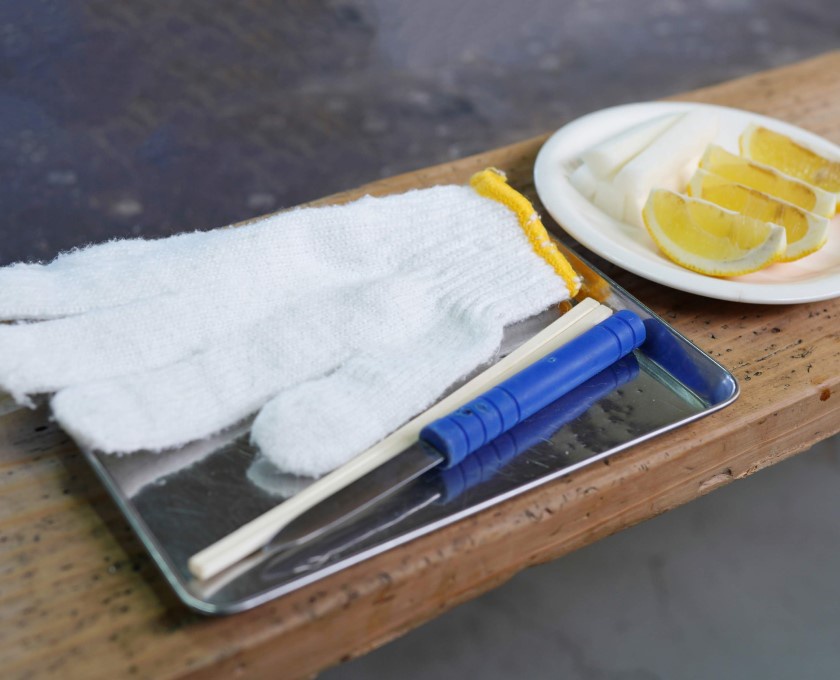 At Nakanishi Kakiyaki, you can eat as many oysters as you like for two hours.
The oyster grilling begins when you sit at your seat that has already been prepared with gloves, oyster knives, and sliced lemon!
---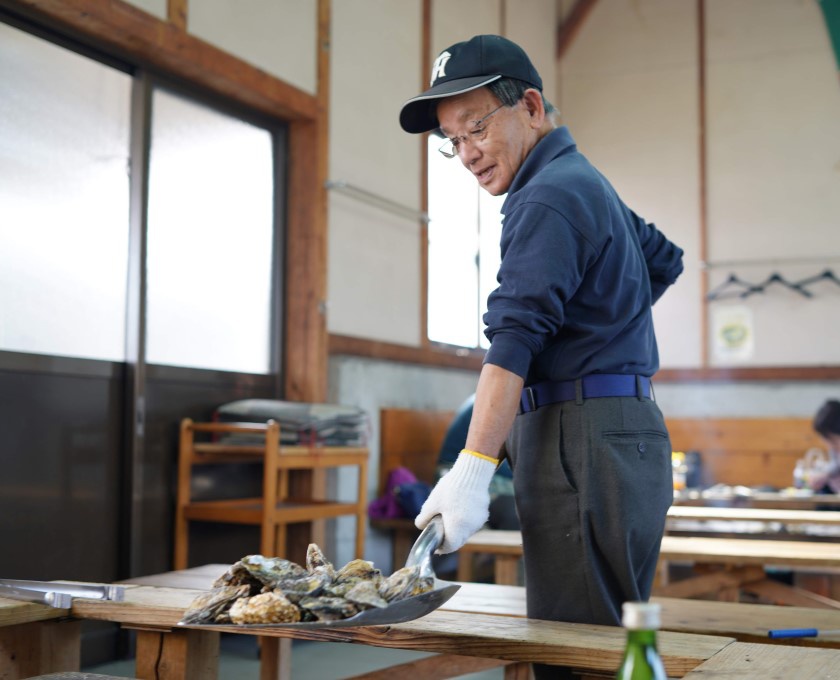 A mountain of oysters is brought over with a scoop.
---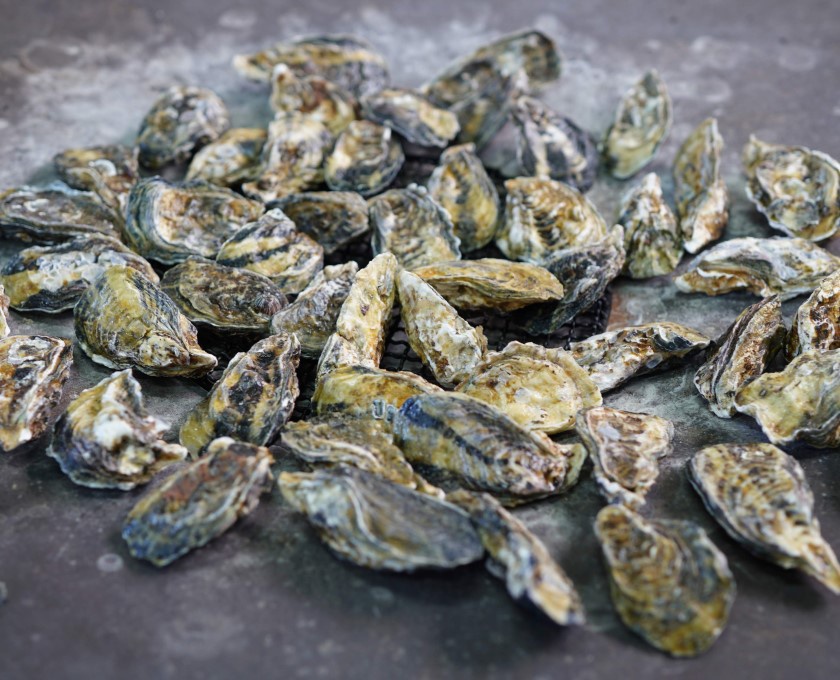 They are lined up on the grill and after a little while, a fragrant aroma begins to fill the air. Everyone is excited by the loud clap of oysters bursting open and the juices flying about.
---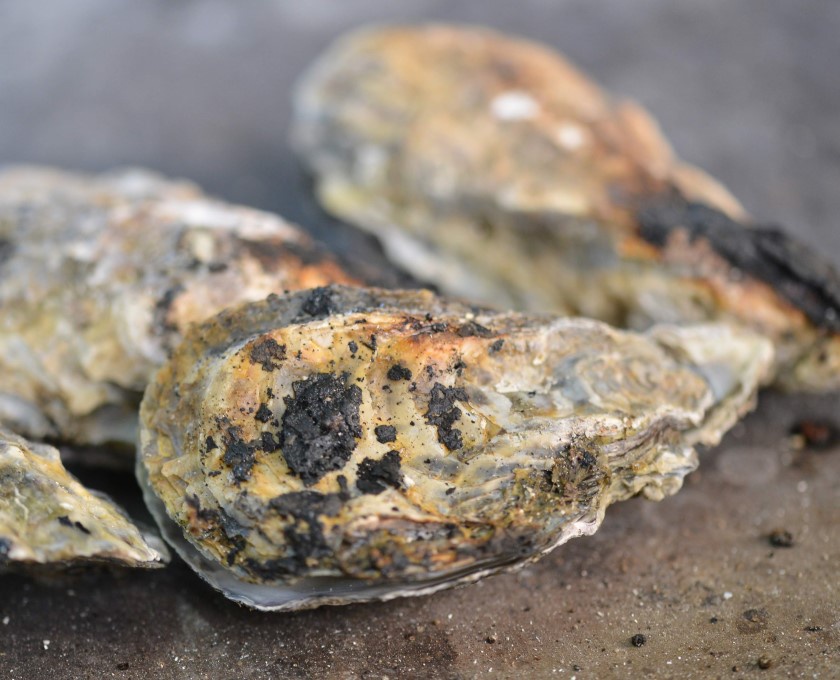 The staff here will tell you how you can visually check how the grilling is going.
・The liquid in the oysters evaporates and the shells turn white
・It's time to eat when the shells are browned

You have to be careful as oysters can still be undercooked even when the shell opens. Restaurant staff are walking around checking to see how the oysters are grilling, so if you are worried, ask one of the staff members.
---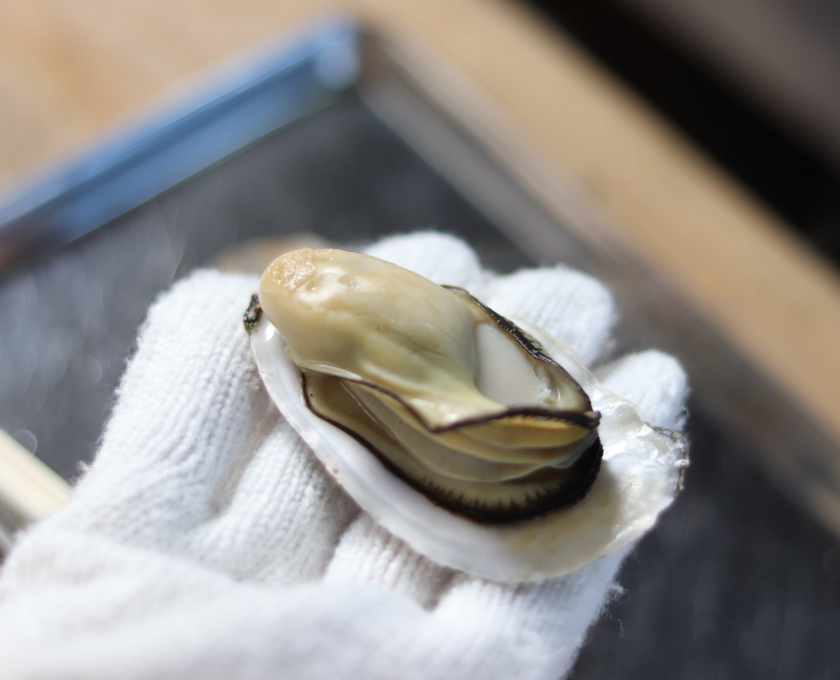 When you open the hot oyster shells, the plump oyster meat appears.
---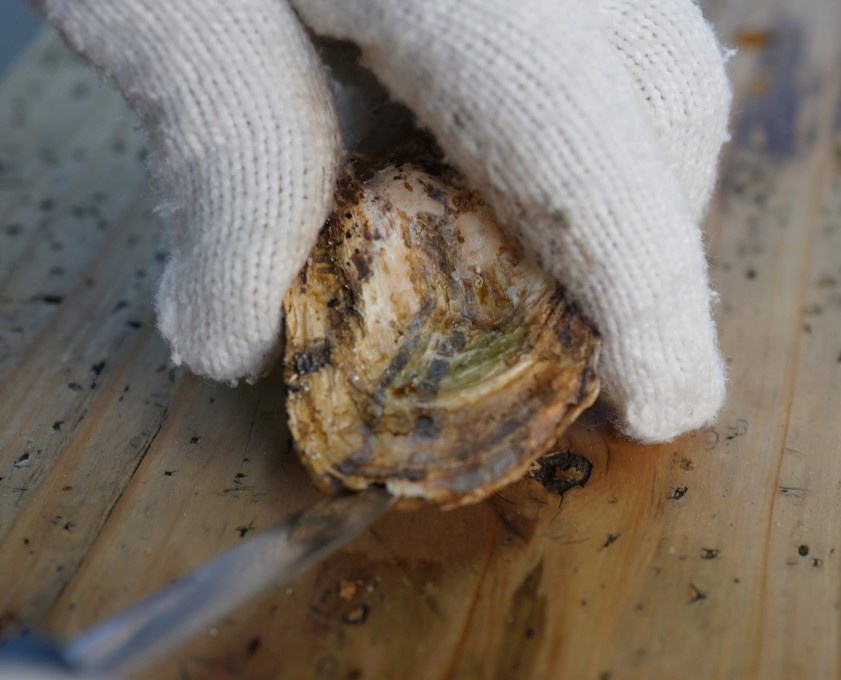 If you can smoothly pull the adductor muscle, then it's a sign that the oyster is grilled properly. The muscle is hard to pull if the oyster is undercooked or overcooked. I was told that when the shell is hard to open, you can open it by inserting the knife into the widest point of the shell.

When I asked what the staff member's favorite seasoning was, they told me they liked oysters without any seasoning the best. With a little bit of the ocean's salt, you can taste the oyster's flavor directly.
---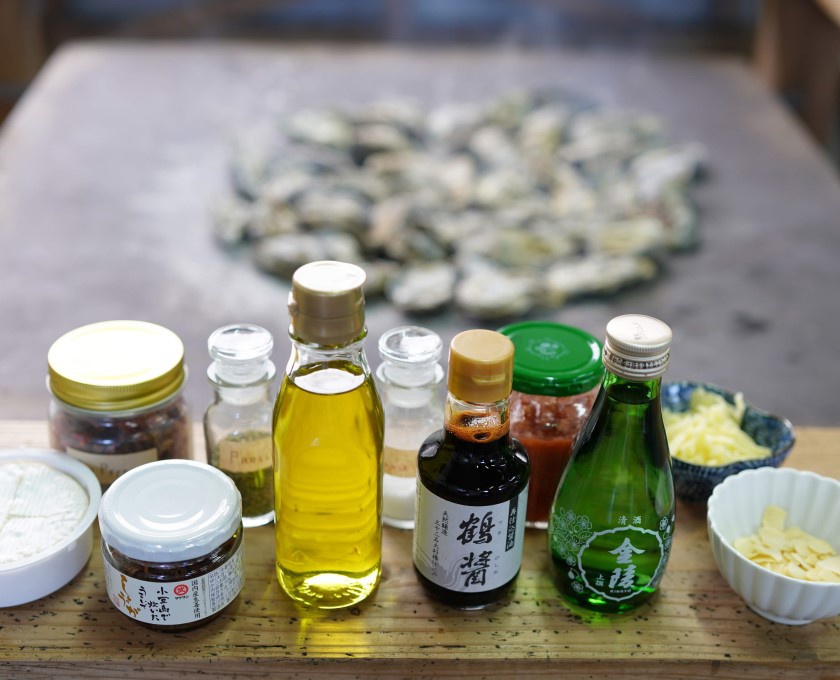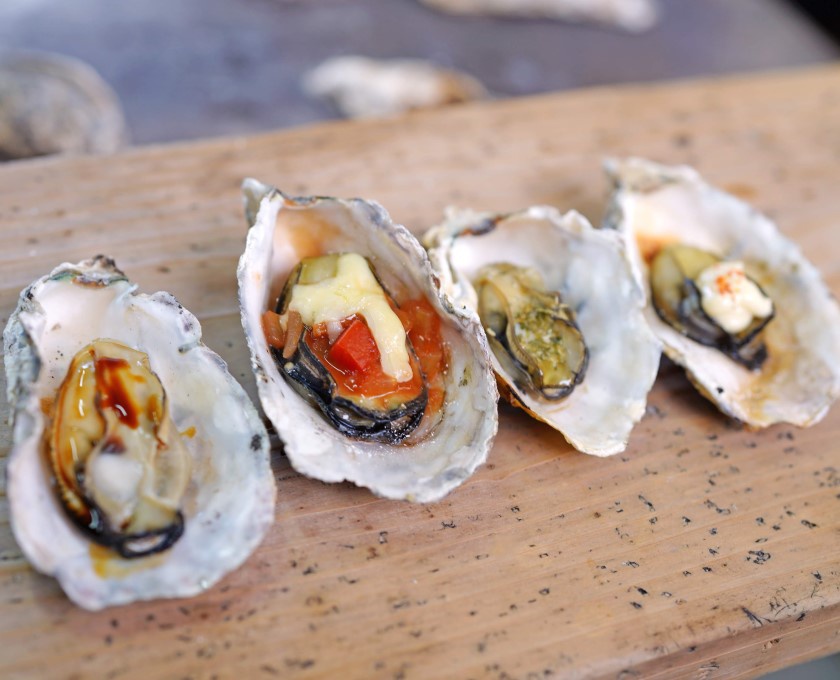 They have seasonings available, but you can also bring your own.
Since you have come all the way here, try a variety of flavors.
・Soy sauce
・Salsa and cheese
・Olive oil and parsley
・Mayonnaise and cayenne pepper powder
---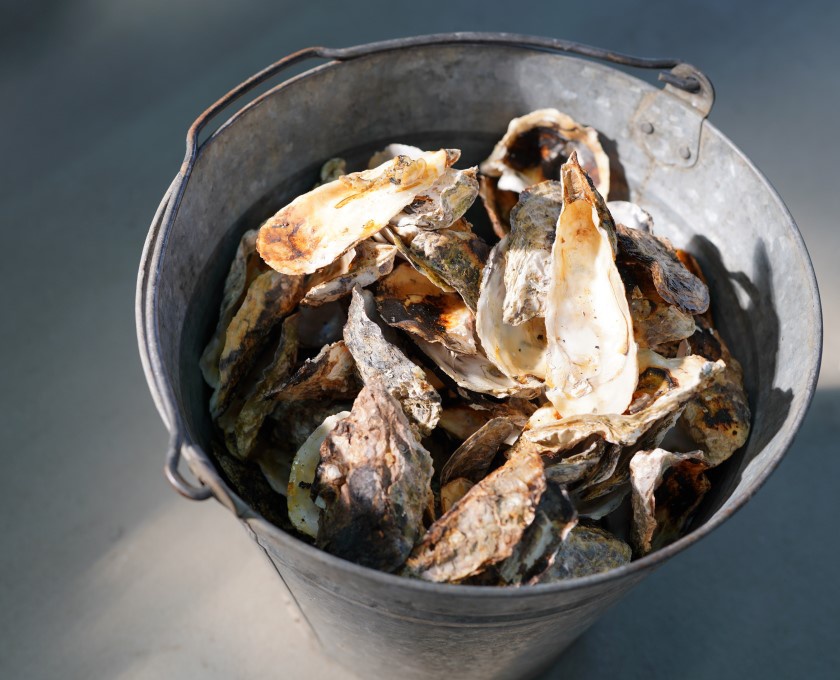 After eating, the oyster shells go in a bucket. You can stop ordering oysters once you're full.
---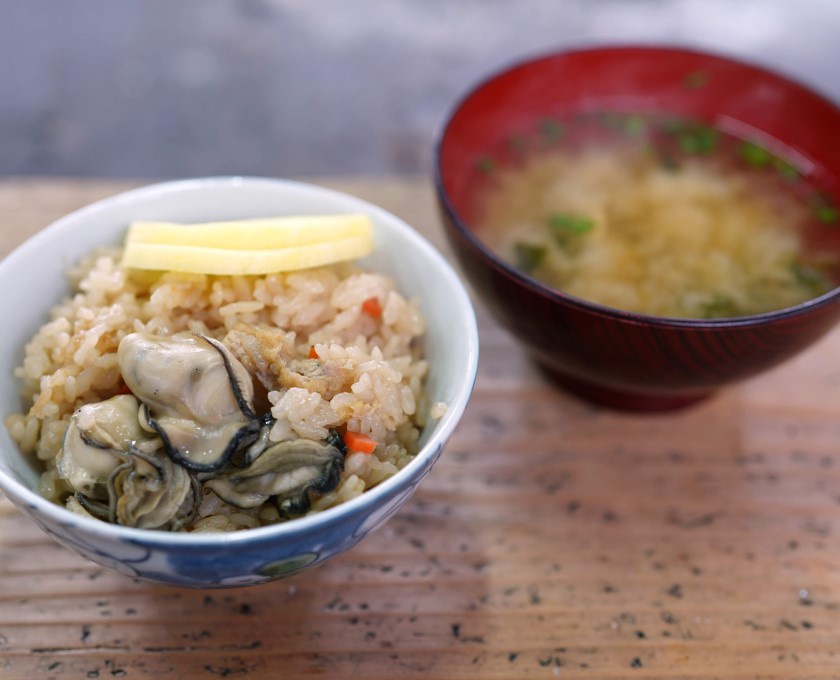 At the end of the meal, oyster rice and oyster miso soup are brought out. The flavor of the rice, soaked abundantly in oyster juices, is amazing. They make one batch per group, so it is always freshly made. It's strange how you can gobble this up even on a full stomach.
---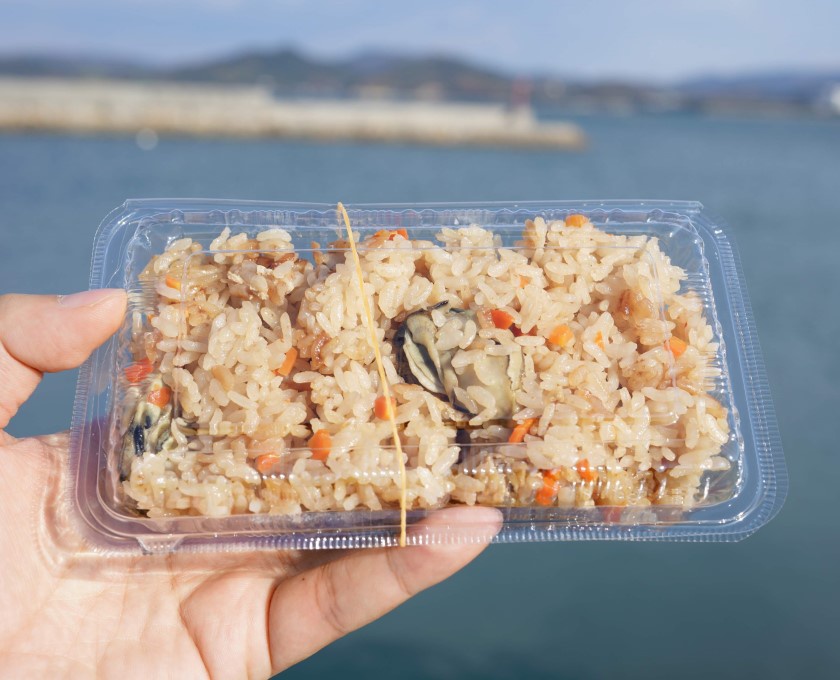 Any leftover rice is placed in a plastic container and given as a souvenir to take home. There is no charge for this service, which developed as they wanted to always have fresh oyster rice for customers.
Observing Oyster Cultivation
---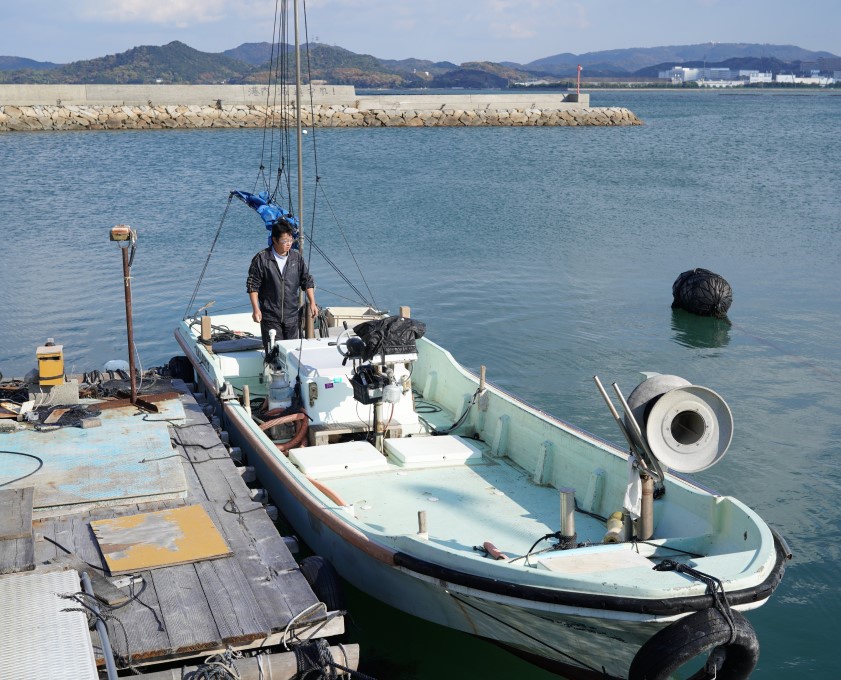 I was told that the current flows in and out well here, making Shido Bay suitable for oyster cultivation.
"If the tide flows out too quickly, the oysters can't eat the bait."
Mr. Nakanishi took me by boat to the area where they cultivate oysters.
---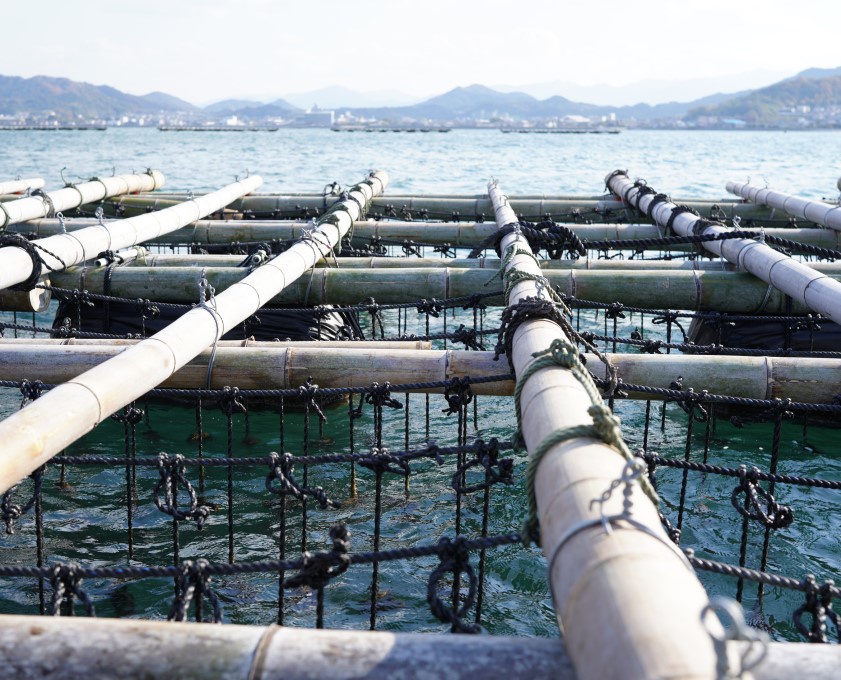 Just 3 minutes and 1.5 km from the port are Mr. Nakanishi's oyster rafts.
From November of the previous year to March, seed oysters are hung in the ocean, and they are raised over the course of a year.
---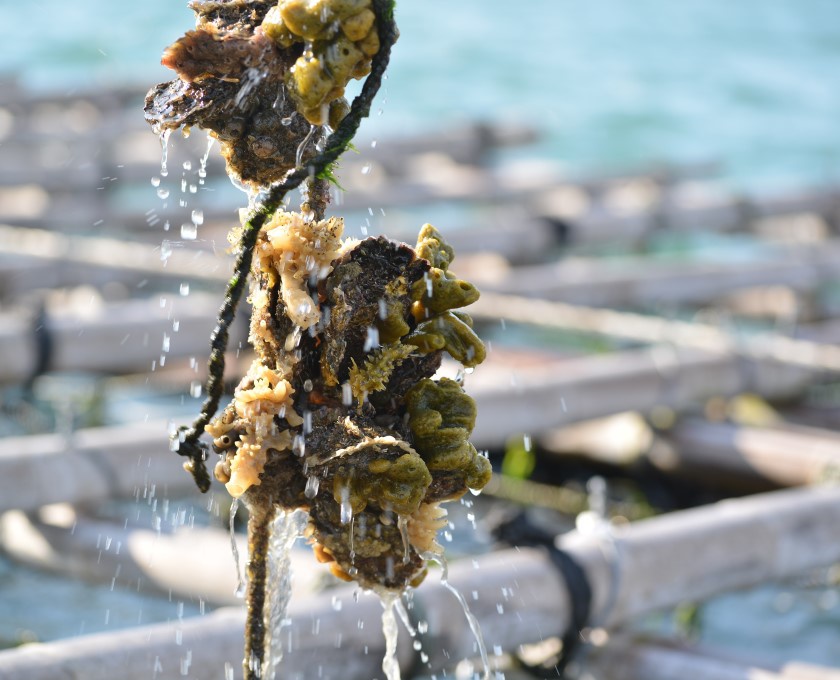 Seed oysters are the size of sesame seeds attached to scallop shells. A surprising 5,000 scallops may be hanging below a single raft.

Bait is not given, but instead they grow by eating plankton in the ocean.
If tossed about by a typhoon, the oysters may fall from the rafts, and they can also die from the heat of summer.
Here you can enjoy delicious oysters among the bounty of nature.
Handled with Care All The Way
There are several processes before the oysters reach the restaurant.
---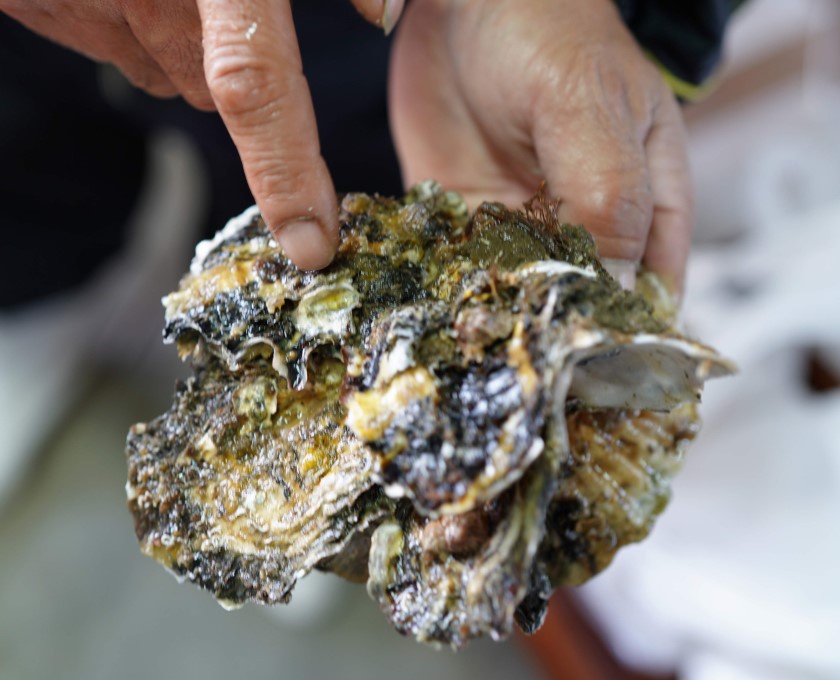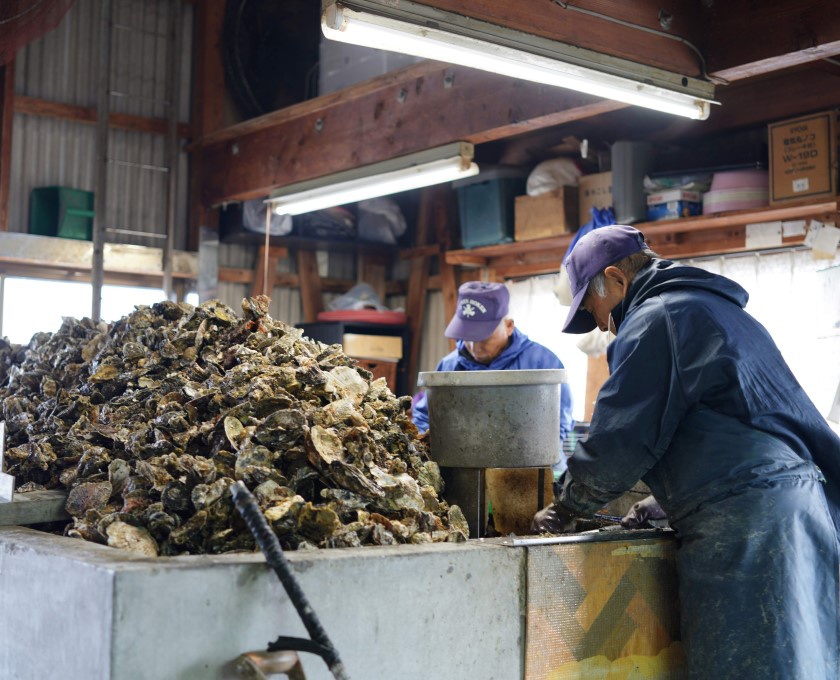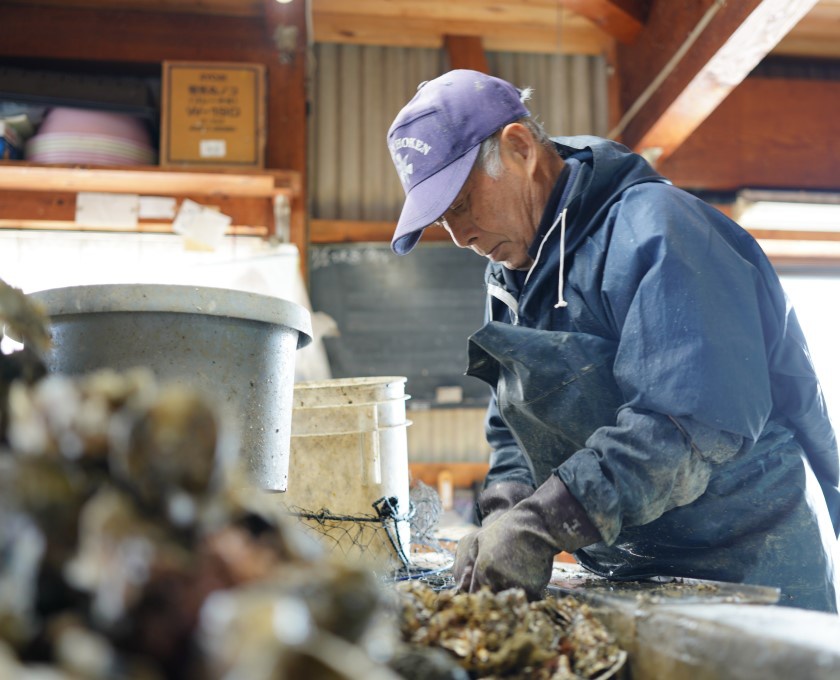 Harvested oysters are washed with water one rope at a time, and are removed from the scallop shells. Then, barnacles and seaweed attached to the oyster shells are removed one by one with a knife.
---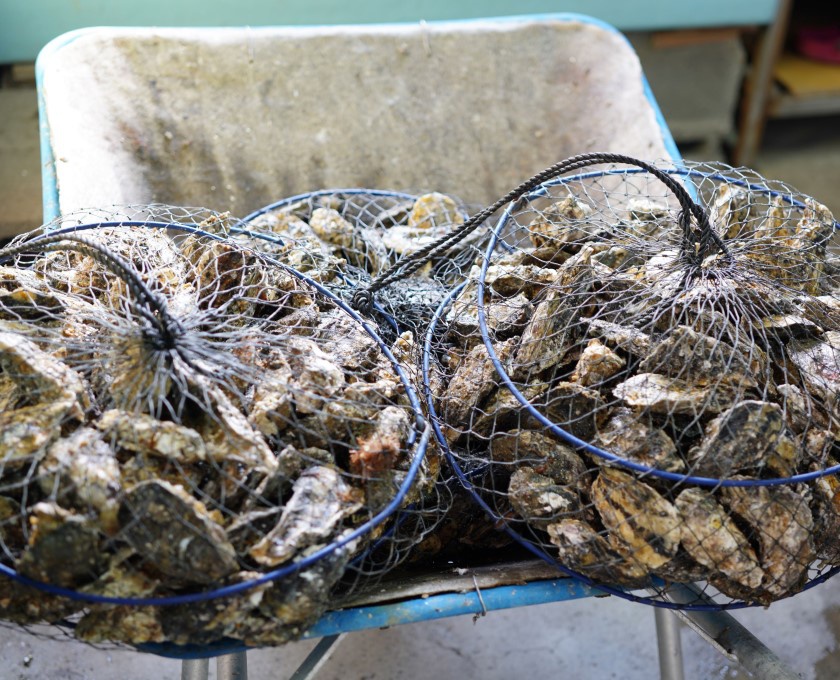 They are then placed in a net, placed back in the ocean and kept alive, and are harvested on the day they will be eaten.
Finally they are properly washed and brought out to the customer.
---
It isn't well known that such time-intensive labor is needed to have exciting grilled oysters.
Fishermen in the aquaculture industry are also known as farmers of the sea. While relying on the power of nature, they give thanks for its blessings, and deliver these blessings to the customer with care. Try out this winter soul food while giving thanks for these fishermen.
---

Nakanishi Kakiyaki
Address

623 Murechohara , Takamatsu, Kagawa

Business hours

November to February (changes each year): 10 am to 9 pm (Reservations required, must arrive by 7 pm)

TEL

087-845-7460

Supported languages

日本語
Gathering date:2020.6.26 / Nakanishi Kakiyaki
KEYWORDS