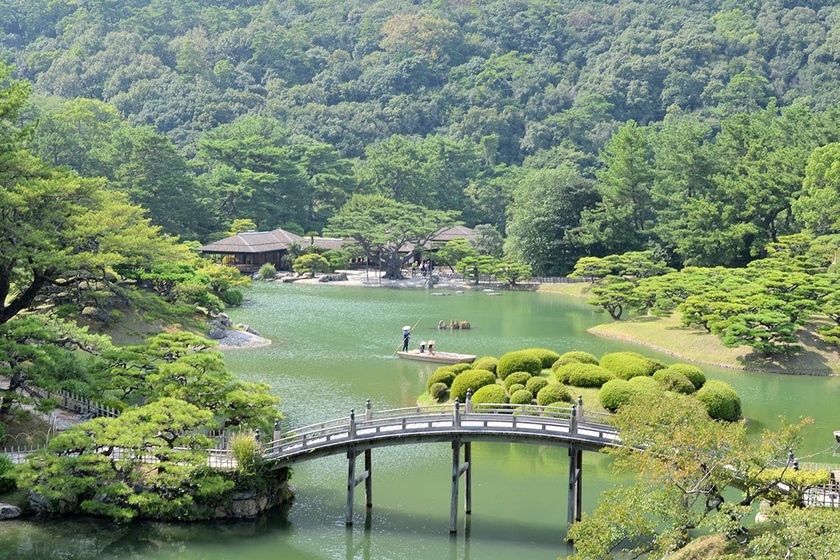 The Diverse Beauty of the Daimyo's Gardens, Created Over a Period of 100 Years
An authoritative French travel guide (The Michelin Green Guide Japan) gave the Ritsurin Garden a top class three-star rating, saying that just the gardens alone were worth making a trip to visit. The circuit-style garden can still be seen in the same state today as it would have appeared to the feudal lords who created it, at the beginning of the Edo period (1600-1868).

Construction of the garde began during the time of Matsudaira Yorishige, the first lord of the newly reformed Takamatsu Domain, which he ruled over from 1642. The gardens were finally completed—over 100 years later—in 1745, during the time of the fifth lord Matsudaira Yoritaka. Later, too, subsequent lords of the domain continued to maintain and restore the gardens, which came to be loved as a second home to the Matsudaira clan, under the strictly ordered hierarchy of feudal Japan.
The garden spans out against the backdrop of Mt. Shiun to the West, covering an area roughly 3.5 times the size of Tokyo Dome, making it one of the largest daimyo gardens in all of Japan. The garden boasts six ponds and 13 man-made hills, skillfully arranged to create a diverse display of landscaped beauty in which visitors see various different scenery as they advance through the garden. This is referred to as ippo ikkei, meaning "one step, one view."
---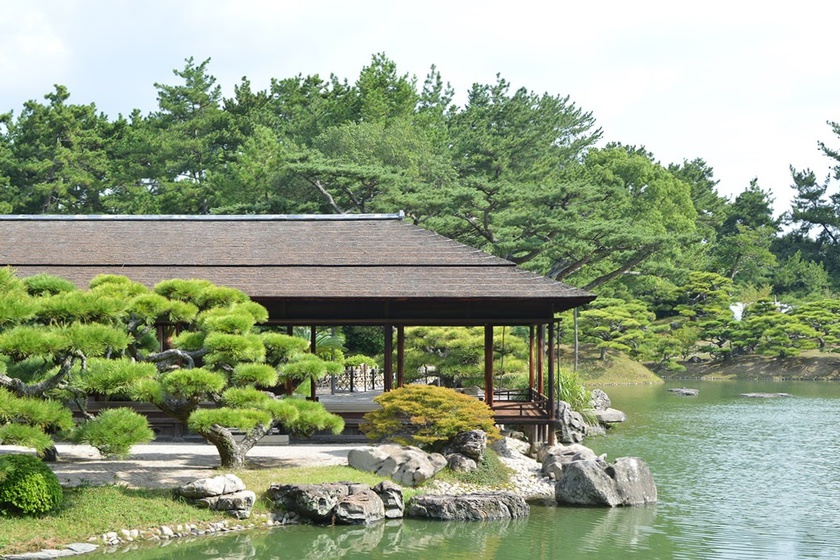 One building that acts a prime focus in the garden is the Moon Pavilion, a large tea room that was loved by the successive lords of the domain. Even today, visitors can enjoy the scenery that the feudal rulers of the past would have gazed upon, as they savor the taste of green matcha tea and traditional Japanese confectionaries.
---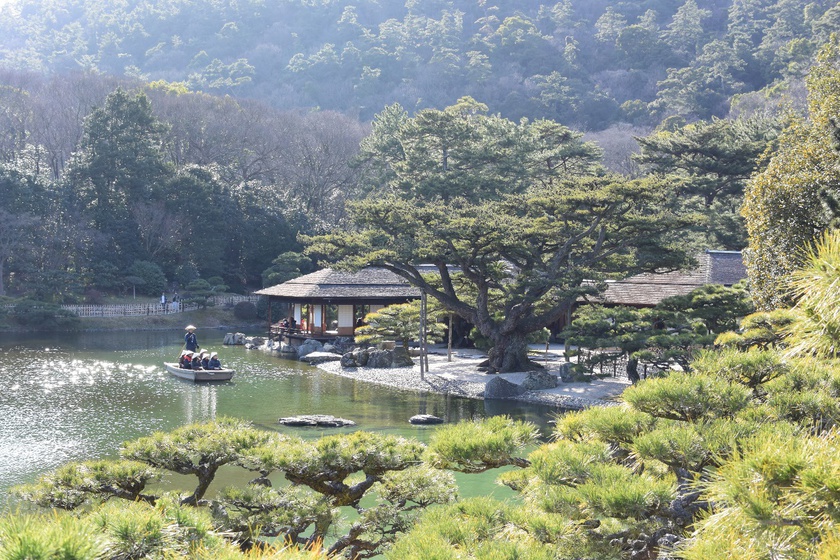 Hiraiho Hill is an artificial hill, said to have been built modelled on Mt. Fuji. It looks down over Nanko (the South Pond) with the Moon Pavilion to its rear and the Engetsukyo bridge (Crescent Moon Bridge) to the front, making it the best and most stunning viewpoint in the entire garden. Visitors who ride on the traditional Japanese boats that circle around Nanko can enjoy listening to the explanations from the boatman as they ride around the lake.

Various parts of the garden are illuminated during the spring cherry blossom season, when the flowers around the garden are at their very best, and during fall, when the trees are adorned in an array of splendid and bewitching colors. Many people visit the garden to catch a glimpse of the fantastic scenery during these seasons. Please try visiting the garden for yourself, and find your own favorite spot from their diverse range of landscapes, which are forever changing with the time and the seasons.
---

SpecialPlace of Scenic Beauty Ritsurin Garden
Address

1-20-16 Ritsurin-cho, Takamatsu City, Kagawa

TEL

087-833-7411

URL

Supported languages

日本語、English、中文、한국어、Français、Deutsch、Español
Gathering date:2017.8.29 / Ritsurin Garden
KEYWORDS