A popular activity during the winter and spring is strawberry picking, which allows you to pick and eat strawberries on your own. There are several strawberry farms in Takamatsu. From January to early June, these farms bustle with many people trying to enjoy the spring delicacy ahead of others.
---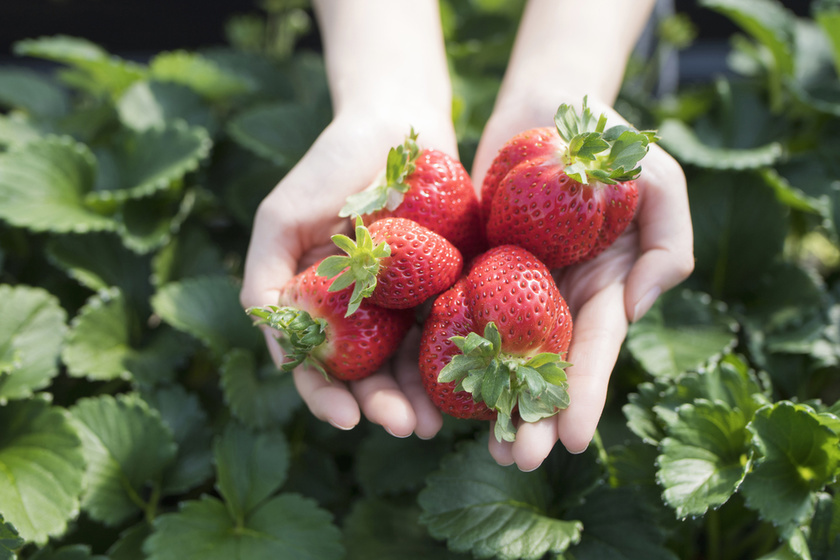 ---
I visited Ichigoya Sky Farm, which is approx. 20 minutes from the city center of Takamatsu by car. At this farm, staff members grow strawberries endearingly.
---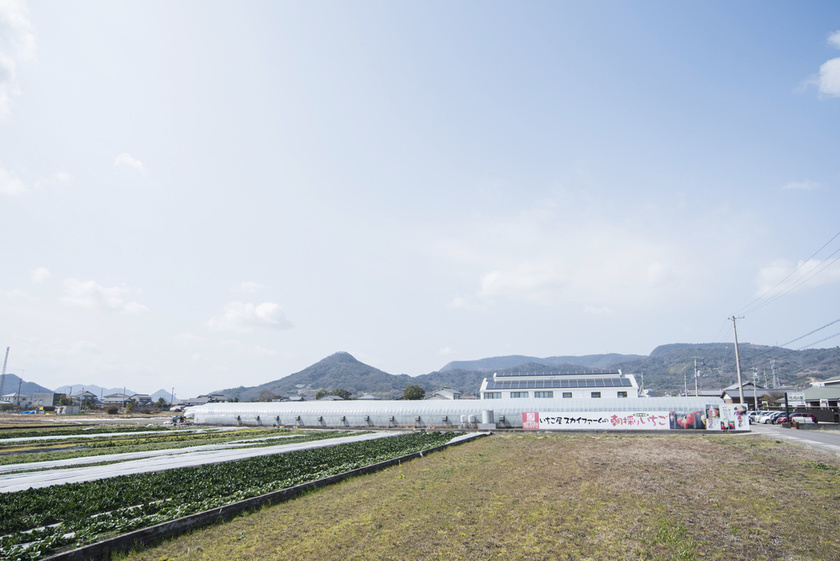 ---
The very long greenhouses in the countryside and the strawberry sign are landmarks.
---
---
The nearest train station to this farm is JR Kinashi Station, which is approx. eight minutes from JR Takamatsu Station. While the farm is a slight distance from this station, requiring 20 minutes of travel on foot, the sweet, red strawberries are worth the effort.
Reservations are required to enjoy strawberry picking at the farm. I told the staff that I had a reservation, and they showed me into the greenhouse immediately.
---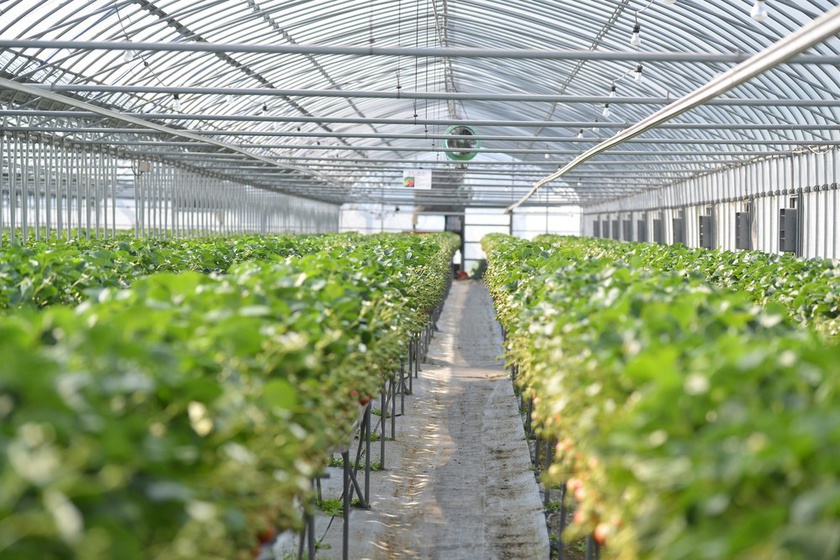 ---
I entered the greenhouse and found myself surrounded by the sweet and sour aroma of strawberries. And it was warm! I was told that the temperature in the greenhouse was kept at around 24 degrees centigrade, which is appropriate for growing strawberries. Not having to worry about coldness or the weather is another advantage of strawberry picking.
---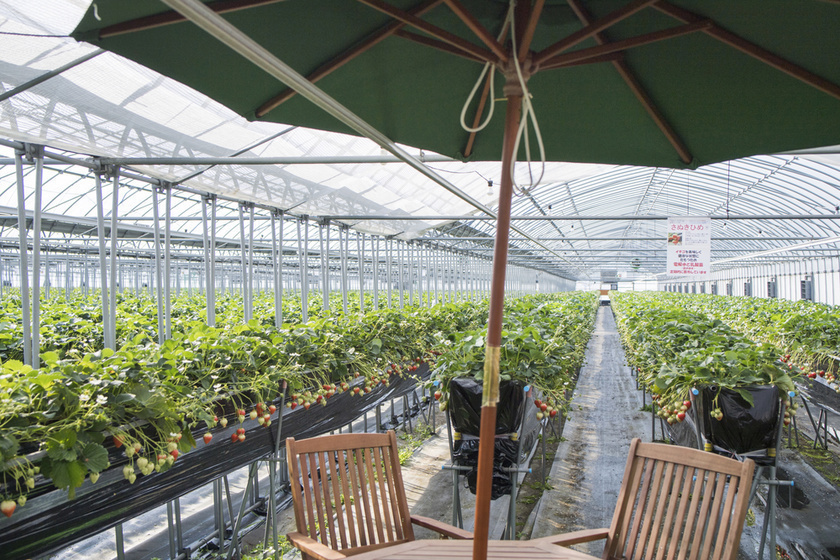 ---
Some of the spaces between rows are wide enough for wheelchair users and people with baby carriages to enjoy picking strawberries.
---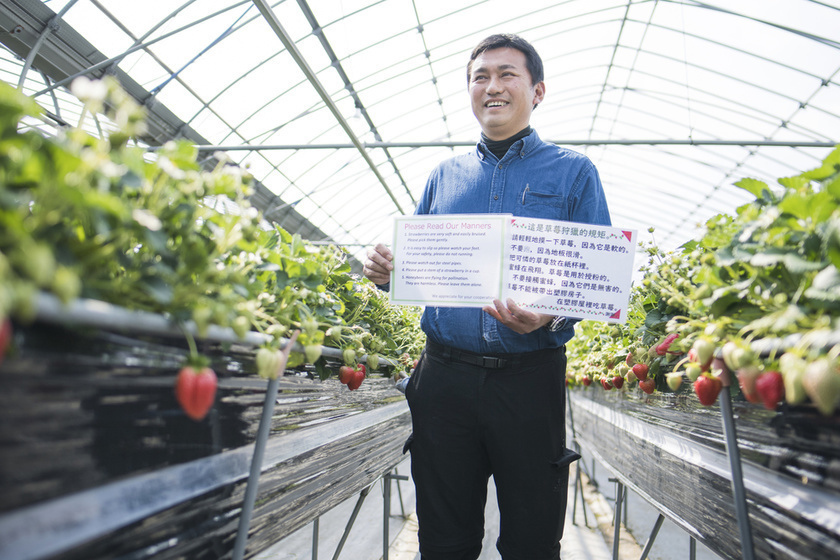 ---
After a briefing from the farm staff, the 40 minutes of strawberry picking finally started!
---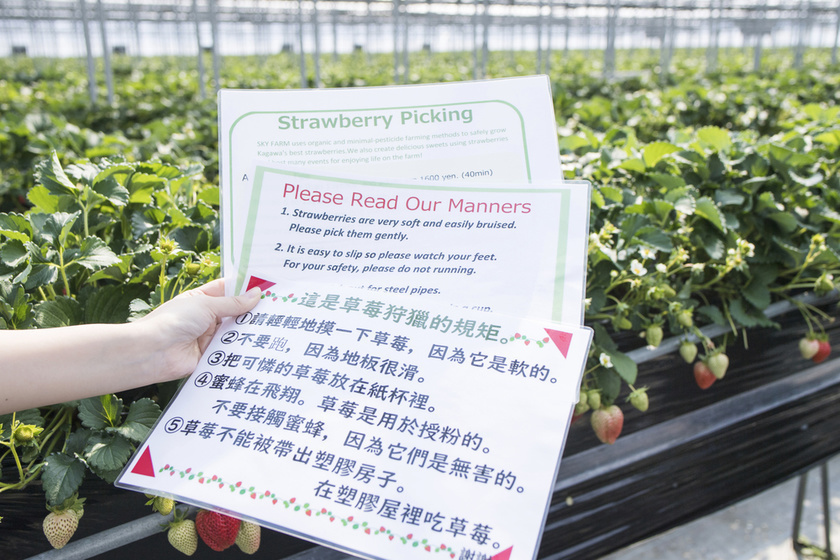 ---
Don't worry about language barriers because the farm offers a multilingual instruction card.
---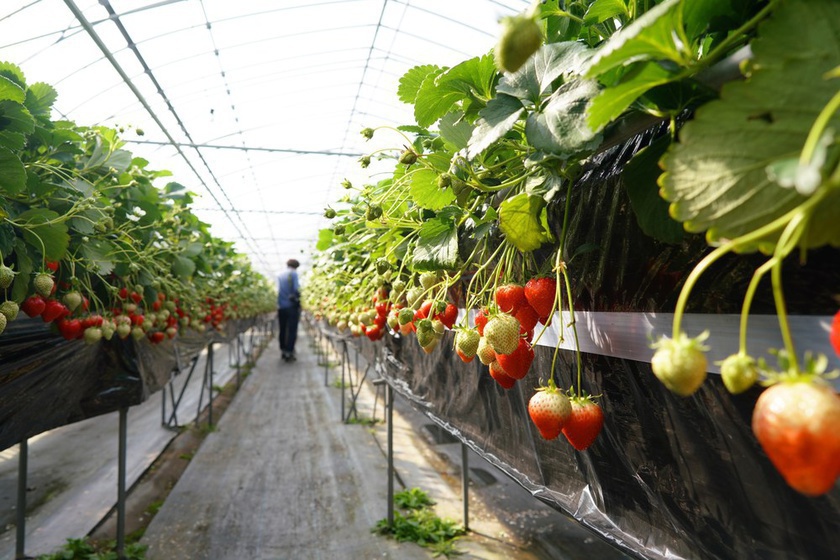 ---
The strawberry beds are elevated, so you can pick the fruits easily while standing. They say that this method of growing strawberries makes them less likely to catch a disease or insect infestation, because they do not touch the ground.
They grow two types of strawberries. Either is available for picking, depending on the growth status.
---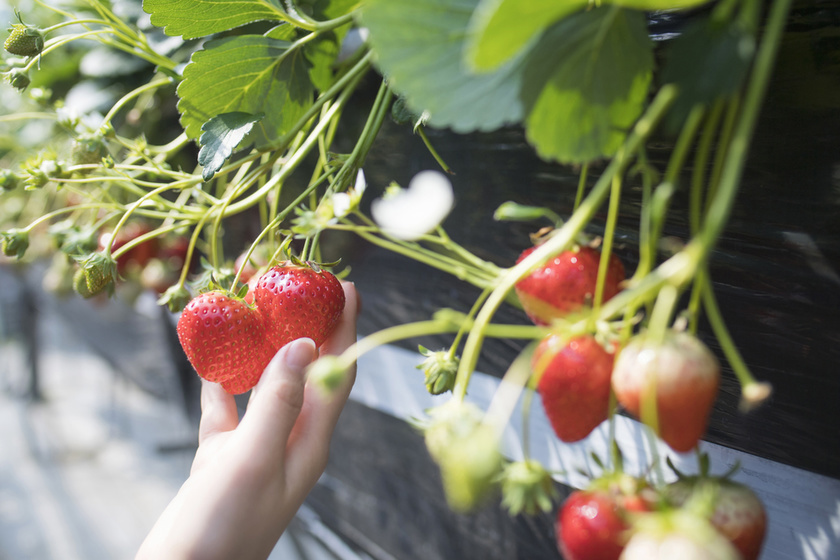 ---
▲One is Sanukihime, which are round, soft, juicy strawberries. This breed of strawberry was developed and is only cultivated in Kagawa.
At first taste, it was luscious and juicy! The sweet taste spread throughout my mouth. The farm staff said that these strawberries are easy for children to eat and popular among them.
---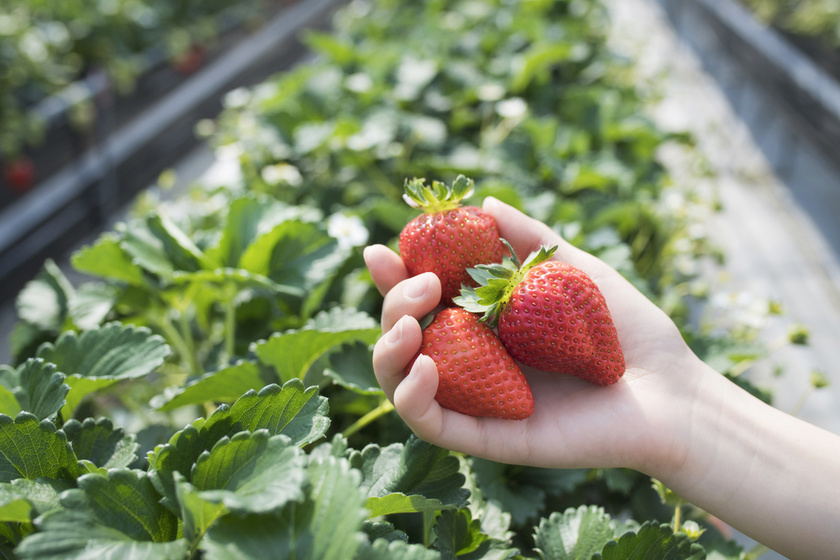 ---
▲The other breed, Sachinoka, is conic, slightly long and large. With a perfect balance between sweetness and sourness and a rich taste, these strawberries are longtime sellers.
I bit into one and felt a firm texture! With an impressive sweet and sour taste, these strawberries will be enjoyed by men and women of all ages.
When I was wondering which strawberry to pick, Mr. Hiroyuki Kawanishi, the representative of the farm, told me the key points about delicious strawberries.
"Only visitors to the farm can enjoy the fully ripe strawberries that are entirely red. The ones available in the market are shipped while some parts are still white, so that their color will change by the time they are displayed on the sales floor."
I see! I should eat fully ripe strawberries because I am a visitor, who deserves them.
---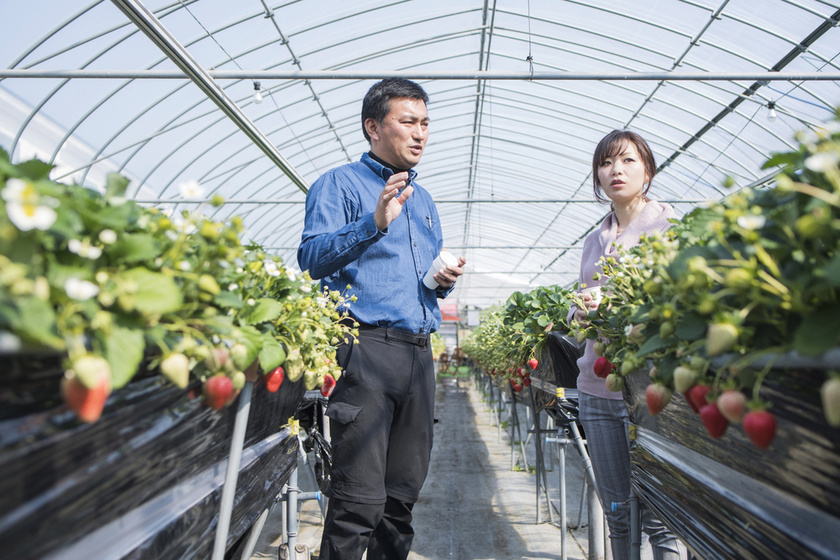 ---
"Small strawberries have condensed sweetness, while large ones are filling. Please look for the strawberries that seem attractive to you."
From among clusters of strawberries, extending all the way inside, you can pick and eat as many as you'd like. It is very exciting, just like a treasure hunt.
---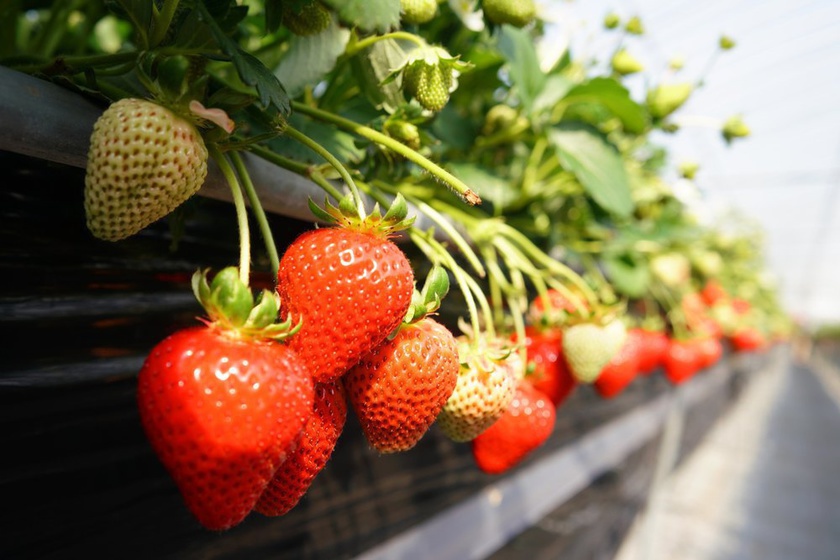 ---
"They taste best in the morning. They are exposed to sunlight in the day and get nutrients at night. The temperature difference between the day and night brings out the sweetness."
It is true that the early bird catches the worm.
---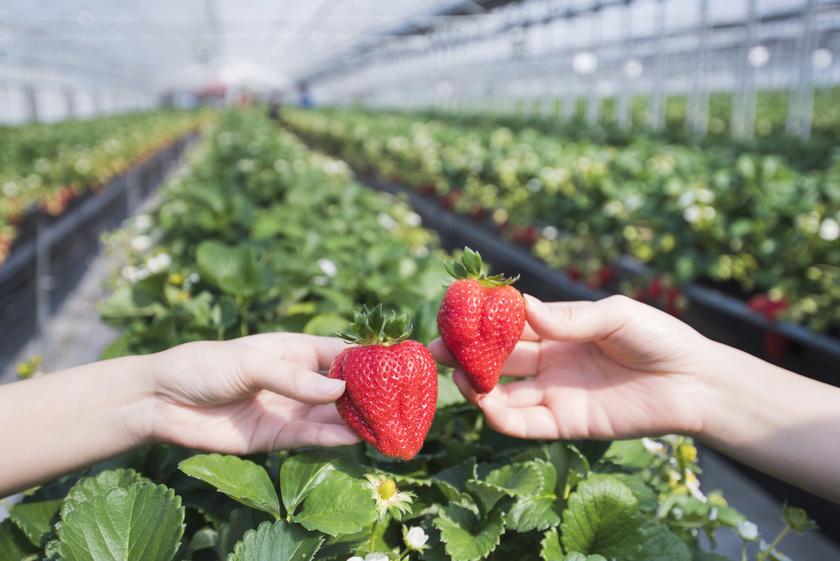 ---
Compete over the size of the strawberries you find.
---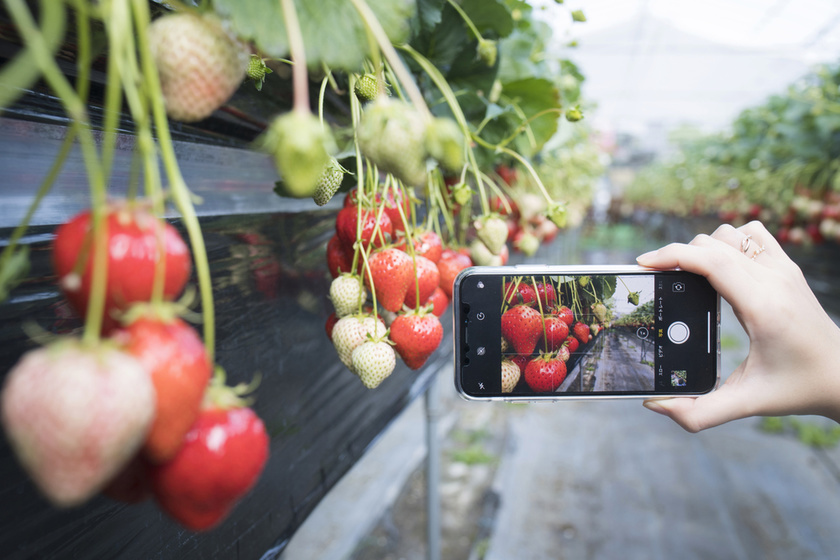 ---
Take a picture of the photogenic strawberries.
---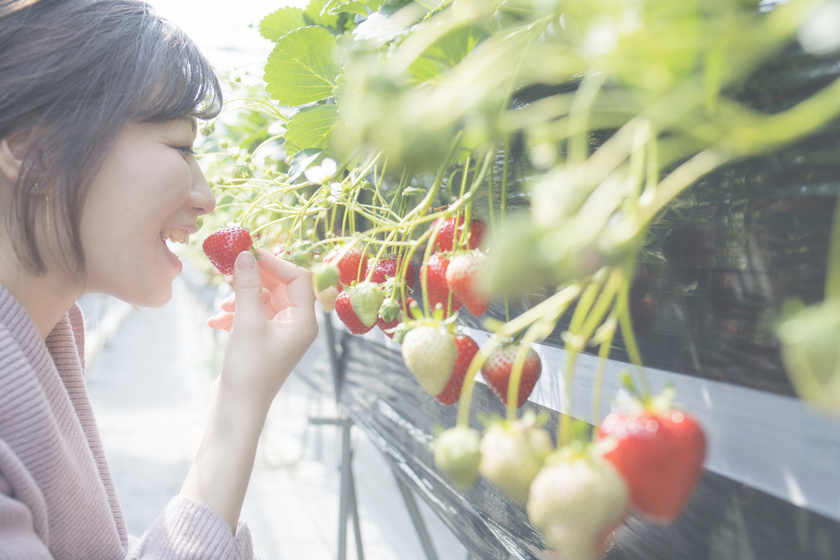 ---
Or just keep munching them.
---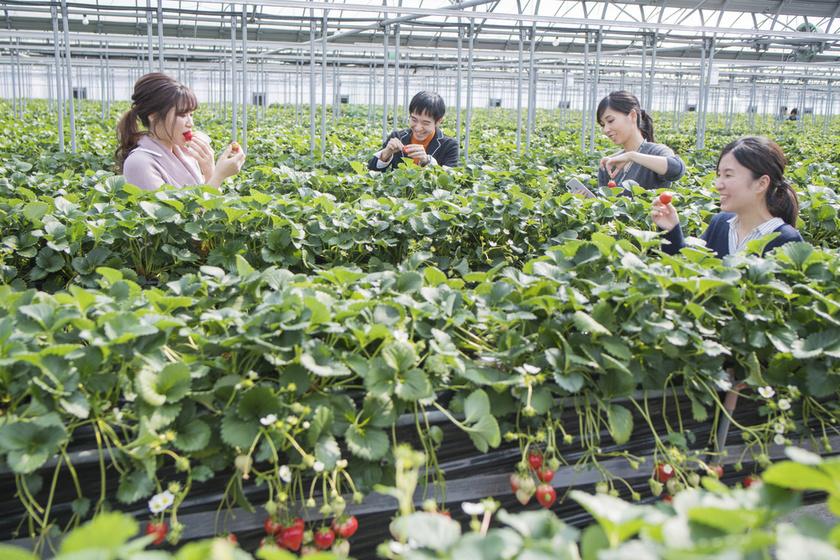 ---
Different people can enjoy strawberry picking in a variety of ways.
---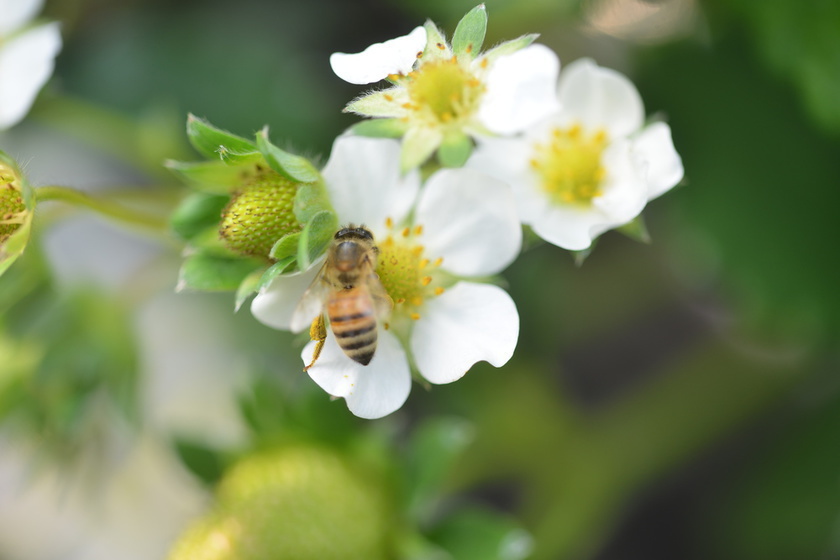 ---
The work of honeybees is essential for the pollination of flowers. They keep working busily in the greenhouse. They will not sting you unless you attack them. Just be careful not to surprise them.
After enjoying strawberry picking to the fullest, there is still a lot more to enjoy. The farm has a shop adjacent to the greenhouse. It offers an array of popular, original sweets that are made from strawberries.
---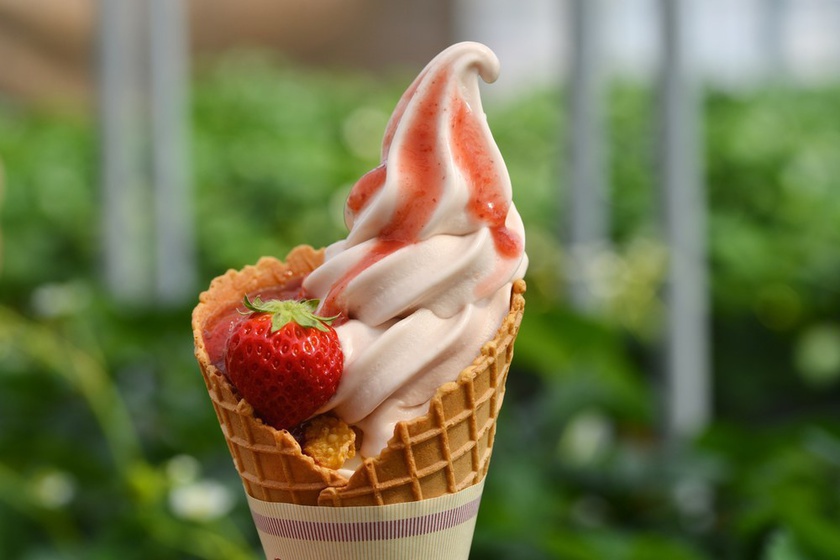 ---
I had Strawberry-na, which is strawberry-flavored soft-serve topped with strawberry sauce and served with farm-fresh strawberries. It is full of strawberries! It tasted delicious in a way that was different from the fresh strawberries, and my mouth was filled with the pleasures of spring.
The shop also offers an array of sweets that are good for souvenirs, such as strawberry Daifuku and strawberry Baumkuchen. Of course, fresh strawberries picked in the morning are also available for those who want to eat more. They are also good to enjoy while travelling.
---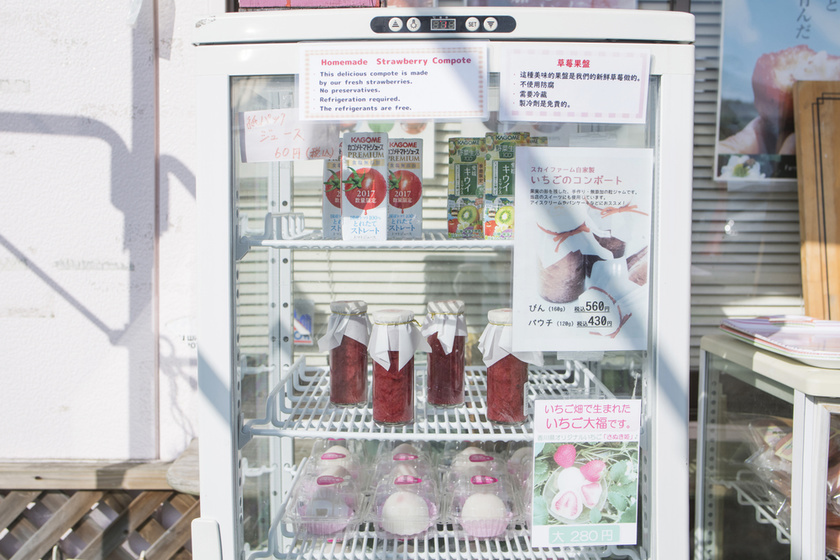 ---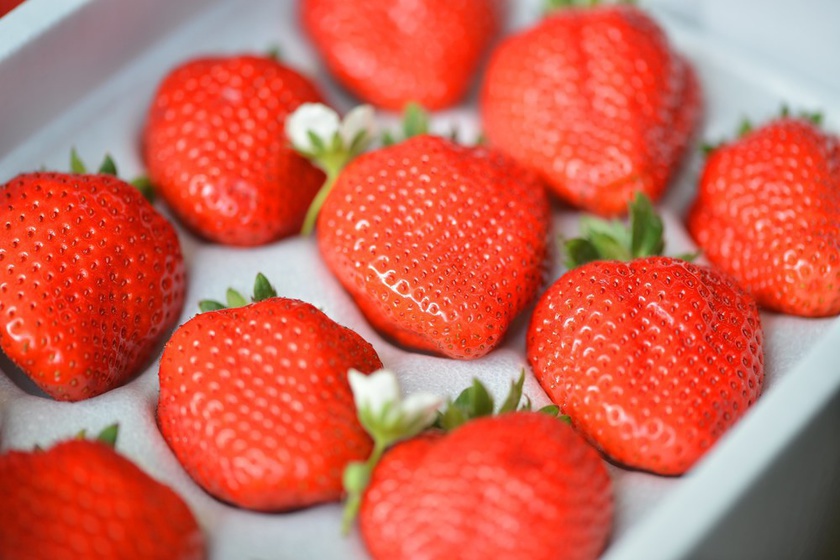 ---
Visit this strawberry farm, where you can enjoy delicious strawberries and the arrival of spring.
---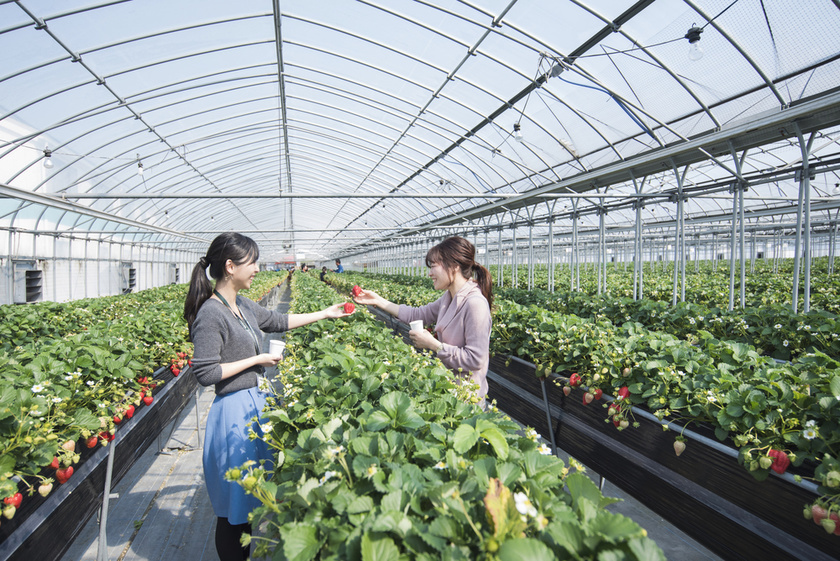 ---

strawberry picking
Address

656-1 Iidacho, City, Kagawa

TEL

087-881-5256

URL

Supported languages

日本語、English
Gathering date:2018.3.1 / Ichigoya Sky Farm
KEYWORDS