On the island of Ogijima in the Seto Inland Sea there is a rare and unusual lighthouse.
---
Ogijima Lighthouse is one of only three unpainted lighthouses in the whole of Japan. It is made from Aji-stone, one of Takamatsu's proud exports. Aji-stone has a famous reputation as a high-grade luxury stone material, and sophisticated stonemasonry skills have developed around the areas where it is quarried.

In this article, we investigate some of the stone sculptures created as a result of this stone-working culture.
Luxury high-grade stone: Aji-stone
Let's begin by learning about Aji-stone. Kagawa prefecture has been known as an excellent source of stone since ancient times. Particularly in the eastern part of Takamatsu, the stone produced around the border between the towns of Mure and Aji is known as Aji-stone, and it is counted as one of Japan's three great granite stones. Aji-stone has finer biotites and other crystals than in comparison with other granites, and is characterized by the beautiful mottled pattern that becomes more pronounced the more it is polished.
---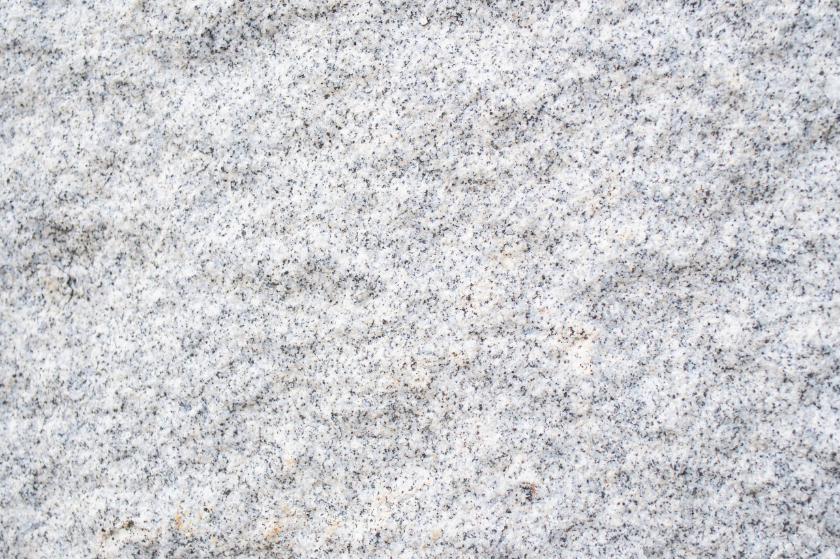 Due to its durability, its resistance to weathering, and its rarity value, Aji-stone is said to be one of the highest-grade luxury stone materials in the world.
Because of these characteristic features, Aji-stone has been widely utilized to create objects such as tombstones and lighthouses that are firmly-rooted in everyday life, to monuments such as the foundation of the Olympic torch cradle at the 1964 Tokyo Olympics, and memorial monuments at Hiroshima Peace Memorial Park.

Recently, in addition to such products, Aji-stone has also been used in creating numerous stone sculptures, and artists drawn by the appeal of Aji-stone are visiting the area not only from Japan, but from around the world.

Next, let's visit the area where Aji-stone is quarried.
Production Area for Aji-Stone, Viewed from Yashima
The production area for Aji-stone is located near the ridge of Mt. Nyotai-san, along the border between the towns of Mure and Aji. Today, the main quarries for Aji-stone are Oochouba and others on the western side of the ridge. Visitors can therefore enjoy a view of the entire Aji-stone production area from Yashima, situated on opposite shore to the west of the Aji Peninsula.
---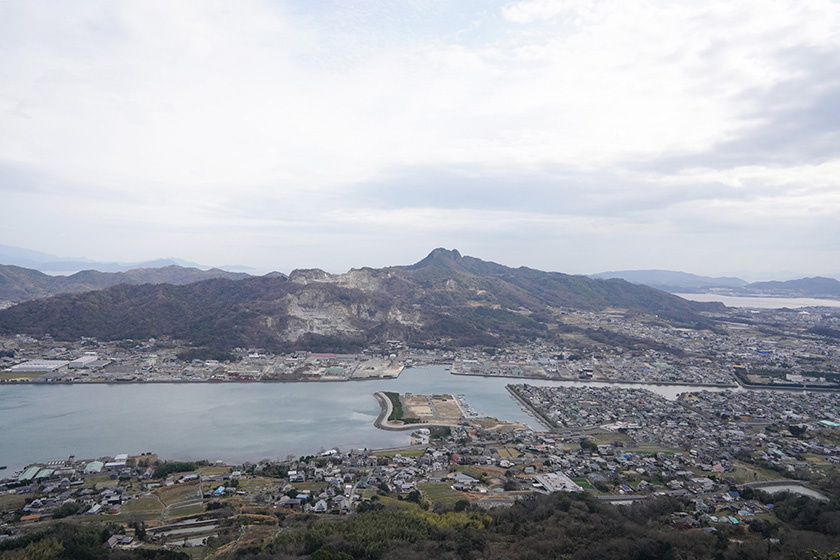 Let's try climbing Yashima from where we can get an excellent view of the Aji-stone production area.

To reach Yashima, we recommend using the train and bus. There are buses for Yashima from both JR Takamatsu Station and from Kotoden-Yashima Station. There is a wide road to the summit, which is well known by the name of Yashima Skyway. As well as by car, you can also enjoy the view from this elevated spot on foot or by bike.

From the road next to the parking area at the summit, we head towards an observation platform called Dankorei. From here, you can enjoy an excellent panoramic view of not only the quarries on the opposite shore, but also the old battlefields of the Genpei War, where many historic ruins still remain.
---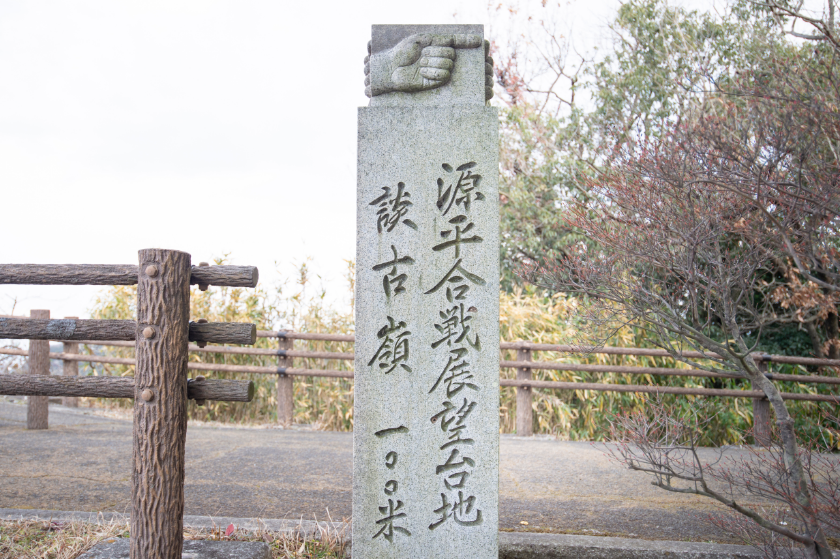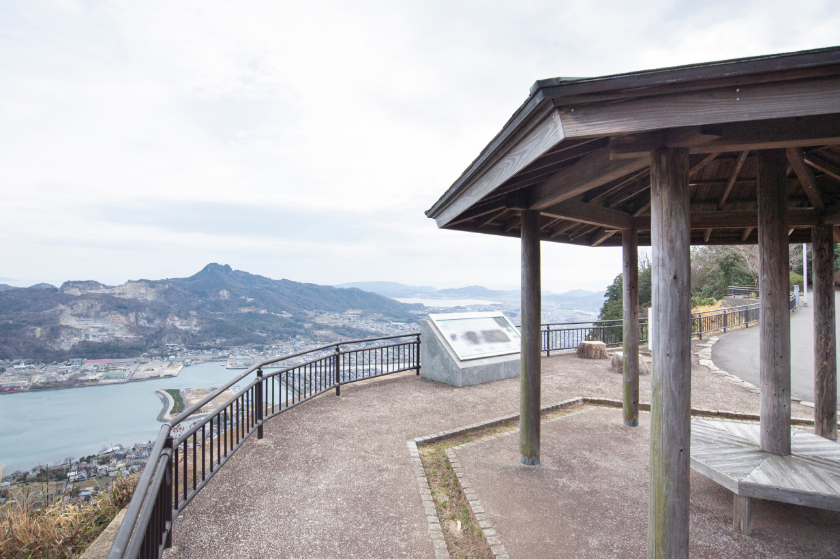 The places on the opposite side where the naked rock face is exposed are the Aji-stone quarries. The stone is quarried using explosives and heavy machinery while determining the easiest direction in which to cut into the stone.
---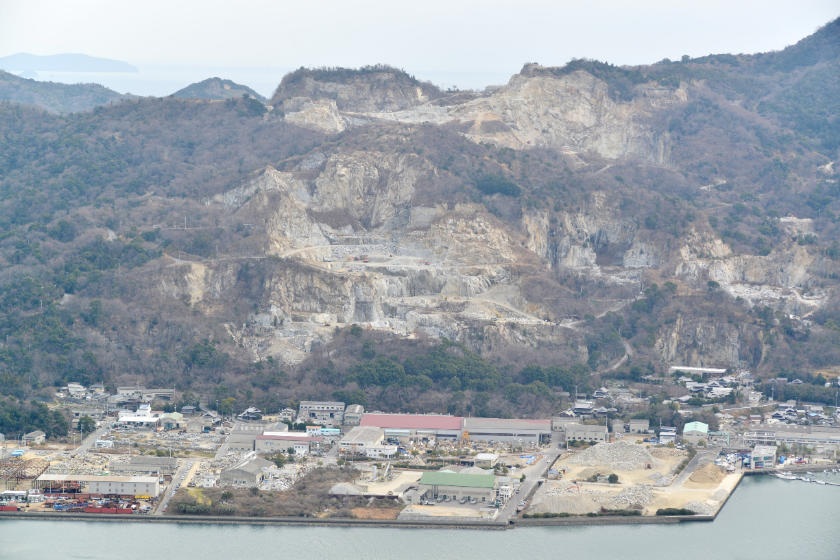 Open-air Stone Museum
Boarding the train again, this time we arrive at Shioya Station on the Kotoden Shido line. Five minutes' walk away from the station there is a popular family spot called Michinoeki Genpei no Sato Mure. Michinoeki (literally "road station") are roadside rest areas that are now commonplace in Japan. Genpei no Sato Mure is located adjacent to Fusazaki Park, an open-plan park where visitors can see a diverse range of stone sculptures.
Some of those sculptures are introduced below.
---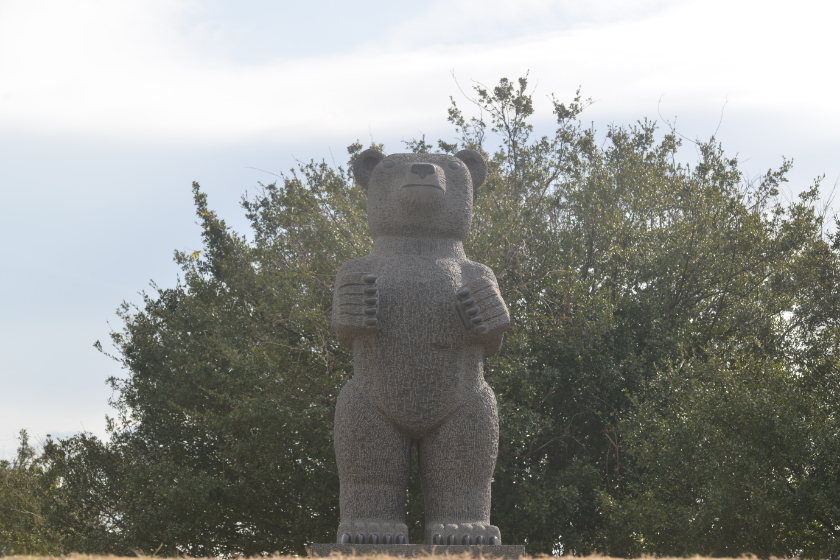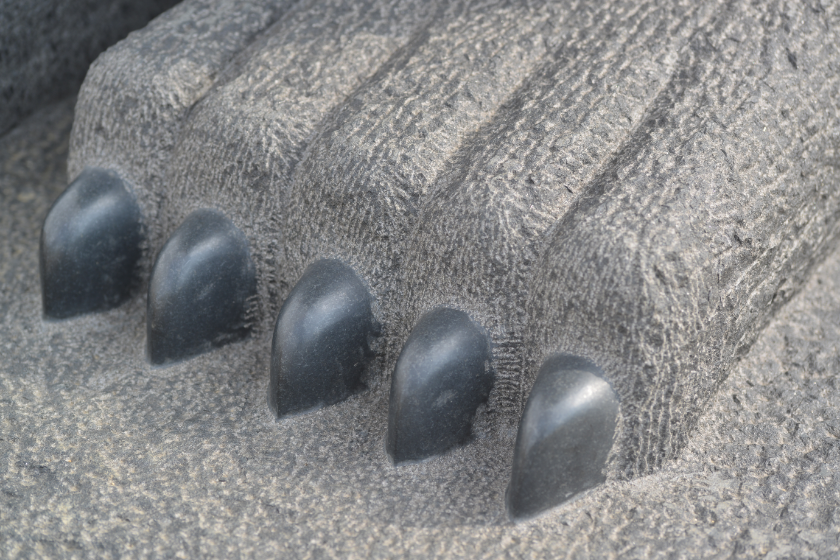 Atsuhiko Misawa is famous for his "Animals" series of animal sculptures carved out of camphor wood. Animal 2012 is one very precious piece of stone sculpture produced by this sculptor. Despite being carved out of hard stone, the fine detail used in recreating the animals' fur is worthy of attention.
---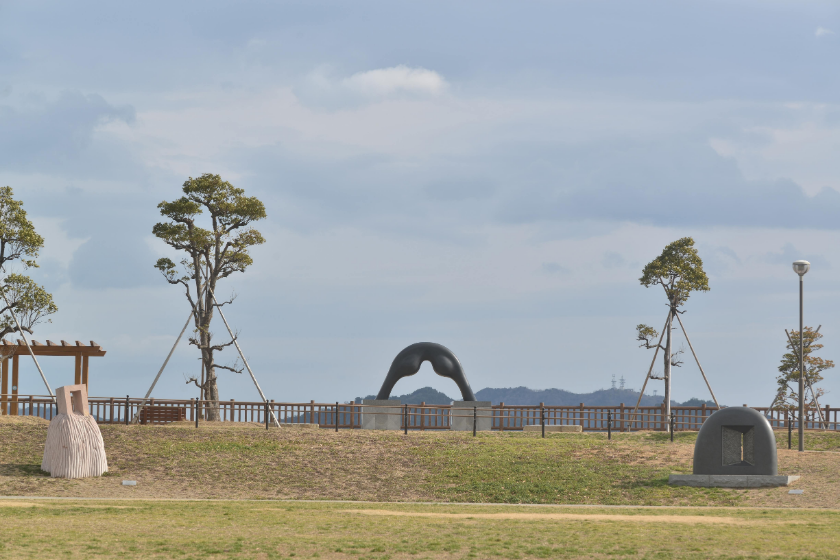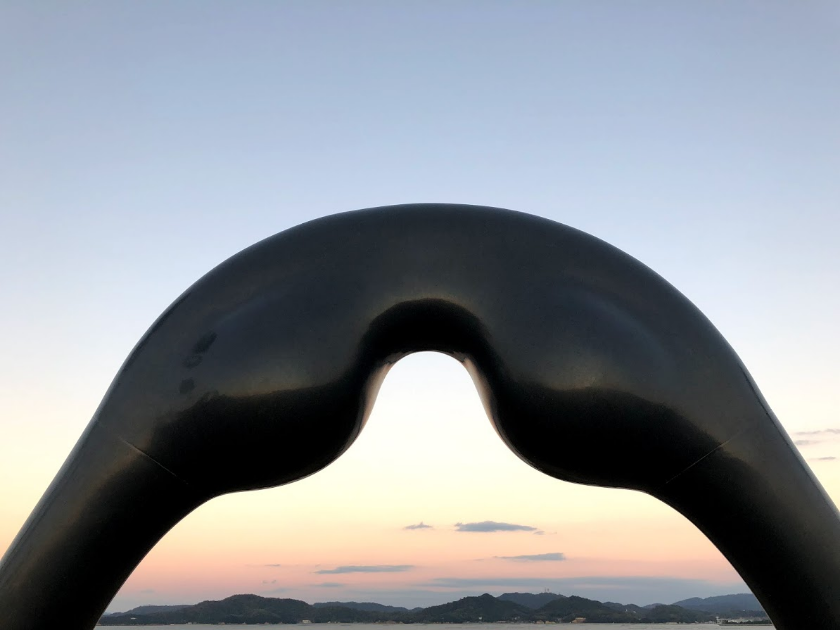 This piece is a stone sculpture by modern artist Takeshi Kawashima, who hails from Takamatsu himself. On the other side of the mon (gate), we can see the calm Seto Inland Sea spreading out as far as the eye can see.

Various other stone artwork is lined out in a circle, surrounding the park's wide, grassy space.
---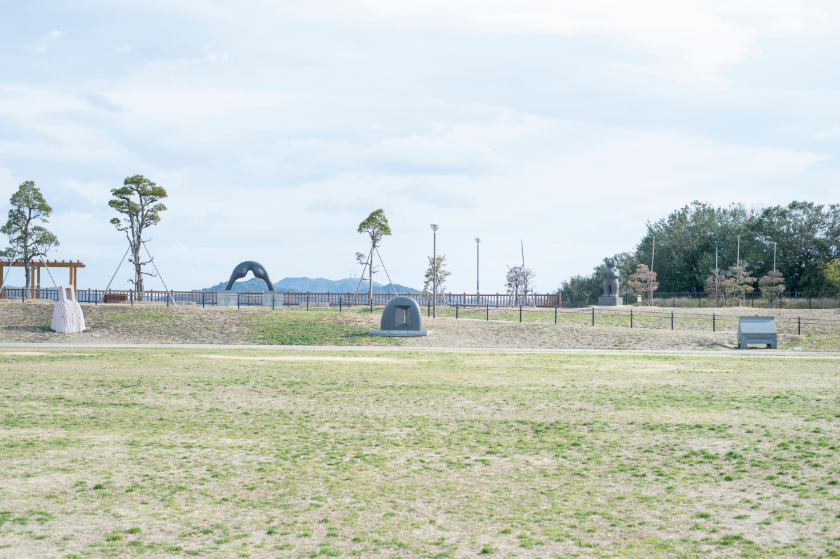 There are also some pieces which can be enjoyed as play equipment. Please try to find your own favorite piece of artwork.

Setouchi Gourmet in the City of Stone
After enjoying the artwork, let's fill ourselves up on delicious local gourmet cuisine. Let's head for Jakoya, a fresh seafood restaurant inside the Michinoeki complex.
---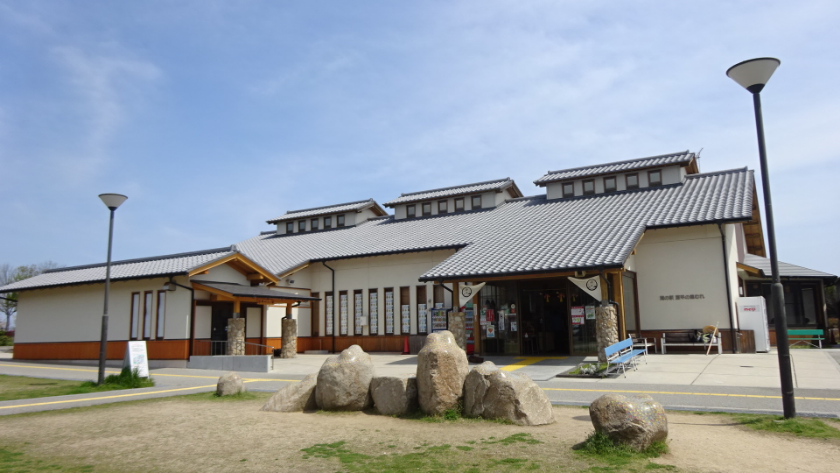 At Jakoya, you can enjoy delicious food made using seasonal vegetables and seafood caught in the Seto Inland Sea itself. Another pleasing aspect of the restaurant is that you can make your own customized set meal by choosing your preferred dishes from amongst the various small bowls on offer.
---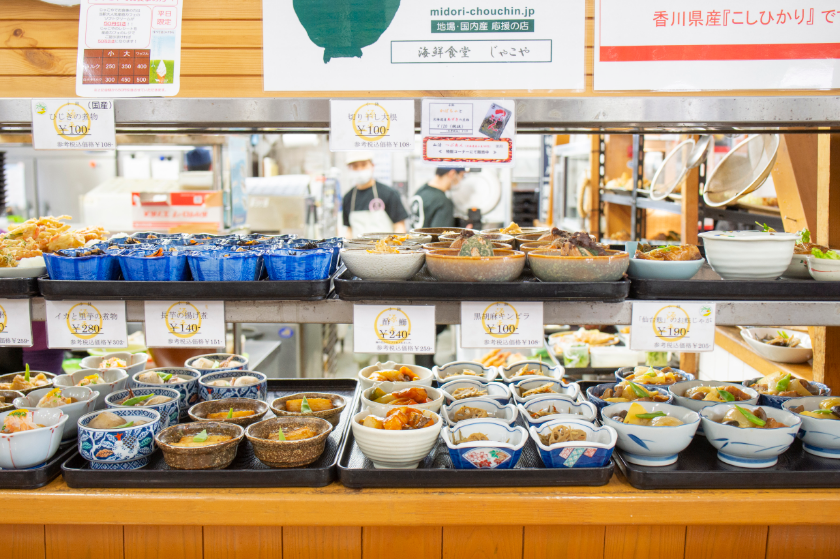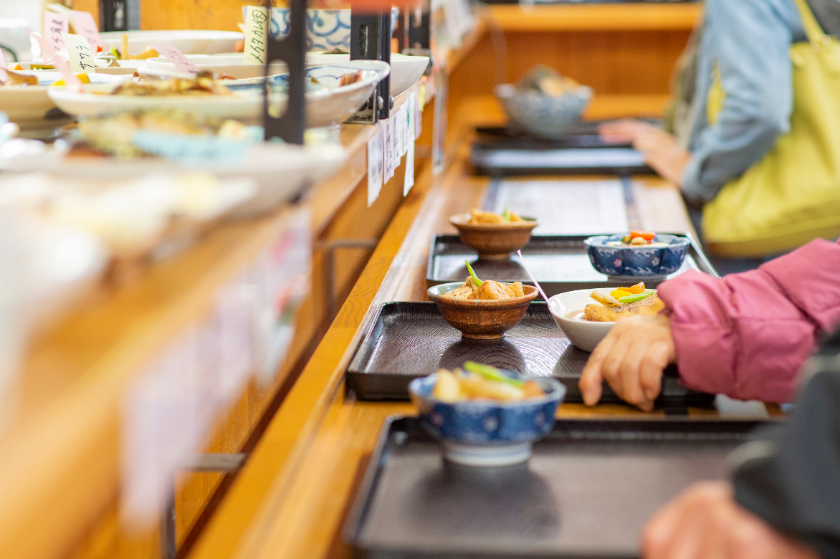 Next, let's try the Tendon Mt. Goken, a tempura rice bowl named after the mountain where Aji-stone is quarried. After just a few minutes' wait, the staff deliver a large bowl of rice heaped with fried tempura, accompanied by the hearty words "Here's your Mt. Goken!"
---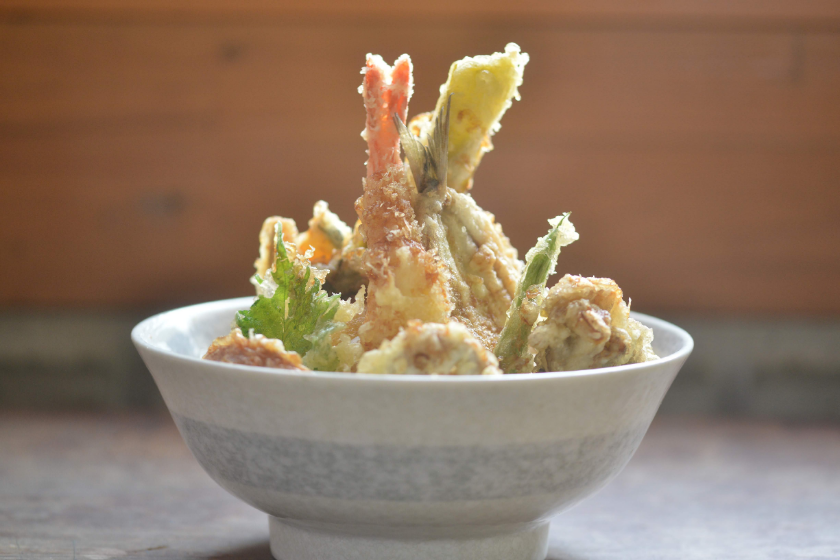 The shrimps' tails are faced upwards, representing the mountain summit. The rice bowl includes around 11 items, made using primarily local ingredients. Another key point is that the ingredients change according to seasonal changes and shipping conditions. It is great either to eat alone or to share with someone else. It is a truly excellent and faultless dish that looks and tastes fantastic, that allows you to enjoy filling up on the seafood of the Seto Inland Sea.
Touring the Stone Sculptures
So, how was it? There is still more to see! Around the Port of Takamatsu—the venue for the Setouchi Triennale—there are many pieces of sculpted stone artwork to be seen, including those made form Aji-stone.
Finally, we return to the port and introduce another of the pieces of artwork on display at the Triennale.
---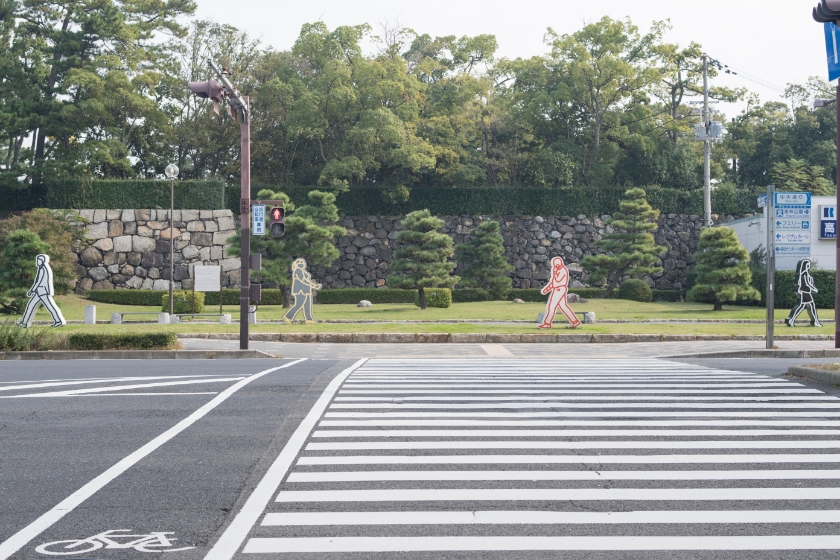 This sculpture is on display right next to Kotoden Takamatsu-Chikko Station. The piece depicts a banker, a nurse, a detective and a lawyer, each using a different type of stone. Can you tell which of them was made using Aji-stone? The key point to distinguish it from the rest is the fine blue and black speckling that is reminiscent of kongasuri, a traditional Japanese splashed pattern.
---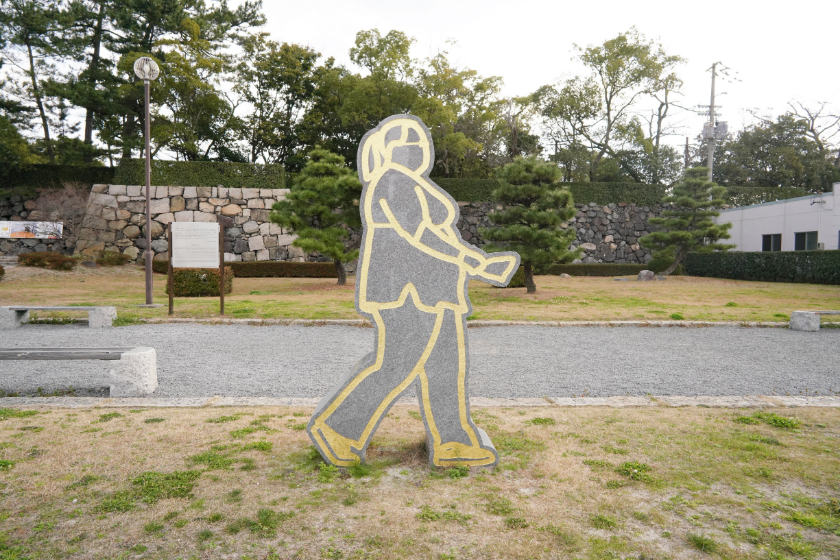 The correct answer is the nurse. If you visit, please take the time to observe it in careful detail.
You can also encounter various other works around the Port of Takamatsu, including some by the famous Japanese sculptor Masayuki Nagare.

---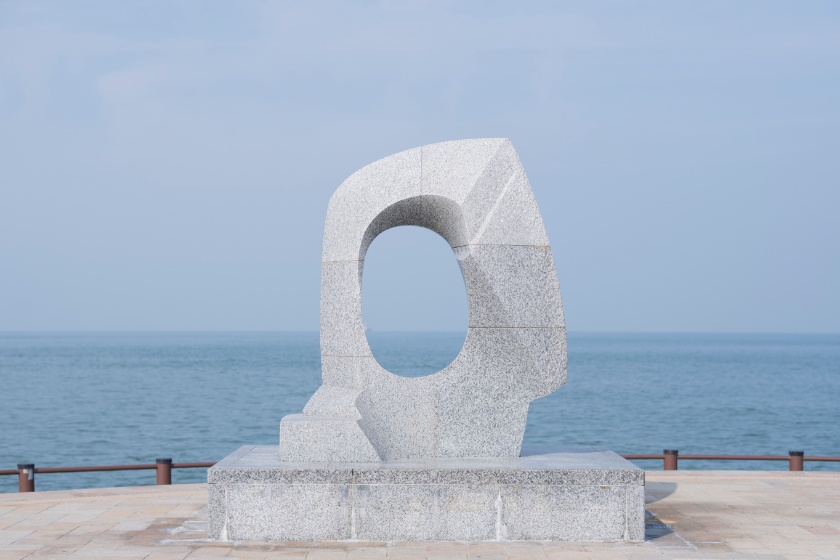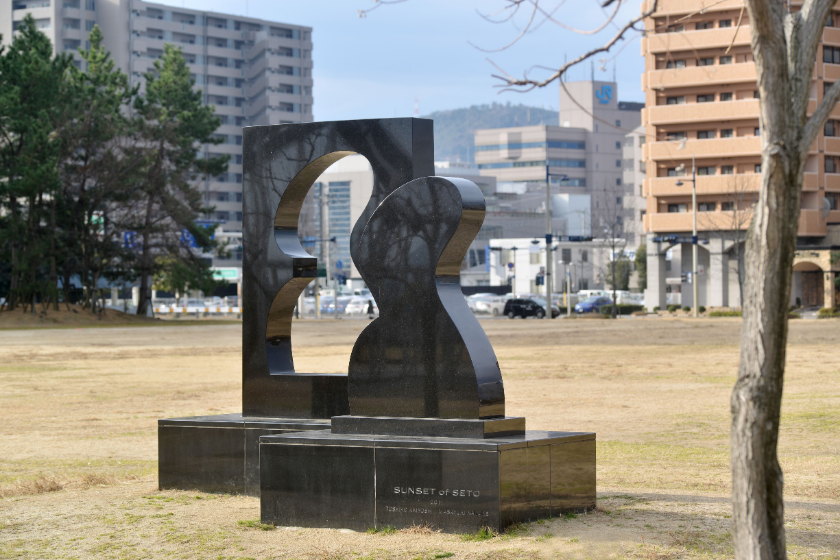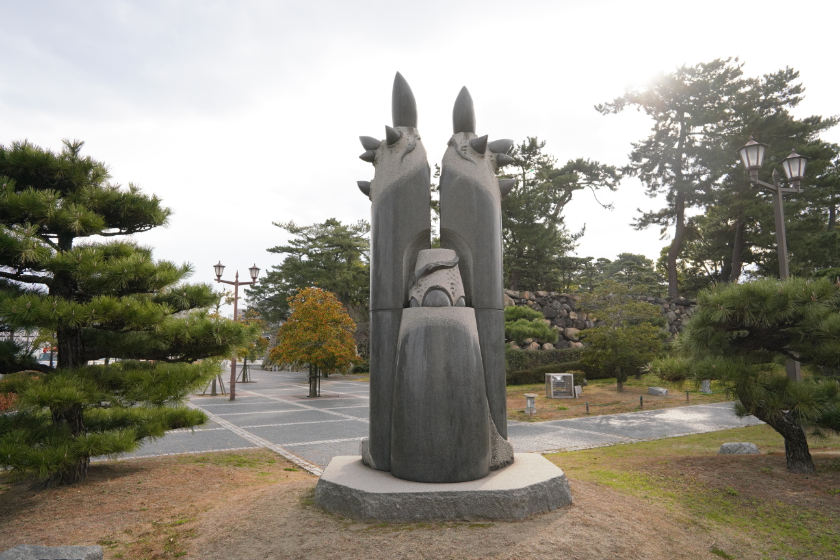 In this article, we have travelled around Takamatsu with a key focus on stone-sculpted artwork. Many works of art made using stone can be seen around the city, which has a thriving stone industry, centered primarily around Aji-stone. Simply by riding on the train for a short distance, you can enjoy landscapes and freshly-prepared Seto gourmet cuisine that has been long-loved by numerous sculptors. Why not try taking a compact art-hunting tour slightly further afield in between island-hopping journeys? You just might encounter a hidden masterpiece!
---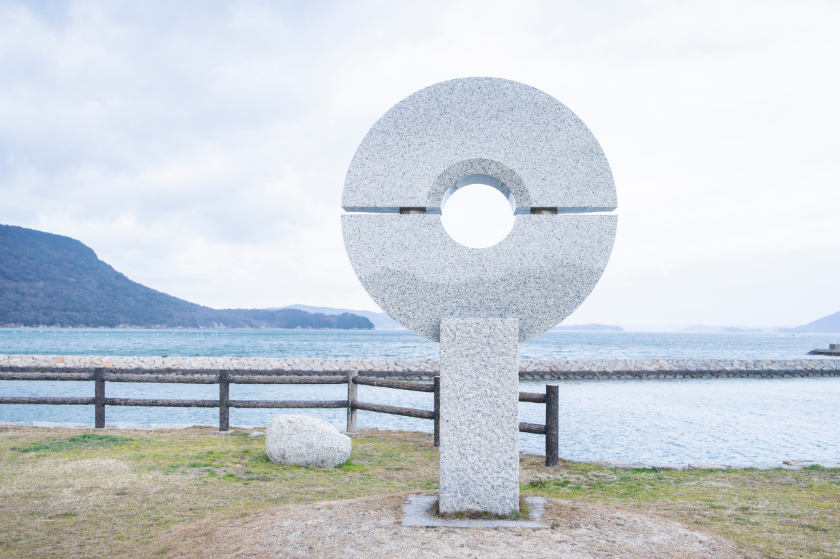 For people who want to enjoy stone more!
There are other artistic spots in the Aji and Mure region—the sacred heartland of stone and stonemasonry—where visitors can enjoy looking at and learning about stone and stone sculptures.
Ishitakuminosato Park and Ishinominzoku Museum
---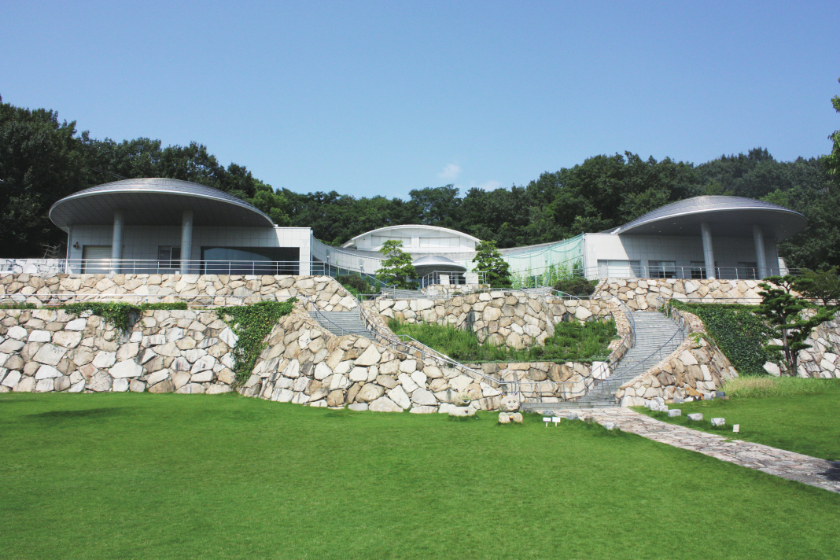 The Ishinominzoku Museum presents cultural artefacts of the relationship between stone and human civilization, with a collection and exhibits including tools actually used by stonemasons in the production regions for local Aji-stone. Ishitakuminosato Park is a stone theme park featuring stone sculptures and play equipment, enabling visitors to look at, play with and learn more about stone.
Museum opening hours: 09:00 – 17:00 (last admission: 16:30)
Closing days: Mondays (*where Monday is a holiday, the previous weekday), End-of-Year and New Year holidays
The Isamu Noguchi Garden Museum Japan
Isamu Noguchi was an internationally-acclaimed sculptor. The Isamu Noguchi Garden Museum Japan is a museum created out of the former studio of his later years in Mure, Takamatsu, which preserves the working atmosphere of Noguchi's studio just as it was when he was alive. The museum itself is a work of art, including the extensive collection of sculptures (some of which are unfinished), the Exhibition vault, Noguchi's home, and the sculpture garden.
---
Gathering date:2019.4.18
KEYWORDS