I was curious about them every time I viewed the sea from Takamatsu Port, saw them on the ferry and stared down at them from the observation deck of the island.
What are those square things offshore?
---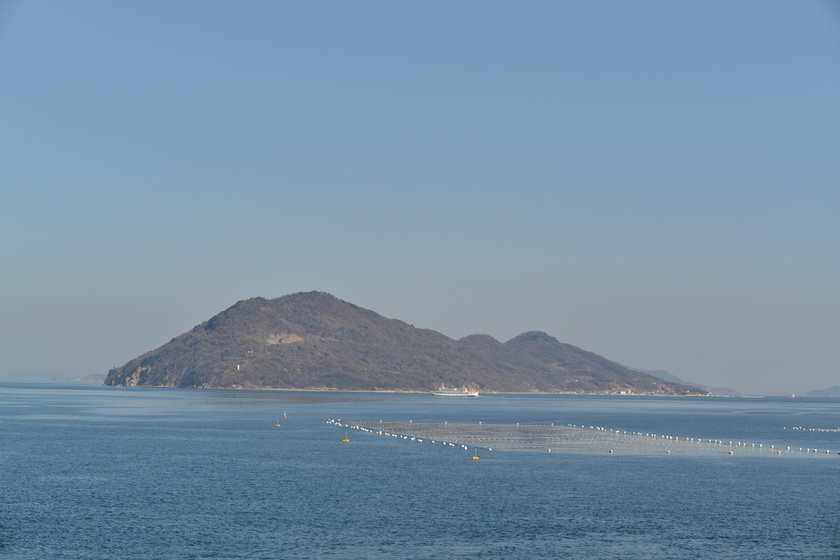 ---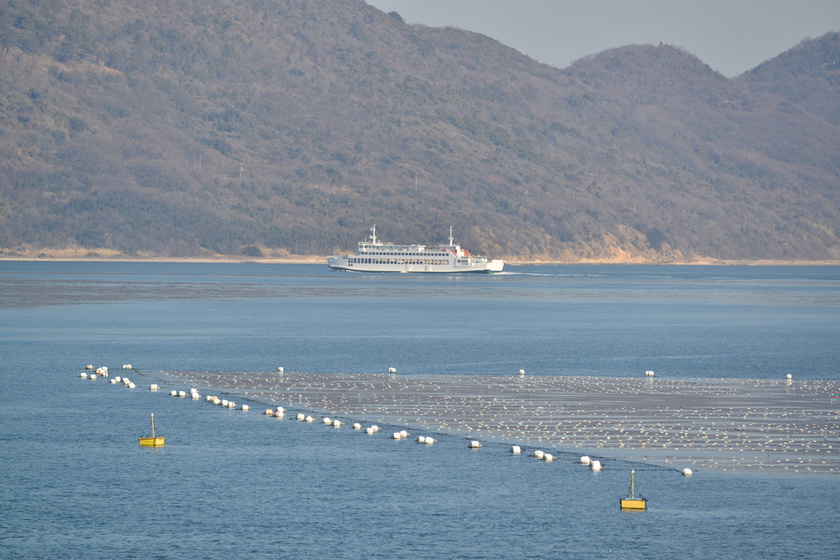 ---
"They are rafts for aquafarming, used for farming nori."
This is what a fisherman explained while I was walking in town where the rafts could be seen on the other side of the breakwater.
---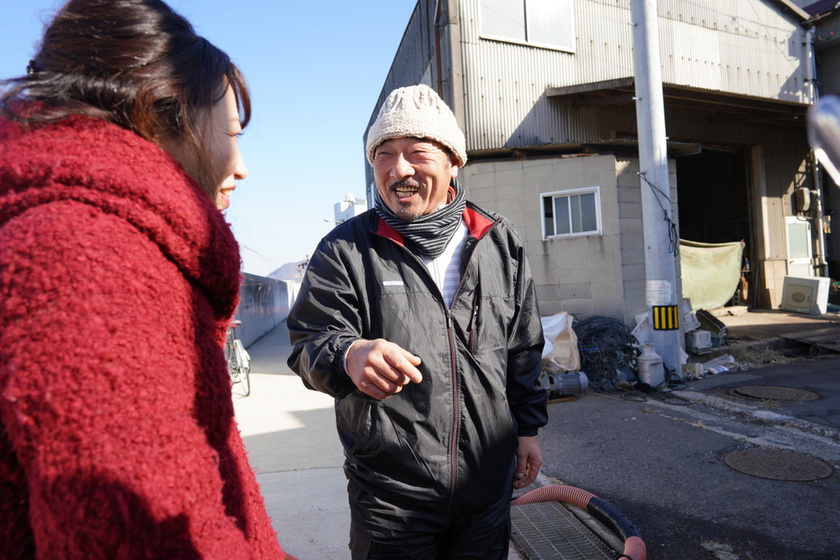 ---
Nori is an essential ingredient in Japanese dishes, such as sushi and rice balls.
With high nutritional value, nori is also called "vegetable of the sea" or "soy bean of the sea."
Due in part to the addition of washoku (traditional food culture of Japan) to UNESCO's Intangible Cultural Heritage list in 2013, nori became known in other countries as healthy food.
---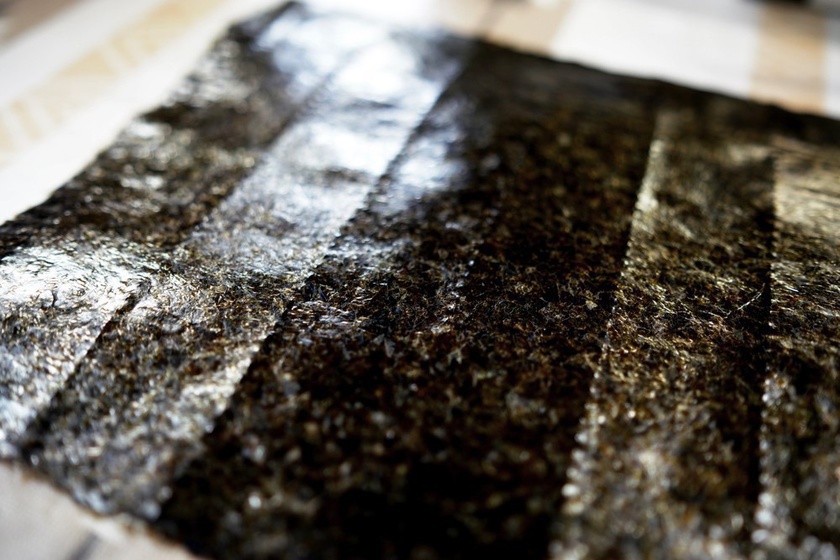 ---
I had the impression that nori was produced in quiet areas, such as fishing villages, or on islands richly endowed with nature. I was surprised to learn that it is produced in the sea off the coast of Takamatsu!
I did research and found that Kagawa is ranked 5th in Japan based on volume of aquaculture-produced nori (in 2015)!
Among cities and towns in Kagawa, Takamatsu City is ranked first in production volume (in 2014). Nori is undeniably a local specialty of Takamatsu, isn't it?
Above all, hatsu-tsumi nori, or the first nori of the harvest season, which is winter, is a rare product—less than 10%. They say that the taste of hatsu-tsumi nori is much better than nori picked later in the season.
I am desperate to try it!
In the meantime, a boat loaded with black nori returned to the port.
---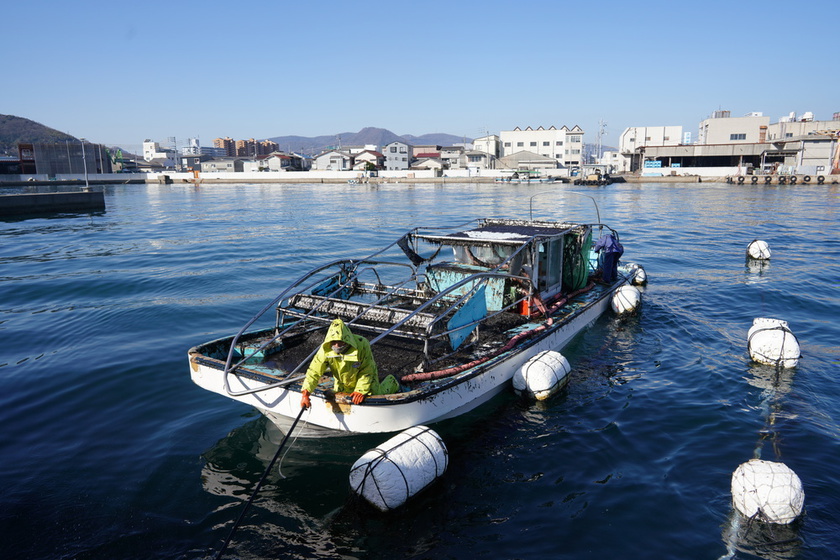 ---
Let me explain how nori is picked. The raft is raised from the sea and the entire boat goes under it to pick nori.
A boat featuring a robust structure, nicknamed moguri-bune (crawling boat), is very effective.
---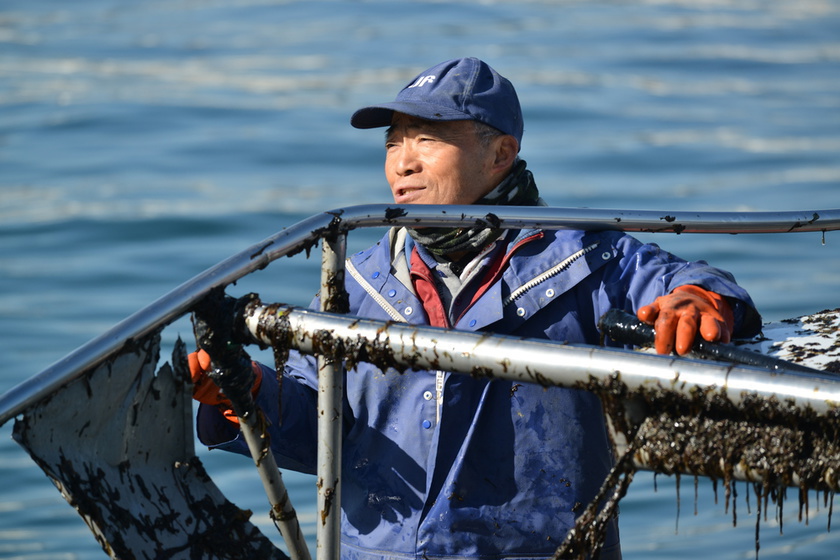 ---
Both the boat and fishermen that have returned from the early morning work look as though they had broken through the front line.
Around the port are eight houses of fishermen who are engaged in nori farming. One allowed me to observe the production process.
---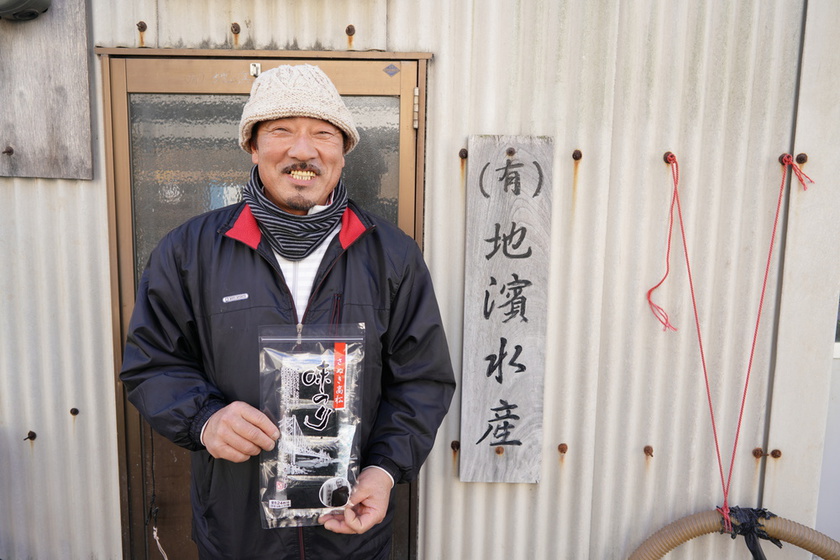 ---
I interviewed Mr. Hideo Chihama from Chihama Suisan. He is a fisherman from a family that has been farming nori in Takamatsu since his uncle's and father's generation.
---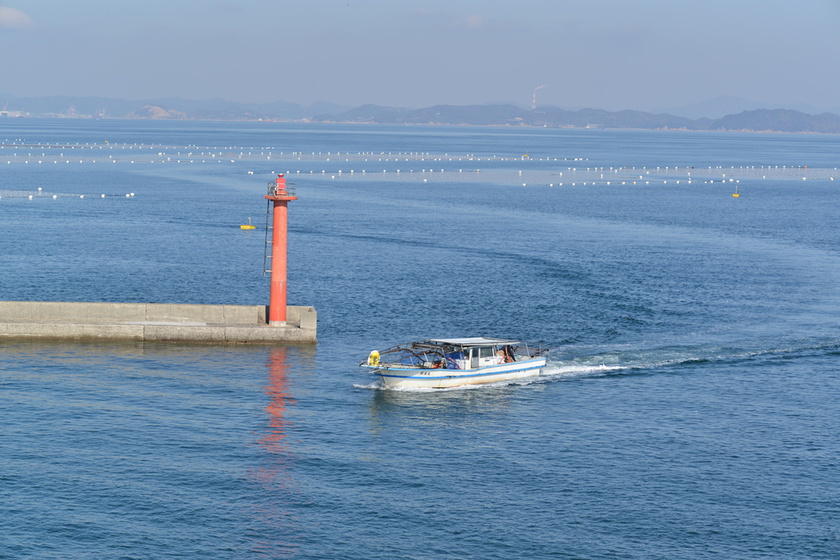 ---
Nori is harvested during the three months of winter. After seeding in the autumn, the nori harvest begins in December. When the buds grow after the first picking, it is time for the second picking. When they grow again, the third picking begins. The later nori is picked, the harder it is.
The highest-grade nori appears glossy and greenish black when it is finished as a full-size sheet.
The growth of nori is influenced by the conditions of the sea. They say to stop harvesting it in one month in a season when its color does not become proper.
---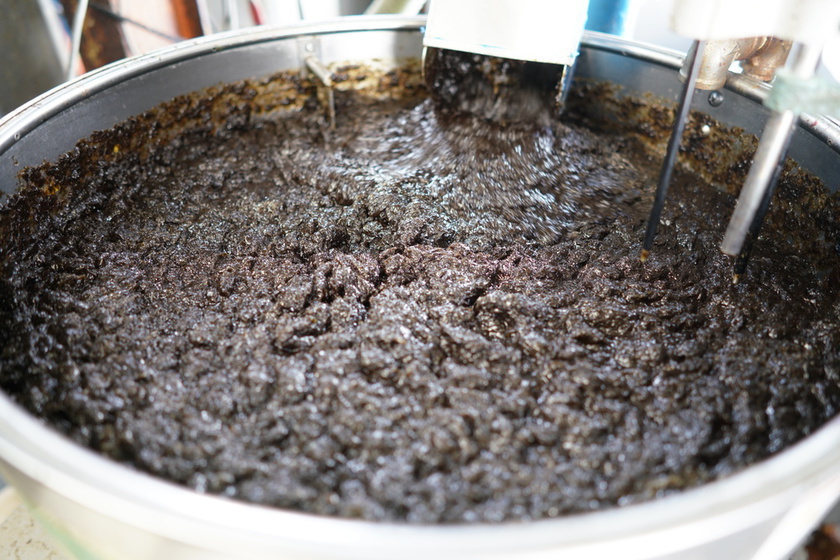 ---
Now, nori sucked up from the boat is brought to the processing factory through a large pipe.
To become a product with proper flavoring, the harvested nori needs to be processed while it is fresh.
First, they spend one day carefully washing the seaweed to remove dirt.
On the day after landing, tiny foreign particles are removed. Soon it will be finished.
---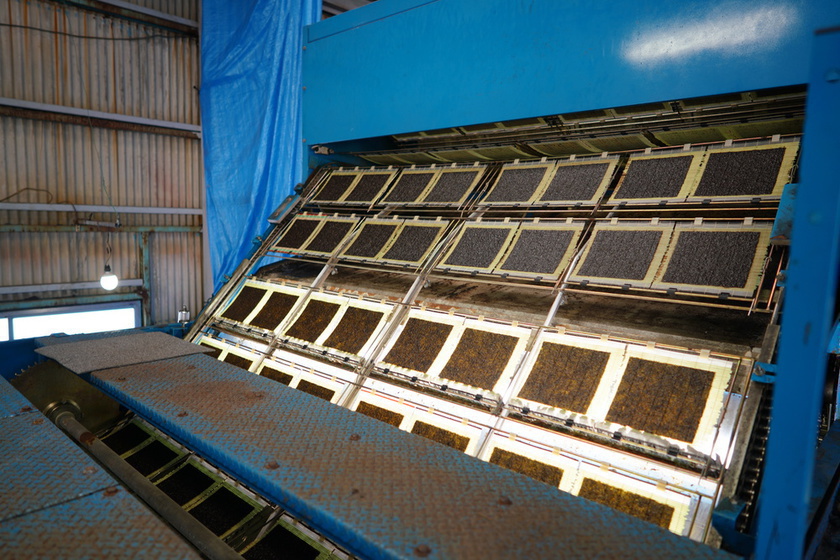 ---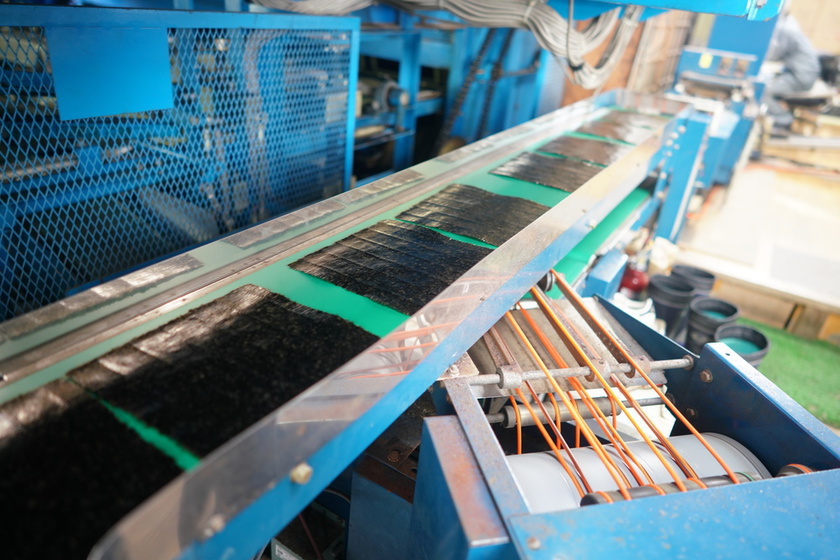 ---
The finished nori come out of a huge machine in full-size sheets, in which they are shaped and dried, moving rhythmically.
---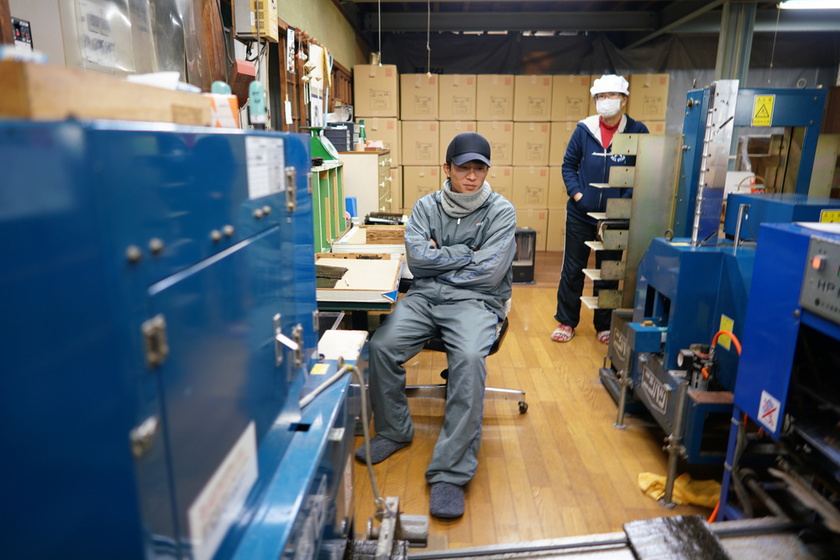 ---
Finally, each sheet is checked visually by skilled workers. Only those that have passed the inspection are packed and shipped.
As an alternative to a business card, I was offered a sheet of prime seasoned and roasted nori (ajitsuke nori), made using hatsu-tsumi nori.
I opened the package immediately and the soothing aroma of the seaweed was released.
I bit into it and felt crispness that I had never felt before! It melted in my mouth and the smooth flavor remained. I wished I had a bowl of white rice.
I thought the clean seawater of Takamatsu was why nori grows there. However, I was incorrect.
"Clean seawater is not enough. The soil quality of the distant mountains is also important. The rivers nurture the sea by transporting nutrients from the mountains to the sea."
---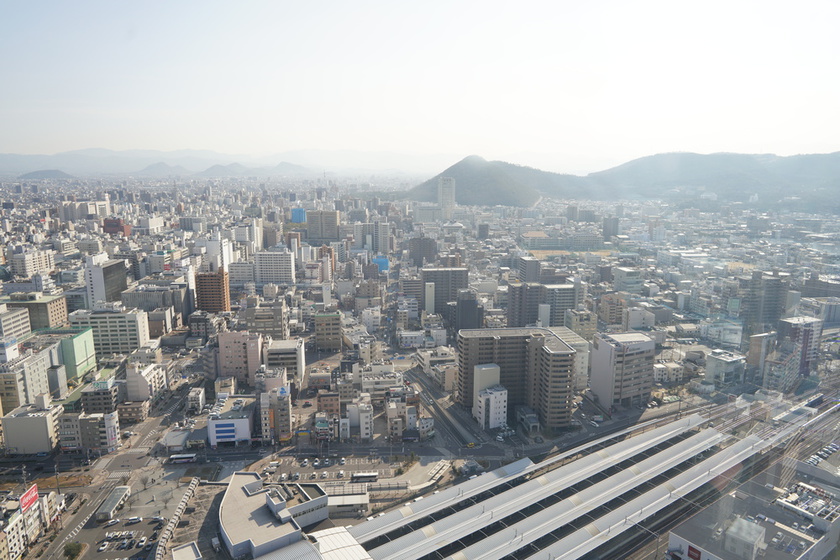 ---
Speaking of mountains, the Shikoku Mountain Range stands to the south of Takamatsu City, cutting across Shikoku Island. The distant mountains are linked with the bounty of the sea before me, which is surprising.
"Rain is also important. Nori becomes delicious if it rains before the harvesting season. It is precisely blessed rain."
Not only the sea, but also mountains and even the sky are related to seaweed. Nori is a gift from nature.
---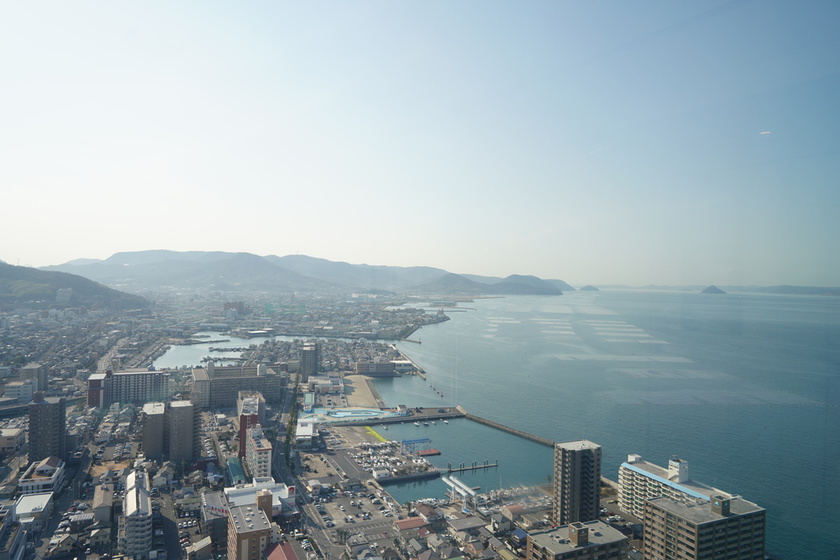 ---
The rafts for farming nori, which are seen in almost all parts of the sea off the coast of Takamatsu, are a feature of winter in the city.
---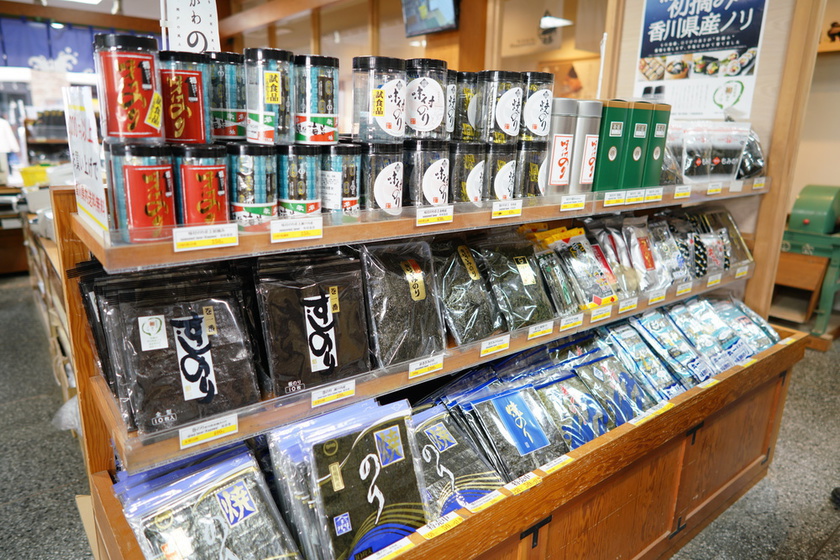 ---
Nori is lightweight, not bulky and keeps for a long time, which makes it a perfect gift. Add it to salad, for more texture. Put some in soup, and its flavor will spread across the bowl. Nori also has a variety of uses for dishes.
Hatsu-tsumi nori begins to arrive in stores during the New Year period. Enjoy nori from Takamatsu, filled with the blessings of nature, at home.
---

This product is available at the following.
Kagawa Bussankan Ritsurinan
Address

1-20-16 Ritsurincho, Takamatsu City, Kagawa

TEL

087-812-3155

URL

Supported languages

日本語、English
Kagawa Bussankan Ritsurinan is a local specialty shop established in Ritsurin Garden, a Special Place of Scenic Beauty where you can enjoy the seasonal beauty of the garden. It offers a rich variety of souvenirs, including local food ingredients and sweets from all over Kagawa as well as original products created with craftsmanship. Original Ritsurinan souvenirs are also popular.
Kanbutsu Kaisanbutsu Donya Maruichi
Address

4-1 Minamishinmachi, Takamatsu City, Kagawa

TEL

087-831-3307

URL

Supported languages

日本語、English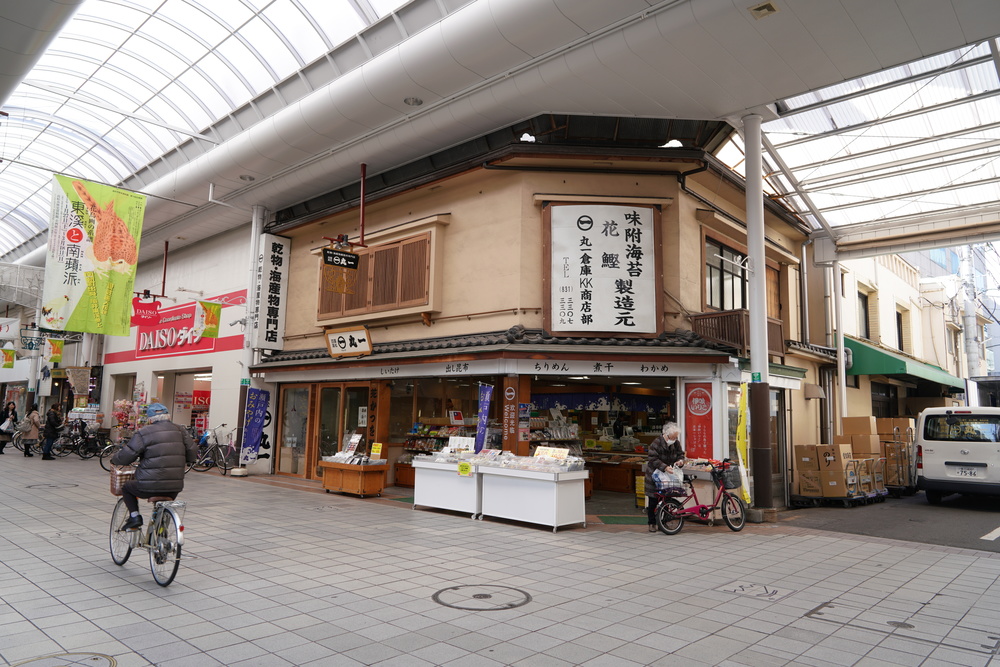 Located in Takamatsu Chuo Shotengai (Takamatsu Central Shopping Mall), Kanbutsu Kaisanbutsu Donya Maruichi is a long-established drysaltery, which sells ingredients for Japanese soup stock, such as dried bonito (katsuobushi) and dried sardine (iriko). It offers a wide variety of nori, including roasted nori (yakinori) used for hand-wrapped sushi and other dishes, ajitsuke nori seasoned with fish stock and soy sauce, and shredded nori (momi nori), which is convenient for use as a topping.
Gathering date:2018.2.14
KEYWORDS