In spring, this asparagus can be found in nice locations in supermarkets. It is also included in the recommended items at restaurants with a note such as "Sanuki no Mezame has arrived!" This is an asparagus brand from Kagawa. An asparagus harvest festival is held each spring and attracts thousands of people. I had become curious about the beloved vegetable, so I visited a farmer who grows asparagus.
---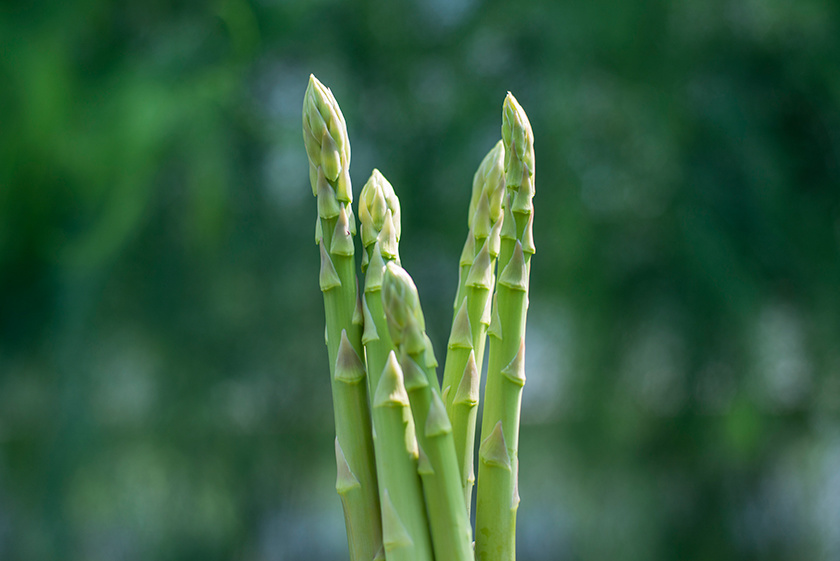 ---
I drove from central Takamatsu-shi for 30 minutes. The greenhouse was located in a residential area.
"Nice to meet you."
Ms. Kaoru Kawada greeted me. She is a well-known, female farmer in Kagawa and grows broccoli and sweet corn in addition to asparagus.
---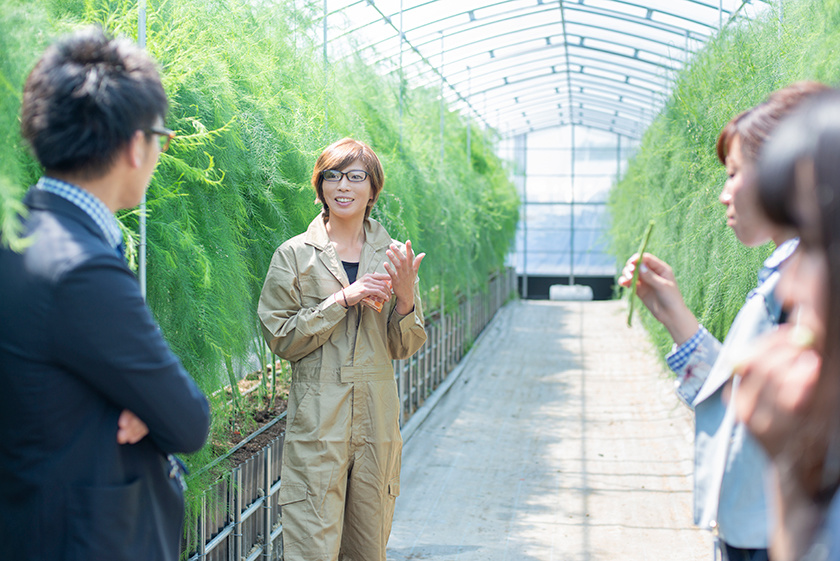 She led me into her greenhouse. As I stepped inside, I found a line of tall trees.
---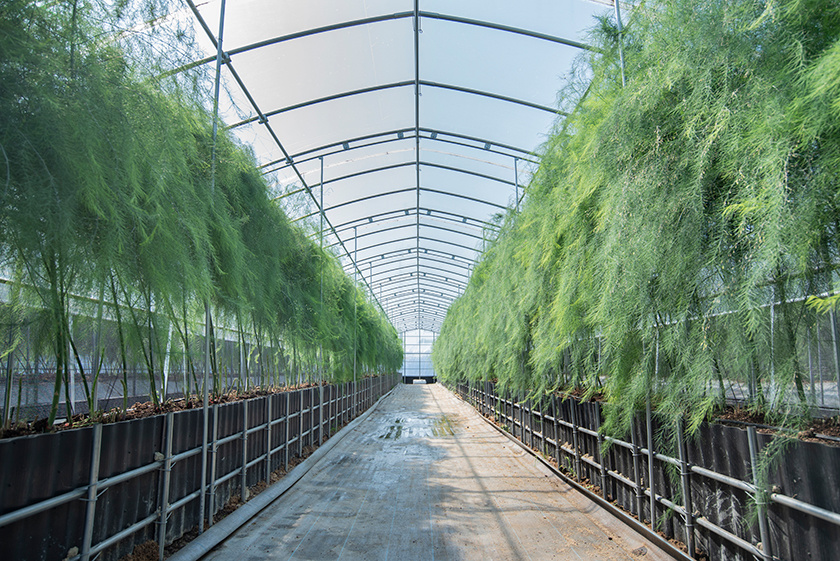 "Are those asparagus?"
I had imagined sprouts on numerous ridges. Unexpectedly, I saw leaves grow thickly in a very ample space.
I looked down at the base and there it was—Sanuki no Mezame.
---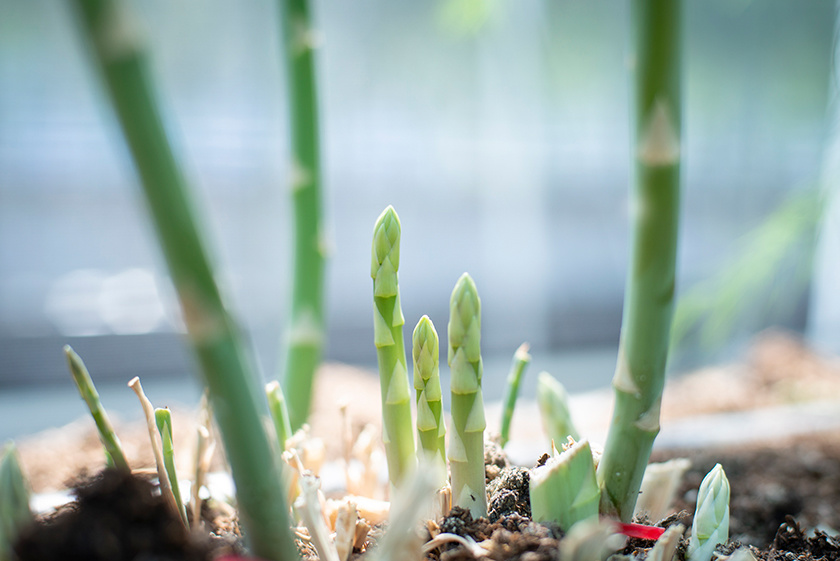 The original produce from Kagawa is characteristically longer than Welcome, a foreign species that is typically distributed. Also, Sanuki no Mezame has firm tips and is soft through to the base. Compare the two and the difference is obvious.
---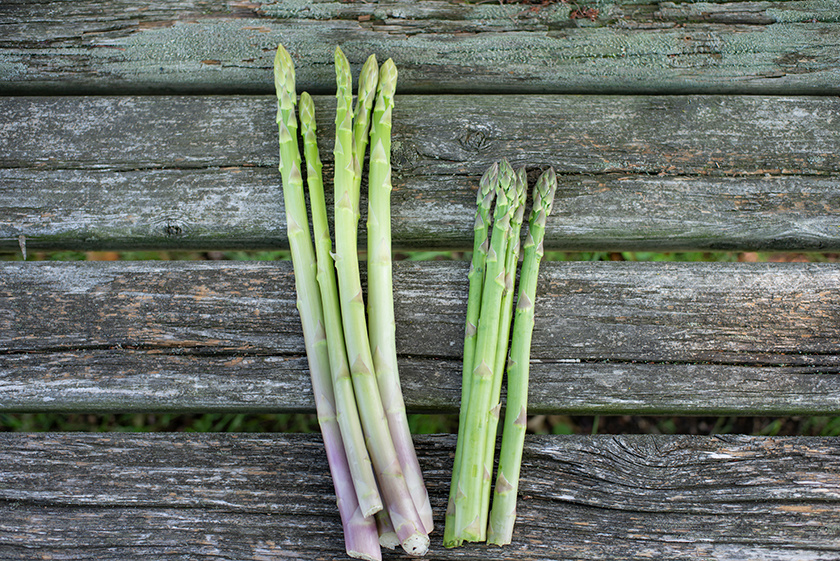 In Ms. Kawada's greenhouse, the harvest starts in late February or early March. She said spring like March and April is the best time to eat Sanuki no Mezame. "It tastes very sweet and delicious," she answered with a shining smile.
---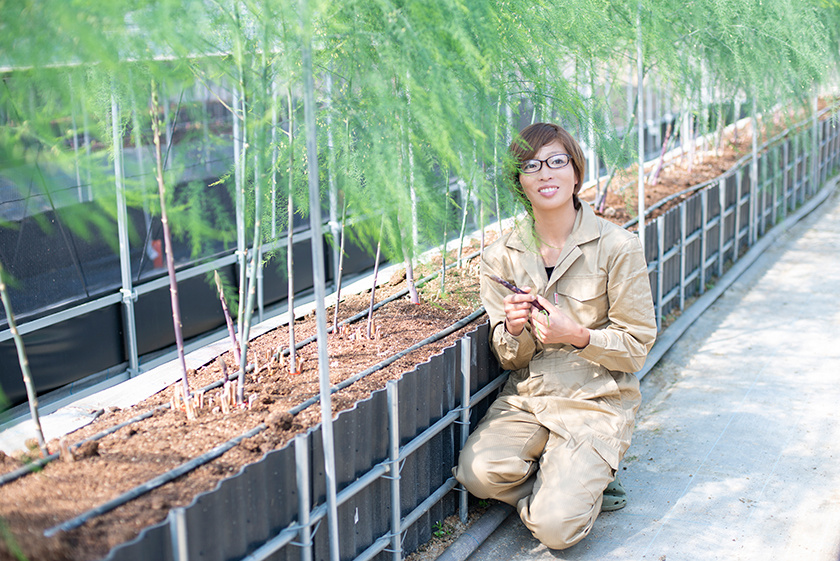 Harvesting continues after that time. Up to summer, the asparagus takes on a refreshingly sweet flavor.
"This was just harvested. Try it."
I tried one of the nearly 30-centimeter stems that were to be shipped from the greenhouse. I picked it up and found that it was larger than I had imagined.
---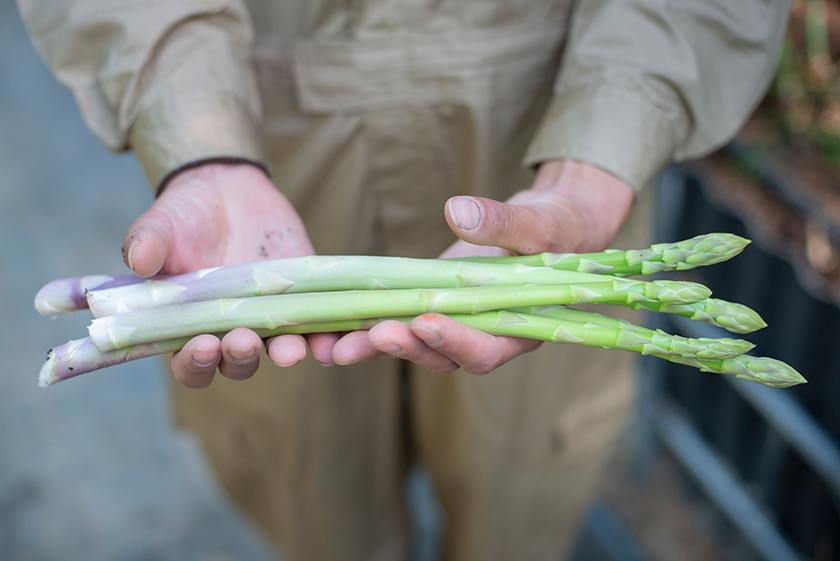 I took a bite of its tip. It was soft and directly conveyed the flavor of asparagus.
"The top and bottom taste different."
Then I took a bite of the bottom. It was juicy and softly sweet. Gradually I noticed moisture coming from the cross-section. This is due to a phenomenon in which the nutrients of a tree travel to its roots in the fall, when the temperature drops. After surviving the winter, a sprout of asparagus stores plenty of nutrients in its roots.
In the summer, the sprout undergoes photosynthesis and its nutrients are sent to the root, thereby forming buds.
---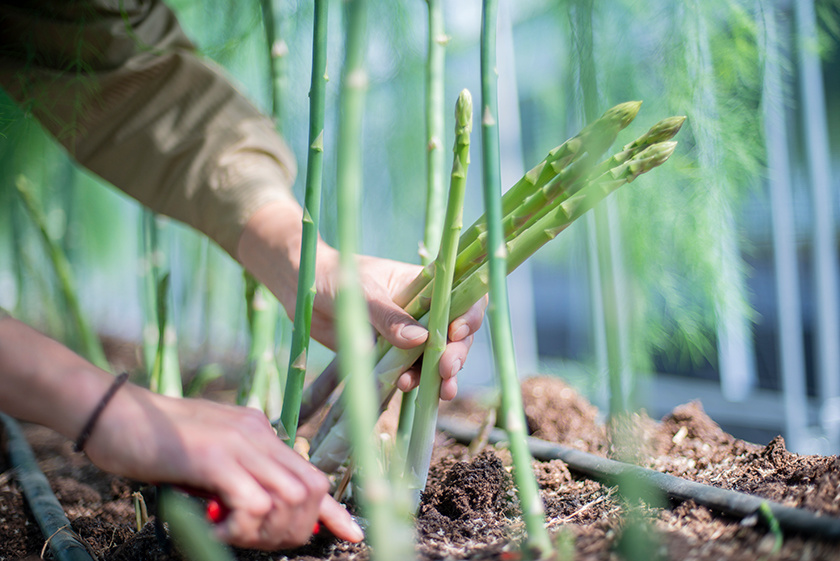 When you eat asparagus, sometimes you may find the hard stringiness uncomfortable. When eating Sanuki no Mezame, you will not feel the stringy texture at all. A fresh stem contains a lot of moisture and is soft to chew to the point where its stringiness is hardly noticeable.
---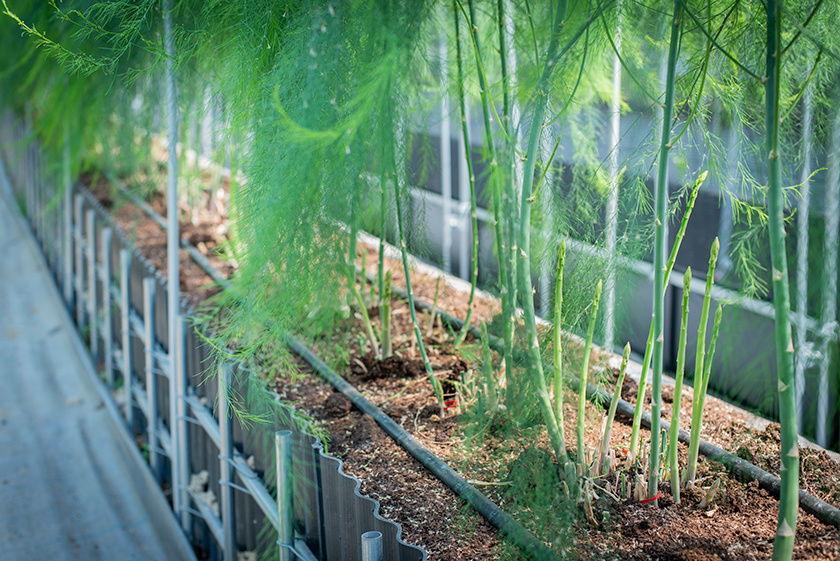 In comparison with Welcome, Sanuki no Mezame has a thinner, softer epidermis. This means it is susceptible to diseases and must be grown in a greenhouse. Asparagus growers in other areas spread ridges and seedlings over their fields and prune the leaves before cultivating them. In Kagawa, asparagus is grown on high ridges in a well-ventilated, large space so it will grow vigorously.
Sanuki no Mezame is cultivated heartily and carefully.
---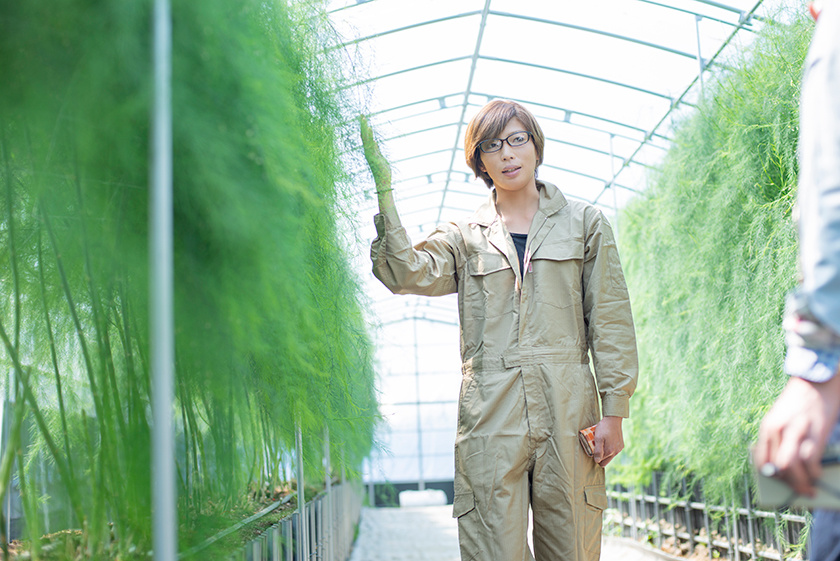 "Yes, Mezame-san is very delicate."
Ms. Kawada devotes a lot of attention to her vegetables.
She said that the neighboring greenhouse has other varieties of asparagus, so we took a look.
This is another cultivar of Sanuki no Mezame.
---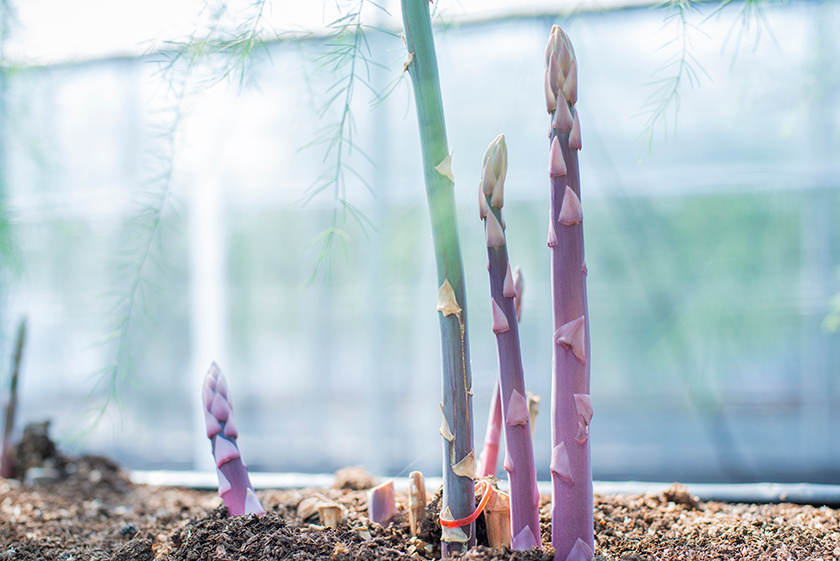 Purple-colored externally and yellow-green inside, Sanuki no Mezame contains abundant moisture and juiciness. It grows slowly with a limited harvest. Nevertheless, orders continue from famous restaurants.
---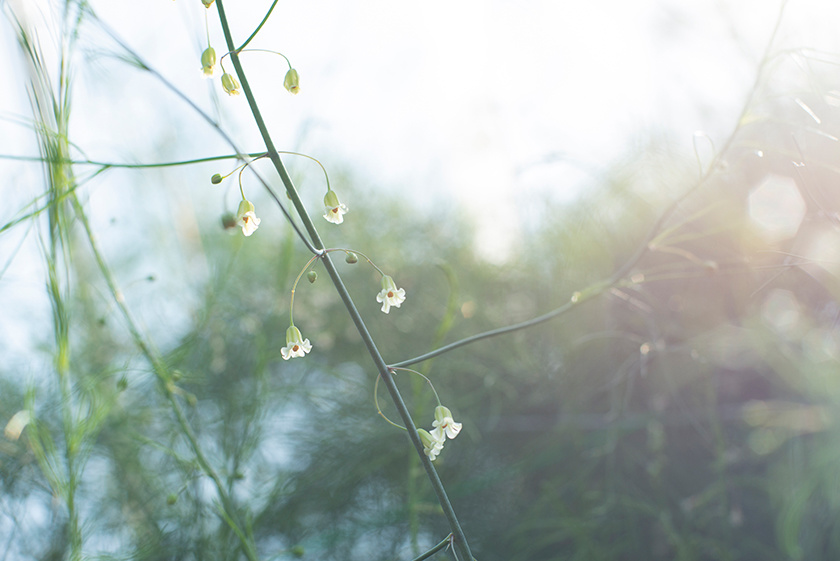 Did you know that asparagus is part of the lily family?
A lily-like, small and white flower blooms.
"The flowers of asparagus are divided into male and female. Pollination occurs between adjacent trees, and they seed."
---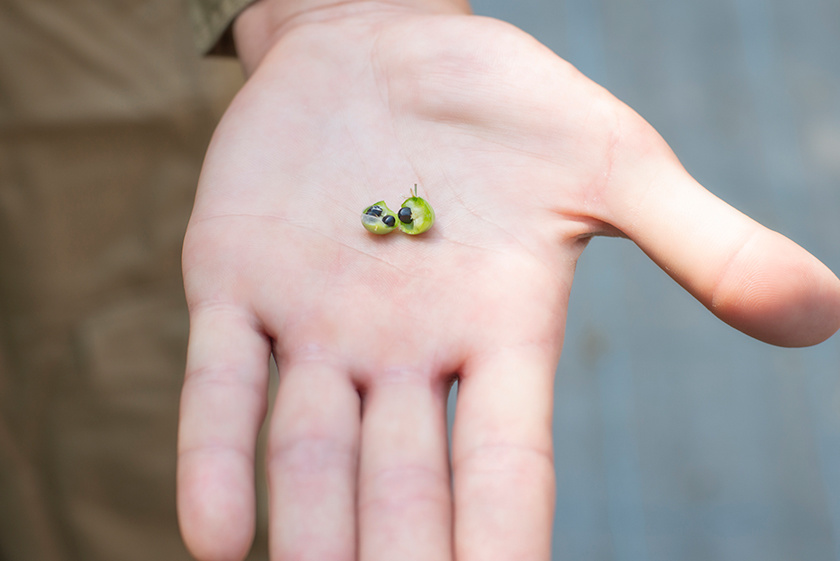 Both the flower and seed are small and cute.
I was beginning to find asparagus adorable.
It can also be eaten raw. What is a recommended way to eat it?
"For fresh stems, it would be best to cook them simply. Char-grilling or sautéing with butter brings out the taste well."
Buy it and bring it home as a souvenir, then eat it within the same day.
---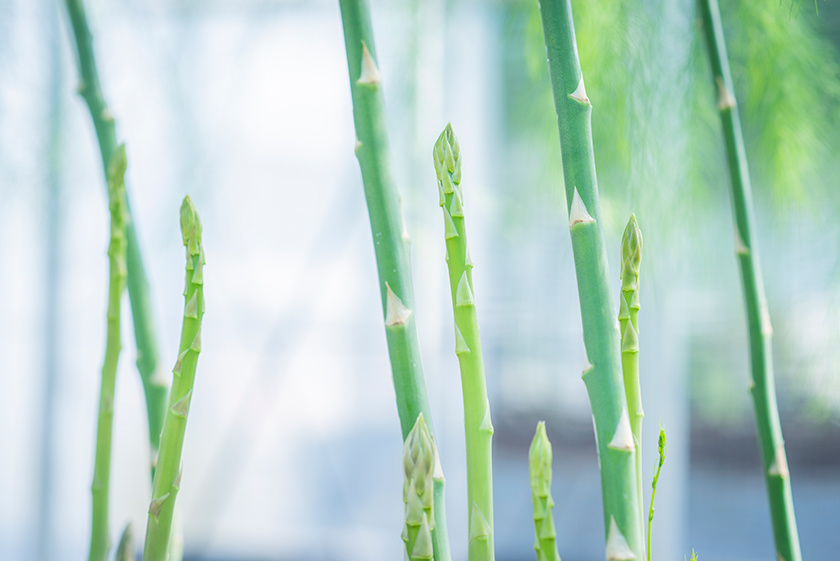 In spring, items with Sanuki no Mezame can be found on the tables of many different restaurants in Takamatsu.
Asparagus Osawagi takes place every April and makes the people in Kagawa excited.
---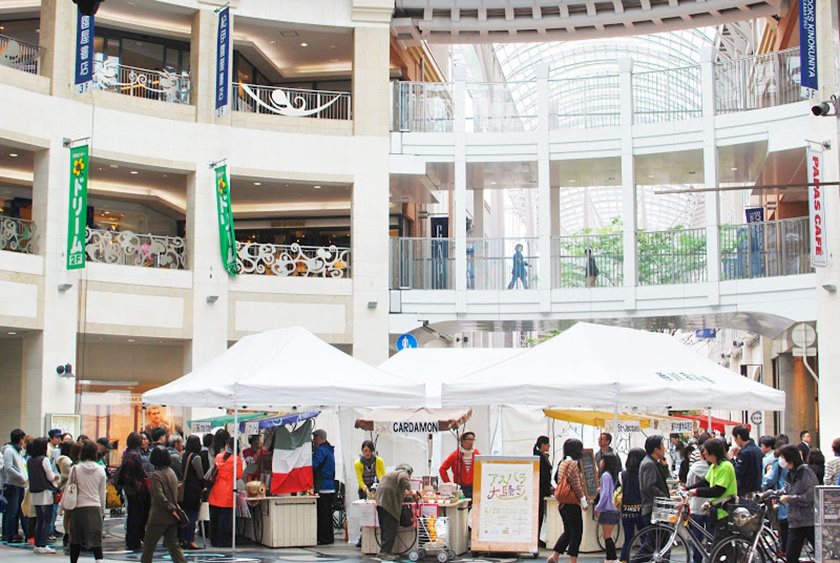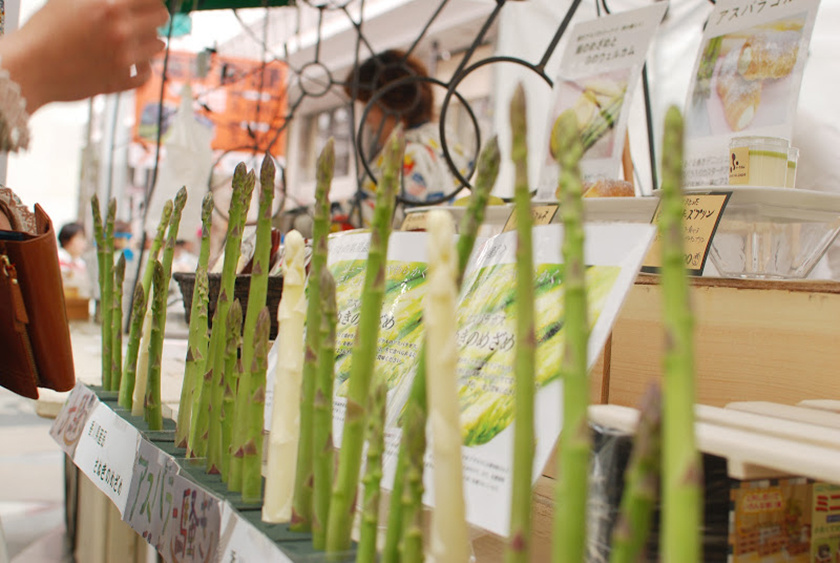 The harvest of Sanuki no Mezame continues until around October. We highly recommend that you visit Takamatsu and try the asparagus that is carefully grown like royalty.
---

Selection by the Experience Takamatsu Steering Committee: Restaurants in Takamatsu-shi serving Sanuki no Mezame
The availability of Sanuki no Mezame differs among restaurants. You are advised to contact the restaurant and make a reservation ahead of time.
Chinese Restaurant Beijing, Honkan
Nikuyama
Yamacho Takamatsu-minami
Yamacho Yashima
Yakiniku Nakamura Nishinomaru
Yakiniku Nakamura Nishinomaru Yashima
Yakiniku Nakamura Honten
Gathering date:2018.10.1 / Chinese Restaurant Beijing, Honkan
KEYWORDS