Japanese people traditionally eat ozoni (rice cakes boiled in vegetable soup) on festive occasions. This soup cannot be missed on Japanese dining tables in the New Year season. The ingredients and taste of ozoni differ by region and their specialties and historical backgrounds. Ozoni that is rich in local flavor is eaten in many parts of the country.
In particular, anmochizoni of Kagawa is unique and is often discussed.
---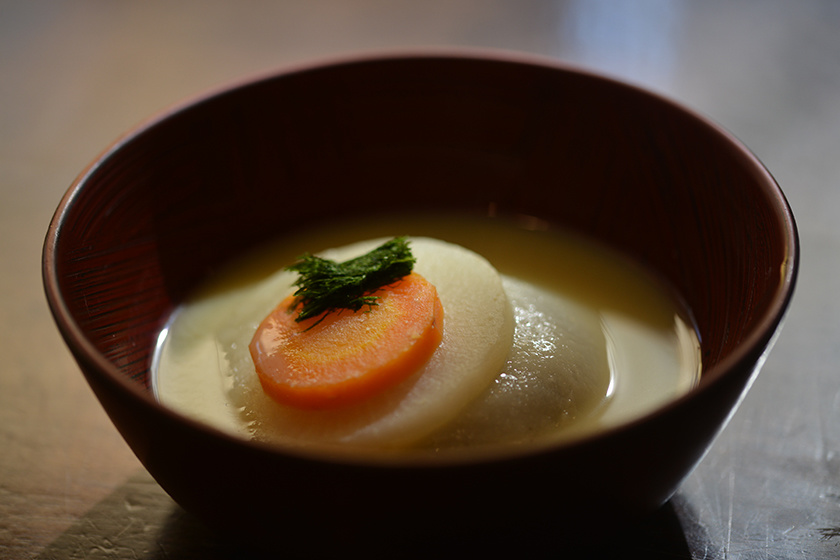 ---
This local Kagawa specialty contains radishes, carrots and round rice cakes containing sweet bean paste boiled in a light-brown miso broth. Many round, sliced vegetables are added to convey a wish for the happiness of the family and for everything go smoothly throughout the coming year.
In some areas or households, the ingredients in anmochizoni also include taro, burdock and deep-fried tofu. Hanakatsuo bonito, green spring onion and green laver may also be added after the rice cakes and broth are put in the bowl.
---
Even if you have heard about it, you will be amazed to see how the black bean paste looks coming from the rice cake floating in light-brown miso soup.
Bring a spoonful to your mouth, and taste the saltiness of the light-brown miso and the sweetness of the bean paste. We definitely recommend experiencing the intricate, exquisite mix of sweet and savory flavors.
The history of anmochizoni dates to the late Edo period, around 1800.
In the mid-Edo period, when brown sugar was dominant, the Shogunate encouraged local domains to produce white sugar, which was only imported from overseas. Takamatsu Domain succeeded in manufacturing white sugar, which grew into a big industry that financially supported the domain.
---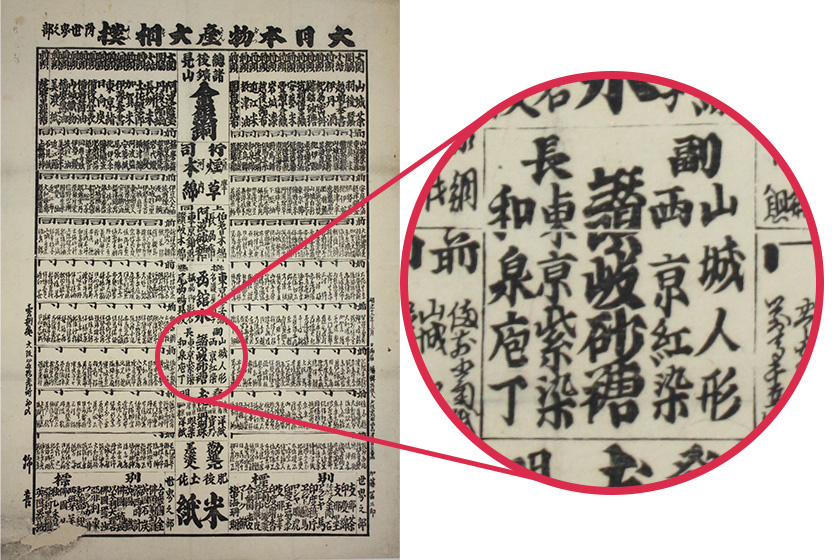 However, the specialties were manufactured under strict control, and common people may rarely have had an opportunity to taste them.
---

"I wish I could taste sugar at least once in the New Year, but I would be reproached if an officer found me eating it. I would use a rice cake to wrap the sweet bean paste so it can remain undetected in ozoni."
Sugar and light-brown miso were upmarket items at that time.
Anmochizoni made the people's wish to eat sweets at least during festive occasions come true.
More than 200 years later, the love of sweets still remains in Kagawa. Sugar and light-brown miso are easily available today. You cannot miss anmochizoni during the New Year season.
Ozoni is typically eaten at home in the New Year, but it is available year round at some restaurants in Takamatsu.
Here are two of restaurants that are easy to find.
Budo no ki
The café is located along Lion-dori street, one of the shopping streets in Central Takamatsu.
---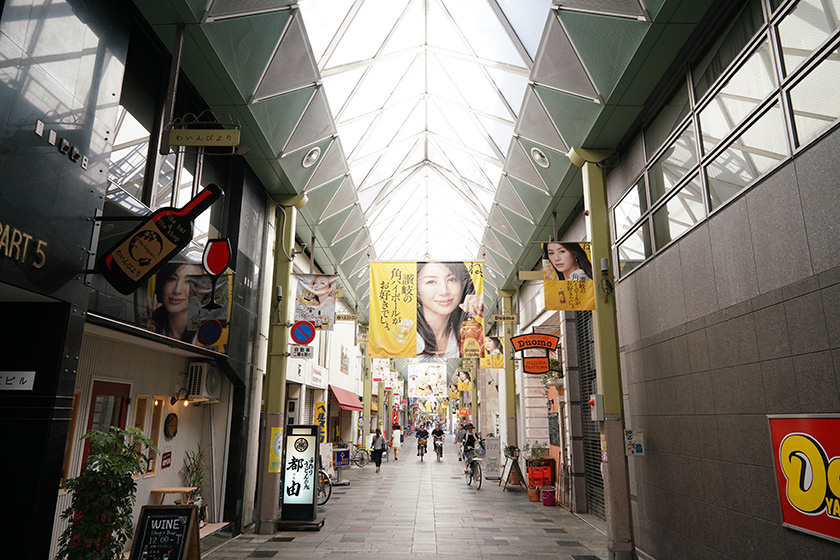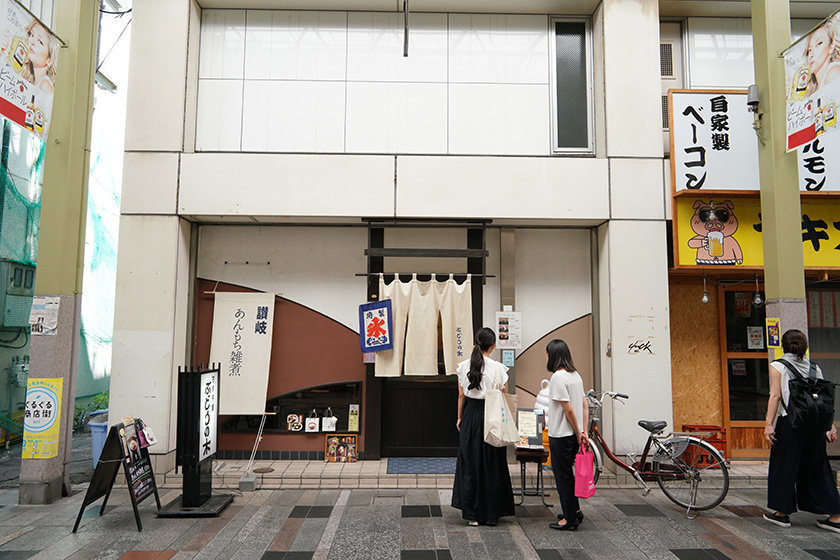 Near department stores and the bustling redevelopment area, it is easy to stop at while shopping.
---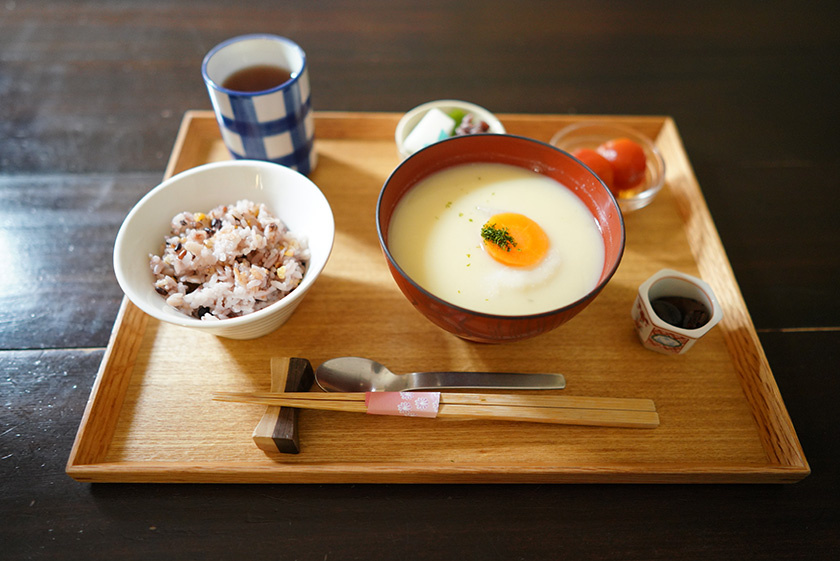 Sanuki Anmochizoni Lunch consists of anmochizoni, grains and rice, dessert, side dish of the day (tomato on that day), shoyumame beans and Japanese tea served on a tray.
Anmochizoni may also be ordered alone.
---
Anmochizoni has been the signature item since the restaurant opened more than 20 years ago.
"Outside my home, I couldn't find any place that offered anmochizoni. Then I came up with the idea of serving it at my restaurant." The owner of the restaurant, also an ozoni lover, added anmochizoni to the menu.
---
The smell of bonito soup stock wafts from the bowl.
Since childhood, we have enjoyed the taste of the handmade, simple household food every New Year.
---
Also available in a packed souvenir set. You will want to bring some home.
Hotori, sweets restaurant
This sweets restaurant is located in front of the north gate of Ritsurin Garden, a former Daimyo garden.
Stop by the restaurant while walking around town for a comfortable and relaxing time.
---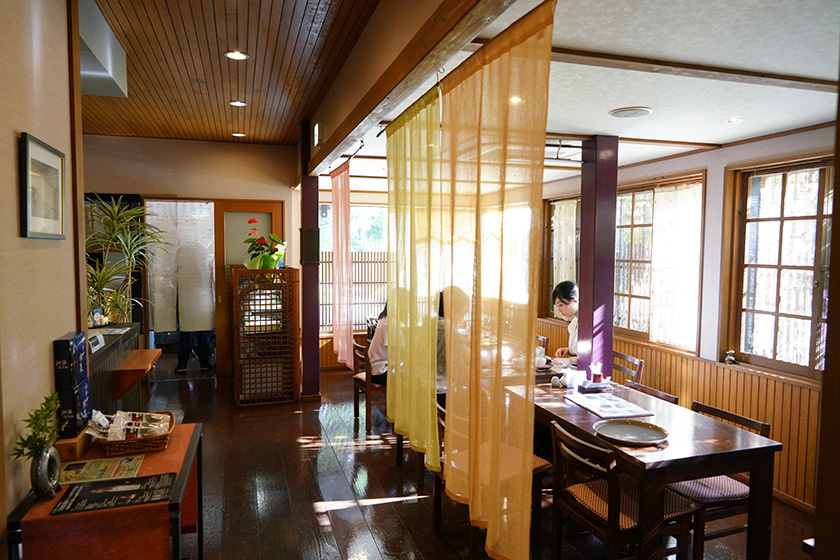 Sanuki Anmochizoni, available at the restaurant year round, contains shoyumame beans from Sanuki and pickles.
---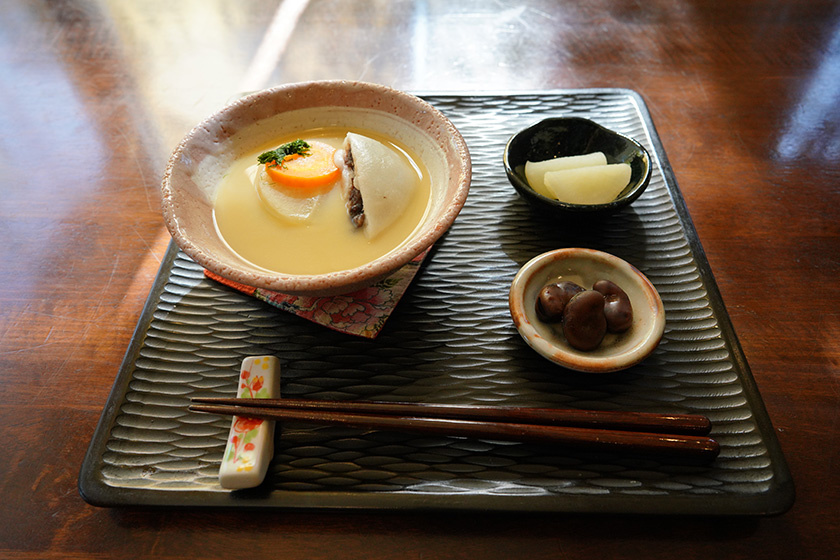 The round rice cake contains mashed bean paste that is made with a kind of rare sugar produced in Kagawa that is healthy and increasingly studied.
---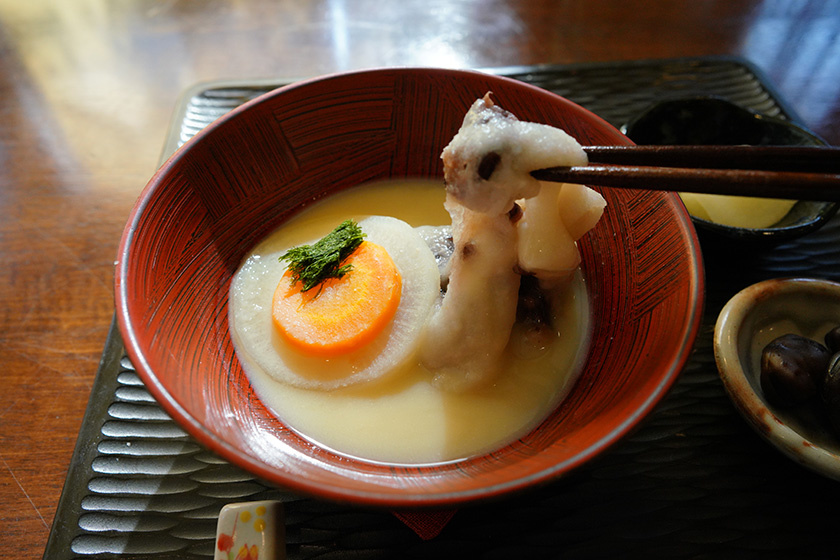 The stock of small, dried sardines, dried bonito and green laver. The slight smell of the sea tickles the nose.
Anmochizoni is characterized by the fusion of the mellow flavor of light-brown miso and the sweetness of bean paste and rice cakes.
Visit Kagawa and try the New Year specialty beloved since the Edo period.
---

Budo no ki, Japanese sweets restaurant
Address

2-1 Hyakkenmachi, Takamatsu-shi, Kagawa

TEL

087-822-2042

Supported languages

日本語
Hotori, sweets restaurant
Address

32-3 Nakanocho, Takamatsu-shi, Kagawa

TEL

087-887-7711

Supported languages

日本語
Gathering date:2018.12.27 / Budo no ki, Japanese sweets restaurant
KEYWORDS
Yu Sakaguchimore

Yu Sakaguchi is a photographer who photographs the beautiful scenery of the 138 habited islands in the Seto Inland Sea, agricultural, mountain and fishing villages in Shikoku. He makes his living in design work relating to primary industry. His website Monogatari o Todokeru Shigoto ("The Job of Delivering Stories") introduces the beautiful scenery, culinary culture and various other aspects of Shikoku and the islands of the Seto Inland Sea, and has been accessed by users in over 160 different countries. Feeling that it would be difficult to preserve the scenery in front of him for the next generation by simply distributing information alone, together with his fellow Shikoku-loving companions, he launched Shikoku Taberu (Food) Tsushin magazine, and began his work communicating the food culture and stories of the region. He is a director for the Sanagouchi Village foundation. He was awarded the Japan Ningenryoku ("Human Skill") Minister of Agriculture, Forestry and Fisheries Award in 2015.
Eri Kotakimore

Eri Kotaki was born in Takamatsu, in Kagawa prefecture. After studying fashion, color and graphic design at university, she developed a love of travel, local gourmet cuisine and photography; and became an editor/writer. After working in various positions in editorial production and publishing companies in Tokyo, she joined the Takamatsu City Regional Promotion Cooperative Group in July 2017. She now spends her days uncovering and communicating information about the appeal and attraction of Takamatsu and its surrounding areas. Her top recommended location is the night view from Sunport Takamatsu. Her most recommended train is the Hiyaku, which runs on the Takamatsu-Kotohira Electric Railroad.