With a variety of motifs that include seasonal flowers and good luck items, and their gentle-hued pastel colorings, Wasanbon are an indispensable part of any Japanese tea party. It feels enjoyable just looking at them. Together with salt and cotton, sugar is counted as one of the Sanuki Sanpaku (the Three "Whites" of Sanuki): three white colored products that Kagawa prefecture is particularly famous for producing. Even amongst them, the rare Wasanbon is often regarded as the finest of Kagawa's specialty products. I heard rumors about a workshop where visitors could experience making Wasanbon for themselves, and went along for myself to find out more.

The Mamehana Wasanbon experience classroom is located at the back end of an alley in the Hanazono-cho district, very near to Takamatsu city center. As I stepped inside this very ordinary-looking house, I found myself in a wide artistic space that I could never have imagined from its external appearance. The walls of the classroom are decorated with various objets d'art, and the green and red lights that illuminate it give it the feel of a kind of secret base or hideaway.
---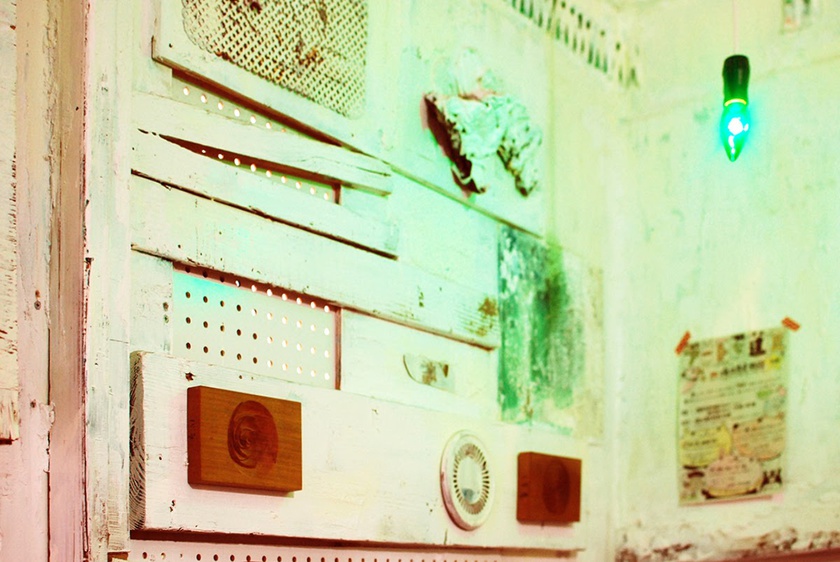 ---
The wooden tools that are the first thing to catch one's eye are in fact wooden molds that are used for making Japanese sweets. Although the long history of mold-making dates back to the Edo period, today only a handful of craftsmen who make them remain in all of Japan, and they are a valuable human resource. Yoshihiro Ichihara, who has a workshop here in Takamatsu, is the only one in Shikoku. In actual fact, Ayumi Uehara—the owner of this classroom—is Mr. Ichihara's daughter. She opened the experience classroom near to her father's workshop, in the hope of educating people more about wooden sweet molds.
---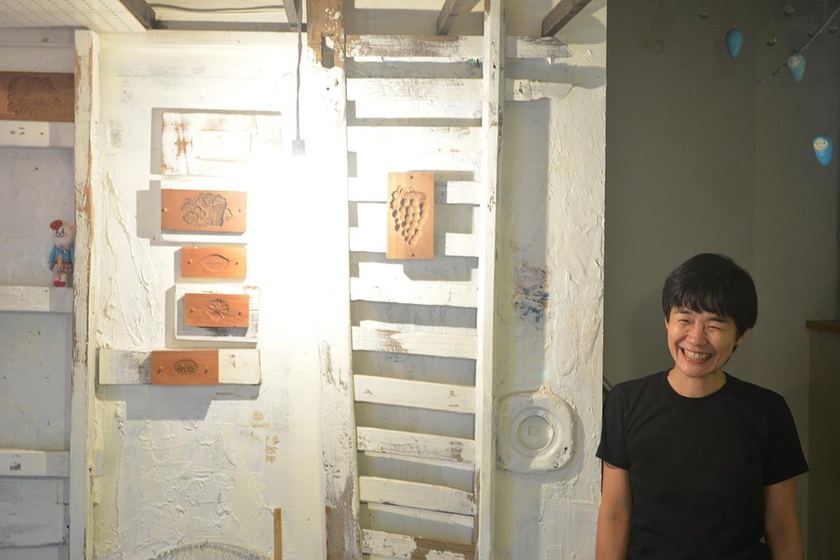 The culture of Wasanbon is typical of Kagawa, and can be enjoyed by both looking at and savoring the sweets. They also make good souvenirs, because they are compact and last a long time without spoiling. Trying your hand at making them is a perfect travel experience.

Without further ado then, let's get straight on to the challenge of making Wasanbon sweets.
---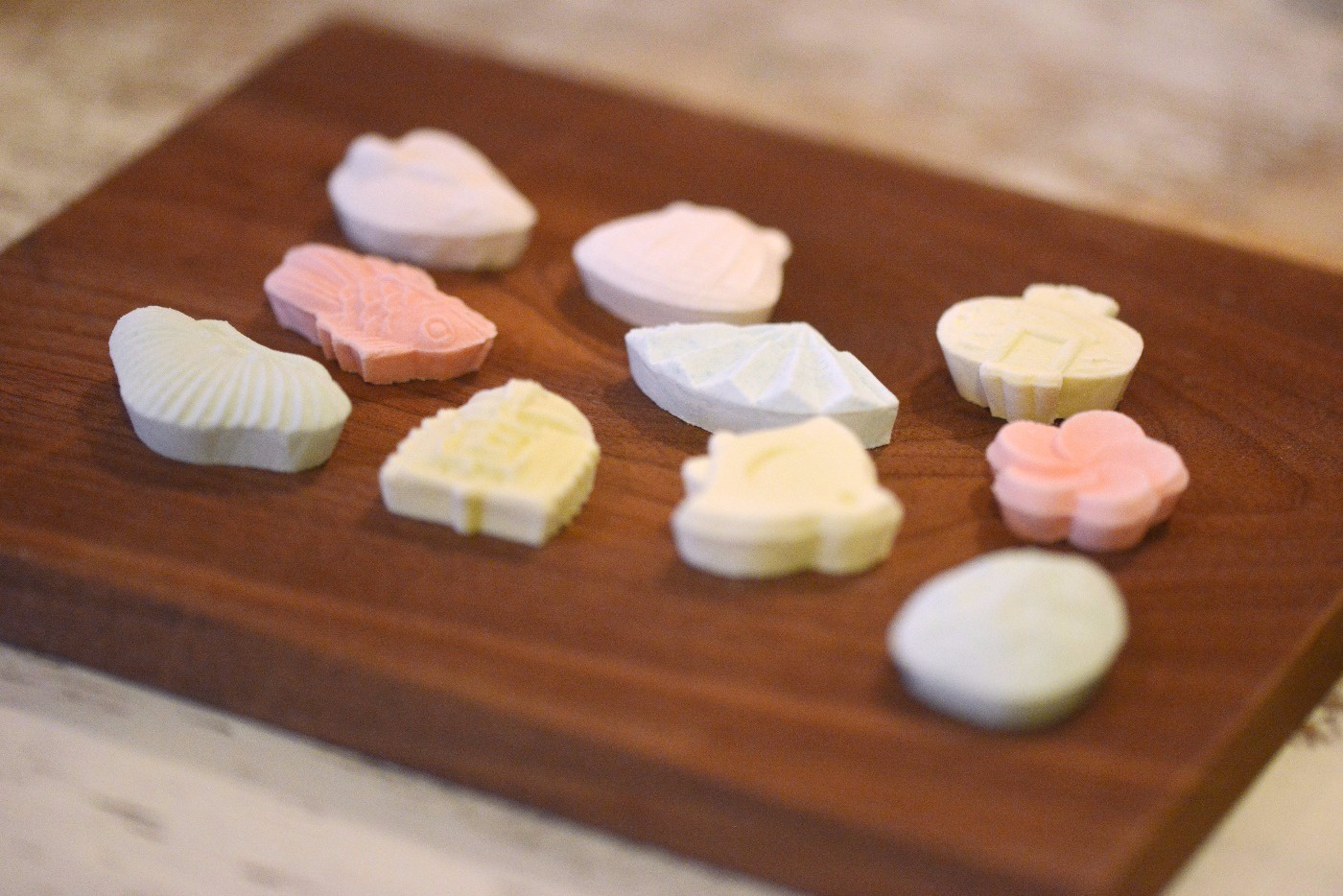 Several wooden molds are prepared for each season, and you can make four different kinds of Wasanbon sweet in a single color per time. In the case of group visits, each person can choose a different color in order to create colorful combinations. Agonizing over which shapes and colors to choose is all part of the fun.
Cherry blossom and Mt. Fuji motifs remain popular all year round, regardless of the season. Possibly due to the influence of American comic books, the turtle shape motif is popular amongst foreign visitors. In addition to traditional designs there are also a variety of contemporary motifs, including Halloween-themed designs.
---
The tools used are very simple; consisting only of bowls, wooden molds, sieves and spatulas.

"They are very easy to make. When we talk about traditional art and craft experiences it may sound difficult, but when it comes to Wasanbon sweets even children can make them together with us, and then eat the finished sweets as a snack. That's not something that you can find easily, right?" Ms. Uehara seems to be really enjoying herself, as she talks excitedly about wooden molds and Wasanbon.

First, the pure white Wasanbon is placed in a bowl, and colored, using a spray to add coloring and a suitable amount of moisture.

When all of the sugar is evenly colored, it is strained using a sieve to produce an even finer powder.

Once the straining process is finished, the key to making good sweets is to move quickly in carrying out the next step. Wasanbon dries easily, so it is necessary to pack it tightly into the wooden molds before it dries out.

---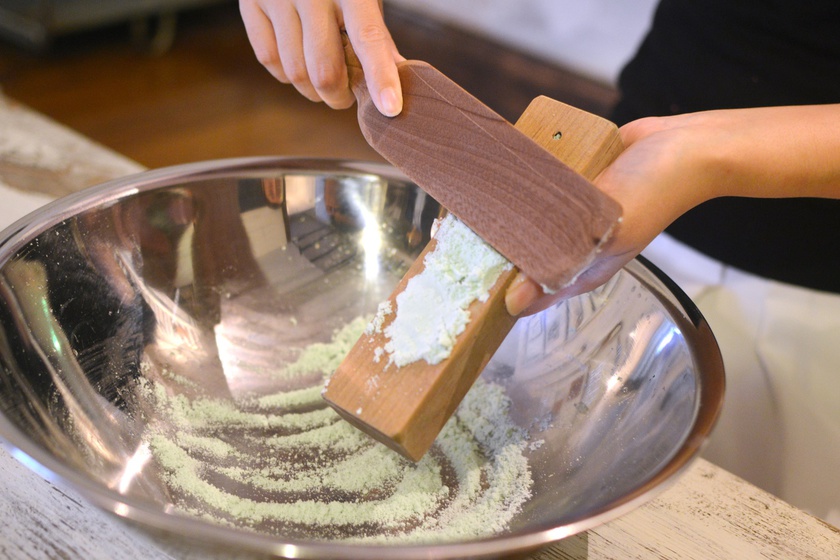 After scraping off any excess powder with a spatula, the mold is knocked gently to gradually remove the top board.
---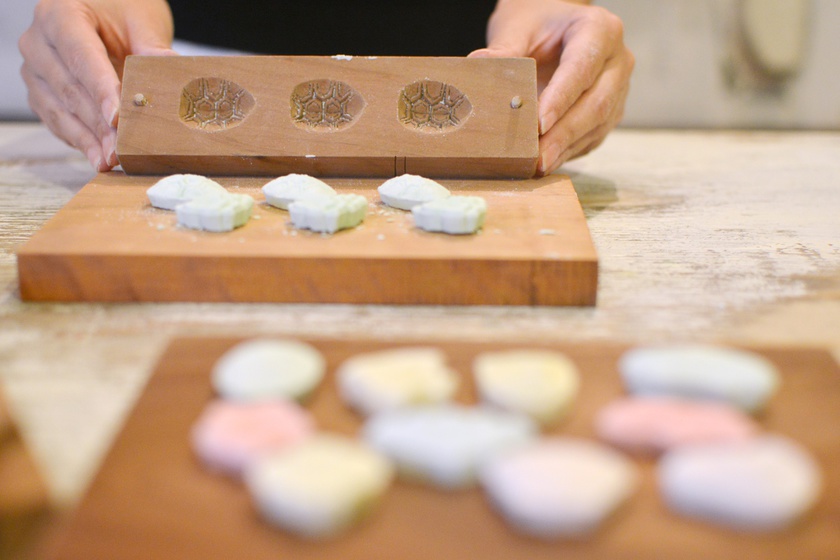 When the mold is turned over, the sugar has been transformed into dried Wasanbon sweets, which roll neatly out of the mold. The designs of the wooden molds look even cuter still when they are molded into actual sweets.

Around 12 to 14 Wasanbon sweets can be made during a one-hour workshop class. The finished sweets are packed into boxes for participants to take home as souvenirs. A few can be eaten as snacks to enjoy along with the matcha green tea that Ms. Uehara kindly prepares for her guests. The soft sensation as the sugar's gentle sweetness melts in your mouth is something that can only be savored by eating freshly made Wasanbon.
---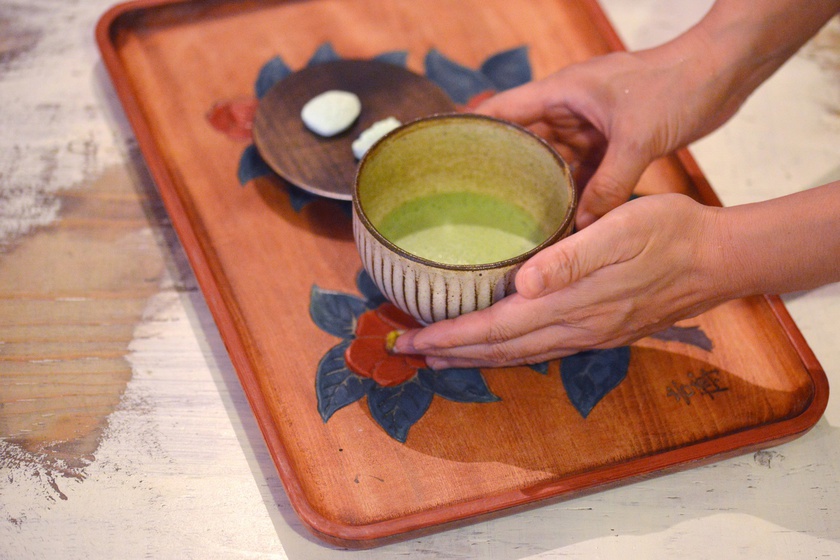 Ms. Uehara also travels to local schools and other facilities to conduct on-site workshops, with the aim of conveying the wonderful experiences that Takamatsu has to offer to as many people as possible. Those sentiments have also travelled with her overseas, to countries such as the United Kingdom and Germany, where her workshops have gained even further attention.
---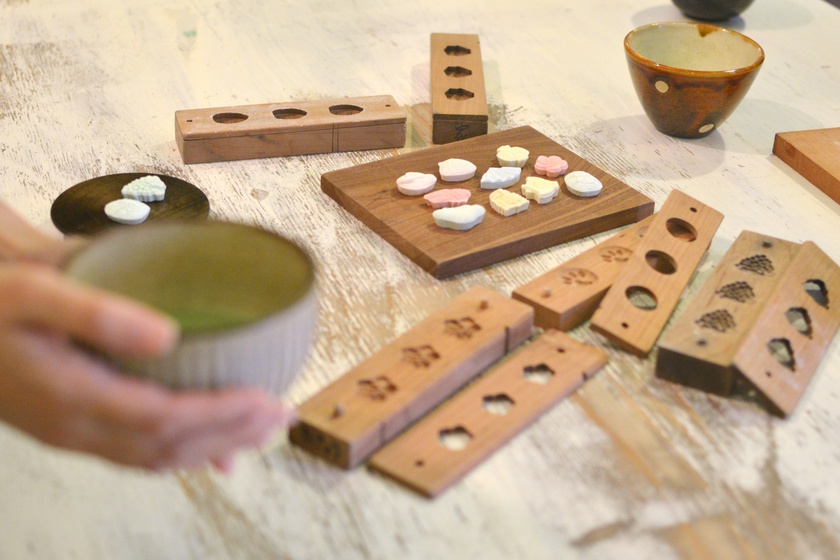 Visitors to Mamehana can experience traditional crafts, savor the taste of one of Kagawa's finest specialties, and enjoy the added treat of looking forward to opening their box of Wasanbon sweets when they arrive back home. Why not try enjoying this sweet time—which can only be had in Takamatsu—for yourself?
---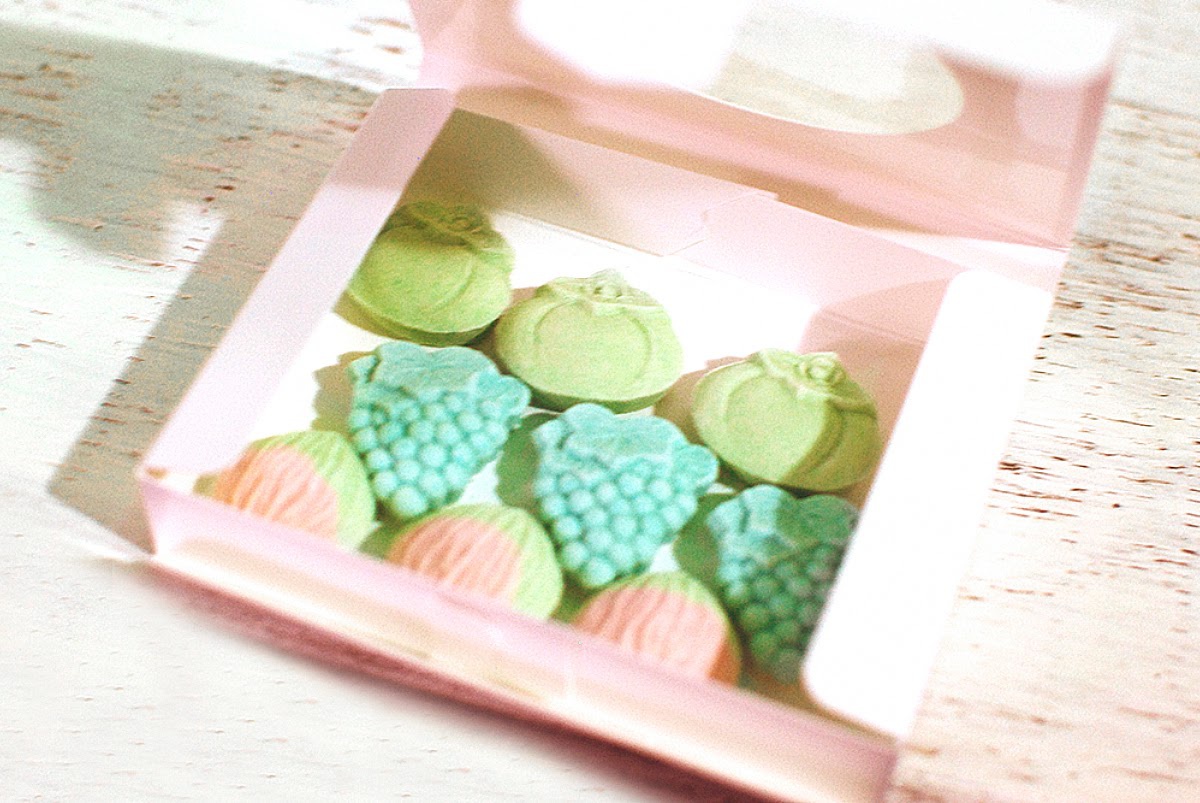 ---

Mamehana
Address

1-9-13 Hanazono-cho, Takamatsu City, Kagawa

TEL

087-831-3712

MAIL

URL

Supported languages

日本語、English
Gathering date:2017.8.30 / Mamehana
KEYWORDS